Looking for a new place to peep the changing leaves this fall? Check out these five fall foliage tours with driving through this time of year.
Huron River Drive
Route: From Ann Arbor to Dexter
This 10-mile stretch along the Huron River features five nature preserves (Barton, Bird Hills, Kuebler Langford, Brokaw, and Burns-Stokes) and three Metroparks (Delhi, Dexter-Huron, and Hudson Mills).
"Huron River Drive hugs the river on both sides at various points, providing ample opportunities to pull over and enjoy gorgeous views of the river and fall foliage," says Amy Karbo, director of communications and community engagement for Destination Ann Arbor.
Highlights: In addition to the nature preserves and parks, "there are two great spots for pictures," says Karbo, "between Barton Park and Delhi Metropark just south of Honey Creek and the East Delhi Road bridge looking north as you head into Delhi Metropark."
Pit stops: Dexter Cider Mill, Dexter Bakery, Joe and Rosie Coffee and Tea, and The Fillmore Bar & Grill in Dexter. In Ann Arbor, check out The Jagged Fork, Stray Hen Cafe, Frita Batidos, Grizzly Peak Brewing Co., or Miss Kim.
Red Arrow Highway
Route: Along the Lake Michigan shore from New Buffalo to St. Joseph
Collette Kemper of NewBuffaloExplored.com sums up what this 21-mile route is all about.
"There are 16 miles of continuous Lake Michigan beach lined with grassy dunes and old-growth foliage and more than 15 state and county parks and preserves with diverse landscapes," she says. "The Lake Michigan Shore Wine Trail features nine vine- yards/wineries in an easy loop, stunning color, and agricultural fields at peak harvest."
Highlights: Warren Dunes State Park's dunes with sweeping views of Lake Michigan; Grand Mere State Park's 985 acres of undeveloped woods and dunes; Warren Woods State Park's beech-maple forest that is the last of its type known in Michigan; Galien River County Park's 300-foot canopy walkway that leads to a 60-foot-high overlook tower.
Pit stops: Center of the World Woodshop (Sawyer), Alchemy Art & Antiques (Harbert), Watermark Brewing Co. (Stevensville), Haymarket Brewery & Taproom (Bridgman), Red Arrow Roadhouse (Union Pier), and Bentwood Tavern and Redamak's (New Buffalo).
U.S. Highway 41 to M-26
Route: From Canyon Falls to Brockway Mountain Drive and Copper Harbor
Encompassing many of the Copper Country's must-see attractions, this route features five of the state's most scenic waterfalls, mesmerizing views, historical sites, and unspoiled Lake Superior shoreline.
Highlights: Canyon, Hungarian, Eagle River, Jacob's, and Manganese Falls; Brockway Mountain Drive, the highest-elevation road between the Rocky Mountains and Allegheny Mountains of Pennsylvania; Fort Wilkins Historic State Park; Eagle Harbor and Copper Harbor lighthouses; and Hunter's Point Park's trails to rocky beaches, Estivant Pines Nature Sanctuary, the Delaware Copper Mine; the canopy of trees south of Copper Harbor on 41.
"The drive along U.S. 41 and along Brockway Mountain Drive offers sweeping views of Lake Superior, Keweenaw wilderness, and the rugged Cliff Range," says Visit Keweenaw Executive Director Brad Barnett. "The landscape is a blaze of vibrant reds, oranges, and golds."
Pit stops: The Ambassador and Suomi Home Bakery & Restaurant (Houghton), Harbor Haus (Copper Harbor), and Jampot (Eagle Harbor).
M-119, aka Tunnel of Trees
Route: From Harbor Springs to Cross Village
With 135 curves in just 20 miles, this drive must be taken leisurely. That's a good thing because the views along the coastal bluff high above Lake Michigan are spectacular.
"For its 20 miles of scenic winding roads that give glimpses to Lake Michigan, Beaver Island, and two lighthouses, the Tunnel of Trees has become world-famous for its portal of fall color," says Ellen Auten of the Petoskey Area Visitors Bureau.
Highlights: Thorne Swift Nature Preserve's 950 feet of Lake Michigan shoreline, nature center, and hiking trails (one with a boardwalk through cedar swamps and another with an observation deck above dunes); Woollam Family Nature Preserve's 3,300 feet of Lake Michigan shoreline; Cross Village Beach; Good Hart General Store; Three Pines Studio's gallery and outdoor sculptures; Pond Hill Farm's livestock and trails. Harbor Springs Vineyards & Winery and Tunnel Vision Brewery are also at Pond Hill.
Pit stops: Stafford's Pier Restaurant (Harbor Springs) and Legs Inn (Cross Village).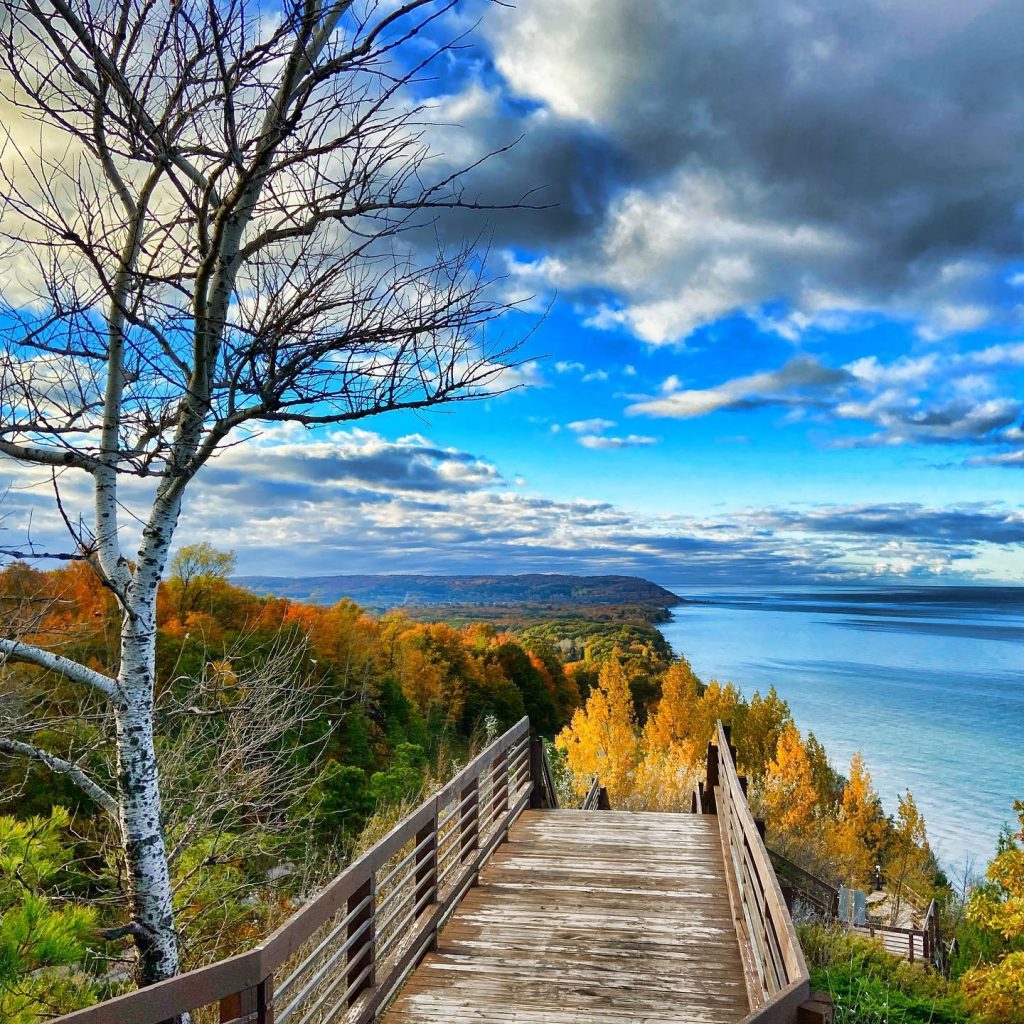 M-22
Route: M-22 from Manistee to the Leelanau Peninsula
USA Today readers named this 117-mile route along Lake Michigan and Grand Traverse Bay the nation's Best Scenic Autumn Drive in 2015, four years after Good Morning America picked one of the sites along it — Sleeping Bear Dunes National Lakeshore — as the Most Beautiful Place in America.
"M-22 is the quintessential Michigan road trip, winding through quaint small towns and past unique attractions, roadside farm markets, and dunes," says Tim Riley, president of the Manistee County Visitors Bureau board. "The fall colors really last due to the lake effect, offering a beautiful driving tour later in the [fall] than other regions of Michigan."
Highlights: Inspiration Point, 800 feet above Lake Michigan; Arcadia Dunes' sweeping overlooks and 2 miles of Lake Michigan shoreline; Point Betsie Lighthouse; Clay Cliffs Natural Area's colorful cliffs; some of Sleeping Bear's must-sees (Pierce Stocking Scenic Drive, Empire Bluff, Pyramid Point, and the Dune Climb).
Pit stops: Arcadia Bluffs' South Course Restaurant (Arcadia), Boone's Prime Time Pub (Suttons Bay), The Cove (Leland), the official M-22 store (Glen Arbor), and Suttons Bay Ciders, featuring a hilltop tasting room with amazing views.
---
This story was originally from the October 2022 issue of Hour Detroit magazine and has been updated for 2023. Read more in our digital edition.