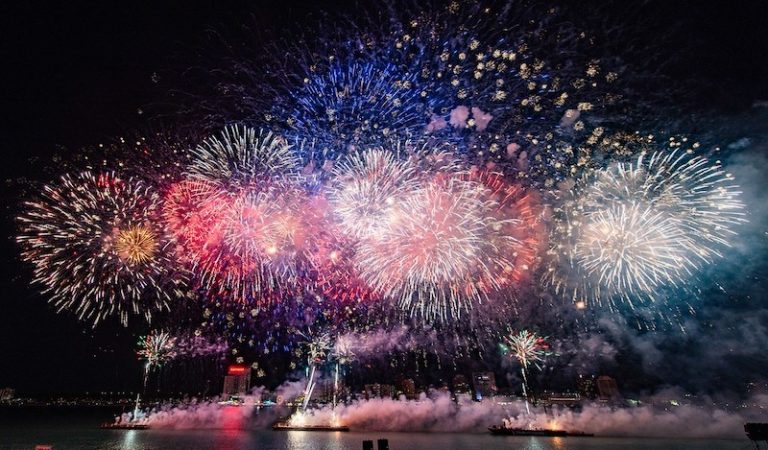 The show will go on — although, it will look a little different this year. Instead of its originally scheduled June 22 date, the 2020 Ford Fireworks will take place from 8 p.m. to 10 p.m. on Aug. 31. And, unlike previous shows — which have annually attracted thousands to the Detroit riverfront — this year's show will be a televised-only event. The display will be broadcast live on WDIV Local 4.
In an effort to curb crowds due to the pandemic, organizers also say the show will not be held in or be viewable from downtown Detroit. Like fireworks shows in other cities — such as Macy's week-long display in New York City — The Parade Co.-produced event will be held as a pop-up display at an undisclosed location.
The theme for the 2020 Ford Fireworks, We Are One Together, intends to honor the city's frontline workers and heroes. "The valiant and selfless efforts of our health care workers and first responders has been one of the bright spots for our region during this very difficult time," says Mary Culler, president, Ford Motor Co. Fund in a May press release. "The Ford Fireworks this year will honor them and their brave work."
This year marks the 62nd year for the fireworks show. As always, the Parade Co. will select the musical arrangement and work with Zambelli Fireworks, a professional fireworks displays company based in Pennsylvania, to plan more than 10,000 pyrotechnic effects for the show.
"The Parade Company has an unwavering commitment to this important tradition and bringing great events to our community," says Tony Michaels, president and CEO of The Parade Co. "We are proud to come together with the City of Detroit and our partners to make this event possible each year."
Facebook Comments