From creative menu items in Corktown to Cuban-inspired eats downtown and delicious eats out in the suburbs, the metro Detroit burger scene is anything but boring. Here's a look at some of the city's most mouthwatering creations between two buns.
Brome Modern Eatery
Brome is a restaurant that focuses on minimizing its negative impact on the planet while making fresh, healthy food. Brome pledges to only use 100% organic beef that has been grown responsibly. The restaurant also has a large selection of vegetarian and vegan options, including the much-lauded Impossible burger, a plant-based patty made with a molecule called "heme," which gives the patty an authentic, meaty flavor. 22062 Michigan Ave., Dearborn; 313-996-5050; bromemoderneatery.com.
Bronx Bar
Good beer, greasy burgers and a dive bar vibe is what you'll find at this local joint. Get The Burger topped with your choice of American, Swiss, white cheddar, provolone, pepper jack or blue cheese. Turkey and black bean burgers are available, too. 4476 Second Ave., Detroit; 313-832-8464. Facebook.com/bronx-bar-detroit.
Royale with Cheese
This restaurant, named after that famous conversation between Samuel L. Jackson and John Travolta's characters in Pulp Fiction, is serving up some creative burger creations in Midtown. The menu goes far beyond the ordinary with options like the Royale, a burger featuring brisket, corn relish, caramelized onions, avocado, smoked gouda fondue, coleslaw, and "Royale Sauce." Royale with Cheese, 4163 Cass Ave., Detroit; 313-315-3014; Facebook.com/royalewithcheese313. 
Hunter House Hamburgers
This spot originally opened back in 1952 and is best known for their sliders. The original cheeseburger slider comes topped with caramelized onions and American cheese. Choose from a single, double or triple patty and don't forget the strawberry shake and fries to complete your order. 35075 Woodward Ave., Birmingham; 248-646-7121. hunterhousehamburgers.com.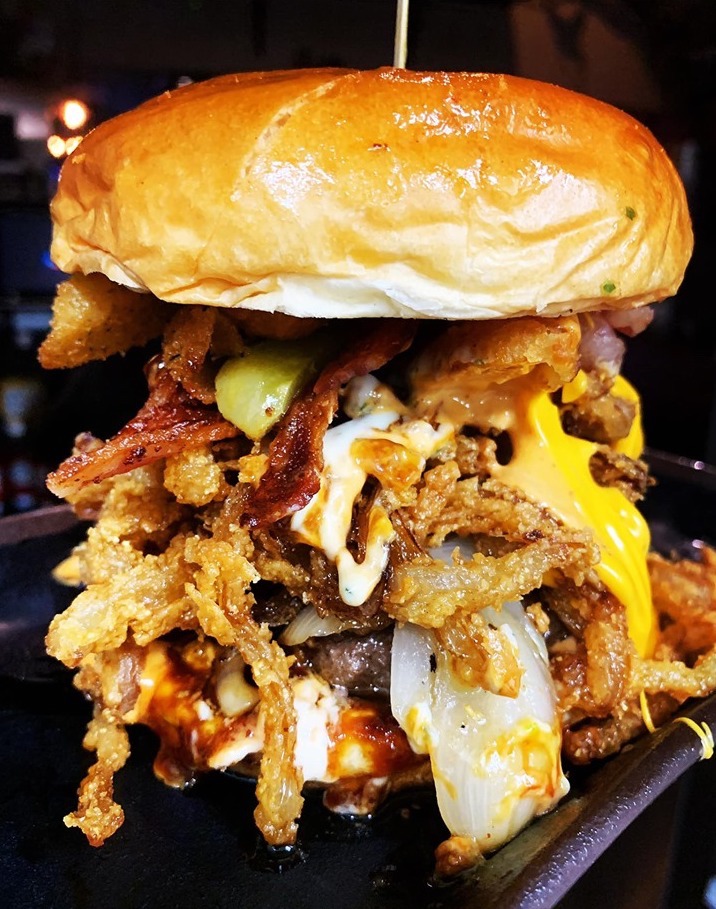 Basement Burger Bar
This family-owned spot has become known in the area for its twists on classic burgers like the Philly Burger, Tropical Burger, and the Italian Stallion. For those with even bigger appetites, Basement has featured burgers like the Junk Burger, a beef burger with red pepper mayo, garlic mayo, smoke BBQ ketchup, bacon, caramelized onions, mozzarella sticks, fried pickles, crispy onion straws, and cheddar cheese sauce. 1326 Brush St., Detroit, 313-818-3708; 33316 Grand River Ave., Farmington, 248-957-8179; and 42452 Ford Road, Canton, 734-927-0100. basementburgerbar.com.
Ford's Garage
This neighborhood burger and beer spot is located right across the street from The Henry Ford Museum of American Innovation and is offering cheeseburger options named after some of the most impactful people and organizations in the community. Choose from the The Jiffy Burger, inspired by legendary broadcaster, Ernie Harwell, and piled with American cheese, smoked bacon, romaine lettuce and peanut butter on a brioche bun. Options inspired by Billy Downs and Fair Lane, too. 21367 Michigan Ave., Dearborn and 44175 W. 12 Mile Road, Novi; 313-752-3673. fordsgarageusa.com.  
The Food Exchange
No Detroit burger guide would be complete without mentioning the home of the famous Big Baby Burger, a whopping 12-ounce patty topped with corned beef, Swiss and American cheeses, lettuce, onion, tomato, pickles, mayo, ketchup, and mustard on an onion roll. The menu touts other classic burger variations, as well, with the enormous, juicy 3/4-pound patties being the focus. 8455 Harper Ave., Detroit; 313-579-5616; foodexchangerestaurant.com.
Luxe Bar & Grill
The Bleu Cheese Burger is a unique eat piled high with bleu cheese, chopped lettuce, haystack onions, pickles and luxe sauce. You can also get the mushroom burger, which features a roasted mushroom mix with gruyere cheese, the meatless BVB (Best Veggie Burger) and many others. 525 N. Old Woodward Ave, Birmingham; 248-792-6051 and 115 Kercheval Ave., Grosse Pointe Farms; 313-924-5459. luxebarandgrill.com.
Frita Batidos
Ann Arbor-based Frita Batidos opened up its first location in Detroit in 2019. The spot serves up burgers inspired by the Frita, a Cuban sandwich that is made from a chorizo patty. The burgers are topped with shoestring fries and a fried egg on top of a soft egg bun. Along with traditional Fritas, you can create your own burger with options like a chicken, black bean, beef, or fish patty, with the ability to add other toppings like thick-cut bacon or cilantro-lime salsa. Frita Batidos, 66 W. Columbia, Detroit; 313-725-4100; fritabatidos.com/detroit/. 
Mercury Burger and Bar
With a malt shop-esque atmosphere that harkens back to Detroit's past, this Corktown spot is turning out some of the city's best burgers. Menu items range from familiar burgers like The Classic to the original like Southwest Detroit. The signature burger features a chorizo slider atop a beef patty, jalapeños, muenster cheese, tortilla strips, avocado, pickled spiced carrots, and salsa on the side. 2163 Michigan Ave., Detroit; 313-964-5000 mercuryburgerbar.com. 
Zo's Good Burger
Zo's Good Burger is all about living the good life, which obviously includes eating one of the restaurant's famed, huge burger creations. Pick from one of six house burgers, like the signature The Good Burger, a burger topped with mozzarella sticks, American cheese, onion rings, and an in-house sauce all on a pretzel bun. You can also build your own custom creation with Zo's Good Burger's long list of toppings and accouterments. 2894 W. Grand Blvd, Detroit; 313-771-0022; zosgoodburger.com.
Redcoat Tavern
The Original Redcoat Special Hamburger is a half-pound of proprietary ground blend beef with tomato, shredded lettuce and special sauce on a toasted sesame seed bun. Turn it into a cheeseburger by adding your choice of sharp American, smoky ghost pepper, Swiss, cheddar, Amish blue, Smoked Gouda, Monterey Jack, or Provolone. More toppings available by request. Redcoat was the winner of Burgers (classic) in the Best of Detroit voting in 2022. 31542 Woodward Ave., Royal Oak; 248-549-0300. redcoat-tavern.com.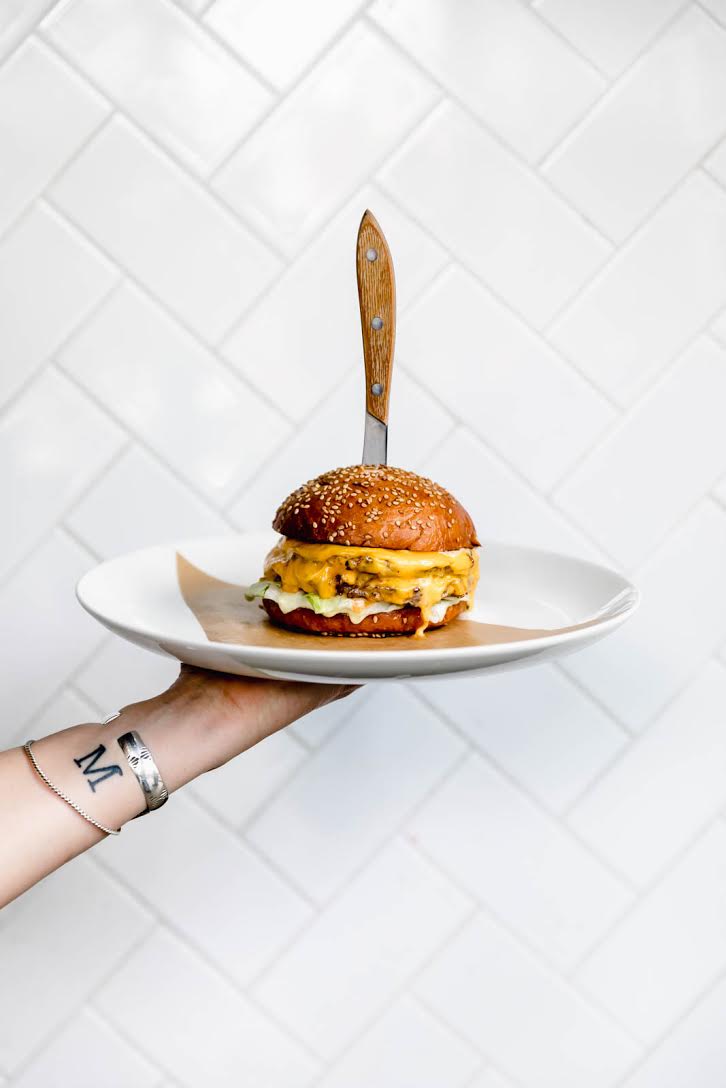 Grey Ghost
This hip eatery is serving up elegant plates of food, placing particular emphasis on its butchery. There is only one lone burger on this menu, and it is no surprise that the end product matches the rest of the restaurant's ethos: simple, luxurious, and delicious. The menu option for the burger features one singular request to "put an egg on it." We highly recommend you oblige. 47 Watson St., Detroit; 313-262-6534; greyghostdetroit.com. 
Green Dot Stables
Sliders are the name of the game at this year's top vote-getter in the Burgers (specialty) category in our 2022 Best of Detroit feature. Choose from delicious options including the Cuban, Philly cheesesteak, coney dog and mystery meat, among others. Their cheeseburger sliders are a beef patty with Velveeta cheese, grilled onion and pickles. 2200 W. Lafayette Blvd., Detroit; 313-962-5588; greendotstables.com. 
Checker Bar
This legendary burger bar in the heart of downtown Detroit is still keeping things fresh and original. The burger lineup is stacked to the max with interesting flavors and inspirations. Classics like the Checker Burger or the Double Bacon Cheese Burger never fail to satisfy. Also, crazier combinations like the Greek-inspired Mount Olympus or the Apple Burger, which features grilled apple, goat cheese, spring mix, and garlic aioli, are adventurous tastes worth trying. 124 Cadillac Square, Detroit; 313-961-9249; checkerbar.com.
The Morrie
Get your cheeseburger with a side of live music for "a uniquely American Experience." As far as cheeseburgers go, the Morrie Burger is a must-try at both locations. Add fried egg or bacon in Royal Oak and be sure to try the Black Bean Burger in Birmingham. 511 S. Main St., Royal Oak; 248-216-1112 and 260 N. Old Woodward Ave., Birmingham; 248-940-3260. themorrie.com.
Vinsetta Garage
Once upon a time, Vinsetta Garage was a place that offered "the deepest kind of care to car owners." Today, it offers the same level of care to foodies in metro Detroit. They offer a wide variety of over-the-top burgers that feature patties made of a beef blend of brisket, short-rib and chuck. The Vinsetta Burger is a must on National Cheeseburger Day with two slices of American Cheese or, if you're feeling adventurous, give the feta-topped Lamburger a try. Vegan patties are available on any burger by request. 17799 Woodward Ave., Berkley; 248-548-7711. vinsettagarage.com.
This post was originally published in 2019 and was updated in 2022.