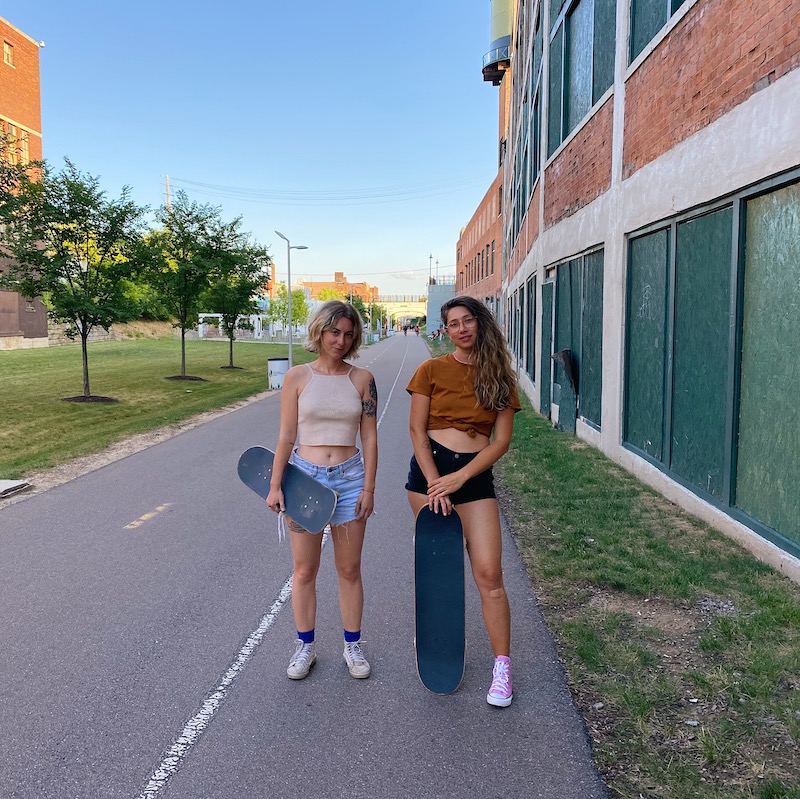 After femme skate crew See You Tuesday wrapped up its first meetup, a mother on rollerblades rolled over to group organizers Morgan Fett and Gretchen Gruenburg and asked if her young daughter, who was alongside her on a skateboard, could join them. "She said that her daughter tried to go to skate parks in the past and felt a little uncomfortable or intimidated, largely because there aren't a lot of femmes there for her to identify with," Fett says. "That was really exciting and encouraging since lots of younger people are already amazing skaters, and we're happy to see them skating with us."
See You Tuesday began its weekly skate meetups to create a safe space for people, like that young skater, who are looking to learn without any judgment. In particular, women, femmes, queer women, trans women, and gender non-conforming folks don't traditionally have an easy in to the skateboarding scene. But with femme skating clubs, like See You Tuesday, popping up, that opening into the world of skateboarding is beginning to widen. 
The group meets at 9 a.m. in Detroit every Tuesday — hence the name See You Tuesday. Meetups, which have been held at the Dequindre Cut and Belle Isle, are open to all­ ages and experience levels. Skaters can participate in any way they'd like, whether that be on a skateboard, rollerblades or skates, a bike, or a wheelchair. Fett and Gruenburg aim for meetups to be a place where participants can comfortably set and meet their own goals, push themselves, and practice everything from ollies to skating for 30 minutes straight. "I think that people feel really vulnerable when they're learning something new," says Fett. "It felt really important to carve out a space where various communities can feel safe to learn and fall and ask questions." 
Gruenburg, a 31-year-old with a master's degree in international affairs and media, and Fett, a 32-year-old doctoral student researching anti-capitalist policy and social movements, decided to start the group when the coronavirus pandemic hit Detroit and options for activities became few and far between. An aspiring skater, Gruenburg had always wanted to start a crew while Fett wanted to become a better skater. "The opportunity to facilitate an outdoor, feminist, COVID-safe environment to be physically active was really exciting to me," Fett says. This desire paired with the premiere of the new HBO female skating comedy series Betty in May helped them imagine what a femme skate crew could look like. 
Betty focuses on a diverse group of women navigating the male-dominated world of skateboarding in New York City. "I had wanted to start a femme, non-men skate crew with my roommates in New York last year and I never got around to it," Gruenburg says. "Morgan and I were talking about the show — we were like, let's have our own Betty." (Femme skate clubs also exist around the world, like Babes Brigade in Toronto, the Brujas in New York City, and Detroit's Merda Regina, and men and women will get to compete against each other in street skateboarding for the first time in the 2021 Olympics.) 
Gruenburg and Fett view their group as a very democratic, open, and ever-evolving project. Registration is not required and individuals can meet up with the skate crew any week they want and stay as long as they'd like. And, while Gruenburg and Fett are the people who started See You Tuesday, they don't claim ownership over it — they don't mind if people get together without them when a meetup isn't happening one week or if individuals want to get together outside Tuesday mornings. 
With the arrival of more experienced skaters, the weekly skates have moved into other areas of Detroit for street skating, meetups at skate parks, and other skate group activities in the area. The progression of See You Tuesday depends on the presence of COVID-19 as it affects the way Gruenburg and Fett can run the group. Most important to them is safety. All participating skaters are required to wear a mask and the group shares hand sanitizer. And of course, safety extends beyond COVID-19 protocols, too — knee and elbow pads and helmets are essential for participating. 
While keeping their eyes on the progression of the pandemic, Gruenburg and Fett are also thinking of how See You Tuesday will transform as the colder months approach. Gruenburg says they're considering transitioning into a skiing or snowboarding meetup in the winter. Whatever it is, their goal is to make sure the individuals in their group are staying active outside by participating in traditionally male-dominated sports. 
"At its core, it's about how can we, as semi-marginalized people — or sometimes, very marginalized people — try new things and experience things outside­ where it's relatively safe during COVID," Gruenburg says. "Let's just learn together and have fun."
For more information, visit See You Tuesday on Instagram, @seeyoutuesdayskate.
Facebook Comments