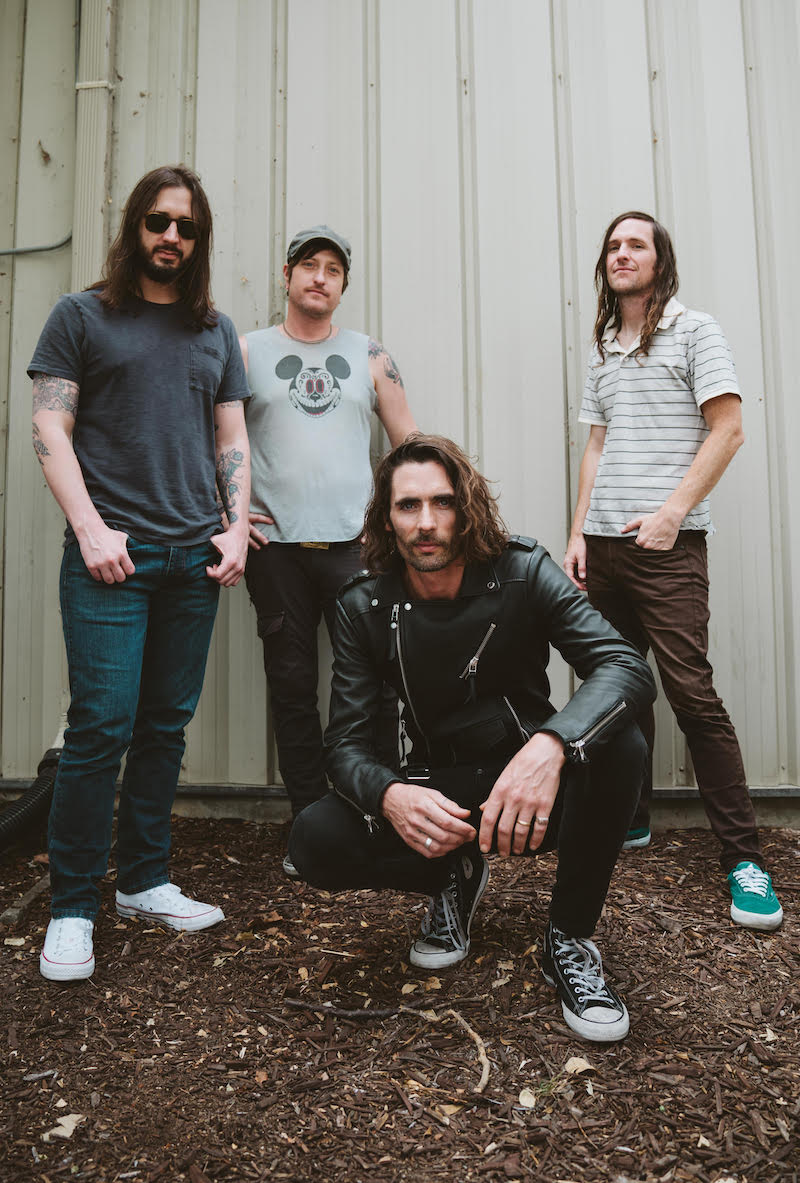 Rock band The All-American Rejects has been churning out anthems for a generation of emo and pop-punk kids for decades. From 2002's instantly catchy "Swing, Swing" to 2005's cinematic-worthy "Move Along" and "Dirty Little Secret" and then 2008's delightfully vengeful "Gives You Hell," the group has no shortage of hits in its repertoire. While things have slowed down for the band a bit in the past few years — they haven't released a full album since Kids in the Street in 2012 — they're still keeping things moving. Earlier this summer, the All-American Rejects joined fellow pop-punk mainstays for Vans Warped Tour's 25th-anniversary shows. Then, in July, they released a three-track EP, titled Send Her to Heaven. Now, this month, the band heads to Royal Oak for an Aug. 30 headlining performance at the city's annual Arts, Beats and Eats festival.  
Prior to their visit, Hour Detroit had the chance to speak with Mike Kennerty, rhythm guitarist for The All-American Rejects. Here, he shares what fans can expect during their show in Royal Oak, how it feels to still be thriving as a band after 20 years together, and how Send Her to Heaven fits into the group's evolution.   
Hour Detroit: How do you feel about playing more public festivals — like Arts, Beats and Eats — where you may have the chance to appeal to your fans as well as attract the attention of people who happen to pass by?
Mike Kennerty: It's great. I think we've always been a band where our songs are more known than we are as a band necessarily. So, we've always had that mixed crowd of people who don't normally go full in on a rock show. It's a thing we're used to, and we enjoy it. We've worked hard so we can go up there and put on a great show and have anyone out there, no matter what they typically like, appreciate what we're giving. We take pride in that. We've been going to Detroit since we were nothing, just in a van playing to virtually nobody. We always have good reception there so it's always fun to get back.  
What can we expect from the performance? 
It'll be a mix of everything. We'll be playing stuff off Send Her to Heaven, our new EP. We're not one of those bands that is sick of the hits. A lot of bands will talk about how they can't stand playing those songs, and for us, it's always those songs where people react and get into it. We like to get that feedback from the crowd as we're playing. We save some of the biggest ones for an encore. If we don't play "Gives You Hell," there's a 'what are they doing?' (laughs). It's like, we're coming back. You know what this game is, pretending we're leaving (laughs). We'll cover all the bases that people would expect plus some for the fans who know the non-hits.  
How does it feel to still get a positive response from the crowd, especially since you've been a band for 20 years now? 
It's crazy. I don't think any of us ever expected things to last as long as it has. We're just super grateful that we've been able to do this. It's a wonderful thing and we understand how rare it is when a band can not only stay together, keep the same members for as long as we have, but to be able to do this. This is our profession. We lucked out in the biggest way, and to still be able to do it 20 years later is mind-blowing. 
Send Her to Heaven is a different sound from your previous releases but it still comes across as The All-American Rejects. How does that fit into the evolution of the band?  
Yeah, I feel like that's something with each album we've somehow been able to do. We've never gone in to record anything with an idea of like 'we want to do this' or 'we need to repeat something we've done before.' It's always like 'here are the new songs that are coming out of us.' That makes it us no matter what they sound like. We want to fulfill what makes us happy and so we just continue to do that. I think the through-line is that it's us. It's coming from a genuine spot. Even if it sounds totally different from our first record, I think people can still draw the line of the evolution. 
How did recording Send Her to Heaven differ from how you would typically record a full album?
When we had done albums, we've typically hunkered down somewhere and spent months just living in the studio working on it. With these songs, we knew we weren't going to do a full album. We just wanted to do some songs that we had, and we walked in and knocked them out way faster, which is strange. That was a nice refresh actually because I think we'd all gotten a little burnt out on the process of how we'd made albums in the past. It was nice to go in like the old days where you didn't have money so you didn't have time. And we just kind of treated it that way. We were very happy to see that it didn't change the quality of the songs but it changed our excitement and how we work in a good way.  
Can we expect more EPs, or are you working up to a full album? 
It's up in the air. We did Send Her to Heaven, and a couple of years ago we did the Sweat EP. We enjoy working that way. we've always been kind of slow to release records compared to bands that are contemporary to us. It's quality over quantity. I think we're still in that same mind frame but we all kind of have our own separate lives, which we didn't have for like 15 years. That slows everything down a little bit more than even before. We still love each other, which is a very rare thing for bands that have been together this long. We'll get there eventually. 
---
From The Archive: Profile: Hamtramck Cartoonist Matt Feazell
Facebook Comments