When Dave Coulier walks into Travis Coffee Shop, he fits in with the regulars. Perhaps, in this case, it's because he is one. Growing up in St. Clair Shores, he fondly recalls the neighborhood burger joint and its greasy-spoon charm. And, throughout his last few decades living in Los Angeles, where he made a splash as an actor, comedian, and now, director, the diner was one of the first places he'd stop when he was back home.
Today, a warm July afternoon, Coulier is being photographed by his wife, Melissa, 36. Between shots and mouthfuls of his burger and ketchup-soaked fries, Coulier politely chats and jokes with the diner's patrons, some of whom are peering around their booths to eyeball the Hollywood-esque scene. Things are much different for Coulier during a typical visit to the family-owned eatery. Gone are the photo crew, the stylist, and the camera-ready makeup. On a normal stop at Travis, Coulier simply picks up a carry-out order and swings by his dad's place to drop off food.
His father still lives in the house where Coulier and his four siblings grew up. Situated on a tree-lined street, the St. Clair Shores home is where Coulier was born in September 1959. It's where he took slapshots in the driveway, his love for hockey and the Red Wings starting young. It's also where he began to dream about a future outside of St. Clair Shores, one where the pursuit of comedy amounted to more than being the "funny kid in class."
Long before moving out to Los Angeles in 1979, his time on the Hollywood standup circuit, his voice-acting gigs, and landing his star-making role as the lovable uncle Joey Gladstone on Full House (and later reprising his character in Fuller House), Coulier was simply that: the funny kid. The locker room roared with laughter as he told jokes to his hockey teammates. He perfected his comedy acts when he took over his high school's morning announcements with a dead-on impression of his principal's nasally Midwestern voice. Coulier says his childhood "partner in crime" was Mark Cendrowski, who would later find his own success in Hollywood as the director of the Big Bang Theory. The duo, who met in the third grade, worked toward their dreams of being "professional funny people," he shares. They drew comic strips, listened to George Carlin comedy albums, and later, created short films with an 8mm-camera provided by Cendrowski's father.
While Coulier's career shot him to Hollywood stardom, it's in his hometown where he feels most at peace. "I've always been in love with this part of the world," he says. "I find that I'm drawn to Lake St. Clair." It's this draw that has Coulier making a bold move: At 60 years old, nearly four decades after decamping for Los Angeles, the funny kid's coming home to metro Detroit.
Living off the lake has been a longtime dream of Coulier's, and good timing is, partly, what has inspired the move now. But it's also a desire to reconnect with the area as well as a solid sense of impulsiveness, a personality trait he says has served him well in the past. "If you sit and hang back, the world continues traveling right by you," he says. "Thank God Melissa is very open to that."
This time next year, the Frank Lloyd Wright-inspired house he and Melissa are building should be complete. The home will sit on a five-acre property off of Lake St. Clair, a scenic place they've visited over the past 14 years to recharge. "I feel joy knowing the places Dave holds near to his heart," Melissa, a Montana native, says. Coming home has Coulier feeling nostalgic, too. "People say you can never come back home," he says from the open kitchen of the couple's local rental property off of the lake, where he commutes to and from Los Angeles. "But [with] this journey, I'm back home. It's amazing."
His journey from St. Clair Shores to stardom was far from guaranteed. Mark Ridley of Royal Oak's Comedy Castle persuaded a young Coulier, who did standup around metro Detroit after graduating from Notre Dame High School in 1977, to move to Los Angeles to pursue comedy as a career. However, he was met with hesitation from his family. "It was, 'Are you nuts? You're going to go to L.A. and you're going to be a comedian? You're going to be an actor and do cartoon voices?' " Coulier says. "But you have to have those dreams first in order to have a direction."
For Coulier, that direction came from connecting with other up-and-coming comedians. Back then, he admits he didn't know anything about show business but says he was lucky enough to become a regular at The Comedy Store after his first audition at the West Hollywood club in August 1979. His peers included Bob Saget, Jim Carrey, Jerry Seinfeld, and Robin Williams. Only a few had name recognition at the time, but their talent was apparent. "You couldn't go on stage following Robin Williams and just kind of have an OK set," Coulier says. "You had to bring it up a level."
Hanging around The Comedy Store pushed Coulier to become a better performer. He went on to voice the Scooby-Doo animated TV series, tour as a standup, host Nickelodeon sketch-comedy show Out of Control, and guest-star on Family Ties and Newhart. He also made his way back to Michigan to film a 1984 comedy special for HBO at the Fisher Theatre. Then, in 1987, he found himself landing one of the comedy world's most sought-after gigs: a spot as a cast member on Saturday Night Live. But en route to New York for the job, after telling everyone he'd snagged the role, the president of NBC called with bad news: He felt that Coulier looked too similar to Dana Carvey and rescinded the offer. "It was such a humbling experience for me," he says. Later, while flying back to Los Angeles with Mike Binder, a television and film director who hails from Birmingham, Coulier was poring over a script for a new ABC show called Full House. "I gave it to Mike, and I said, 'What do you think about this script?' And he goes, 'You know, you could end up getting this. Who knows, this show could go for eight years,' " Coulier recalls with a laugh. "We talk about that to this day." 
While Binder's prediction was spot-on — Full House would, in fact, go on to run for eight seasons — the show's promise wasn't evident in the beginning. "If anybody tells you, 'Oh, we knew we were going to be a huge hit,' they're full of bologna," Coulier says. When the family sitcom — which centers on a young San Francisco-based widower Danny Tanner (Saget), who gets help from his brother-in-law, Jesse (John Stamos), and best friend, Joey Gladstone (Coulier), to raise his three young daughters — debuted in September 1987, Coulier says it languished in its time slot. But the next summer, when the network started showing its reruns, Full House picked up steam. By the time the show's next season returned in the fall, Full House had gained a loyal fan base and it dominated its night on the network.
While its life-lesson-orientated, family-friendly storylines weren't always appreciated by critics, the show consistently found its way into Nielsen's top ratings as the cast became fixtures of '90s pop culture. When Full House ended in May 1995 after nearly 200 episodes, Coulier went full speed ahead. As the show continued to run on syndicated networks, he appeared in the Disney Channel movies The Thirteenth Year and The Even Stevens Movie, voiced characters in shows like Robot Chicken, and even produced a musical storybook album for kids called Songs in the Key of Beaver. In his personal life, Coulier was able to spend more time with his son, Luc, born in 1990, and he and Melissa wed in 2014.
---
BEHIND THE SCENES: On Full House, Dave Coulier captured
America's heart with his infamous catchphrase, "Cut it Out;" ventriloquist work with Mr. Woodchuck, a suit-and-tie-clad stuffed beaver; and (for local fans) his hometown devotion when Joey sported a Red Wings jersey.
With Fuller House, Coulier has returned to the role of Joey, as well as taken up a new passion: directing. 
The job is a good fit for Coulier and his right-brain, left-brain tendencies, which he says recently came in handy when filming a scene for the show with special effects. "On our little stage, I had to shoot a scene to make it look like four actors were in an 18,000-seat arena," Coulier says. "It was big, very technical. I understand that part of it and readily welcome the challenge."
---
In 2015, when Stamos called Coulier to let him know about the proposition to bring Full House back as a sequel, he almost couldn't believe it. "I said, 'OK, I'm out playing golf. Call me when it really happens,' " Coulier recalls. "I don't think any of us envisioned we'd get the band back together again." Yet later that same year, he found himself back on the Warner Bros. stage playing Joey. Now, for Fuller House, a Netflix series following the oldest Tanner daughter, DJ (Candace Cameron-Bure), as she raised her own children with help from her sister Stephanie (Jodie Sweetin) and childhood pal Kimmy (Andrea Barber). "It felt like no time had passed. We all clicked into our characters; all the old jokes started coming back within a minute," he says. Fuller House has introduced a new generation to the lovable Tanner family. It's also given Coulier the chance to step into a new role as a director. By the time the show's fifth and final season debuts this fall, he will have directed six episodes. It's a role that a young Coulier didn't think he was cut out for when he moved to California. "I always thought about it," he says, likening the technical skills needed to direct to those used when he flies planes (yes, Coulier is also a private pilot). "I wish I would have done it a lot sooner because I'm pretty good at it."
Before its cancelation, Fuller House was nominated for an Emmy and won Kid's Choice, People's Choice, and Teen Choice awards. This, Coulier says, makes its ending particularly bittersweet. Yet, it's giving him the chance to refocus his passions, this time from his new post living off Lake St. Clair. "I've always worked. I've always remained busy. I've been able to achieve everything I've wanted to do, and I feel so lucky," he says. "But now I have to dream about other things because all those dreams came true."
After his many years in Los Angeles, it may appear that things are finally slowing down for Coulier. But in reality, he's as busy as ever. He's finished writing a number of family entertainment projects — four movies and three TV shows — and is in the process of trying to sell them with the shows being considered by networks like ABC, NBC, and Fox. He's also producing an instrumental album, which will feature Coulier on the synthesizer and piano and his friends on guitars and drums. When necessary, he'll commute to Los Angeles — perhaps even flying his own plane, a 1962 Beechcraft Bonanza P35.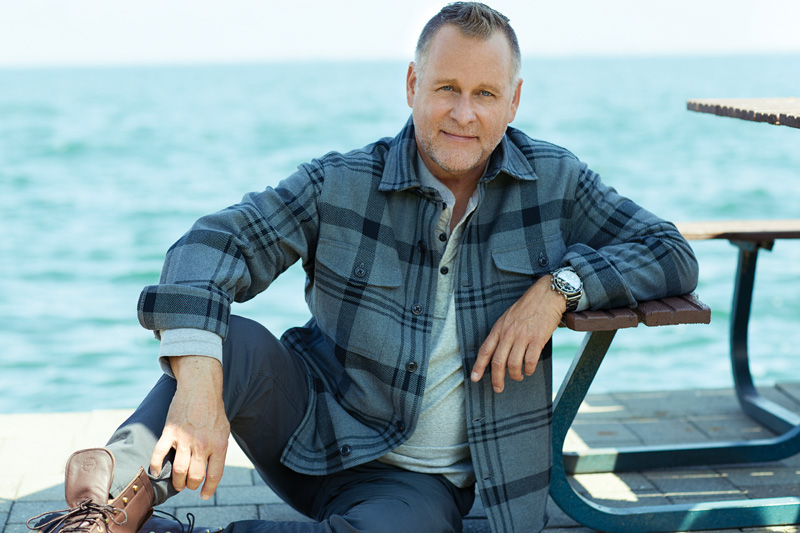 At the same time, Coulier is busy brainstorming ways to dive back into metro Detroit. He's already immersed in the charity scene by working with and supporting the Red Wings Alumni team and the Ted Lindsay Foundation. (He's even considering bringing back a charity hockey competition he used to host via his former nonprofit Dave Coulier Foundation.) He also plans to re-familiarize himself with the local arts community, which may mean anything from teaching to directing locally. "I think I can contribute a lot to the creative community here," he says. "I would like to thrive here as opposed to Los Angeles."
All of this, of course, comes alongside his No. 1 priority, which is building his and Melissa's future home. Literally. Just a few weeks before the initial build, Coulier is rolling up his sleeves to help level out the lakeside property. He's running machinery, pushing dirt around, digging up tree roots, and cutting down dead trees. "I love seeing how versatile Dave is," Melissa says. "I am impressed by all of the precision, manual labor, and energy he puts into the property and build." Coulier knows that once they're living in the house, he'll want to be able to say, "I had a big hand in doing this." Of course, he's also aware that there will be a time when he won't want to juggle as many projects. "One day, I'm just going to turn the switch off and say, 'I'm going fishing and I'm done. It's time to enjoy some other parts of life.'" 
When that day comes, Coulier will do what he enjoys most: stop by Travis, spend time with his family, and kick back on Lake St. Clair. "I can only go back to my childhood here and how much I enjoyed it," he says. "I think I'm enjoying it even more now. It's a beautiful place." Peering out the rental home's windows, the water captures his attention. The waves, despite their rapid movement, bring a sense of calmness to the moment. "Even when it's ice out on the lake and I'm looking out, there's a certain magic about being here."