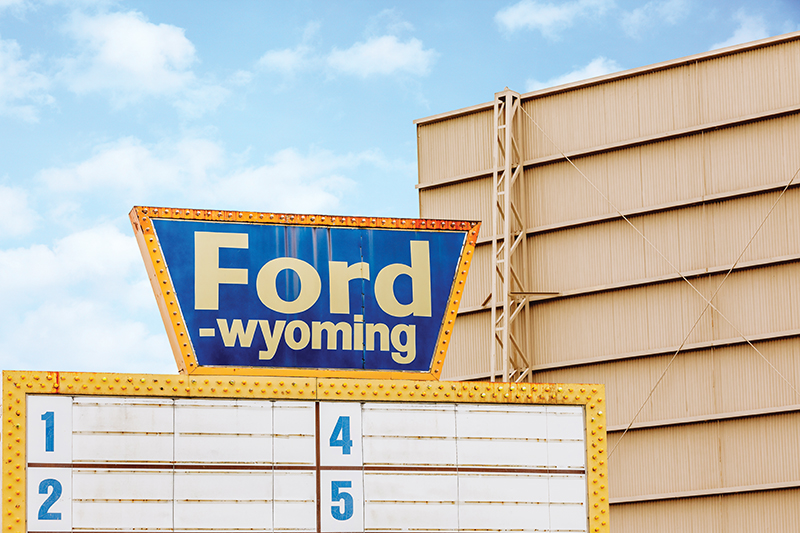 Drive-in movie theaters may be having a moment this summer. As people emerge from their pandemic shelters, they're looking for things to do — but not necessarily in crowds. That's how Amy Ellerholz was feeling.
"We don't have too many drive-in theaters in the metro Detroit area, and with the pandemic, I know personally my family is not comfortable going to a theater," says the Macomb Township mother of two.
And so, she was especially excited when she heard that Canterbury Village was planning to open a drive-in theater this spring. She likes going to the Lake Orion destination, which hosts festivals, events, and a weekend marketplace.
"It only takes us about 40 minutes to get there, so it's not too far," she says.
The new Canterbury Village Drive-in Powered by Emagine joins a handful of other drive-ins operating around the region that offer movies in the comfort of your own car. You can't get much more socially distant than that.
Well, actually, you can — as several drive-ins are planning to operate this summer at reduced capacity to keep patrons even more distanced.
That's how Canterbury Village planned to start the season. The idea for the theater grew out of a conversation CEO Keith Aldridge had with a vendor who stages rock concerts, which have been shelved by COVID-19.
"He was shut down with his rock concerts and has all this stage equipment," Aldridge says.
Canterbury established agreements with film companies and laid out a schedule of movies that will be shown on a 14-by-32-foot LED screen that's as clear in the daytime as it is at night, with sound delivered via each car's FM radio. Then Emagine Entertainment, which owns and operates theaters in Michigan, Illinois, and Wisconsin, signed on as a sponsor.
While there's capacity for 400 cars on five acres, Canterbury planned to open with a 160-car limit for each day and evening showtime.
"That's so everybody has ample space," Aldridge says.
Emagine Entertainment Chairman Paul Glantz says the company is looking into opening drive-ins of its own, though a shortage of radio frequency transponders might be an obstacle.
"You have to get FCC approval to operate even a low-frequency radio transponder, so opening a drive-in is not as easy as it might appear on the surface," he says.
USA Hockey Arena in Plymouth has been running its Summer Drive-in showing first-run movies in its parking lot during hockey offseason for 17 years. It offers double features every night and concessions, along with a restaurant that delivers food to cars.
While it's opening again this summer, General Manager Mike Henry says things will look different. It's limiting admittance to each of its three screens, for starters.
"The idea is to stagger cars every other parking spot and every other row, so as you park, you don't have another patron right on top of you," Henry says.
It's an age-old drive-in tradition to bring lawn chairs and sit outside, or in the bed of a pickup, or on the car hood, or in that boat you towed along — it happens — and sit under the stars. That could be different this year — in Plymouth and at other drive-ins. "We're looking at people staying in their cars or having to stay within six feet of their cars," Henry said in late May.
No cash will be accepted — just credit cards. Customers will have access to indoor bathrooms, which will be staffed and cleaned continuously. USA Hockey is also considering pre-selling tickets online versus first come, first served, as would be normal, Henry says.
Ford Wyoming Drive-in in Dearborn will operate with some restrictions as well. Speakers won't be available for use, so guests will have to listen through their car radios. The concession stand will be open with a limited menu, and only one (masked) member per party will be allowed in at a time.
Johny Thomas is general manager at the U.S. 23 Drive-in Theater in Flint, which was established in 1951 and now operates with three screens presenting double features nightly.
While the drive-in can accept up to 1,000 cars, Thomas expected to operate at lower capacity. And because the pandemic affected the movie industry, too, it wasn't clear going into the summer exactly which new films might be available when.
"It's crazy times," he says.
All the more reason, says Glantz, for people to get out and see a movie — any movie.
"During challenging times, people crave a bit of escapism," Glantz says. "And that's what movies provide."
---
Drive-in Theaters to Visit in Michigan
Canterbury Village Drive-in Theatre
Offering movies through the day and evening, 160 cars per showing. Check the Facebook page for the schedule and order tickets in advance. Prices were $20 per carload at press time. 2359 Joslyn Ct., Lake Orion; 248-391-5700; facebook.com/canterburyvillagelakeorion/
Ford Wyoming Drive-in
Founded in 1950 and now with five screens, the theater planned to open at half capacity and with other restrictions in place, including no watching from outside your vehicle (except in the back of a pickup). It will offer double features, with prices at $11.75 for adults and $4.75 for children 6-12; under 5 free. 10400 Ford Road., Dearborn; 313-846-6910; forddrivein.com
USA Hockey Summer Drive-in
Showing first-run films on three screens that accommodate 106, 260, and 85 cars in normal times, but will be operating at reduced capacity this season. Tickets are $10 for adults, $8 for children 4-12, and no charge for children under 3; student tickets are $8 Sun.—Thurs. 14900 Beck Road., Plymouth; 734-453-6400; usahockeyarena.com/drivein
Hi-Way Drive-in
Opened in 1948 and showing double features, the theater indicates on its website that pricing has been adjusted in accordance with admitting half the normal number of cars it can accommodate: One to three people per car is $25; four to five is $35; six-plus is $50. 2778 E. Sanilac Road, Carsonville; 810-657-6684; thehiwaydrivein.com
U.S. 23 Drive-in Theater
Offering double features nightly on three screens. The website lists prices at $10 for adults, $7 for kids 3-12, and 2 and  under free. 5200 Fenton Road., Flint; 810-238-0751;
us23driveintheater.com
Facebook Comments