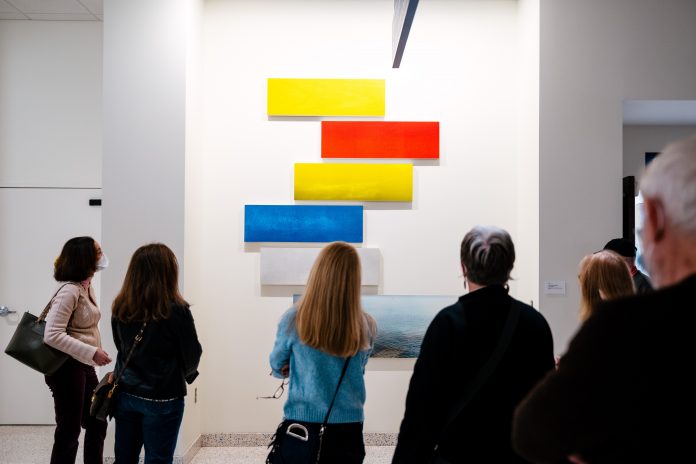 At the Brigitte Harris Cancer Pavilion at the Henry Ford Cancer Institute in Detroit, beauty — and open hearts — can be found in abundance.
From the moment they enter the building and in virtually every space throughout it, patients, their families, and caregivers are surrounded by gorgeous, thought-provoking, and emotion-evoking art.
In gallery-like wall displays, the art is exhibited near elevators and in exam and treatment rooms, waiting areas, multipurpose spaces, and the soaring, light-filled atrium. Artwork — a dozen pieces commissioned specifically for the pavilion, approximately 200 additional pieces from Detroit-area artists, plus another 100 or so limited-edition artist prints in care rooms — soothes during hours of waiting and treatment.
"Art in health care is not a new concept," says Megan Winkel, the philanthropy-funded curator for the pavilion's collection. "What makes it feel different and unique here is there was a lot of intention working with local artists and local galleries and really representing the arts and culture community in the community we serve. Very early in the planning of the architecture and design of the building, art was part of those conversations."
Channeling grief into inspiration
Large and complex works such as "Rust and Roses" honor cancer survivors and rally current patients. The custom-commissioned 4-foot-by-8-foot mixed- media landscape by former Detroit-area resident Johanna Curwood incorporates paper leaves autographed by cancer survivors who were treated at the facility.
As with many of her fellow artists in the collection, Curwood's connection to cancer is personal.
"It was comforting to go back and deal with the grief of losing my dad
to cancer," Curwood writes of how his death inspired her to create the piece. "He was riding with me during this painting, so I felt every one of those survivors and what they've been through, and I get it."
The 187,000-square-foot, six-floor pavilion, which opened in March 2021 as part of the Henry Ford Health System, also offers programs such as art and music therapy; writing workshops in partnership with InsideOut Literary; and on-site concerts by the Detroit Symphony Orchestra and Detroit Opera.
"Art has been shown to be a calming source for people going through difficult times," says Michael Ryan, clinical director for supportive oncology services at the Henry Ford Cancer Institute. "Patients may not start out thinking that art is a vital part of their treatment protocol, but when they discover it and their awareness is raised, they get a lot out of it. The end goal is symptom reduction, reduced stress, an increased sense of mental calmness, and distraction. Engaging in thinking that's more flexible and creative can help lift moods from a depressive state."
"A vibe of renewal"
Just ask Detroit artist and art teacher Nicole Key.
Diagnosed with stage 3 breast cancer in September 2020, Key initially received treatment at Henry Ford Hospital, then at the Pavilion.
"I was well into treatment — it was the most god-awful thing — I had to go every day or every week," she says. "And then, after my double mastectomy, I was there every day for five weeks for radiation. The cancer pavilion offered this beautiful space. I felt like I was in an art gallery. It was a very calming place."
Key, who has had three pieces of her own art exhibited at the pavilion, praises the power of uplifting work.
"You need something that makes you feel like you can get through it," she says. "There are no sad pieces, nothing that makes you sad. There's a vibe of renewal. You can lose yourself in the pictures. Every time I go there, I see something different."
Key credits the art and the art therapy program for getting her through treatment on the way to what she calls "the survivorship point."
"I owe them my life," she says.
---
This story is part of a three-part series in our 2023 Health Guide. Read more in our Digital Edition and don't miss the other two parts: How Art and "Miss Gail" Help Support Haitian Kids Receiving Medical Care and The Benefits of Movement Therapy.