According to my phone (smart as it is), the tiger lily flower — depending on its color — symbolizes an assortment of enviable human conditions.
The yellow variety, for instance, is said to celebrate thankfulness and the desire for enjoyment. Orange, like the varietal painted pretty across one wall of Ferndale's TigerLily, an epicurean paean to Japan's vibrant cuisine culture, is representative of confidence, pride, and abundance.
Whoever hung that name on this restaurant hit the nail on the head.
One of Hometown Restaurant Group's four centralized concepts — headed by downtown Ferndale civic champion Brian Kramer — TigerLily joined its sibling establishments in late summer 2022 in the space where Antihero previously plied its trade.
Now, next door to sister Public House (with her fully vegan-dedicated second kitchen), just one block over from One-Eyed Betty's (her ambitious tavern menu belying a boozy namesake backstory), and across the street from Pop's for Italian (self-explanatory), she's looking to blossom as a hybrid izakaya-sushi-robata grill hot spot.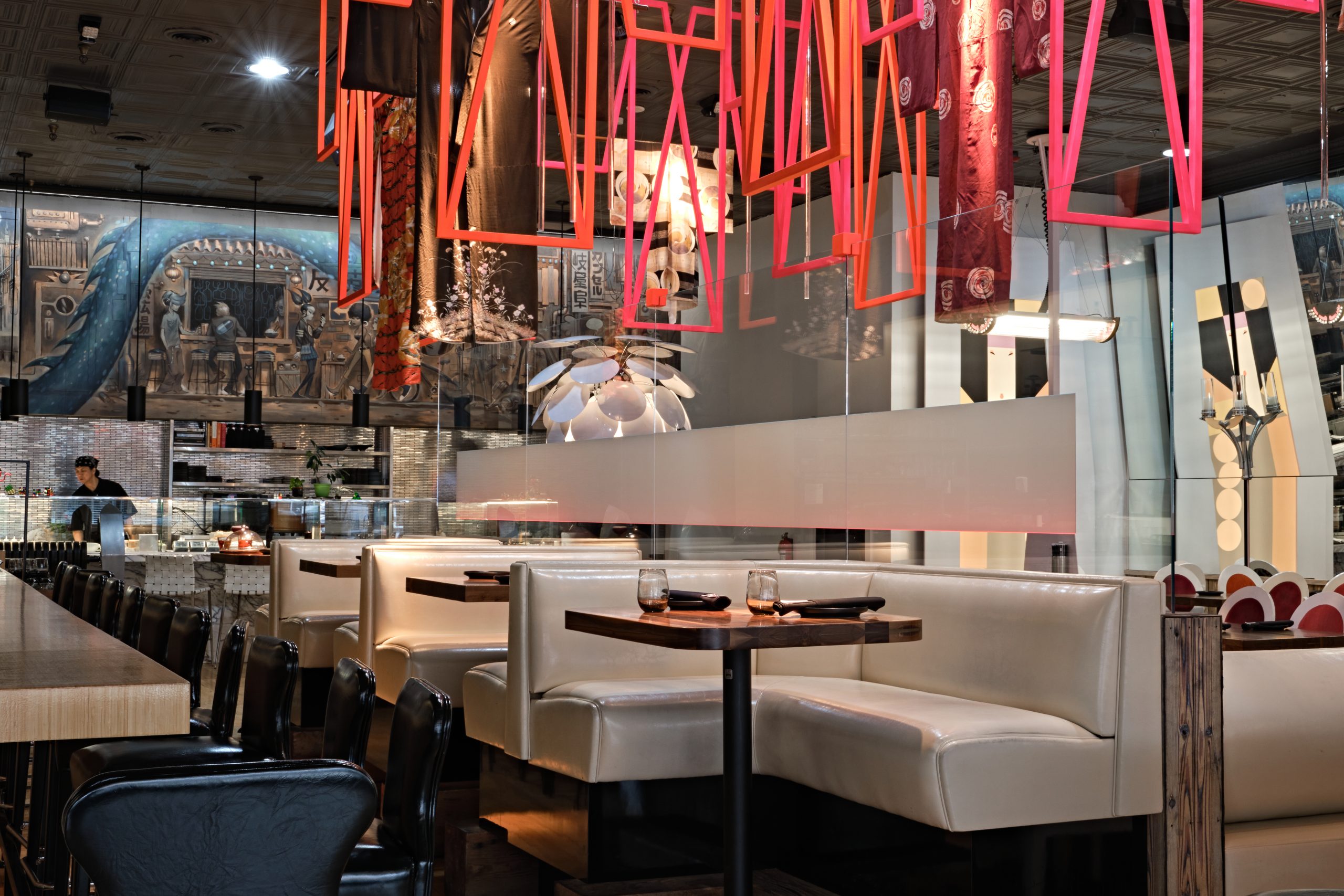 Credit Birmingham architects Ron & Roman for designing an interior spot-on conducive to all that. Kimonos hang in delicate display over the dining room — as does kimono-esque woodwork. Faux taiko (Japanese ceremonial drum) tables dot the lounge areas.
A long bar is backed by colorful Asian tchotchke figurines flashing fine porcelain smiles to sake sippers on their barstools. And from the private dining alcove up front flanked by one gorgeous floral and another — almost obligatory, I suppose — anime-style mural to the sweeping urban dragon artwork Detroit-born illustrator Glenn Barr was commissioned to create for Antihero, TigerLily looks the part of a sleek new player ready for prime time in progressive Ferndale.
I'm without a reservation one visit, and a wait in the bar lets me soak in some vibe. There's the clatter of conversations drifting over from the crowded dining room. Still, music adding to good energy in the more liquid half of the room distracts me from the din.
I settle in, then order some soup and sake. My clarified miso broth is way better than good. The stock is well-crafted consomme, smoky somehow and studded with shimiji mushrooms (think sturdier straw-style) and wakame, a cold-water kelp that brings — and I'll only mention this overused term once, I promise — umami to the bowl, whose bottom is lined with an almost custardy, caramelized layer of tofu.
My sake selection, Manotsuru Pure Bloom ($17 glass/$35 half-bottle) wins me over with refreshing notes of coconut and pineapple.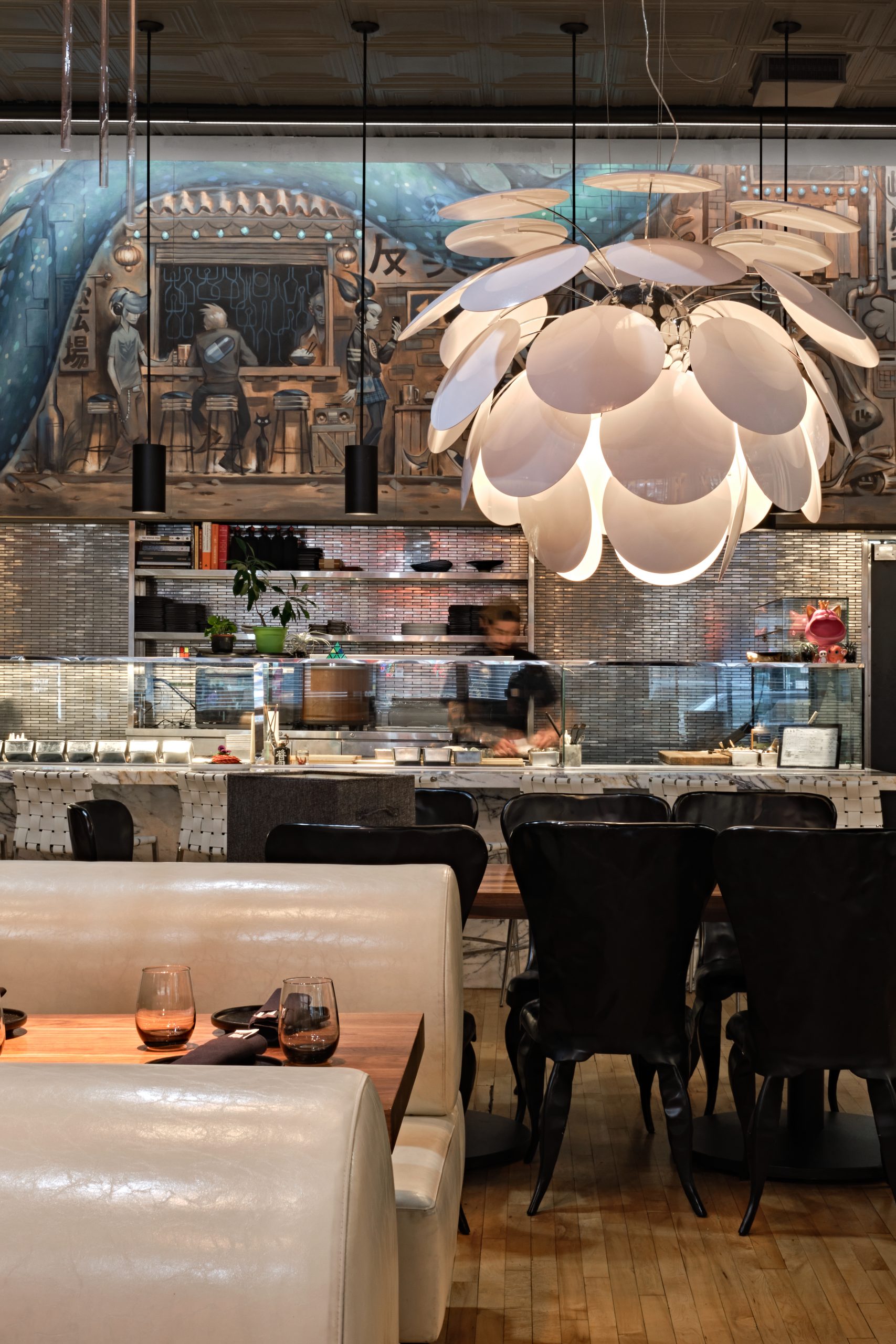 Thanks to great service and good conversation, I decide to stay put rather than take a table. Ashley the bartender seems all about answering my questions and making suggestions, and a perfect stranger and I strike up a food conversation that finds us swapping stories and sharing a few dishes over the course of our stay.
I break the ice, offering new friend David some of my Japanese street corn ($15), soliciting his opinion of a dish I kinda-sorta fell in love with on my first visit. For me, everything elemental to the dish is a winner: its star ingredient robata-grilled with fried garlic, chili threads, yuzu, and miso and slathered with shiso aioli.
What I don't like are the finger-size segments served still stuck to corn ribs. Gnawing on them in front of folks I just met in both instances feels awkward and embarrassing. I suggest that serving shaved kernels tossed in the other ingredients might make for a better presentation.
David disagrees. So there you go.
Cooked over searing hot binchotan charcoal, TigerLily's grilled, skewered, yakitori-style options showcase the clean flavor purism Japanese cookery prides itself in. Binchotan is oak, pre-fired in a kiln to an almost carbonized condition.
After the wood deeply chars but before it's burned, the charcoal is covered in ash and sand to halt the process. Because of its high-carbon state when finally used for grilling, binchotan imparts no residual wood flavor, allowing the true tastes of the foodstuffs themselves to shine.
Grilled eggplant ($6), for instance, comes almost unctuously to life through this treatment, skewered with lotus root and touched up with shallot and shiso-basil aioli. Green beans ($16), the Asian long variety, come charred and crunchy with a crush of cashew crumb and soft-roasted black garlic. Mildly spicy shishito peppers ($4), blistered and scented with lemon and sea salt, while maybe not a stand-alone item, make for a nice side bite.
On the protein side of the grill, tako (octopus, $9), sous vide poached then grill finished, will remain one of my guiltiest pleasures, grill-marked and gilded with shiso aioli. Equal praise for the braised pork belly (Buta Bara, $7), crisped to a turn over the coals and coated with a good shellac of its reduced brining liquid, redolent with sweetened soy and ginger.
I'm trying to take it easy on the budget, and a coal-roasted half Maine lobster, ironically, proves the most economical main course option ($32). Basted with mignonette, crusted with togarashi- tossed breadcrumbs (panko?), and dabbed with — you guessed it — yuzu miso aioli, it satisfies my craving for a little indulgence without investing four times as much in TigerLily's A5 Wagyu ($120, 5 ounces).
While I've yet to get around to sampling the restaurant's premium nigiri and sashimi, TigerLily makes the prospect easily approachable. Executive Chef Chris Vasquez-Yax offers seasonal selections. A tasting of sashimi (eight fish samples, two pieces of each) is offered at $80, while nigiri (nine pieces) is also available at $70.
As for sushi, David and I trade pieces of his karai tuna roll ($17, six pieces) for my mangekyou ($22, eight pieces). I enjoy the sweet-spicy yin and yang of the sweet potato straw and peppery chili paste in his choice. Unfortunately for him, the full, fatty flavor of the bluefin tuna belly in mine is more than the poor man can bear. I'm forced to finish it all myself.
"I just don't like fish that tastes like fish," David explains. Not a problem, pal. May I strike up a conversation soon during an upcoming review somewhere with someone who doesn't like their steak to taste like steak.
On that note, surprise: I do have some of TigerLily's A5 Wagyu after all. The shikotsu ($36, eight pieces) provides me a little taste, rolled with egg yolk, scallion, and cucumber and then drizzled with liquified marrow torched tableside from a cut beef bone. It proves not only a nice service sparkler but an unexpected reminder of how fat does undeniably add flavor.
On a scale of 1 to 10, with 10 being your all- time favorite dessert and 1 being red Jell-O, David and I give the matcha tiramisu ($16) a good, solid 7.5. This powdered green tea riff on a classic is a more subtly sweet mascarpone cake than its Italian inspiration.
Finally, he and I agree; the best forkfuls include broken bits of pistachio. Less successful for me is the Okinawa cheesecake ($17), colored a lovely lavender by Japanese purple yam but otherwise merely a serviceable 6 for its lacking further distinction, save for the nickel-size coconut tuille it came with. Cap the entire cake top with it (like a brulee crust), and you'll be onto something.
Less than a year after opening, TigerLily already appears in full flower. And like its namesake flora, which once naturally flourished in and around Ferndale, one finds reason to have high hopes that there's a long-run return here in progress.
TigerLily is located at 231 W. Nine Mile Road, Ferndale. Call 248-733-4905 or visit tigerlilyferndale.com for more information. TigerLily is also home to the speakeasy-style bar called Mai Tiki. Learn how to make Mai Tiki's Mai Tai here. 
---
This story is part of the May 2023 issue of Hour Detroit. Read more in our Digital Edition.