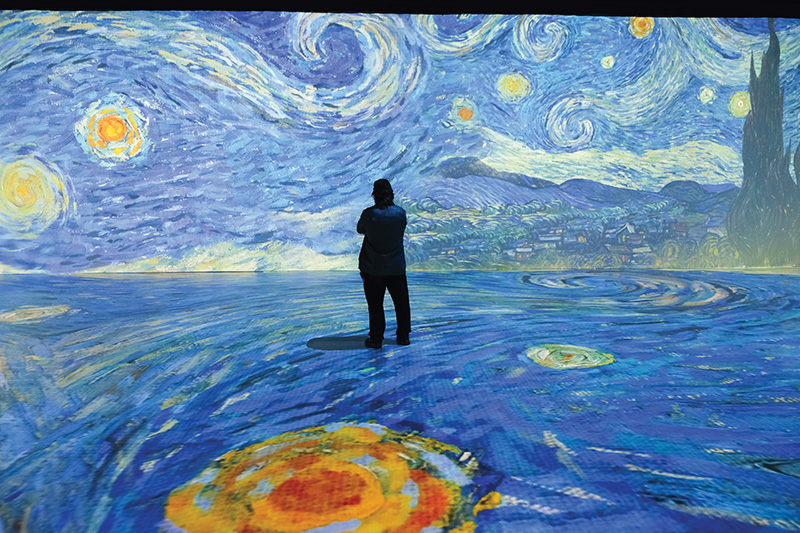 Museumgoers have been losing themselves in Vincent van Gogh's distinctively bold and colorful works for more than a century. But these days — thanks to an explosion of immersive installations that feature floor-to-ceiling, animated projections — art lovers can quite literally lose themselves in the world of the Dutch master's paintings.
The popularity of these immersive Van Gogh shows — fueled in part by a scene in the Netflix show Emily in Paris — has spawned no fewer than five different (but very similarly named) offerings within the U.S. That's caused more than a little confusion, including here in Detroit, where two immersive Van Gogh shows are making stops: Beyond Van Gogh, which runs through early October at TCF Center (tickets range from $24 to $94); and Immersive Van Gogh, which will run from Oct. 21 through Feb. 6 at an as-yet-undetermined location (tickets cost $40 to $50). 
So, what are the differences between them?
Immersive Van Gogh is the one with direct creative ties to the Emily in Paris scene. The exhibit's creator, film producer Massimiliano Siccardi, and composer Luca Longobardi, designed Van Gogh, Starry Night for Paris' L'Atelier des Lumières. That's where the titular Emily strolls around with her hunky neighbor and his girlfriend. Immersive Van Gogh uses 100 projectors to cover more than 500,000 cubic feet, features experimental electronic music, and offers visitors an hourlong experience.
Beyond Van Gogh, meanwhile, is the brainchild of Mathieu St-Arnaud and Montreal's Normal Studio. Beyond features 300 of Van Gogh's works, accompanied by an eclectic mix of music and excerpts from the artist's personal writings.
"At one point, we started talking about the easy archetype of the tortured artist, and I found it kind of sad, because we focus a lot on [Van Gogh's] ear-cutting, and his suicide, and all his problems," St-Arnaud says. "I wanted to really see Vincent and look beyond that archetype. And that's when the word 'beyond' started coming up. … We started talking about going beyond the frame, beyond the image, and entering the painting."
Tickets for both Van Gogh shows in Detroit have been in high demand, but of course, not everyone's enamored with the immersive concept. "It's digital imagery of beautiful paintings," shrugs Detroit-based artist/designer Moníka Essen. "One is missing out on the masterful technique of the layers of color, the quality of paint and brushstrokes, and the emotional response one gets when you see one of [Van Gogh's] real paintings in person. The intimacy of one person to one painting."
Those in Essen's aesthetic camp (or those who simply can't snag tickets) can take heart — a far more traditional exhibit, Van Gogh in America, is scheduled to open at the Detroit Institute of Arts in October 2022. That exhibition will track, nearly 60 of Van Gogh's works, the evolution of the artist's popularity during the first half of the 20th century.
St-Arnaud believes conventional museum experiences go hand-in-hand with shows like Beyond Van Gogh. "When you go to a museum and you see the paintings there in front of you, there's something almost mystical about that," he says. "We just offer the audience another perspective, or a new way to look at his work. It's complementary."
And maybe more important, after more than a year of being cooped up, it offers a unique outing. "It's Instagramable, a spectacle, like an IRL virtual reality experience that people can roam through," says Scott Northrup, a film and photography professor at the College for Creative Studies. "It's something big and bright and in-the-world, an amusement. After a year in smaller spaces, accessing other people and places via Zoom and FaceTime, I assume it feels freeing, in a way, to walk through [these paintings]."
Just make sure you know precisely which show you aim to, well, Van Gogh to.
---
In the mood for a more intimate, analog Van Gogh experience?

 
There's nothing like standing in the presence of the real thing. As a kind of appetizer for the veritable Van Gogh feast coming to the Detroit Institute of Arts in October 2022, check out these four paintings on display as part of the DIA's permanent collection:
Next year's big Van Gogh exhibit will coincide with the 100th anniversary of the DIA's purchase of Self-Portrait — a purchase that, it's worth noting, marked the first purchase of a Van Gogh painting by an American museum. Well done, DIA. Well done. —JM
---
This story is featured in the August 2021 issue of Hour Detroit magazine. Read more stories in our digital edition.