When Hour Detroit's first issue dropped in May 1996, the Detroit Tigers still prowled Michigan and Trumbull avenues. Kwame Kilpatrick was a 26-year-old teacher campaigning to fill his mother's Michigan's House of Representatives seat. Quicken Loans was still Rock Financial; Dan Gilbert had yet to buy skyscrapers.
We've seen a lot of change in two decades: rising and falling political fortunes, opening and closing restaurants, successful and not-so-successful sports and entertainment personalities, automaker bailouts, city bankruptcies, and more.
We've been ahead of the curve (and occasionally, behind it). In 1997, Dr. Jack Kevorkian was alive and putting out a CD of jazz music. We covered Avalon bakery staking a claim on "Cass Corridor's" mean streets. Arabic food was getting "discovered." And why did The Metropolitan Detroit Convention & Visitors Bureau contract a California firm to "rebrand" Detroit?
Yet the more things change, the more they remain the same. Mayor Dennis Archer's nemesis, The Tiger Stadium Fan Club, fought the proposed Comerica Park. Today, the Navin Field Grounds Crew has been battling to keep The Corner's hallowed ground natural grass. Long before Slow Roll, we chronicled Detroit's growing bike culture. We even complained about Mitch Albom's overexposure.
As early as 1997, we also mentioned "hipsters" at a Hamtramck bar. Presumably, some of them procreated … and their kids are now of hipster age. So can we retire the term, already?
To celebrate our anniversary, we took a trip down memory lane, catching up with some of the people and issues we've talked about over the years. We hope you enjoy the ride.
— Steve Wilke
---
Kate Peckham
'Actress on the Verge'
By Veronica Pasfield, Summer 1996
(Premiere issue)
The Backstory
Hour's first cover featured Kate Peckham. The "up-and-coming" 24-year-old actress was interviewed by then-editor Veronica Pasfield in Hamtramck's Planet Ant coffeehouse. At the time, she starred in the Purple Rose Theatre's The Harmony Codes, and also appeared in the independent film Get the Hell Out of Hamtown. Soon she would head to Los Angeles, and told Hour she dreamed of opening her own theater in Detroit with Hollywood money.
Twenty years later, we meet her again at a coffee shop, this time at Ferndale's Red Hook. Peckham says she wasn't even supposed to be on the cover, but the original plan fell through.
"I had no idea that it was a big deal. I remember when I went to the photo shoot, I didn't even wash my hair. I was just like, whatever," Peckham says, laughing. "I'm pretty sure that's going to be the only time I'm on the cover of a magazine!"
Notable/Quotable
"Detroit is the kind of place that builds character because you don't have everything in front of you. You have to make your own work if you are going to do what you want to do."
Since 1996?
Peckham switched to film after getting cast in Lost on the Bohemian Road, which filmed in Grand Rapids. It screened at the first-ever Los Angeles Independent Film festival and later got picked up by the Sundance Channel. Peckham then headed to Los Angeles to try to make it as an actress. "It was really humbling. My experience was mostly theater here, and nobody in L.A. gave a crap about that," she says.
After years of auditions and rejections, Peckham had enough. (One of her few credited roles is "Quiet Girl" in Almost Famous; she also appeared in the Michigan-made Jeff Daniels movie, Super Sucker.) She switched gears and became an acting teacher.
Since 2010, she's taught acting at Michigan Actors Studio. "That's one of the things I really missed, moving back from L.A. … Everyone is always studying. Even if you're a working actor, you're still in class every week unless you're really busy," she says. "That culture doesn't exist here, of continual learning, so I wanted to start an ongoing scene study class."
She's married to fellow stage actor Chris Korte ("I actually was a fan of his acting before we even started dating," she says), and raising her 3-year-old son, Adam. But she looks back fondly on her acting career.
"It was exciting. A lot of the people who were living and working in Detroit have gone on to be pretty successful in different areas of the industry," she says. She remembers appearing in the Planet Ant's first performance as a theater, which was directed by fellow U-D theater major Keegan-Michael Key — who went on to find success in Key & Peele.
"You can look at it one way, like, oh, she didn't make it," Peckham says. "But I don't feel that way. Life leads you in a different path. The last 20 years have been a pretty amazing ride."
---
Jeff Daniels
'What's Doggin' Jeff Daniels?'
By Veronica Pasfield, Winter 1996-1997
The Backstory
Following his success alongside Jim Carrey in 1994's comedy smash hit Dumb and Dumber and with Keanu Reeves in Speed, actor Daniels' star was rising fast. In 1996 alone, he appeared in three movies — Fly Away Home, 2 Days in the Valley, and 101 Dalmatians — prompting Hour's Veronica Pasfield to ask, "What other actor on the silver screen could have three major releases in as many months and not make the cover of Entertainment Weekly (yet)?"
At the time, the then-41-year-old was balancing long stretches in Los Angeles while maintaining a family in Michigan, and contemplating an early retirement — with plans to back out of the business and focus on his Chelsea-based Purple Rose Theatre.
Notable/Quotable
A chance encounter with director Marshall Mason landed Daniels a role as Dr. John Buchanan in an Eastern Michigan University production of Summer and Smoke: "I looked over at him and I thought either that is some big, dumb football player who has wandered into the wrong building and doesn't know it, or I might be able to cast Dr. John."
"I did three independent movies with good scripts, and that's not what you do when you're trying to be the biggest star. … Part of the reason … is that I'm not an actor. I'm an artist. My salary dropped by two-thirds because out in Hollywood they don't care. Add to it that I'm living in Michigan and I'm not married to someone famous and I'm not in rehab."
Since 1996?
In the early 2000s, Daniels wrote, directed, and starred in the Yooper comedy Escanaba in da Moonlight, which premiered as a play at his Purple Rose Theatre. Far from retiring, Daniels is as visible as ever today. From 2012-14, Daniels starred as Will McAvoy in the HBO drama The Newsroom (earning an Emmy for Outstanding Lead Actor in a Drama Series). Most recently, he reprised his co-starring role in the 2014 sequel, Dumb and Dumber To, and landed big roles in 2015's The Martian and Steve Jobs.
---
Kimberly Camp
'Can Kim Camp's Museum Bridge a Racial Divide?'
By Nichole Christian, March/April 1997
The Backstory
The International Afro-American Museum, founded in 1965 by Dr. Charles Wright and others, had outgrown a small building on West Grand Boulevard, then outgrew another building. In 1992, Detroit voters authorized bond sales to build a new 125,000-square-foot facility. New Jersey native Kimberly Camp was hired to make the Charles H. Wright Museum of African American History into a world-class facility. In the 1980s, Camp gained national attention as an artist for her Kimkins dolls. Hour profiled Camp prior to the museum's April 1997 opening.
Quotable/Notable
"What happens at that pivotal point in the exhibit (tracing 400 years of the African experience in America) when the black folks' and the white folks' eyes meet? What do they walk away from that (moment) with? We decided that it had to be with a feeling that we are people, and we're all in it together."
Since 1997?
Camp left Detroit in late 1998 to become CEO of the Barnes Foundation in Merion, Penn. There was some controversy and a court case over the late Albert C. Barnes' instructions, but the foundation prevailed and moved its Cezannes, Matisses, and other pieces to a now successful Philadelphia site. Camp resigned from the Barnes in 2005. She went to the Pacific Northwest to work as CEO of The Hanford Reach Interpretive Center in Richland, Wash. She teaches at Lincoln University in Chester County Pennsylvania and Drexel University. She also owns Galerie Marie in Collingswood, N.J.
Camp has fond memories of her time in the Motor City, adding: "Detroit's social structure is light years ahead of other cities. It's the only place I know where people truly look out for each other. I would move back in a New York minute! People keep counting Detroit out, but it ain't going nowhere! I had fun every minute I was there."
---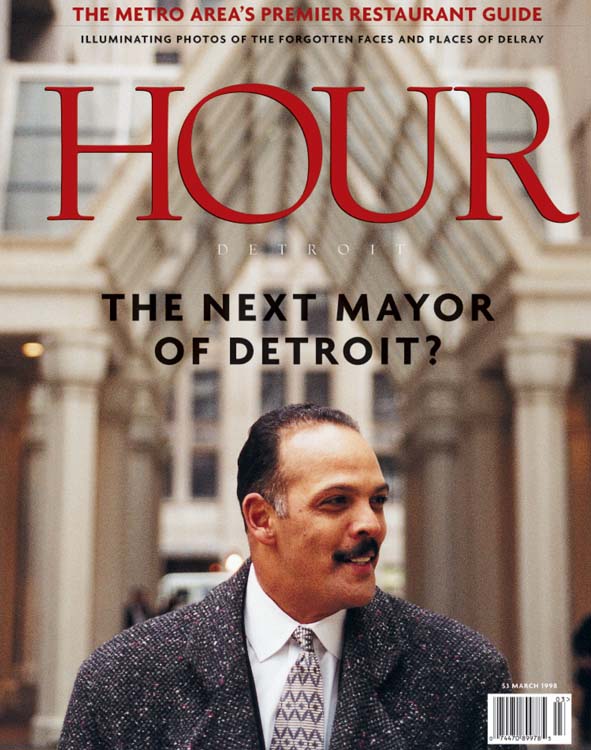 Freman Hendrix
'The Next Mayor of Detroit?' By Jack Lessenberry, March 2008
'Can He Win?' By Darci McConnell, September 2005
The Backstory
After Mayor Dennis Archer elevated Freman Hendrix to be his deputy mayor, there was talk he was being groomed for the top job. While he didn't run in 2001 (Kwame Kilpatrick prevailed over the late Gil Hill), Hendrix ran in 2005. Prior to that, Hendrix was the first African-American to direct a Democratic presidential campaign in Michigan, working on President Bill Clinton's successful re-election bid in 1996.
Quotable/Notable
(1998) "I went representing the county to a Democratic Leadership Council convention in Cleveland in 1991 and met Bill Clinton …  (Later) I remember sitting in (Wayne County Chief Executive) McNamara's office and saying, 'Mac, this is the guy we should get behind.'"
(2005) "What Detroiters will not give a mayor a pass on is being dishonest, being untrustworthy, and not being up front. What people tell me in Detroit is that they've lost that in this mayor."
Since 2005?
Despite besting Kilpatrick by 10 percent in the primary, Hendrix lost the 2005 election. After Kilpatrick's resignation, Hendrix ran again, but placed third in the primary behind Dave Bing (who won the 2009 general election) and Kenneth Cockrel Jr. Hendrix was voted to the Charter Revision Commission but resigned in September 2010 to join the Greektown (now "Jack") Casino Hotel board of directors.
Mayor Mike Duggan recently tapped Hendrix as the city's appointment on the Regional Transit Authority's 10-member board. Hendrix owns Advanced Security and Investigative Solutions and is also a partner in Brush Park Development LLC, "mostly as an investor," he says. "It's extremely important in the grand scheme of what's going on (in Detroit). The first real significant multi-use residential development close to downtown in a long time."
Hendrix loves baseball, and he had a hand in getting the Comerica Park deal done. But his proudest accomplishment is helping form the Grandmont Rosedale Little League in 1992. "We started in my living room with three or four other parents," he says. "I was able to leverage my role to do something very, very good for kids in Northwest Detroit."
"Kids that have come through that program are all in their early 30s now and (many have) gone off to college and become fine, productive citizens," Hendrix says. The league now serves some 600 children and their families.
---
Elmore Leonard
'Be Cool'
By Ric Bohy, May 1998
The Backstory
After toiling for decades writing dozens of Westerns and crime fiction, Michigan-based novelist Elmore Leonard was arguably at the apex of his career, being dubbed the "Dickens of Detroit" in 1984 by Time magazine (though he often dismissed the title as mere wordplay). In 1995, his story Get Shorty was adapted into an acclaimed film starring John Travolta, Gene Hackman, Rene Russo, and Danny DeVito, and Rum Punch was the source for 1997's Jackie Brown, directed by Quentin Tarantino. At the time, the then-72-year-old author was working on a sequel to Get Shorty called Be Cool. 
Notable/Quotable
"I'm too old to learn another town now. … It's like people say, 'Why don't you direct?' … God, I can't learn a new trade now."
"During Get Shorty, Barry Sonnenfeld, the director, came over and said, 'What do you think? Do you have any suggestions?' This has to be the first time in the history of Hollywood a director ever asked a novelist — more often than not, they don't even know who the guy is — if he has any suggestions."
Since 1998?
Be Cool was published in 1999 and made into a film in 2005, though the adaptation was a critical failure. His final work was 2012's Raylan, based on the FX television series Justified, which was in turn based on his own short story Fire in the Hole. On Aug. 20, 2013, he died in his Bloomfield Hills home due to complications from a stroke at the age of 87. His son, Peter, is also a crime novelist; Peter's son Alex is the drummer in the popular rock band Protomartyr.
---
Selma Blair
'Shooting Star'
By Julie Weingarden, March 2000
The Backstory
The year before, the Southfield native scored a breakthrough role in Cruel Intentions, which featured a buzzed-about scene in which Selma locked lips with Sarah Michelle Gellar. The then-27-year-old actress was also set to appear in Vanity Fair's upcoming Hollywood issue.
Notable/Quotable
"People don't think of Southfield as beautiful, but there is this area by my house that is like a state park. I started taking pictures of myself in eighth grade and I'd tell stories. They were like little movies."
"They try to make it sound like I hang out with Eminem and Kid Rock all the time, like I lived this wild existence in Michigan. Meanwhile, I sat with friends in the basement playing Scrabble."'
Since 2000?
In 2002, she co-starred in Highway alongside Jared Leto and Jake Gyllenhaal. Since then, Blair has been landing roles in numerous films, including blockbusters like Hellboy and Legally Blonde.
In 2012, Blair co-starred alongside Charlie Sheen in FX's Anger Management as Sheen's therapist and love interest. It was Sheen's first role since being fired from Two and a Half Men. Despite breaking a ratings record for the most-watched sitcom premiere, the show was a critical flop, and conflicts between Blair and Sheen caused Blair to leave in the middle of the second season.
Earlier this year, she played the role of Kris Jenner in the FX miniseries The People v. O. J. Simpson, the first season of American Crime Story. Reportedly, Blair and Jenner have since become friends. According to Blair's Instagram account, she still occasionally visits Michigan, and often waxes nostalgic about the time she spent at Cranbrook Kingswood Upper School.
---
Brendan Shanahan
'Blade Runner'
By Lynn Henning, March 2001
The Backstory
When Brendan Shanahan was traded to the Red Wings in 1996, the team had gone 42 years without a Stanley Cup. Over the next two years, with Shanahan firmly planted as a top line forward, the Wings won back-to-back cups. "Shanny" quickly became a fan favorite in Detroit for his scoring ability, steady play, and fighting prowess. In the pages of Hour Detroit, however, Shanahan displayed his "intellectual" side, discussing his literary, film, and TV favorites.
Quotable/Notable
"Shanahan's been called an 'intellectual,' a tag he laughs at. But he has such a ravenous curiosity that it wouldn't be entirely out of the question to find him on one of the Red Wings' charter flights, his Celtic nose buried in one of the literary classics he enjoyed as a youth. It might even be a bit of Shakespeare — well, maybe if it were tucked into the aircraft's seat back."
Since 2001?
From 2011-14, the former Wing served as senior vice president of the NHL, overseeing the league's Department of Player Safety and helping shape the NHL's disciplinary protocols — a bit ironic considering Shanny's reputation as an on-ice agitator. In 2014, he left that role for his current position as team president and alternate governor of the Toronto Maple Leafs.
---
Alexi Lalas
'Let's Play'
By George Bulanda, May 2001
The Backstory
Panayotis Alexander "Alexi" Lalas had just come out of retirement to play for the Los Angeles Galaxy. American soccer's most recognizable ambassador, the Birmingham native had retired in 1999. The defender played in the 1992 and '96 Olympic Games and was on the '94 and '98 World Cup teams. He also had played for the New England Revolution, the New York/New Jersey MetroStars, and the Kansas City Wizards. He was the only American to play in Italy's fabled Serie A league.
Quotable/Notable
"From the start of his career, Lalas has had his fingers in more pies than Little Jack Horner, not only playing soccer, but working … as a host and commentator for ESPN, ESPN2, NBC, and Nickelodeon, and as ad spokesman for Gibson Guitars, Dunkin' Donuts, 7-Eleven Slurpees, Gargoyles sunglasses, Adidas and other products."
Since 2001?
While with the Los Angeles Galaxy, Lalas won the CONCACAF Champions' Cup, Lamar Hunt U.S. Open Cup, and MLS Cup. He retired in 2002, then was general manager of the San Jose Earthquakes, New York Red Bulls, and Los Angeles Galaxy. He was elected to the National Soccer Hall of Fame in 2006. He is based in California and works as an analyst for Fox Sports.
---
Kwame Kilpatrick
'An Interview with the Mayor of Motown' By Jack Lessenberry, February 2003
'Can He Win?' By Vickie Thomas, September 2005
The Backstory
In 2001, Kwame Kilpatrick was elected Detroit's youngest mayor in modern history. "Our Future — Right Here; Right Now!" was his campaign slogan. In February 2003, Kilpatrick looked back on his first year in office, after nailing down a casino deal, riverfront development, and a few snafus. "There is absolutely no truth (about wild parties). We hear new ones every day," he said. "I think the reason that it comes out is that we are sexy. I think this is a sexy administration. People tell me it is because of the earring, the way I dress."
In 2005, Kilpatrick shared the cover with challenger Freman Hendrix, who had just bested him in the primary, with a contested election yet to come.
Quotable/Notable
(2003) And many who served, or dealt closely with past administrations, will say off the record that too many in Kwame's army are too young, too politically clumsy, and too inexperienced. The "Cass Tech Mafia," some of the old-timers call them, the kids the mayor went to high school with.
(2005) On being dubbed the "hip-hop mayor" early in his tenure: "I'm so much more than that. I didn't go to law school and battle in the Legislature … and graduate with honors and marry my wife and have my children to be reduced to being the hip-hop mayor. … It's an attempt to define me so that they can confine me."
Since 2005?
We don't need to rehash the whole "sexting" scandal with chief of staff, Christine Beatty, do we? Or that he resigned and pleaded guilty to two felony counts in 2008? Or that his "pay to play" system led to his conviction on 24 federal felony counts — and a 28-year prison sentence? Or that 32 others were convicted of crimes in connection with Kilpatrick, including Bobby Ferguson, who received a 21-year jail term? Wait, we just did rehash it. (But in fewer than 80 words.)
Kilpatrick is still in the news. His attorney Harold Gurewitz filed an appeal in January 2016 to the U.S. Supreme Court to overturn his conviction. At press time, the court had yet to respond to the petition for a writ of certiorari, a request that the Supreme Court order a lower court to send up the record of the case for review (case No.15-7790, if you're curious). In October 2015, the United States Court of Appeals for the Sixth Circuit turned down his claim alleging prejudicial testimony from federal agents during the trial. And in December 2015, the U.S. Supreme Court refused to hear an appeal from Ferguson.
Stay tuned. For now, Kilpatrick is in a federal prison in El Reno, Okla.
---
Ivan 'Pudge' Rodriguez
'Great Catch'
By Lynn Henning, April 2004
The Backstory
Ivan "Pudge" Rodriguez had signed a $40 million, four-year contract with the Detroit Tigers, giving hope to the most inept club in all of baseball. The 10-time Gold Glove winner and 10-time All-Star had a lifetime batting average of .304 (not to mention he had just helped the Florida Marlins win the 2003 World Series against the hated New York Yankees). Henning wrote: "To a beaten-down baseball community, Rodriguez's decision to play for Detroit seemed giddily incongruous, as if a Mercedes were coming to a Yugo lot. … Not a bad coup for a club that hasn't had a winning season since 1993."
Quotable/Notable
"Payroll had been freed up by owner Mike Ilitch, who made it plain last fall that he was sick of losing and, by implication, the recriminations of fans who have been shunning Comerica Park."
Since 2004?
Two short years later, Rodriguez and the Tigers played in the 2006 World Series (losing to the St. Louis Cardinals in five games). His signing had a lasting impact, as Henning recently wrote: The "surprise signing … signaled that a franchise had bottomed out and was headed steadily north." The Tigers went on to sign more stars, en route to several division titles and another (alas, unsuccessful) World Series berth in 2012, getting whacked by the San Francisco Giants in four straight. In July 2008, Rodriguez was traded to the New York Yankees for relief pitcher Kyle Farnsworth. He bounced around to the Houston Astros, the Texas Rangers, and the Washington Nationals. After retiring, he worked as special assistant for the Texas Rangers, then joined Fox Sports Southwest in 2014 as an analyst. He becomes eligible for the National Baseball Hall of Fame in 2017.
---
Bill Laimbeer
'The Softer Side of Big Bad Bill'
By Sheryl James, May 2004
The Backstory
When Bill Laimbeer said he wanted to coach the Detroit Shock, then-Pistons owner Bill Davidson said, "Bill Laimbeer? Maybe he's changed." And the former Bad Boy (perhaps the baddest) had indeed changed. As a first-year WNBA coach, Laimbeer took the Shock from last place to first in one year — and he did it without yelling, screaming, or sneering. He also announced Pistons games for Channel 50.
Quotable/Notable
"I went to the Pistons organization. I said, 'Hey, look, I'm already doing TV with you, I believe in your organization, I'm a Piston for life, kind of thing.'"
Since 2004?
While he never got the top job in the NBA as a head coach, he became a respected leader in the WNBA. He spent parts of eight seasons as the Shock's head coach and general manager, leading Detroit to a 137-93 (.596) record and winning WNBA crowns in 2003, 2006, and 2008. He then worked for two seasons as an NBA assistant coach with the Minnesota Timberwolves (2009-11) before returning to the WNBA with the New York Liberty in 2013. In 2015, he won a second WNBA Coach of the Year (the first was in 2003 with the Shock) for guiding the Liberty to victory. The team finished a league-best 23-11 to complete the most successful regular season in franchise history.
---
Damon Keith
'Detroiter of the Year'
By Sheryl James, July 2004
The Backstory
Damon Keith had just helped wrangle financial commitments to pull the Charles H. Wright Museum of African American History out of a financial bind. In a long and distinguished career as a judge, Keith had made some landmark decisions. He also compiled a long list of national honors (the Springarn Medal, the NAACP's top honor, and the American Bar Association's Thurgood Marshall Award, to name just two). Locally, an elementary school and The Damon J. Keith Law Collection at Wayne State were named after him.
Quotable/Notable
His finest hour? There's a tough decision. … Was it when he stopped President Richard Nixon from subverting the U.S. Constitution in 1970? Was it when he stopped President George W. Bush from subverting the Constitution in 2002? Was it when he told Pontiac in 1972 to desegregate its schools — and stood by that order despite death threats? Or when he told Hamtramck city officials their so-called urban renewal was really "Negro removal," and ordered restitution?
In this late stage of his career, Keith wrote what probably will be his most famous words: "Democracies die behind closed doors."
Since 2004?
At age 93, Keith still sits on the United States Court of Appeals for the Sixth Circuit — a spot he's held since 1977. Born in Detroit in 1922, Keith has a master's in law from Wayne State University (1956). He was the subject of a book Crusader for Justice, and a recent documentary: Walk with Me: The Trials of Damon J. Keith. As part of its "Detroit 1967" project, the Detroit Historical Society is collecting histories about the rebellion. One of the first people they interviewed? Keith, of course, who along with Judge John Feikens, was the first co-chair of the Michigan Civil Rights Commission (he served from 1964 to 1968).
---
Chauncey Billups
'An Exclusive Interview with the Pistons' MVP'
By George Bulanda, October 2004
The Backstory
After years of being traded and toiling on other teams, Chauncey Billups came into his own in Detroit, earning the nickname Mr. Big Shot for his game-winning heroics at sinking the threes. He was the leader of the 2004 champion Detroit Pistons, nabbing the Finals MVP trophy. The Pistons' 4-1 triumph over a heavily favored Los Angeles Lakers, which boasted Shaquille O'Neal and Kobe Bryant, is considered one of the greatest NBA upsets, showing that teamwork, not a superstar, wins the Larry O'Brien Championship Trophy.
Quotable/Notable
"I've played in every arena, and there's nothing like these fans in Detroit. I don't think it's just for basketball, either. I've been to some Lions games, and they haven't fared so well the last couple of years. But they sell out, and the fans go crazy. The same for hockey. Detroit gives us huge support."
Since 2004?
Billups played for the Pistons from 2002-08, was traded to Denver (his hometown), then returned to finish his career in Detroit in 2013-14. He has said he felt his team could've won more championships, but they only won the one title in 2004 (they fell to the San Antonio Spurs in a grueling seven-game series the following year). After retiring, he was hired by ESPN to work as a studio analyst. In February, Billups joined his fellow 2004 champ Ben Wallace as Billups' jersey rose to the rafters, ensuring there will never be another No. 1 on the Pistons.
---
Dieter Zetsche
'Life is a Joy Ride for the Chrysler CEO'
By Sheryl James, May 2005
The Backstory
The mustachioed leader had been at the helm of Chrysler Group since 2000, following its 1998 merger with Daimler-Benz. Despite being thrust into the role of "the Big Bad German" who was to come in as part of a foreign takeover and slash some 26,000 jobs, Zetsche defied the odds to become one of the most liked CEOs in recent memory. Not just because the company posted profits for several years under Zetsche's management, but it was also because of its leader's charismatic personality.
Notable/Quotable
"Ultimately, relationships between people come down to the same values … So it has nothing to do with German and American but just two groups of people coming together with all the highs and lows they're going through."
"I'm not a flashy guy. I'm bald. I have a big moustache. I wear glasses. I speak English with a bit of an accent. And I don't mind making fun of myself — hey, there's just so much great material!"
Since 2005?
In 2006, Zetsche went public as the face for Chrysler, starring in the "Ask Dr. Z" advertising campaign (the spots featured him answering customer questions, ending with him bidding the viewer "Auf Wiedersehen"). The company posted losses in 2006, and that year Zetsche made the call to "unmerge" Daimler and Chrysler, becoming the chairman of Daimler. In December 2008, President George W. Bush announced an emergency financial rescue plan to bail out Chrysler (and GM). In February 2016, Daimler extended Zetsche's contract through 2019.
---
Carmen Harlan
Best of Detroit
June 2005
The Backstory
In Hour's annual "Best of Detroit" feature, readers voted WDIV's Carmen Harlan the best local TV anchor, best TV hairdo (female), and best-looking TV personality (female). The string of accolades, not to mention her decades of steady reporting, made Harlan a natural choice for an Hour Detroit cover.
"It generated a lot of excitement in my family, and for me too," Harlan says. "I can't wait to show my grandsons when they're older. They'll get a kick out of it."
It wasn't the first time Hour readers expressed their appreciation for Harlan, and it wouldn't be the last. Harlan, whose career with WDIV began in 1978, has won or tied for Best local TV anchor (female) in Hour's "Best of" contest in every year but one since 2004 (the category went to Rhonda Walker in 2010).
Since 2005?
As senior anchor at WDIV, Harlan continues to deliver the Local 4 news at 5, 6, and 11 p.m. The Detroit native also continues to serve as co-host during Local 4's coverage of the Thanksgiving Parade and Detroit's annual fireworks show.
Reflecting on her career to date, Harlan says she's watched her hometown "bottom out and turn the corner," and through it all, she's been grateful for the opportunities and people she's met along the way. "Detroit has given back to me in so many ways," Harlan says. "All I can say is thank you, because I've appreciated doing it."
---
Steve Yzerman
'The Captain'
By John Niyo, November 2005
The Backstory
Beloved Red Wings captain Steve Yzerman had spent 21 seasons in the NHL, and after three Stanley Cups, 1,755 NHL points (seventh all-time), and a battle-scarred body to prove it, the writing was on the wall: Yzerman's 22nd season was going to be his last.
Yzerman hung up his skates on July 3, 2006, (eight months after our profile). But questions regarding his future were buzzing long before that: "What will Stevie do next?" "How will the Wings fare without him?" "How do you properly celebrate the career of the longest reigning NHL captain?"
Ever the humble leader, Yzerman refused to soak in the spotlight, consistently deflecting retirement rumors to discuss the team, telling Detroit News sportswriter John Niyo:
"Mostly it takes the focus off what the team is trying to accomplish, you know?" Yzerman says. "You've got young guys here trying to prove themselves. …Everyone wants to do well. And (retirement talk) just distracts from all of that. …  It's not about a player or an individual. It's a professional team trying to win games."
Quotable/Notable
"One day, a mysterious kid arrived from the north, a good-looking teenager who said little, but possessed magical skills. Blazing speed. Quick hands. Selfless. And man, could he take a punch. The Wings were dazzled — and crowned the kid their leader. With little fanfare, he stepped up, growing into a man as he guided them to glorious victories and a bounty of treasured cups and rings beyond their wildest dreams."
Since 2005?
A managerial role always seemed inevitable for Stevie Y. After four seasons with the Red Wings as a vice president, Yzerman was hired in 2010 as general manager and vice president of the Tampa Bay Lightning. Under his leadership, the Lightning secured playoff berths in three of the past five seasons, reaching the Stanley Cup playoffs in 2015. Continuing his long legacy of success, Yzerman won the NHL's manager of the year award in 2015.
---
Michael Moore
'Mr. Nice Guy?'
By Anthony Bozza, July 2006
The Backstory
In 2005, Michael Moore had launched The Traverse City Film Festival. It admitted more than 50,000 people and generated an estimated $5 million in revenue for local businesses. Former Rolling Stone staff writer Anthony Bozza interviewed Moore to find out how a spontaneous gesture became, in the words of one local newspaper, the greatest event to hit the area "since the Ice Age." And how, for the love of film, he put politics aside.
Quotable/Notable
"In the business community up there, you generally have fairly conservative people — mostly conservative Republicans. And now … they are our biggest boosters and supporters. … They've gotten to know me as Michael Moore the human being, not as Michael Moore the fictional character created by the Fox News Channel (and) that: number one, I love this country; two, I care deeply about our soldiers; and three, they end up having a good laugh while watching my films, too."
"We will also have a salute to Iranian film. There has been a growing and wonderful movement in Iranian cinema in recent years. … Personally, I also just think it's important to know people before you bomb them …
Since 2006?
The filmmaker from Roger & Me and the Academy Award-winning Bowling for Columbine fame was finishing up Sicko, his 2007 film about health care. The Traverse City Film Festival regularly draws more than 100,000 admissions. This year's event is July 26-31.
In January 2016, Moore endorsed Bernie Sanders for president. His latest film, Where to Invade Next, was released in December 2015. The premise is that he "invades" other countries to learn about policies that might help Americans, only to find many of the ideas actually originated here. They held free screenings in Moore's hometown of Flint, which has been in the news for its water issues.
---
Dave Bing
'Bingo!'
By Jim McFarlin, July 2007
The Backstory
The former Detroit Pistons star was the 2007 "Detroiter of the Year." His automotive supply firm Bing Group had gross sales of $200 million. In 2007, he announced plans for a luxury residential community called The Watermark Detroit on former cement factory land. He was also involved with the Next Detroit Neighborhood Initiative to demolish abandoned homes and replace vacant lots with affordable homes and "recreational greenbelts."
Quotable/Notable
"I'm not anti-poor. I mean, that was my background. But on the river, no, that's not for poor people at all. … Look at the major (American) cities, and we are still one. … We happen to be one that has an almost totally undeveloped riverfront. … I think it's the most valuable property that the city of Detroit has."
Since 2007?
After Kwame Kilpatrick resigned, Bing ran for mayor and defeated Interim Mayor Kenneth Cockrel Jr. He took office in May 2009. He was re-elected to a full term in November 2009, besting businessman Tom Barrow. Recession and automaker woes didn't exactly deal Bing a very good hand. In 2013, the city declared bankruptcy and Gov. Rick Snyder appointed Kevyn Orr as emergency manager. Bing decided not to run for re-election. "I think bankruptcy, though none of us wanted it, is probably the best thing to get some of the debt off of our balance sheet," he said. More recently, he formed the Bing Youth Institute. Earlier this year, Bing commented on Detroit's recent resurgence, saying, "Black contractors and developers find themselves on the outside looking in. When given an opportunity, it's minuscule."
---
David Gilbert
Restaurant of the Year, Forest Grill
By Molly Abraham, March 2009
The Backstory
Forest Grill, the 2009 Restaurant of the Year, was Brian Polcyn's creation, but David Gilbert ran the show. As executive chef at the Birmingham restaurant, Gilbert had full direction of the menu. He was a former apprentice at Polcyn's Five Lakes Grill in Milford before going to the Culinary Institute of America, and worked stints in Michelin-starred restaurants in Europe. Before taking the helm at Forest Grill, Gilbert worked at the Townsend Hotel. Gilbert may have the golden touch: He was the main chef at Rugby Grille in the Townsend Hotel when it was picked as Restaurant of the Year in 2000, followed by Forest Grill in 2009, and then Marais in 2014.
Quotable/Notable
"We really like talking about food, and ideas we both have." (Gilbert on his relationship with Polcyn.)
Since 2009?
Since moving on from Forest Grill, Gilbert opened Marais, the modern French dining restaurant, which was Hour Detroit's Restaurant of the Year in 2014. Christopher Cook wrote: "Barely six months old, Marais, the elegant and sensational new Grosse Pointe restaurant, at last reaches the level of fine dining of other cities." Like his mentor, Gilbert takes the opportunity to groom the next generation in Detroit, where the chef community is more collaborative than cutthroat.
In the 2014 story, Cook quoted Gilbert as saying: "The guys I'm cultivating right now (as kitchen staff) are the next generation of chefs in Detroit. That's my goal. They and those who follow them will have not just the skill set, but the ability to say 'my obligation is not only to do this, but to give back.' "
---
Kid Rock
'Hour Detroit's 2009 Detroiter of the Year'
By Jim McFarlin, July 2009
The Backstory
In years past, Hour's "Detroiter of the Year" title had gone to titans of local industry, political powerhouses, urban developers, and military moms. But 2009 wasn't typical. GM and Chrysler were filing for bankruptcy, and financial leaders were finally coming up for air from the Great Recession. As such, the 2009 Detroiter of the year title went to an atypical recipient: 38-year-old Romeo native Robert James Ritchie, better known as Kid Rock.
It was a big year for the Detroit rocker/rapper. His "Made in Detroit" brand, which he'd purchased in 2007, was doing well, his private-label Bad Ass Beer was preparing to hit the shelves, and at the 2009 Grammys, he'd been nominated for Best Rock Album and Best Male Vocal Performance for his seasonal anthem All Summer Long.
Quotable/Notable
"Sure, he has a bad boy image, but there's plenty of good that he's done for Detroit. He may be an unconventional ambassador, but no one can deny he's rock-solid on this area, which may explain why Kid hasn't pulled up stakes for L.A. or New York. He's undeniably 'Made in Detroit.' "
Since 2009?
As with his music, Kid Rock's influence, passion, and generosity always seems to be lingering somewhere in the not-too-distant background of Detroit. In 2012, the Detroit Historical Museum debuted a new interactive exhibit funded by the Kid Rock Foundation dubbed the Kid Rock Music Lab. It celebrates Detroit's musical legacy. In 2015, Eastern Market unveiled its renovated Shed 5 project, complete with the Kid Rock Kitchen Commons, a space used to host community events. The Kid Rock Foundation donated $250,000 to the cause.
In 2016, Kid Rock performance dates include stops at Daytona International Speedway and the Taste of Country Music Festival in New York.
---
Charlie White and Meryl Davis
'In Tandem'
By Aileen Jinn George, May 2010
The Backstory
Ice dancing partners since childhood, White (then 22, of Bloomfield Hills) and Davis (then 23, of West Bloomfield) had the biggest year of their lives, taking home the silver medal for ice dancing at the Olympic Winter Games in Vancouver and second place in World Figure Skating Championships in Torino, Italy. Hour caught up with the duo, who were both balancing their time as students at University of Michigan, for a Q&A and fashion shoot.
Notable/Quotable
Davis: "We're friends. We spend hours upon hours a day, five days a week, sometimes weeks with each other. The strength of our relationship has been the foundation of our career."
White: "We're really lucky our personalities mesh well. We have the same goals and work ethic. We're always on the same page … Most ice-dance teams … usually don't get along, so we realize how lucky we are."
Since 2010?
The duo broke world records in their free dance and short programs at the 2014 Olympic winter games in Sochi, Russia, earning them the U.S.'s first Olympic gold medal for ice dancing. Last year, White married fellow ice dancer Tanith Belbin (Davis served as a bridesmaid). The two are both still enrolled at U-M, with White studying political science and Davis studying cultural anthropology. Since scoring their gold medal, the two have taken a break from competitive skating, but haven't ruled out the 2018 Olympics.
Facebook Comments