The resurgence of Detroit's Midtown isn't just concentrated on Woodward Avenue. A few blocks west on Alexandrine Street near Second Avenue, a visionary project is making a functional — yet beautiful — statement about sustainable urban living.
Here, the 1898-era El Moore building has been reimagined and reinvented as a residential apartment building with a twist. It's also a lodge welcoming out-of-town guests and locals looking for a unique staycation.
Guests can book one of 11 rooms for an urban getaway that offers a chance to explore the surrounding community, with a convenient jumping off point to downtown Detroit.
The lodge includes five ground-level rooms and two shared-accommodation rooms. And to top it off, there are four rooftop cabins with stunning views of the city.
The floor-to-ceiling windows in the Starlight Cabin, for example, offer a five-story-high vantage point of old and new Midtown.
Look one block north to the venerable Mario's Italian Restaurant, an institution since 1948. Mario's neighbor, Traffic Jam & Snug, is just a few steps away. Jolly Pumpkin and Motor City Brewing Works are just around the corner.
Directly across Second Avenue, the former Tomboy supermarket now houses Will Leather Goods, with its coffee shop and Robert Adler Gallery.
One block south you can choose between the casual high-end fare of Selden Standard or the solid offerings at Honest John's.
Saving a Castle
Until recently, the storied El Moore was an unlikely candidate for a happy ending. The Lake Superior red sandstone gem — which once held spacious, upscale flats — sat vacant and deteriorating.
It was on the auction block, in danger of becoming at worst, another example of "ruin porn." At best, it might be torn down for redevelopment.
That's when Sue Mosey and Midtown Detroit Inc. started a conversation with Tom Brennan and his wife, Peggy, who were opening a building dubbed the Green Garage a few blocks away from the El Moore on Second Avenue.
"We were at Motor City Brewing Works," says Tom Brennan, "and Sue said, 'We might lose one of our castles. Would you be interested in looking at it?'"
The Brennans agreed to look.
Their Green Garage was already proving successful as a deep exploration of sustainability. It opened in 2011 as an incubator of "triple-bottom-line" businesses, which are ones economically profitable as well as healthy for the environment and the community. The co-working community has attracted 50-plus businesses-in-residence at last count.
Brennan is intent on exploring the nature of sustainable urban living. "Detroit is in a unique position globally," he says. "There are a lot of abandoned buildings with vacant lots. What kind of design patterns can we come up with to explore the fundamental relationship between nature and urban areas?"
The Green Garage was part of the answer. But could they lead by example with a sister project that demonstrated the concept in a residential setting?
The El Moore's exterior was certainly attractive, but bringing the building up to code would need a different financial model, Brennan says.
Deciding what to do with the property started with a question: What did the neighborhood need?
So they talked about it over "lunch."
Guests interact with residents in the parlor.
Feeding Curiosity
Ever since the Green Garage began, the staff has hosted weekly "community lunches." They open their doors to curious neighbors or business people — whoever wants to attend the Friday BYO lunches.
They soon began attracting more than locals — people from as far away as New Zealand were stopping in, "and they weren't here to see the Tigers play," says Jason Peet, who manages the El Moore project. "We started finding out that people were coming from out of town who were very interested in what was happening in Detroit."
Thoughts turned to having the El Moore become more than an apartment building — it would be a Lodge where out-of-state visitors and metro Detroiters alike could connect with the community on a much more intimate level.
But if they were going to successfully demonstrate their concepts, it also needed to be profitable — and very green.
Getting there took a lot of heavy lifting. According to Brennan, there were some 400 pigeons in the upper floors. Marble walls near the main staircase had to be removed, with some pieces having to be put back together like a giant jigsaw puzzle.
The biggest challenge: to prove sustainability can be done in a historical district "where you honor that history but are also bringing a building into the 21st century and preparing it for another 100 years of life," Peet says.
The transformation into one of the city's greenest buildings took paying attention to details big and small, from rebuilding walls with a 10-inch super-insulated envelope to reducing actual envelopes by enrolling residents in a "no junk mail" service.
They opted for a geothermal system, drilling eight 200-foot deep wells to use the constant temperature of the earth to help regulate heating and cooling.
What Brennan believes may be the first cistern in a commercial building in Detroit captures up to 5,000 gallons of harvested water. There's also a rainwater retention system under the parking lot.
And if you think "green" means a lot of vinyl, think again. Local vendor Kelly Window & Door Manufacturing supplied attractive, yet energy-efficient, super low-e windows.
There are 42 photovoltaic solar panels on the roof that Brennan says can supply up to a third of the building's energy use in the summer. Appliances are rated Energy Star or better.
The bottom line: The El Moore's energy usage is a mere 20 percent of an average apartment building's.
The Material Question
Reuse was high on the priority list, too. Using the theme of "building Detroit's future from our own past," the plan incorporated materials already in the El Moore or from other buildings being taken down in Detroit.
From the El Moore, they saved most of the wood flooring and door trim and much of the 2-by-4s for wall studs.
They found original metal railing, which was donated back to the El Moore. The greenhouse got its clay roofing from a Boston-Edison home; its metal windows came from a nearby commercial building. Brennan hopes the greenhouse will host community events, such as pumpkin carving this fall.
Sandstone curbs from Prentis Street became stone fence columns; wrought- iron fencing came from a local cemetery.
A closer look at the rooftop cabins reveals the team's philosophy. Rather than starting with a design and then looking for materials, the cabins were planned based on using existing "found" materials.
Salvaged lathe work forms the walls and doors. Bed headboards incorporate old porcelain knob and tube wiring covers, along with doorknobs unearthed on the property when they were building a new elevator structure. The beds were crafted by Chad Dickinson of Dickinson by Design, who actually started out in the Green Garage before moving his furniture company to a larger facility on Livernois Avenue.
Metal legs from a water tower from the old Dalgleish Cadillac building being redone in nearby Tech Town were salvaged and used as columns to hold up decks. The tank itself will be used as an entrance to a park being developed next door to the El Moore. Plans call for a new structure that will incorporate some 30,000 bricks salvaged from a building being torn down next to Honest John's.
The Resident Community
If you think that Midtown is only a mecca for so-called 20-something "hipsters," think again.
El Moore residents include a retiree who left her northwest Detroit home — but not the city — behind. She didn't merely want an apartment; she wanted a sense of community — and a place for her grandson to visit.
A Green Garage business tenant occupies another residence. She sold her home in Huntington Woods to be closer to work. There's also a young family, a graduate student, and yes, even a few young professionals.
What's key is how they chose to live here. The El Moore did no advertising. They simply shared their story through their work at Green Garage — and those lunches, of course.
"We also took the time to have conversations with people to see if this was a good fit for them," Peet explains.
In other words, someone simply attracted to the look of the place might not share the mutual goals.
Prospective residents were asked if they wanted to be involved with their neighbors as a community. And they were told there was going to be a Lodge component — would they be OK with guests wandering around the parlor?
Staycation Options
Now that the El Moore Lodge is open, visitors can witness the building's sustainability while experiencing Midtown, up close and personal.
Out-of-town guests can arrive by taxi and have access to downtown without renting a car. It's a block walk to popular restaurants and shops, and when it's finished, the M1 Rail line (aka the QLine) will be minutes away.
They're finding that they've been attracting people who are not just interested in finding a hotel. "There's no shortage of places to stay," Peet says. "We want them to connect with people."
Guests are encouraged to embrace the El Moore's community spirit. But as they learned from Green Garage lunches, you can't bring community together without food. So there's an opportunity to have a cup of coffee or Continental breakfast in the parlor and interact with staff, other guests, and residents.
"The strength of this city was has always been its neighborhoods," Brennan says. "People want more connections with each other (and) now people visiting Detroit are able to connect to residents living in the building."
And if a local is considering a move downtown, what better way to test-drive what it might be like?
So far, the Lodge has been well received by guests and the residents. The most remarkable rooms have been the cabins. Think of them as a sort of traditional up north Michigan getaway, but in an urban setting.
No, you can't toast marshmallows on the El Moore's roof. But Selden Standard's rotating menu has been known to offer a Campfire Sundae dessert that's a lot like a S'more.
Or you can always take the Green Garage approach and pack a lunch.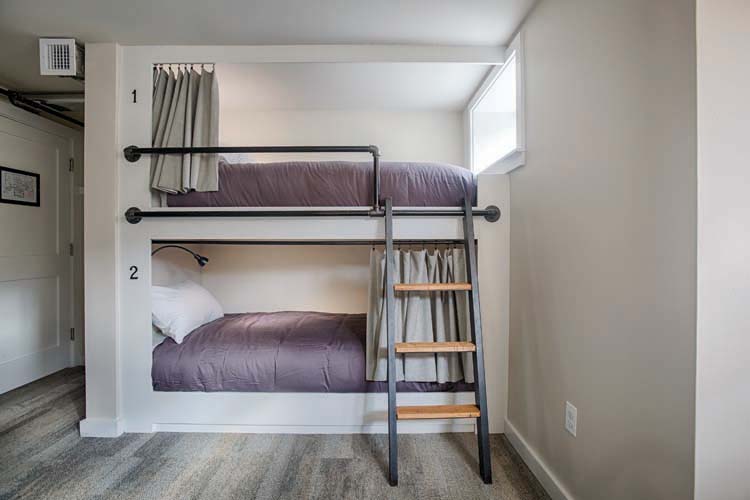 Plan an urban getaway:
The lowdown on guest room options at the El Moore
Rooftop Urban Cabins 
$190 weeknights; $255 weekends 
Four modern takes on the rustic cabin (Sunrise, Moonbeam, Twilight, and Starlight) sit on the fifth story.
They have private bathrooms with large showers, kitchenettes, and balconies with rooftop views. (Hint: The Moonbeam has large deck seating, including a fabulous turret; the Sunrise has a large deck, too. The Starlight and Twilight have balconies as well, along with king-size beds and more inside seating room.)
Parkview Rooms 
$135-$155 a night 
These four rooms are on the Lodge's main floor, adjacent to the parlor. They include The Varney (for El Moore's architect, A.C. Varney), The Kasem (named after radio legend Casey Kasem, whose childhood home was where the greenhouse is now located), The Benedict (St. Benedict medals were traditionally placed on windows to protect a building), and The Cass (for the Cass Corridor neighborhood). These rooms have full baths.
Gardenview Shared Rooms 
$65 a night per bed 
Looking for affordable accommodations? The Holly and the Hawthorn (women's and men's shared rooms) each have two single bunk-style beds and bathrooms with large showers and private storage areas. It's like a mini hostel in the heart of the city.
The C.W. Moore Suite 
$180 a night; three-night minimum
Named for the developer of the El Moore in 1898, the suite has a full kitchen, living room, and private washroom with a full bath.
For information, visit elmoore.com, email lodge@elmoore.com, or call 844-ELMOORE (356-6673). 
Facebook Comments