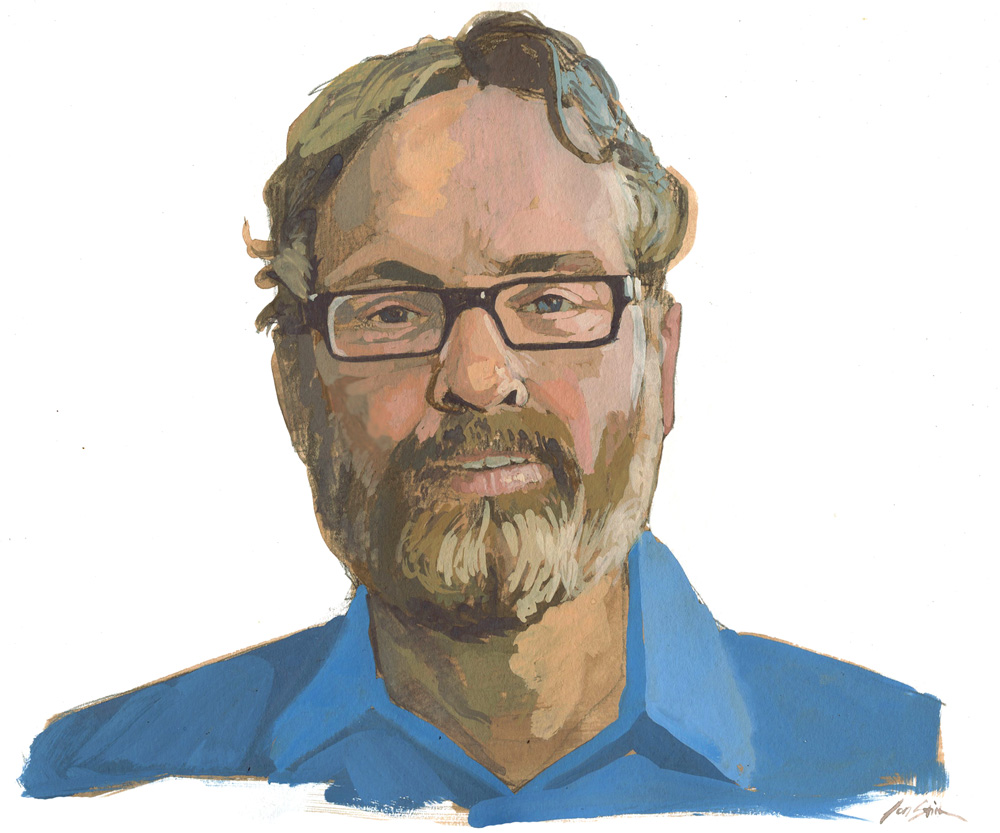 According to Columbia Journalism Review, "Steve Neavling may be one of the most hated men in Detroit." The controversial independent journalist has exposed corruption, police misconduct, racial discrimination, and more. We caught up with Neavling to find out who he's ticking off lately.
---
Hour Detroit How did you end up in Detroit?
Steve Neavling My whole life, all I wanted to do was get out of Pennsylvania. [After college] I went to the Upper Peninsula … I covered crime and courts. Reporters had to take turns cleaning [snow] off the satellite dish. Then I went to the Bay City Times and wiggled my way into investigative reporting.
Then the Free Press?
I had a job offer [in Florida], but the Free Press calls me … I thought, this is a news town. I worked my way up to cover city hall. I was getting tons of front page stories. … Before I got fired.
What happened?*
I was butting heads a lot with the bosses. They were covering development without looking at the negative impact of it. I moved to apartments where I was the only white person. I wanted to understand Detroit more. You can't do that living in a pocket in Midtown. [In 2012] I asked [then- council president] Charles Pugh … 'Why are you holding meetings in the tiny room [instead of] where the residents can actually fit? [This was] as the city was going into emergency management. He said: "We're holding the meeting in here. That's why." So that was the quote. [Later] he called the editor and said: "Steve quoted me off the record and he was yelling at me." The Free Press says: "Three days off." [When I came back] the key fob wouldn't work. … I knew I'm getting fired. [Then-editor and publisher Paul Anger] said: "We think that you're too aggressive with your sources."
So you launched the Muckraker?
I'm obsessed with reporting and still had all these connections. The first [stories] were about state treasurer Andy Dillon [and] arguments with his estranged wife. [Then] I found out Grosse Pointe Park Police were recording a mentally ill, black, homeless man and making fun of him. Five cops [got] suspended. I was also working for Reuters [news service]. My girlfriend and I … couldn't pay our rent. … They evicted us … [It] happened to be the day Detroit filed for bankruptcy.
You made friends — and enemies — in the fire department.
My idea was to spend all of 2015 [covering] the fire department … half the hydrants weren't working, firefighters weren't given proper gear, trucks were breaking down. People were losing their homes and their lives. Ten months into the project, the fire commissioner got fired.
At a fundraiser, it looked like you teared up a bit when firefighters gave you an honorary helmet?
I felt like I made a difference. I didn't make any money. But I made a difference.
Speaking of money, are you surviving?
To be truthful, we're behind on rent. Someone keeps slashing my tires … We started out doing ads but I want something … without any perception that we're bought and sold. If people want quality journalism, they'll pay for it with donations [but] I don't like asking for money.
Obviously, you have an understanding girlfriend.
Seriously! She completely understands I'm making this huge sacrifice [that's] affecting her quality of life.
About that Wayne State incident?*
[I wrote about] low black enrollment [and] the board of directors was having secret meetings to give the president a raise while increasing tuition. [WSU President M. Roy Wilson] was refusing to talk to me so I went [to their house]. Nobody answered, but apparently [it] freaked out his wife. She put up a poster [of me] that says something like: "Dangerous man. Call Chief [Anthony] Holt if you see him." I had to FOIA [file a Freedom of Information Act request] Wayne State to figure out who officially did it.
Detroit Mayor Mike Duggan has also been a target.
People are like … if you're attacking Duggan you must be for [candidate] Coleman Young [Jr.]. No, not at all. Living in a city where there's a disproportionate quality of life based on race … I have a moral imperative in my privileged position as a white person to bring some end to misery. [Duggan is] a neo-liberal who thinks the free market is going to somehow correct decades of racist housing policies. When you look at where he's putting the resources, he's not addressing the root causes of poverty or the consequences. A disproportionate number of black people are impacted by [tax and bank] foreclosures.
I saw you at an Eastern Market fire. Do you sleep with a scanner? Or just have great sources?
[Laughs] Both. Now that I don't have a car, I can't get to [most] fires. If I hear something close to me, I'll run over. I get calls all the time.
*The comments reflected are the accounts of Steve Neavling. Hour Detroit has not confirmed these events with the other parties involved.
---
Resume
Age: 40
Hometown: Harrisburg, Pa.
Residence: Detroit
Education: B.A. in Philosophy with minor in Creative Writing, Mansfield University, Pa.
Experience:
August 2017-present: Host of "Muckraker Report" on 910AM Superstation
June 2012-present: Editor & Publisher of Motor City Muckraker
October 2006-April 2012: Reporter at The Detroit Free Press
June 2003-October 2006: Reporter at Bay City Times
May 2001-May 2003: Reporter at Daily Mining Gazette in Houghton, Mich.
May 2000-May 2001: Reporter at County Observer in Lewiston, Pa.
Radio vs. Print:
"I look at something like NPR [National Public Radio] … asking serious questions and getting the facts. But I think there can be some entertainment value to it. I may like this better than writing … this sort of raw, live conversation. You can't edit it and you can't take it back."
Facebook Comments