To me, Detroit is the Paris of the '20s, the Berlin of the '80s, the San Francisco of the '60s. The neighborhoods teem with vibrant life. The results of billions invested into the city look stunning. The age of the abandonment narrative is over.
This welcoming, Black, Central Coast metropolis at the center of one of the largest surface freshwater ecosystems on Earth is on the cusp of, once again, leading the world. Everyone from climate change refugees to tech company executives is looking to Michigan for their future. And Detroit is this region's heart and anchor. The past 10 years have seen great change in the city, but I feel confident that this next decade will be unlike anything Detroit has ever seen.
The stories written about Detroit often say that the city was great, died, and is now back. Or they say that Detroit is a blank canvas. Both narratives are wrong. If you come to Detroit to find blight, you will find blight. If you come to Detroit to find life, you will find life in abundance. It has been that way; it is that way. It's up to who you are. It's how you show up.
I believe people should ground themselves in the narratives of those who have long called Detroit, inside the 313, home. They beautified the city's foundation and secured the cornerstone for this current momentum.
In November 2005, I was living in Los Angeles and had just returned from years of international travel photographing and taking videos of ruins and nonprofit groups working in post-conflict societies. I got a call from Detroit. I was offered a job to launch the Detroit Free Press' video storytelling platform. I was 23 and I knew nothing about Detroit, but after all my travels, it seemed like more of an adventure than California.
I took the job, but after two years, I left the paper to continue seeking out positive stories on my own.
Riding a $1 bike, my camera slung over my shoulder, I was in the streets every day. I had the mid-20s hunger and hustle and was at every event I could attend, went to every block I could get to, and said "hello" to every person I saw. I met Larry the Drummer, Khali Sweeney, Jerry Paffendorf, Phil Cooley, and other great people who showed me that the city was more than the abandoned buildings I entered (legally).
By 2011, I was married and living-wage work had come back into my life, including freelance work providing images to media outlets CNN, Newsweek, and The New York Times. Then came work for Kresge Arts in Detroit, Dan Gilbert's Bedrock, and more. Two million photographs and hundreds of three-minute Detroit films have led me to this understanding of the city and respect for the many voices here.
My experience here has been shaped within all 139 square miles. To know where to go is to know what the locals call the areas: Eight Mile. Southwest. The east side. Downriver and the west side. Corktown, the riverfront, downtown, Cass Corridor, Midtown, New Center, Milwaukee Junction, the North End, Core City, Piety Hill, and 200 other neighborhoods, each with their own distinct character.
Every Detroiter has a different combination of spots that matter to them. For me, Detroit is about the people and places in harmony, and this guide offers a view of my experience here and goes beyond the negative headlines that drove the external popular opinion of the city for so many years.
This year, we will see the openings of the Book Tower and Michigan Central Station. Next year will be the Hudson's site and Ralph C. Wilson Jr. Centennial Park. There are also the neighborhoods, the restaurants, the five major sports teams (I'm counting you, Detroit City FC), the spring daffodils on the river, the Dequindre Cut events, the 1900s architecture, the art institutions, the cafes, and the music venues and free festivals.
Detroit has given me everything. I grew up in California; I've traveled all over the world. I can honestly say there's no place on Earth I'd rather call home. I begin this visual journey in my neighborhood, called Corktown. This guide will continue into Southwest, the riverfront, downtown, Midtown, and New Center and will introduce you to some neighbors and neighborhoods along the way.
---
Michigan Central Station
The lilacs in Roosevelt Park often fill the local stores and my daughter's hair. We picked some the day of the big announcement on June 17, 2018. My wife and I were on stage right behind Bill Ford, who my kids call "the man with the name on the back of our truck," when he revealed his inspirational plans for Michigan Central Station.
"Michigan Central Station is a place that in many ways tells the story of Detroit over the past century," Ford said. "We at Ford want to help write the next chapter … to shape the future of mobility and transportation." Then-CEO Jim Hackett added: "What Rouge was to Ford in the industrial age, Corktown will be for Ford in the information age."
I was standing there because I had been hired to document the transformation in photographs. After Big Sean performed, I approached Ford with my family and said, "Hello, neighbor."
In 2015, we began rehab on my home across the street from the station. It had been home to the Imagination Station, a nonprofit dedicated to creating an art and science campus with a focus on sustainability, until a devastating fire in 2012.
There was no roof, no windows or walls. A photographer shot an image of it as an example of the downfall of Detroit that made it on the front page of The New York Times. Many write off this type of burnt structure as blight. It was empty like tens of thousands of other homes around the city. But from 2010 to 2012, when it was the Imagination Station, it was alive with optimism and volunteers.
On Thanksgiving Day 2017, a year before the rumor of Ford Motor Co. buying Michigan Central Station was being circulated, I moved in with my wife and my girls.
Michigan Central had sat vacant since 1988, and in 2006, after scrappers from Detroit and the suburbs took all the metal and ornate fixtures, I started going in for myself. I went back in 2010 for The New York Times, and for the past four and a half years, I have been documenting the renovation for Ford.
My girls often ask, "Can we come with you?" I grab my camera and hard hat. "Not yet, but soon," I say. They watch me walk across the park to work. The attention to detail Ford is giving this building is worthy of note. For example, I documented the 61,000 Guastavino tiles located in the three vaulted ceilings being individually hand-cleaned with only water. I drove up to Saginaw to capture images of a man spending 400 hours hand-carving a limestone block that Ford sourced from an Indiana quarry, the same quarry that produced stone for the station more than 100 years ago. Eight acres of masonry on the building's exterior was cleaned, repaired, or replaced.
It was 14 years ago that the Detroit City Council voted to tear down Michigan Central Station. The opening of this building will be so grand and the progress so powerfully beautiful that a million stories from days past — of those who came through the station for a new life or saw their loved ones depart but never come home — will be shared around the world. Michigan Central is the anchor in Corktown, but I see all of Detroit in it.
---
Corktown
Detroit's oldest neighborhood is known to many as the place to be (or avoid) on St. Patrick's Day and the site of Tiger Stadium, at the corner of Michigan and Trumbull. (The Corner Ballpark, Detroit PAL's home, is now there.) Many still start opening day here.
Rooted in the Irish, Maltese, and Latino communities that have been in this historic district for generations is a neighborhood full of businesses owned by members of the community. For a date, my wife and I go to Brooklyn Street Local for the spicy vegan tofu, vegan seitan, and vegan poutine. It doesn't sit heavy; it's perfect. My dad loves Brooks Lumber. When we picnic at any one of the nearby parks, we bring Sicily's pizza or walk to LJ's Lounge, Nemo's, Supergeil, Grandma Bob's (more pizza), or Takoi. At Folk (a great cafe and market), I get the gluten-free waffle with a side of bacon.
At The Goblin (sushi!), I told owner Jacques Driscoll how I wanted to interview neighborhood residents and shop owners for this article and that I was waiting to hear back from a few of my Southwest contacts. He asked, "Do you know Tony Lopez? He does tires and goes down to Mexico to his family's agave farm and sells his tequila locally." That type of connecting is how I get around the city. I texted Tony, and a few minutes later, I was driving down Vernor Highway, each restaurant I passed worthy of a stop, and arrived at Lopez Auto Repair.
---
Southwest
The shop was busy, but Lopez stopped to talk to me. I had never met him, and I thanked him for his time and took a portrait of him holding his tequila, Tequila Cabresto, which can be bought at Bee Bee's Liquor & Wine, Pancho's Palace, or La Fiesta Market.
I asked him where he liked to eat, and he asked me, "Which family would you like to hear about? Taqueria Los Altos? Taqueria El Nacimiento? Birrieria El Gordo? El Barzon?" Epic. I love Mexican food and family cooking with authentic recipes. Southwest is a place everyone should go to eat; support the arts; enjoy festivities, such as the Southwest Fest, the Cinco de Mayo Parade, and Clark Park's winter carnival; or ice skate or play hockey at the park's outdoor rink. Garage Cultural, near Clark Park, hosts great events and programs and has galleries and art installations.
Jesús Arzola-Vega, a filmmaker from Southwest, loves documenting celebrations in Southwest, as well as the work of artists like SW Freddy (Freddy Diaz).
"After the [Gordie Howe International] bridge opens, Springwells strip is going to be where everyone goes," Diaz says. "[It is] deep Southwest and the perfect place to venture off and explore."
---
The Riverfront
The light in Detroit keeps a photographer tuned to the day's happenings. No two months are the same. For 10 years, my view of the Detroit River from the seventh floor of the Garden Court condos gave me a sample of how the city was shining. At the drop of a golden ray reflection, I'd grab my camera and bike and, with eyes to the sky, pedal by the harbors, trees, and fresh blue water taking photographs.
Sturgeon, whitefish, peregrine falcons, and bald eagles have returned to the 28-mile-long Detroit River, after being absent for nearly a century. During winter, you can see the eagles fighting over fish. My filmmaker friend Jeff Tabb has seen 18 in a single frame of his camera.
At night, when I lived here, I would frequent Andrews on the Corner to watch Red Wings games, as well as Atwater Brewery, where my mug club membership procured me beers up to 12 percent alcohol, darker than the oil that ran through these postindustrial rehabbed warehouses. From River Days in June to the Harvest Fest in October and all the other days of the year, riverfront life is completely open to visitors and residents alike. (Editor's note: River Days is not taking place this year.) 
My love and use of the riverfront have grown during each stage of my life. Single, I spent time fishing, in meditation of my faith. In love, I biked with my wife, setting up a picnic blanket under the willow trees, being all romantic and stuff. Just saying: Detroit is for lovers. Three kids later, we bring all the bikes and just get on the Riverwalk and go left — or right. Both are great.
Left from downtown, you have the Gilbert Family Schooner Splash Pad that my kids call the pirate ship and Belle Isle's beach, conservatory, nature center, and Dossin Great Lakes Museum; go right under the Ambassador Bridge to Riverside Park.
I have a picture of my wife pregnant and skateboarding while pushing a stroller. My wife, Cory Coffey, is an international competitive BMX athlete and the first woman to do a backflip in a BMX competition. Thanks to The Skatepark Project (formerly the Tony Hawk Foundation), Riverside Park is now home to an epic skate park that my whole family enjoys. We get there by the Southwest Greenway, an old train path that has been turned into a greenway connecting Michigan Central to the riverfront.
When the Ralph C. Wilson Jr. Centennial Park opens next year, with Detroit's first Huron-Clinton Metropark — a water garden — the Riverwalk will be even better.
---
Mark Wallace, CEO of the Detroit Riverfront Conservancy, Talks The Riverfront
I moved to the city in '99, and I was a schoolteacher for three years in public schools. I was always drawn to the riverfront. Detroit had things to do, but each felt isolated when I first moved here. Like, you could go to an event at Chene Park [now the Aretha Franklin Amphitheatre], but there was no direct way to bike or walk to Belle Isle or to Eastern Market.
That vision of connecting people, places, and the city is what the Riverwalk did. The riverfront has 5.5 miles of connected walkways, Ambassador Bridge to Belle Isle bridge. Dequindre Cut gets you all the way to Eastern Market and other greenways bringing more neighborhoods to the river.
We won an American Institute of Architects Award for the historic framework because unlike every other major city competing, our focus was not on the future of new construction — our focus was on the future of the public space and how to lock the space in for the public forever.
We have won USA Today's readers' choice award for best riverwalk three years in a row, affirmation of what we've done not in terms of physical transformation but the impact we've had on people's lives and how much pride Detroiters take in their riverfront.
---
Downtown
As I stood on the Penobscot rooftop terrace to shoot the Ford Fireworks show last year, I looked out at a beautiful city on a beautiful river. Colors burst around me, reflecting off The Stott, the Book Cadillac, and the Book Tower, and I noticed just how much brighter downtown is than it was 10 years ago. From the old Joe Louis Arena site to the Hudson's site, there are cranes everywhere, building.
Campus Martius Park is the gear at the center of the wheel that houses Woodward, Michigan, Fort, Gratiot, Grand River, and Jefferson — each home to the early 1900s American architecture of my favorite buildings. From the Shinola Hotel, walk to the sports stadiums, music venues, or any of the events in Campus Martius. From the Foundation Hotel, walk to the Guardian Building, the riverfront, and the Grand Trunk Pub. Downtown Detroit is the cleanest city center I have seen in the nation.
Gratiot, Woodward, Michigan. Flying into Detroit Metro Airport from my last international trip, my eyes followed each of the spokes, and I noticed you can no longer see where Detroit ends and the suburbs begin — it is all illuminated.
I saw a glimpse of the region coming together for Detroit when I worked for Dan Gilbert and his team at Bedrock. Gilbert gave me the green light to create a short film as part of an effort to bring Amazon to the city. With support from Woodward Original, Christian Lathers, a helicopter with a rented camera package, and poet jessica Care moore's voice and presence, I filmed the beautiful downtown and the surrounding strength of the neighborhoods, plus shots of auto parts suppliers and the innovation and tech in the suburbs and universities. The film, Move Here. Move the World., was an international success. People from everywhere voiced their love for the city on YouTube and Facebook. To me, this response shows that downtown Detroit is a downtown for this region and for this world. After I sent Gilbert the film, he said, "Put 'Detroit, Michigan' [at the beginning] so people instantly know the great things they are saying."
The skyline is growing, and the bike lanes are filling with early morning running clubs, bike packs, baby strollers, scooters, and Onewheels.
Josh Greenwood, who has lived and operated his retro cafe/techno bar Spkr Box downtown for 30 years, says Capitol Park residents are a mix of cornerstone Black Detroiters, former Grosse Pointe empty nesters, and young couples. When I first moved here, three of our tallest buildings had no windows and sat dark and empty. Now I am hard-pressed to find a single one that is neither redone or being worked on nor home to some celebrated restaurant, bar, or business. On the way to Olin, San Morello, Prime & Proper, Lafayette Coney Island, Candy Bar, or for drinks, The Belt (an alley between Broadway and Library linking Gratiot and Grand River), every corner is walkable and clean, with great food, great venues, and great people.
---
Marsha Music on the Black experience Downtown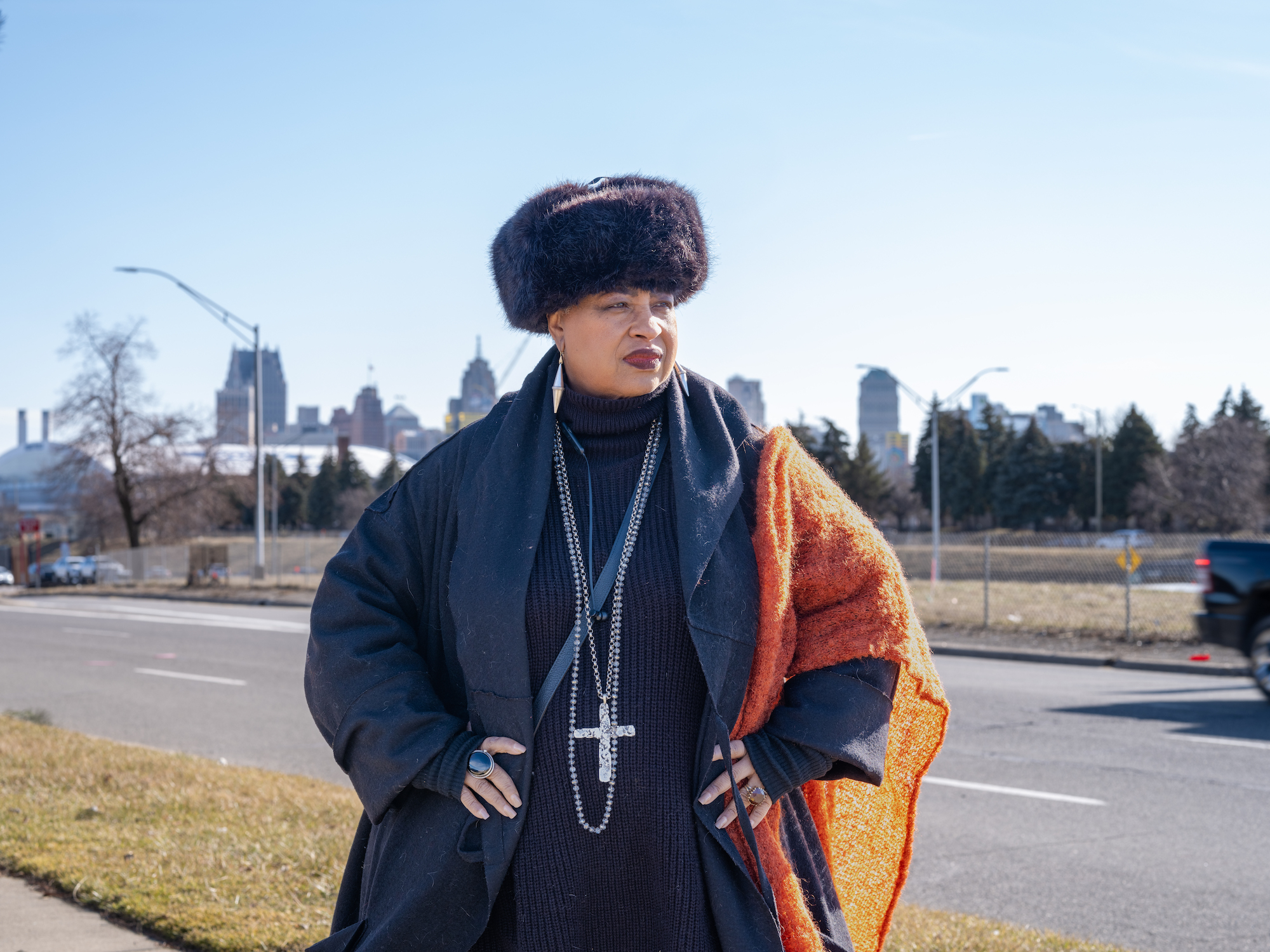 I am at my desk when a 313 number comes up, returning my call. It's Marsha Battle Philpot, aka writer Marsha Music. I first interviewed her in 2012 in her 20th-century Mies van der Rohe home in Lafayette Park where she lived then, just a few blocks from downtown, not far from where her father, Joe Von Battle, produced Aretha Franklin's first records in Joe's Records, his Hastings Street record shop. At the time of that first interview, Music had just been awarded a prestigious Kresge literary arts fellowship.
Today, I ask her about downtown Detroit. "We can't talk about Detroit without talking about its exceptional architectural magnificence, still very much in evidence downtown."
The conversation goes on; she is laying the framework for me to understand the common Black experience of downtown in the past 60 years and how much pride there was — and is — in the city.
"In the 1960s, Hudson's was the pinnacle of retail shopping, one of the top shopping spots in the nation. A lot of poignant nostalgia surrounds this place and the other beautiful stores of downtown.
"Although my [baby boomer] generation may share in the nostalgia about the good old days, many of my elders do not have all of our great memories. Hastings Street and Black Bottom held many of the city's 300 Black-owned businesses, and both were entirely demolished, as well as, eventually, Paradise Valley, the Black entertainment sector, where the stadiums now sit.
"These places flourished because Blacks, with rare exceptions, were not generally allowed to shop in the downtown stores, or eat in the restaurants, until the 1960s. Before that, some parents would trace their child's foot on a paper bag to bring to the store to determine their shoe size — we could not try on shoes, hats, or clothing.
"It was the Civil Rights Movement of the South that energized picketers at many of the stores, and the younger J.L. Hudson's departure from the attitudes of his predecessors challenged the discrimination there as well — even as Hudson's central role in the development of the new suburban malls was the beginning of the end of the downtown site.
"The elegant singers and musicians of Motown played a fundamental role in breaking the color barriers downtown because they wanted to shop — for appearances and their personal lives — and they had the money to do so, especially at the Woodward shops of Hudson's and other fine downtown stores. Their fame had become too great to deny them access — especially here in the North.
"It is common today to associate Black Detroit with ruins, though much of the beautiful, intact architecture is still here because it was maintained by Blacks for decades. There was a kind of financial and cultural embargo against the city that took the form of a refusal to associate the Black Detroiter with the magnificence of their homes and the architecture, so that when you see these beautiful places, their grandeur is associated only with their origins in old Detroit or the return of whites in 'new Detroit' — but nothing in between."
She walks me through the '70s, '80s, and '90s and how, each decade, the popular narrative of "Nobody was downtown" or "Downtown was empty" missed what was actually happening — the development of a robust Black arts, culture, and ownership scene. Some of our most prominent business owners and artists today established shops and galleries downtown during those years. Yet to some, they were invisible.
The redevelopment of downtown is not surprising and follows an obvious and predictable pattern: For decades, development was focused in the communities north of Eight Mile. After generations of devaluation in the city, new generations of developers now circle back to Detroit — and downtown.
At the end of our talk, I ask her about Detroit's future. "There's so much talk — seemingly evident — that there is being created a downtown for whites only. But Detroiters — by our sheer numbers and history of access — assert ourselves in this still majority-Black city. Increasingly, one finds us in — and owning — restaurants and shops on and near those grand street spokes downtown from which Detroit emanates. As the artist Alisha Wormsley expressed in her pre-pandemic downtown installation 'There Are Black People in the Future.' And that includes downtown."
---
Midtown
A poet adorned in a golden flowing Gucci dress at a celebration of its Changemakers North America Scholarship and Impact Fund initiative and the opening of a new multimedia exhibition at the Museum of Contemporary Art Detroit walks on stage. Her words carry weight, and her voice invites the farthest ear.
"The spirit of a fashionable city is felt
As soon as she walks in.
The spark lives inside the patterned faces of her community."
The internationally acclaimed Detroit poet jessica Care moore continues with her four-minute poem commissioned by Gucci. The two of us have collaborated on three films. The first was at her 2010 TEDx performance at the Detroit Institute of Arts, the second was Move Here. Move the World., and the third was for Ford Motor Co.'s Michigan Central. Each collaboration was an expression of this city, her with words, me with light.
The Gucci celebration was an event that, like many in Detroit, you hear about from listening to people. And you just go. Gucci made a massive statement to the fashion world by traveling to Detroit during New York Fashion Week. The packed crowd included 12 Gucci Changemakers Scholarship recipients, as well as moore, who was asked to write an original poem about Detroit to present.
Some of my favorite places are on the cobblestoned West Canfield Street: Jolly Pumpkin, Cold Truth (and its vegan coconut-based ice cream), Shinola's flagship store, Third Man Records, Nora, and Detroit Denim Co. And located not too far away on Cass Avenue is one of the city's cornerstone businesses, Carhartt. (The more I travel, the more I see how universal this Detroit brand is.)
The 2011 Kresge Eminent Artist Bill Harris says, "My mother took me to Detroit when I was 2 years old, with the purpose in mind of never raising a child in the South. The first time we came in on the train, she knew that this was going to be home for her. She felt
it was a magnificent city." He now lives in Midtown with his wife, artist Carole Harris. "We are culture hawks; the DIA front lawn is our view," he says. "We love walking around to the Charles H. Wright Museum, the [Detroit] Historical Museum."
One block up from Orchestra Hall is Warda Patisserie, owned by Warda Bouguettaya,
who won Outstanding Pastry Chef at the 2022 James Beard Awards. My wife and I have known Warda from her first weeks open at Trinosophes, a coffee shop near Eastern Market, which always has great food, music, and art exhibits. Saturday mornings in Warda's Algerian-style cafe in Midtown feel amazing.
My kids love Dlectricity and other Midtown Detroit events. The walls of the DIA take you around the world, and the drop-in workshops provide a family-oriented place to create. My kids love the I spy game in the Rivera Court. Other Midtown spots to take in are the Detroit Public Library, The Carr Center, and The Park Shelton (where Diego Rivera and Frida Kahlo lived when he painted his Detroit Industry Murals at the DIA). There are tons of restaurants worth visiting, including SheWolf Pastificio & Bar, Selden Standard, Bar Pigalle, Grey Ghost, and Shelby, a speakeasy.
Once while on a date with my wife, I looked over and saw George N'Namdi of the N'Namdi Center for Contemporary Art, where you will find the best private collection of African art anywhere. I got up to shake his hand because he is a living legend. Sayin' hi is part of Detroit love.
---
New Center/Milwaukee Junction
Commanding your attention in New Center is the Fisher Building, surrounded by vibrant neighborhoods like the North End, Boston-Edison, Milwaukee Junction, and Virginia Park. The bronze-faced revolving doors present a promenade of epic proportions and a glimpse into the vision of 1920s Detroit when the original (pre-market crash) plan was to build a three-tower complex. The elevators — with shiny bronze doors that have figures representing the pillars of industry that built the city, including automotive, design, agriculture, and aviation — have actual bells that ding upon arrival to each floor. Make sure to take a closer look at the ceiling lights and various marble patterns.
Just a short walk from the Fisher (on either East Grand Boulevard or Woodward Avenue) are some of the greatest restaurants in Detroit, including Baobab Fare, Oak & Reel (Hour Detroit's 2022 Restaurant of the Year), Freya, Yum Village, and The Kitchen by Cooking with Que. Dine early and then catch a national tour of a Broadway show at the Fisher Theatre.
A few times a month, my oat flat white comes from either Stella Good Coffee, Black Coffee Cafe, The Gathering Coffee Co., or Milwaukee Caffe in the Milwaukee Junction neighborhood. The latter neighborhood is the site of what Jill Woodward, the passionate president of the Ford Piquette Avenue Plant (opened as a museum in 2017), explains was the Silicon Valley of the 1910s.
"Literally, Henry walked here," she says. Entering this three-story museum, you are surrounded by every "letter" of car that made it to production (those would be the A, B, C, F, K, N, R, S, and T). It is the only such collection [on display] in the world, to her knowledge, she says. "This neighborhood was the cradle of the automotive industry, and sharing its history is a privilege," she adds. "People are rediscovering this part of the city and how Detroit's history of innovation and entrepreneurship changed the world."
---
Neighbor: jessica Care moore
"A few years before the pandemic, I bought my first home in Detroit.
"As a writer, I am always looking for a comfortable place outside my home [in Boston-Edison] to write. Where is the coffee around here? I found out my neighbor Betsy was the co-owner of the recently opened neighborhood gathering place off Rosa Parks, The Congregation. It's a place I can walk to, and they had house music parties outside during the summer. So Detroit!
"I love my neighborhood because the Motown Museum is an exit away on West Grand Boulevard and the techno museum is on East Grand Boulevard. It's a beautiful mix of music and history on the east and west sides of Woodward. "Then there's that lovely strip of Woodward off the boulevard that I frequent. I get my hair twisted and styled at Textures by Nefertiti (by the stylist Zllen), and vegan spot The Kitchen is owned by my dear sister Que. It's like a family, truly. Baobab [Fare] opened on the corner, and it's one of my favorite dinner options, plus the red tea and coffee are delicious. Yum Village sometimes has live drums and DJs and will stay open late.
"A little farther down West Grand Boulevard is the beautiful Irwin [House], a gorgeous three-floor brownstone-style gallery, which also hosts community gatherings in the large green space in the summer. Live Coal gallery is a short walk up Clairmount.
"Come see these artists, playwrights, [and] music artists [who] blow away audiences at The Carr Center, the Detroit Public Theatre, the Wright Museum, the Jazz Cafe, The Cube, Andy Arts, the N'Namdi gallery — [and] be on the lookout for the things that are happening in some of those independent smaller spaces."
---
My Neighborhood
There is a togetherness, a synchronicity, in the city's tight-knit neighborhoods that is both beautiful and inspiring.
Knowing the history of the neighborhoods you visit is important. Each is unique as far as demographics, architectural styles, and types of businesses that fill the storefronts. Many restaurants and venues have been there for years; some are new shops or existing brands completing new builds inside of the once-abandoned homes and buildings Detroit became known for. I know more than 80 percent of the people within a 10-block radius of my house, and residents throughout the city have told me the same is true for neighborhoods where they live, have lived, or work.
Clement "Fame" Brown Jr. on the Avenue of Fashion
Clement "Fame" Brown Jr., owner of Three Thirteen clothing shop, one of the first businesses to do a full renovation of a building in the historic shopping district. 
"The Avenue of Fashion, for me — I grew up in the city, obviously — that area has always been a historic area in a sense of the homes. … It's always been a desirable ZIP code, when you think of the affluent in the city. So, to have a store in that space. … Also, [given] the idea that the city is changing and the nicer areas are being bought, the idea to have some type of inclusion meant a lot to me.
It most definitely is a neighborhood, with the stores, and there are single-family homes everywhere, up and down the streets and blocks. Over in the Palmer Park area, there are neighborhoods with cul-de-sacs, and you see people walking and running, walking their dogs and riding their bikes in the summer. That's the community feel that I grew up with [in northwest Detroit]. My mother still lives in the house that I grew up in.
I meet a lot of people through the business. We get a lot of people [coming in] that do important things — city officials and business professionals. You know, teachers. It's cool to have those interactions and engagement with them."
Lyndsay McGee on East Village
Lyndsay McGee, daughter of the late great artist Charles McGee, who has been working with the Library Street Collective since her father's passing in 2021 to assemble a collection of his remaining works. 
"My father loved the city of Detroit and its people, and the plans for East Village [to bring a public arts campus there, with an cultural arts center, a publicly accessible park and green space, and a skatepark] gave him great joy, especially knowing that it would anchor a cultural district in the city.
This bold and important project is moving forward thanks to the vision of Anthony and JJ Curis [co-founders of Library Arts Collective], particularly their dedication to expanding the city's public cultural resources for future generations. There is no better legacy for him than a meditative place that has the express purpose of enabling the public, especially children and younger generations, to experience and be inspired by art."
Bryce Detroit on North End
Bryce Detroit, music producer, performer, curator, and community activist. He is also the owner of The Garage, a community event space in a former mechanics garage on Oakland Avenue. 
"With this kind of a space [the Garage], it is a part of my initiative to develop spaces in our neighborhood that are actually based on the cultural [and] economic legacy of Black music economy in the North End. And from there, being able to present a new practice that can lead to a new model for how we are developing spaces…. My [road] sign [project], 'Hood Closed to Gentrifiers,' is really a two-part statement. One is to bring up the militant origin of the word 'gentry' and how that origin makes its way of clearing land for one type of people while displacing the inhabitants. The other is to focus on creating a platform to celebrate the [community]."  
Yvette Rock on Piety Hill
Yvette Rock, founder and CEO of Live Coal gallery, which is housed on a formerly abandoned property that was rehabbed with the help of a CDC Neighborhood Grant from The Kresge Foundation
"There can be a tendency to rename things with the influx of capital. There is history in the earth, in this landscape; even if you build buildings on it, or freeways, wiping it from visual existence, the history of the entire neighborhood is still there. Piety Hill, it's my neighborhood. I love the idea of creativity, of working and activating spaces where you live."
Jason Hall on Corktown and More
Jason Hall, founder of Slow Roll Detroit and store manager of Trek Bicycle Detroit Midtown.
"I grew up in Rosedale Park. So that was, to me, the epitome of community. We had junior activities, dances, steak dinners, and the community came together often. Growing up like that, community was very important to me. I've lived all over the place [in Detroit], but it was not until living in Corktown that I felt like I was part of a community once again, like I knew my neighbors. We looked out for each other. We spent time with each other. It was one of the neighborhoods that still felt like Detroit. You know, it was still — let's keep it real: We're still grimy in areas. You know what I'm saying, like it was coming up in certain areas, but it still felt like a neighborhood.
I started Slow Roll [e-bike tours] to get people out in the neighborhoods to experience the beautiful side of Detroit that wasn't in the news. There's this perception of Detroit that there is a good and bad, and these rides — the tours — don't stay within those parameters. If I do a tour of the murals in Eastern Market, on my way there, we pass through Brush Park.
I definitely talk about it — what's happening there and the history of it. If I pass a cool house, let's talk about it. What I don't do is pull up with, like, huge fanfare, like a loudspeaker. I really try to be cognizant of the neighborhoods.
When you are out with me, you're going to end up at Spot Lite having a coffee, looking at records. You're going to end up in Heidelberg with me; you're going to end up on the Dequindre Cut. And you're going faster than you've ever gone on a bike."
---
This story is part of the April 2023 issue of Hour Detroit. Read more in our Digital Edition.