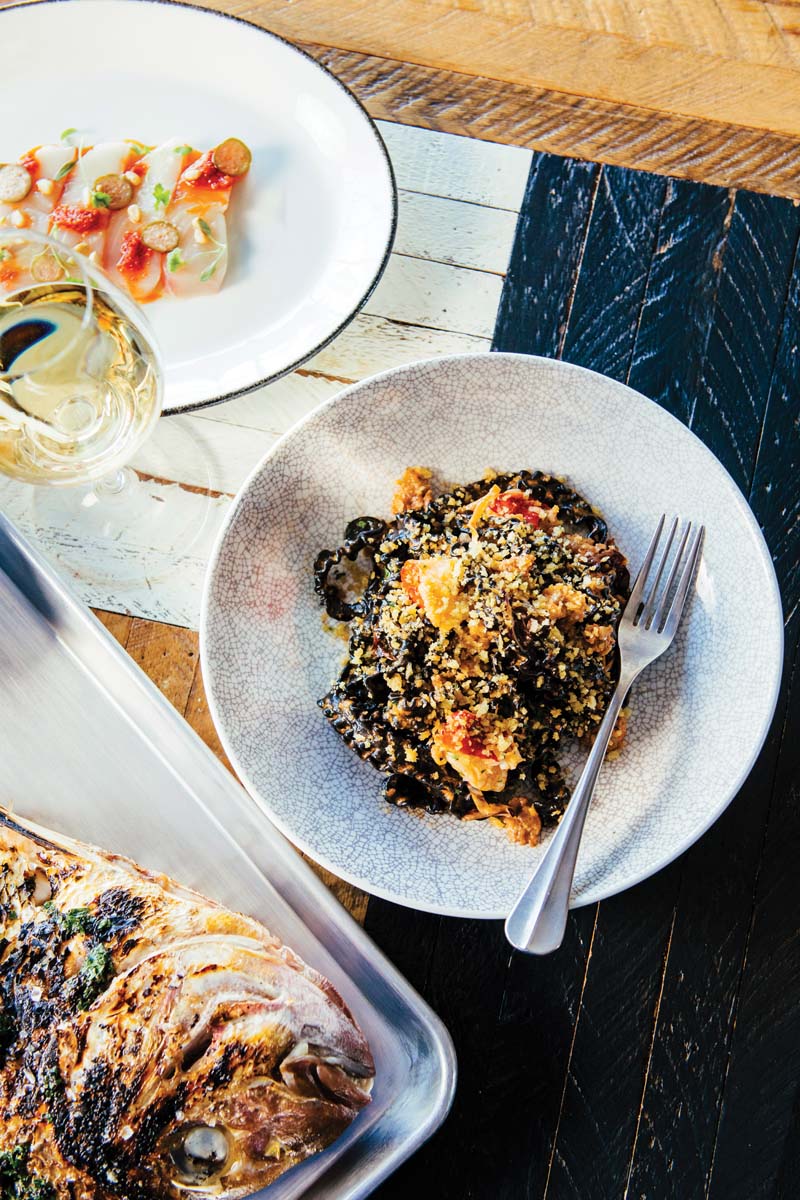 When Abby and Jared Gadbaw were raising money for their contemporary Italian restaurant, Oak & Reel, a few years ago, Jared was feeling optimistic about its potential. He said to his wife, "This is going to be a success. There's no way we're going to fail unless something catastrophic happens," Abby recalls.
As the chef de cuisine at the acclaimed New York City Italian restaurant Marea — which earned two Michelin stars under his stewardship — and with stints at some of New York's top restaurants, like the renowned Eleven Madison Park, Gadbaw had built an impressive career in the Big Apple. But that wasn't the Garden City native's endgame.
"When I met him back in 2009, he was always very clear with me that he was going to move back to Michigan and he was going to open a restaurant," Abby says. "That was always his dream."
In 2018, the Gadbaws moved to Michigan and began raising capital and looking for locations. 
Then March 2020 came, bringing with it the novel coronavirus that threatened to derail their plans.
"When the [state issued shutdown orders] in March, we were about five weeks away from construction completion," Gadbaw says. "We were out of money, so we really needed to open. I had rent [to pay]. There were expenses coming in."
There was no turning back. After an initial investor didn't work out, he and Abby raised money among their family and friends and secured a small business loan. That plus his life savings were all in the 9,000 square feet that comprises both floors of Oak & Reel.
For someone who wants every plate to be perfect, offering curbside carryout of the pristine crudos and artfully plated pastas for which Oak & Reel has become known wasn't really an option. 
The Gadbaws waited it out until September 2020, when they finally had their grand opening, but business was slow for the new restaurant. They'd do 25 meals on a Sunday, "a painful thing [to see], as a business owner," Gadbaw says.
Oak & Reel had been open just a few weeks before the state issued another shutdown order, amid another wave of the virus.
Another popular pandemic pivot, outdoor dining structures like igloos, was also not an option. "You can't serve fish on anything that will stay warm enough to eat it outside. And so we just kind of hunkered down and did our best to keep the lights on," he says. That meant turning the heat off all last winter; making pastas and sauces for provision boxes while wearing his coat in the kitchen, aided only by his general manager, Alyse Anderson, because he couldn't afford to have more staff; and then delivering boxes himself.
Since the restaurant was able to open again on Feb. 4, 2021, it has been steadily growing and putting out food closer to that of Gadbaw's vision.
The past two years have decimated the restaurant industry, and those who have managed to survive and thrive have done so through sheer determination, innovation, and strength. When debating which singular restaurant to laud in these turbulent times (we selected a Restaurateur of the Year in 2021, in lieu of honoring an establishment), we were faced with tough choices. How could we single out just one, when so many restaurateurs and chefs have gone through so much to keep providing excellent food and service?
One restaurant did stand out. Oak & Reel's resilience in the face of extreme adversity and its commitment to the vision of bringing diners impeccable dishes showcasing the freshest seafood, all presented with welcoming and knowledgeable service, is the reason we're naming Oak & Reel Hour Detroit's Restaurant of the Year.
The Space
Driving down Grand Boulevard, one can see the vestiges of a rich past and signs of a rapidly developing future. For a century, Detroit's Milwaukee Junction neighborhood had been the epicenter of commercial and industrial activity. Taking its name from two of Michigan's earliest railways — the Detroit, the Grand Haven & Milwaukee and the Michigan Central line — the neighborhood was home to the Ford Piquette Avenue Plant, where the first Model T was created.
Over the years, it became known as an arts hub, with beloved spaces like the Tangent and Baltimore galleries and the Jam Handy, a former film production company turned events space, as well as techno label Submerge Records.
In recent years, the neighborhood has seen an influx of development and investment, with a crop of new restaurants like Freya and bars like Kiesling setting up shop (in New Center, just west down the street, there's another restaurant boom, with the second location of Supino Pizzeria as well as Baobab Fare and Yum Village opening in recent years). 
While in New York, Gadbaw would keep an eye on what was happening back home. He'd read about restaurants like Selden Standard opening up in Cass Corridor, planting seeds for the type of community-oriented restaurant he hoped to open himself someday.
"I came to Detroit because I wanted to be a part of the growth of the city," he says. "I just want to provide a product that is as good as you would find anywhere in this country."
Built in 1928, the two-story building home to Oak & Reel had been abandoned for decades, Gadbaw says. At one point it was a film development facility. But after decades of neglect, the building fell into disrepair. It would require extensive work to bring it up to good condition, much less transform it into a high-end restaurant.
But Jen Childs, design director of Versa Design, who has a background in historic preservation, saw the potential in the "beautiful and large" space.
"A lot of the original structure was intact, and the ceiling heights were amazing," Childs says. "Jared wanted to maintain as much of the original fabric as possible. So he wasn't trying to hide it. He was really thinking about, how can we enhance it?"
Throughout the dining room, many of the building's original features, such as exposed brick, columns, and beams, have been preserved. Those elements blend in seamlessly with the newer touches that Versa Design — composed of Childs and her architect husband, Nicholas Kothari — conceptualized. To compensate for the vastness of the room, which could lead to unpleasant noise levels, the Versa team incorporated floating ceiling elements that are functional as well as stylish.
The decor itself is classic and timeless, with a color palette of blues and grays that combines with an abundance of woods to create a crisp and clean aesthetic. Two communal tables, crafted by Ferndale's Wall Woodworking, sit near the front of the restaurant and serve to add warmth to the space, Childs says. Versa was very hands-on, even helping to arrange the jars of preserves that adorn the wall shelves.
While the restaurant offers the service and food of a high-end restaurant, it is designed to be welcoming and comfortable.
"That was one thing that he always wanted us to keep in mind," Childs says. "[Jared said], 'I want people to feel like they can walk off the street and have a great meal. … I don't want anyone to feel excluded.'"
The Team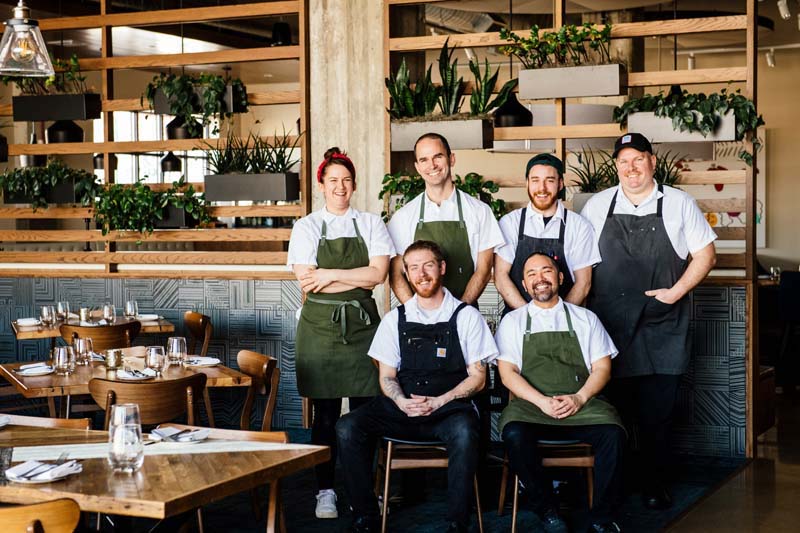 Growth is a constant theme for Gadbaw.
A few hours before service on a Sunday, chefs prep for dinner, plucking leaves off sprigs of herbs, chopping cauliflower, and stirring pots of sauce.
Gadbaw inspects a sheet pan with four loaves of sourdough cooling atop a rack. 
"Jonathan!" he calls out to pastry chef Jonathan Peregrino. 
"Yes, sir!" Peregrino walks over from the dish pit to where Gadbaw is standing with a loaf in his hands. Peregrino says immediately, "I know," in response to Gadbaw's silence, which speaks his critique of the bread. He waits for Peregrino to
tell him what he thinks is wrong.
"Is it too light?" Peregrino asks.
"You could've let it cook longer. But the ear is great," Gadbaw says, pointing to the extra-crunchy flap on the surface of the loaf.
As pastry chef of Oak & Reel, Peregrino oversees the creation and execution of the decadent chocolate tarts, the sorbets that capture the flavors of fruit at peak ripeness, and the little treats of cookies and pate de fruit served at the end of the meal. Peregrino was hired on as a pastry assistant, before moving up the ranks. He says he has learned a lot from Gadbaw, in his first real restaurant job after his career switch from the corporate world.
"He tries to create a culture of everyone having input," says Peregrino, who has had a few dishes make it onto the menu, under Gadbaw's guidance.
One of those dishes fulfilled Gadbaw's desire to feature an item that is both vegan and gluten-free on the dessert menu. Inspired by his Filipino background, Peregrino created a risotto based on ginataang, a coconut sweet rice served with jackfruit. It's been on the menu for almost a year, prepared with different fruits and sorbets to reflect the season.
"He gives me the opportunity to try [new things]," Peregrino says. "And if it doesn't work out, then he offers his suggestions on what we can do. And he even questions me, like, 'What do you think this means?'"
"He is pushing me to develop my palate and my thinking while it still fits within his vision of what the restaurant is. And I'm very fortunate for that. He's put a lot of faith in me."
General manager Alyse Anderson echoes that sentiment. "He wants the food to be good. But he also wants to create an environment where a chef has the ability to grow and learn. He's always in the kitchen; they're trying out new dishes, learning new things, talking about new techniques, and it's just constant growth."
The Food
When it comes to the food, Gadbaw's approach is to keep things fresh, simple, and balanced, whether it's pasta, seafood, or poultry.
If there is one thing that metro Detroit doesn't lack, it's Italian food. From red sauce joints to high-end white tablecloth destinations, options abound for a beautifully made plate of pasta. So, it takes a lot of skill to make pasta that is memorable.
But Gadbaw learned from some of the best, and when it comes to pasta, he doesn't disappoint. Pastas are made every day in-house, and whether it's an agnolotti filled with veal breast and wild mushroom or squid ink lumache with shrimp and crab, each dish is crafted with precision and cooked to textural perfection. 
While the dishes will rotate — Gadbaw admits he doesn't like cooking the same things over and over — one pasta staple is the bucatini, a seemingly simple dish of noodles lightly sauced with pureed peppers, preserved lemons, and walnuts, with a smattering of pecorino cheese. The preserved lemons bring liveliness and brightness, while the peppers offer a little kick. It's deceptively simple.
The other part of the Oak & Reel equation is the seafood. While not necessarily a rare sight, a seafood restaurant in a meat-and-potatoes town like Detroit is still a tall order. Gadbaw says he sells a lot of steaks and chicken. But with some of the freshest fish and seafood provided by Motor City Seafood Co., Gadbaw is up to the challenge — even if it means breaking a few rules.
For example, the octopus — another Oak & Reel staple — is paired with house-made stracciatella. Though considered a faux pas, Gadbaw likes the combination of seafood and cheese. And in a dish like the octopus, which blends textures and flavors masterfully, it works. The smokiness from the hearth, the unctuousness of the cheese, and the bitterness of the radicchio combine to create a symphony on a plate.
Anything under "today's specials" is not to be missed. One night, my companion and I split the Dover sole, another dish that exemplifies the skill and craft of the kitchen. It was pan-roasted whole, with a silky bagna cauda butter sauce and roasted cauliflower. We also got the langoustine cooked a la plancha. The sweet and tender New Zealand prawns were simply dressed with lemon and paired with a spicy arugula.
One of the best dishes I tried was, coincidentally, not pasta or seafood but an expertly prepared duck, inspired by Eleven Madison Park's former signature dish, Duck with Daikon and Plum.
The duck is dry aged for two weeks, and then it's rubbed with honey and roasted in a convection oven. The duck was presented tableside in all of its lacquered glory, before it was carved up into perfect portions plated with figs and endive. The skin was as crisp as a new dollar bill. The meat, tender and flavorful, was balanced perfectly with the sweet fruit and bitter greens.
The other dish, which we enjoyed so much we ordered two, was the potatoes, prepared as a pave. While Oak & Reel is an Italian restaurant, there are an abundance of French techniques and nuances. The potatoes also came with bright little jewels of trout roe, tying in the seafood element.
"It's reminiscent of Jewish latkes," Gadbaw says. "It plays on a lot of people's nostalgic memories. It's a comfort food. There are so many different regions of people's brains that I can touch with different ingredients."
That doesn't necessarily mean expensive ingredients.
"Food can be so simple and so delicious," he says. "I try to keep to as few components as I can. I like to buy good ingredients and treat them with respect."
Referring to Gadbaw's commitment to sourcing only the best ingredients possible, wine director and sommelier Bruce Felts says he wants "the wine program to mirror that idea by only working with wines that are produced using progressive viticulture [sustainable, organic, biodynamic] and minimalistic winemaking [sans additives, etc.] so that wines we work with represent the best, most exciting wines you can get at each and every price point."
The wines by the glass skew Italian, with some French and West Coast options as well.
Felts notes that the relationship between food and wine, as it is seen in the U.S., is vastly different from that in Europe.
"In the U.S., we often tend to focus more on drinking and less on pairing wine with food. In this way, I hope that at Oak & Reel we are slowly converting people to this appreciation of a good food and wine pairing." 
The Future
Oak & Reel has come a long way since the days of slow Sundays and Gadbaw delivering provision boxes himself. But in his eyes, much remains to be done to achieve his lofty ambitions, including that of becoming "the best pasta place in the Midwest."
Later this year, Gadbaw plans to open a 25-seat cocktail bar in the basement. It's one of the projects that was shoved to the back burner when COVID-19 hit and money ran out. The bar will feature a mix of classics and more casual finger foods. 
There's still room to grow as far as he's concerned.
"I'm still kind of waiting for the real opening," Gadbaw says. "Everything has been in a state of stasis." There's the constant uncertainty with COVID and new variants, the never-ending staffing shortages, the barriers preventing them from achieving their full potential." 
"I want to expand the menu. I want people to be driving up from Ohio, coming in from Chicago. I want this place to be somewhere that is very special," he says.
"I just want to see it reach its potential. I don't think we're even 60 percent of what we could be." 
---
Plus…Pair Like a Pro
Flavorful pairings from wine director and sommelier Bruce Felts
"The bucatini pairs incredibly well with lighter-bodied red wines from Sicily. Sicilian reds based off the grapes Nerello Mascalese or Frappato always show an incredible citrusy component, along with soft earthy notes and a touch of oceanic salinity. This ties the wine incredibly well to the bucatini, whereby the preserved lemon pairs great with that citrusy freshness, the nutty richness from the walnuts plays very interestingly with the more earthy components of the wine, and the salty pecorino cheese brings out the most from the juicy brightness of the fruit notes and that kiss of saline that results from the proximity of the grapes from the sea."
"We also really like Bisson's 2019 Marea white blend from the Cinque Terre in Liguria paired with the frutti di mare and polenta appetizer. Bisson's Marea is a white wine that has incredible texture that is the result of extremely detail-focused winemaking. In hailing from Liguria, the wine also showcases the taste of the sea that results from the vines overlooking the Gulf of Genoa. Moreover, the scruffy Mediterranean herbs that grow all across Liguria also lend a slight herbal component to the wine. The slightly salty profile of the wine perfectly complements the seafood in the dish (clam, mussel, calamari), while the richness of the texture and the slight herbaceous undertones match up perfectly with the richness of the creamy polenta and freshness of the tomato-based sauce."
Oak & Reel, 2921 E. Grand Blvd., Detroit; 313-270-9600; oakandreel.com 
---
This story is part of the March 2022 issue of Hour Detroit. Read more in our digital edition.