Today, if the ice isn't too thick, a few trucks that carry hazardous materials or are just too big for the Ambassador Bridge will squeeze themselves onto a 45-year-old ferry, the Lac St. Jean, at a hard-to-find dock a couple miles south of downtown.
When the trucks are aboard, Capt. David Seymour will fire up the engines of the Stormont, a battered, old Canadian tugboat, and chug off across the Detroit River, collect a few more vehicles, chat with the customs folks, and then chug on back.
The Detroit-Windsor Truck Ferry might, on a good day, haul 50 trucks across the water. That compares to, oh, 8-10,000 or so trucks that roll across the Ambassador Bridge every day.
There's very little comparison — or love lost — between the men behind each operation.
The Ambassador Bridge is owned by Matty Moroun, 89, one of the richest people in Michigan.
The bridge itself was completed in 1929, just as the greatest depression in American history was settling in.
Moroun managed to outmaneuver legendary investor Warren Buffett and gain complete control of the bridge in 1979.
He also owns a vast trucking empire, CenTra, plus the hulking ruin of the Michigan Central Station, and vast swatches of what are often called slum properties around both his bridge and what will be the new Gordie Howe International Bridge, the creation of which Moroun has fought ferociously for years.
Forbes magazine has rated Moroun's net worth at around $1.6 billion.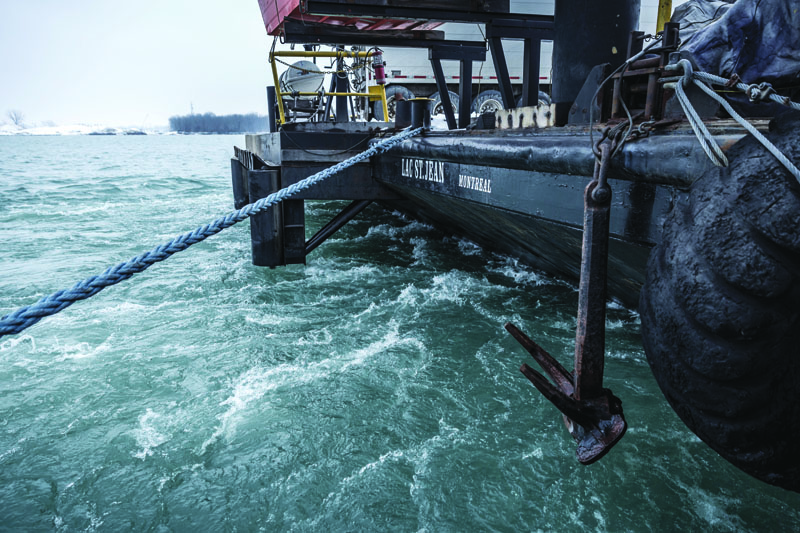 The Detroit Windsor-Truck Ferry was started on April 22, 1990, — Earth Day — by Gregg Ward and his father, John.
The date was appropriate. The Ambassador Bridge isn't certified as safe for hazardous materials. These days, the elder Ward has been ailing, and his son has been running the business.
Gregg Ward is outwardly cheerful and warm, and looks a decade younger than his 55 years. But his life is anything but easy. Instead of a mansion in Grosse Pointe Shores, he has a nice but modest home in Dearborn. A divorced father of two, he doesn't often see his daughter Emily, who is in college in Europe. (His former wife moved back to her native Iceland.) His life revolves around caring for his 20-year-old autistic son, Michael, to whom he is totally dedicated.
It would be safe to say that those who compile the Forbes list of the richest Americans have never heard of Gregg Ward.
"You know, we started this thinking it would be a part-time job, and it became our lives," he tells me over lunch at Johnny Noodle King in southwest Detroit, not far from his ferry.
For him, in many ways, this business is ideal, since it allows him the flexibility to take care of his son. But there's a cloud on the horizon; once the Gordie Howe bridge is open to traffic, Ward expects it will put him out of business.
"The new bridge should be safe for hazardous materials," he says, as well as being large enough to carry the huge windmill pylons that now use his ferry service.
That means the Detroit-Windsor Truck Ferry will no longer be able to compete.
You might think that would make Ward as determined as Moroun to stop the new bridge.
But you'd be totally wrong.
For more than a decade, long before Rick Snyder ever thought of running for governor, Ward has fought for a new bridge.
He does that, to be sure, because he doesn't like how Moroun does business or treats people.
His stories about the billionaire could fill a book, and would undoubtedly invite lawsuits from Moroun, whose love of litigation is legendary.
"What some might get out of a night with Marilyn Monroe, Matty gets out of suing people," former Gov. James Blanchard, who had worked both for and against Moroun as a lobbyist, once told me.
But most of all, Ward thinks a new bridge is essential for this region's survival. "If it didn't happen and something happened to put the old bridge out of commission, this region would be so euchered …" he says.
He shakes his head. "I don't know why the business leaders, the automotive companies especially, aren't calling more loudly for the bridge to be built."
What's not in dispute is this: Around half a billion dollars in goods, mainly heavy auto components, trundle across the Ambassador every day. Unfortunately the bridge is not only wearing out, showering concrete onto a Windsor neighborhood last year, but it's also in the wrong place for traffic patterns. Trucks crossing into Canada have a dozen lights to get through before they get to Highway 401.
That's starkly inefficient, which is why at peak times, you can see traffic backed up onto I-75. That won't happen with the Gordie Howe; the Canadians have built carefully landscaped access roads to whisk traffic on to their freeway system.
But progess lags on the Michigan side, around Delray, the area where the bridge would be anchored.
Ward is worried. "Delay, delay, delay," he says.
He's also suspicious that Mayor Mike Duggan is dragging his heels on transferring jurisdiction over roadways and easements, so that work on things like electrical connections can start.
"I worry that he is doing a deal with Moroun," Ward says.
The Ambassador Bridge owner has long argued that he should be allowed to build a new bridge at his own expense, next to his old one.
But that would make no sense from either an environmental or traffic point of view.
A spokesman for the mayor denied any deal: "We continue to support the Gordie Howe bridge, and we are committed to ensuring that the needs of those who live in the community are addressed," says Jed Howbert, executive director of the mayor's Jobs & Economy Team (JET).
But Ward isn't too sure.
Moroun's idea of "twinning" his current bridge seems to be an obsession, but probably also a fantasy. Higher-up Canadian officials have told me they will never allow that.
Ottawa is so committed to the Gordie Howe bridge, Canada is even going to pick up Michigan's half-billion dollar share of the tab, money Canada will supposedly be repaid someday out of the tolls.
But Moroun's fantasy is a rich one.
"Every year of delay is that much more in profits for the Morouns," Ward says, and that much more lost to businesses on both sides of the border.
Ward, who grew up in Indiana and moved to Michigan at 17, has always seen things in terms of an international focus. After earning a BA in international studies at the University of Michigan-Dearborn, he went to the Université Laval in Quebec to be certified as fluent in French, before earning an MBA in finance from Michigan State University.
He's been a business consultant and adviser for a dozen countries, including the Baltic States and Romania, but sees the U.S.-Canada relationship as key to our economic future.
Ward does think the Gordie Howe bridge will eventually happen; his guess is that it might be ready for traffic by 2022.
What he will do then is a good question. But he is almost universally regarded as an honest and caring person.
And nobody knows bridge issues like he does.
"Gregg has an exhaustive knowledge of the subject," longtime investigative reporter Joel Thurtell has noted. "Those of us who have written about the proposed new bridge owe Gregg Ward a huge debt for maintaining what amounts to a digital news service that keeps us up to date."
Ward's also politically and economically savvy. But when I ask whether he might ever consider a career in politics, he laughs.
"How can you compromise on the most basic things? I can't see myself going up to the worst sons of bitches and shake hands and acting like everything is fine," he says.
I decided I didn't need to ask who he meant.
Facebook Comments