Timmy wanted to buy a candy bar. The 11-year-old asked his teenage sister Cathy for 30 cents, and headed down to the drugstore on his orange skateboard.
Even though it was a school night, the Kings' Birmingham household was busy. Timmy's father, a lawyer, had to leave to help an elderly client prepare a will, and since he needed a witness, he brought his wife. Timmy's brother, Mark, had a last-minute play rehearsal at Derby Junior High School. His older brother, Chris, took on a baby-sitting job. And Cathy's best friend invited her out for dinner with her parents.
But it wasn't unusual for Timmy to be left alone. Even though he was only in sixth grade, he had already baby-sat for other kids in the neighborhood. And besides, just two months before, Timmy's dad sat him down and gave him a serious talk about strangers.
The community was on high alert. In the past year, three children had been abducted from the same general area along Woodward Avenue in Oakland County. On Feb. 15, 1976, 12-year-old Mark Stebbins of Ferndale disappeared after leaving his mother at an American Legion Hall to go home to watch a movie. On Dec. 22, 1976, 12-year-old Jill Robinson of Royal Oak vanished after running away from home after arguing with her mother. And on Jan. 2, 1977, 10-year-old Kristine Mihelich of nearby Berkley disappeared after walking to a 7-Eleven to buy a magazine.
Each was young, between 10 and 12 years old. Each was missing for between three and 19 days. And in an eerie signature move, the body of each child was deliberately laid in plain sight in the snow. Only the boys showed evidence of sexual assault with an object.
After Kristine was found murdered, Timmy's father sat him down at the kitchen table and told him to never get into a stranger's car. If anybody tried to force him into one, he was to drop everything he had and run as fast as he could and scream.
But on March 16, 1977, Timmy never came home.
Six days later, his body was found in a ditch in Livonia next to his skateboard — the apparent fourth and final victim of what would become known as the infamous Oakland County Child Killer.
By the spring, metro Detroit was swept in mass hysteria. Parents kept a close eye on their children. One witness says she saw Timmy talk to a man next to a small blue car with a white stripe on its side, leading authorities to fruitlessly pull over dozens of cars. A task force was assembled and fielded thousands of tips. The Detroit News offered a $100,000 reward.
By the end of 1978, the task force had disassembled, burning through its $2 million budget and producing no arrests. The open case was handed off to the Michigan State Police. But even though a suspect wasn't caught, the killings appeared to have stopped. Eventually, the hysteria died down.
For three decades, nothing happened — and Timmy's father, Barry, was convinced that law enforcement had done everything they could do.
"I had really concluded in my own mind that one person was involved, and he was diabolically clever because I always thought if two people were involved, somebody would blow it," King says. If the crime was ever going to be solved, he thought, it'd likely be by deathbed confession.
King still lives in the same Birmingham house, where a portrait of Timmy hangs in the living room. It's a leafy, well-to-do neighborhood — not the type of place you'd expect a kidnapping to be committed.
He flips through a massive binder containing thousands of pages of documents related to the OCCK case, procured from his own Freedom of Information Act suits. A lawyer for 57 years, King retired in 2015. Despite admitting that he finds his memory is slipping in recent years, he's able to reference precise dates in regard to his many lawsuits without looking them up.
For the past decade, King and his daughter, Cathy Broad — also a lawyer — have taken the investigation into their own hands. Last year, King started recording his findings on his blog, A Father's Story (afathersstory-occk.com). Broad has kept her own blog (catherinebroad.blog) since 2013.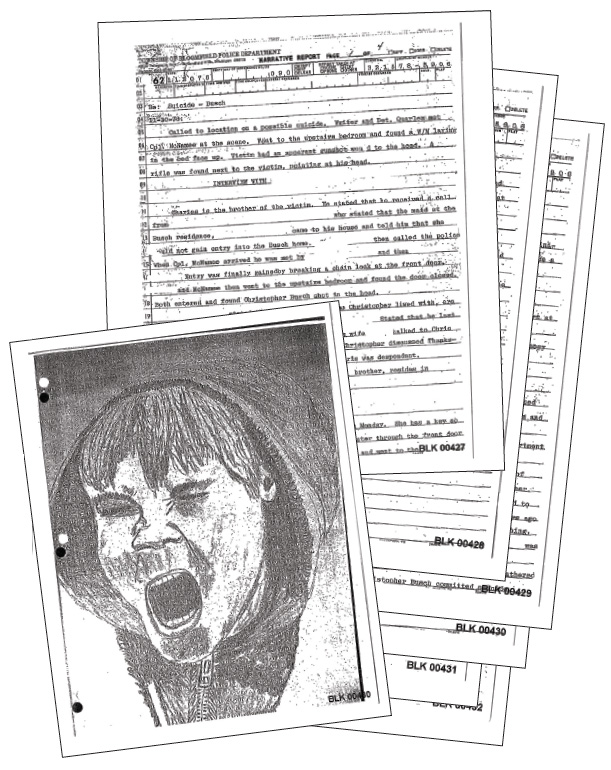 What Happened in Vegas?
A new chapter in the case started in 2006 when Broad and Chris King received a phone call from out of the blue.
Patrick Coffey used to live across the street from the Kings. In response to Timmy's murder, Coffey had decided to go into law enforcement as an adult, eventually becoming a polygraph examiner. In 2006, he attended a polygraph examiners seminar in Las Vegas, where he met another polygraph examiner named Lawrence Wasser of Southfield. When he realized they were both from Michigan, Coffey said he told Wasser that he chose his career path because his friend was a victim of the infamous Oakland County Child Killer.
That's when Coffey says Wasser confided that he knew the identity of the Oakland County Child Killer, claiming to have tested him in a private polygraph unrelated to the OCCK case — technically a breach of the attorney-client privilege, though Wasser did not name the subject. The only clue Wasser let slip was that both the subject and the subject's attorney were now deceased. (Questioned in an investigative subpoena later, Wasser denied that this exchange took place. Wasser did not return messages sent to his firm.)
Coffey immediately called Chris King and Broad. "We didn't have any name. We just knew the Wasser contact," Barry King says. "It was very fortuitous. In my own mind, I'd say that's similar to a deathbed confession." At any rate, it was a start.
While all of the victims were from Oakland County, Timmy's body was found the farthest distance away, on the other side of Eight Mile Road in Livonia — technically in Wayne County.
That fact enabled Broad to call the Livonia Police Department, where Detective Cory Williams took the case.
With this clue — a one-time OCCK suspect and his attorney, who were both dead — they finally had a promising lead: Christopher Busch, a known pedophile and the son of a General Motors financial officer. Busch was found dead in his room on Nov. 20, 1978, of a .22-caliber rifle blast to the head in an apparent suicide in his parents' home in Bloomfield Township, not far from the Kings' house.
Williams contacted then-Oakland County Prosecutor David Gorcyca with the information, and in October 2008, a search warrant was issued on the former Busch residence. "Dave told me Christopher Busch was the best lead he ever saw," King says.
Disturbing Details
In March 2010, King got a call from the Oakland County Prosecutor's Office advising him that Busch was no longer the lead suspect. Shortly after, King filed a FOIA request for their file on Busch. On Dec. 15, 2010, the State Police provided King with 3,411 pages of documents related to the investigation.
From the documents, King learned that in early 1977, Busch and an accomplice, then-26-year old Gregory Greene of Flint, were charged with molesting a boy in the Flint area. Previously, Greene had been charged with molesting boys in California, and Busch had been charged with molesting boys in Oakland, Montmorency, Genesee, and Midland counties. According to the documents, during interrogation in an arrest in Flint, Greene said Busch murdered Mark Stebbins, the first OCCK victim.
In a polygraph pre-test interview, Busch admitted to being a pedophile and told detectives that he and Greene had plans to kidnap and molest young boys. They would take turns watching the children, so they were never alone. Busch also said he looked for boys in Ferndale, Royal Oak, and Berkley — the three abduction sites, in order, of the OCCK's first victims.
When questioned if he murdered Mark, the polygraph examiner concluded Busch was telling the truth — and neither Busch nor Greene were further investigated as part of the OCCK case.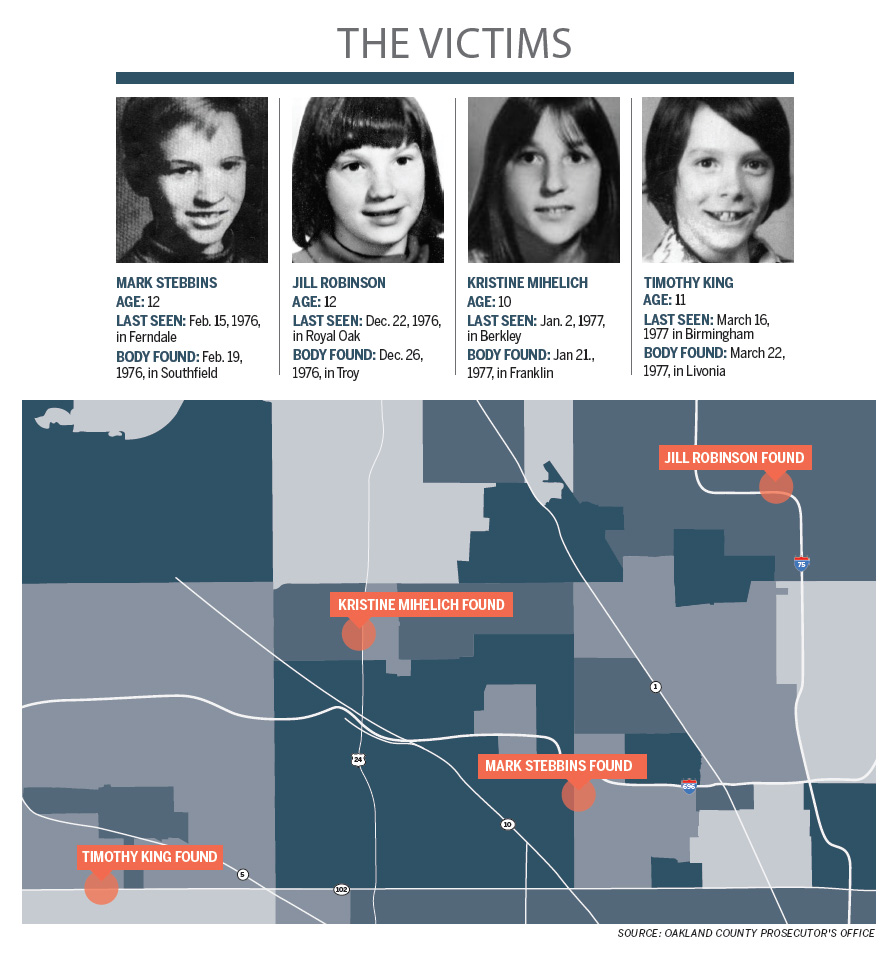 Greene pleaded guilty in the Flint case and was sentenced to life in prison. (He died in 1995 from a heart attack.) Busch, however, pleaded guilty and was only put on probation. The judge did not say why Busch got a reduced sentence, and Oakland County Executive L. Brooks Patterson, who was county prosecutor at the time, has said he doesn't recall why his chief assistant prosecutor agreed to a plea deal.
Less than two months later, Timmy was abducted.
There were other disturbing details in the reports.
King learned when investigators had Busch's polygraph results re-evaluated by three examiners in 2008, they determined the results indicated that Busch was either not truthful or that the results at least should have been deemed inconclusive.
Photos from the suicide scene revealed ropes next to Busch's bed that could have been used to tie victims. On the wall, a crude drawing of a screaming young boy bore a striking resemblance to Mark.
Busch's body was found on Nov. 20, 1978. The task force disbanded on Dec. 15, 1978.
Justice deferred?
Perhaps no other crime has captivated both the imaginations and the terrors of Oakland County residents.
Nina Innsted runs a true crime podcast, "Already Gone." She says the OCCK case is of particular interest to her: She was a child living with her grandparents in Berkley, and she remembers the regional hysteria vividly.
"It was terrifying," Innsted says. She recalls a time when, as a 5-year-old, she walked to a friend's house. By the time she came back there were three police cars in front of her grandparent's house. Her grandmother assumed the worst.
For many parents, Innsted says, the OCCK killings revealed that all was not well in Oakland County.
"I think people were very worried because these were kids from better neighborhoods. They were not 'bad kids,'" she says. "These were the boys or the girls next door. It could happen to anybody."
Based on her own research, Innsted believes that Busch was involved, and that he did not act alone. She points to the fact that none of the victims had severe damage to their wrists or ankles. Somebody must have been with them, watching them — just like Busch described during his polygraph test.
In testament to the enduring fascination with the case, the local media revisits the case about as often authorities attempt to try to dig up Jimmy Hoffa, based on some new lead. King is usually front and center, publicly airing his frustrations with the case and his belief that Busch is the lead suspect.
King believes Busch used his father's prominence to get away with murder, and that Oakland County, embarrassed by its past mistakes in handling the case or for covering up for Busch, refuses to admit the truth today. He points to the fact that Oakland County has not provided him with any explanation or documentation as to why Busch was suddenly dropped as the leading suspect as soon as Jessica Cooper took over as Oakland County prosecutor, a role she's held since 2009.
"If they can't eliminate him, and everything else points to his involvement, the decision is very easy for me to make," King says.
Cooper is frustrated when asked to respond to King and his allegations. "He believes that he has found the killer. We've explained to him why the person who he's chosen is not," she says.
Cooper says it's not the prosecutor's job to prove that a suspect is innocent. "There is no proof beyond all reasonable doubt. There isn't even anything that would rise to probable cause," she says. "There just isn't sufficient evidence to prove it. And even if we could prove it, we couldn't prosecute it," because Busch is dead, she says. For that reason, she says the investigation is more focused on finding a living lead.
"My message to him has always been: If this is what you believe, that this is your suspect, then believe it," she says. "If that will bring you peace, you can believe what you want."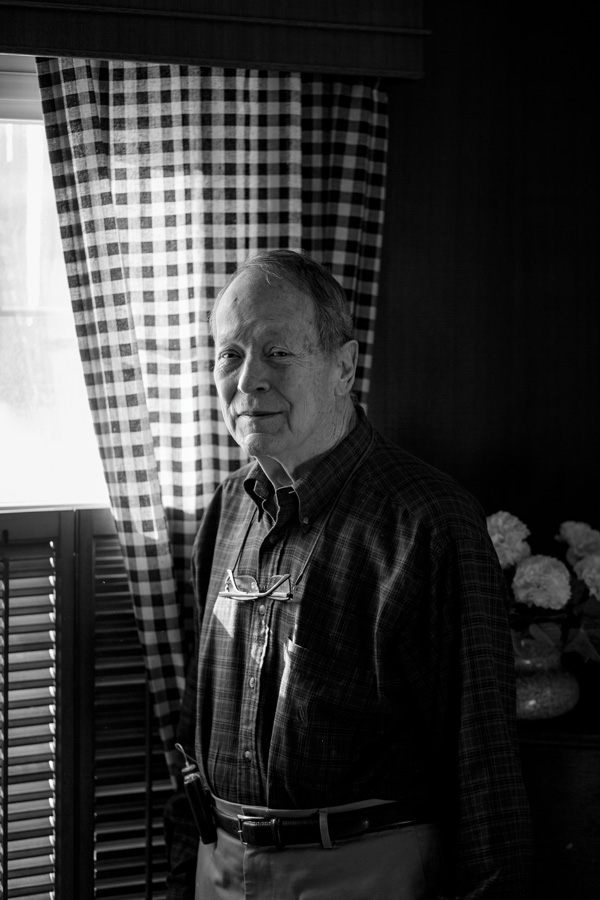 Still searching 
Nevertheless, King and his family fight on. He has a lawsuit against Oakland County; if the Appeals Court turns him down, he says he'll take it to the Michigan Supreme Court. "I've never argued up there before," he says. "And by the time I get a hearing date, I'll be in the grave."
King says he's not sure what will happen to the case if it isn't solved before he dies. While his daughter practices law, she isn't admitted in Michigan. "I don't know whether she's eligible to do it," King says. "But she'd be the person I'd want to handle it."
He says he paid the Michigan State Police more than $11,000 in FOIA fees for the documents. He didn't want to represent himself in court, so he hired attorneys. He says he hasn't kept track, but estimates he's spent at least $20,000. "I never really begrudged a dollar, because I didn't have to educate Tim," he says. "I spent his college money."
A deathbed confession could still happen. Someone out there, he says, knows the identity of the Oakland County Child Killer — or killers.
But though the case may be fading into history, its effects are still felt in the collective psyche of suburban Detroit to this day.
King says as a sixth-grader in the '70s, Timmy delivered newspapers for money. He says when he was a kid, he had a paper route, too. "I could go out and buy my own candy bars," he says.
King says he never sees kids playing baseball outside in his neighborhood, unless it's the Little League, with their parents nearby. He says he didn't even know who his neighbor's kids were until he was invited to their high school graduation parties. "I never saw the two girls out on the street," he says. "I saw the son playing catch with his father occasionally in the front yard."
He wonders what this era of isolation and disconnection will do to our collective psyche — if the mutual distrust is causing us to become even colder.
"But that's just King on barroom psychology," he says.
What's clear is King's family will never be the same.
And even if the case is forgotten, Oakland County will never be the same, either.