Alondra Martinez was at her Pontiac home when her phone rang. It was a representative from Marygrove College, a small, private, four-year school in northwest Detroit. Though then enrolled at Oakland Community College, Martinez had recently learned that a scholarship she'd been hopeful would cover her tuition had been compromised. "I'm just going to answer and see what they have to say," she thought.
She was floored by how friendly the Marygrove representative seemed — "come check us out!" — and soon was on campus explaining her situation to a financial aid adviser and the college's vice president. Within weeks, Marygrove came through with a big offer: Through a combination of private donations and scholarship funding, Martinez would be able to attend for only $200 a year. She enrolled for fall 2014, and moved into a remodeled female-only residence, later declaring a marketing major and theatre minor — and loved almost every minute of the next three years. "I felt like I was part of something," she says. "From the first day, everyone was just a family."
One Wednesday morning last August, a few weeks before the start of her senior year, Martinez was on the phone with a friend when she learned her future at the college could potentially be in jeopardy. There was a rumor going around that Marygrove might be shutting down. Martinez raced to campus and found bewildered students and staff; by the end of the day it was clear she wouldn't be able to finish her college career at Marygrove.
Like many small private colleges across the country, Marygrove was in dire financial straits. At a meeting the previous day, board members had decided to phase out the college's struggling undergraduate programs after the fall semester but continue the school's thriving graduate programs. It would be a difficult transition, but the move, the board concluded, marked the best path forward for the college. "It's going to be different," says Marygrove President Dr. Elizabeth Burns. "The shorthand is 'Marygrove 2.0.' "
It was a dramatic move for a century-old institution. The school began in 1905 as an outgrowth of St. Mary Academy, a girls' school founded in 1845 by three nuns who had moved to Monroe, Mich., to start a new Catholic order. In 1925, St. Mary College, as the academy was known, moved to its current location, a leafy 80-acre campus in northwest Detroit, changed its name to the more evocative Marygrove.
For decades, the female-only school thrived, attracting mostly Catholic women from around the Midwest and earning a reputation as a strong teachers' college. But Marygrove also embraced a strong social justice mission, which would endure as a hallmark of the school: by the mid 20th century, the college had a full-time director of social action and two-thirds of students also served in various community volunteer roles.
In the early 1960s, as racial tensions escalated in segregated Detroit, Marygrove joined a community organization dedicated to neighborhood integration. "The acid test of our sincerity in banding together in this Community Council," then president Sister Mary Emil said at the time, "is whether in our heart of hearts we ever would want a lily-white neighborhood here if we could have it. Marygrove would not want it."
Marygrove became co-ed in the early 1970s, and by the end of the decade, a majority of the school's students were African-American. In 1998, the same year the board appointed Dr. Glenda Price, a former provost at the Atlanta-based historically black women's college, Spelman College, as the institution's first black president, Marygrove launched its widely acclaimed Griots program, which helped African-American men become teachers. "It's a bidding war for almost every candidate," Kathleen Smith, then assistant superintendent of Detroit Public Schools, told a reporter at the time.
The independent institution inspired an outsize reputation among graduates: It was not uncommon for multiple generations of families to attend, and students raved about the sense of community and small classes. "It was amazing," one alumna, Mitzi Jackson, says. "The professors are really amazing."
Jackson, a native of Detroit's east side, enrolled in 2013, following her daughter, who had chosen the school for its renowned dance program. Jackson studied English and history; the education, she says, was rigorous but rewarding, especially under longtime English professor Frank Rashid. "I think I have three gray hairs from his class," she says. "He put us through the works."
In the spring of 2016, when Jackson was in her final semester, she was asked to moderate a discussion panel with the writer Claudia Rankine as part of the school's popular Contemporary American Author Lecture Series. Rashid was in the audience; from the stage, Jackson and a classmate used the opportunity to needle their professor, repeatedly calling on him. "We didn't catch him up — he was able to answer," she says. "We had fun, though."
But for decades, many of the small undergraduate programs students raved about had been effectively subsidized by larger graduate programs. The Master in the Art of Teaching degree, an innovative distance-learning program — meaning students were remote, and not actually on campus — proved hugely popular. Since it debuted in 1990, the MAT program has produced more than 28,000 graduates. Comparatively, in recent years, Marygrove's total undergraduate population was often in the hundreds.
The result was a college infrastructure — campus maintenance, extracurricular programs, teaching salaries — that couldn't stand on its own. "Structurally, that was our major problem," says Tom Klug, a long-time Marygrove history professor. "We could never find a replacement for the MAT."
In recent years, even students were aware their college was likely in trouble. There were rumors swirling about serious financial issues, malfeasance, and potential lawsuits; in one embarrassing episode for the school, in early 2015, a group of students went public with claims that thousands of dollars in promised financial aid wasn't materializing.
Marygrove maintained the confusion stemmed from a software glitch that had erroneously awarded excessive funds to 200 students the previous semester, although some didn't buy it.
"I'm not dwelling on the sadness as much as the anticipation of how we can do things differently."
—Dr. Elizabeth Burns
One aggrieved student, Mariah Sammons, told Fox 2 TV reporter: "I feel like the reason they're doing that is because they're running out of money and they're trying to take it back any way possible."
Sammons was right about one thing: Marygrove was, in fact, running out of money — a problem shared by dozens of small, private liberal arts colleges around the country.
"Really since 2008, the small, private, independent four-year colleges have been in what I call 'an increasing pressure cooker,' " says Jim Hunter, chief academic officer for Emerge Education, a higher ed consulting group. "It's just a matter of how far that dial is turned up."
There are various factors behind the crunch: An overall decline in the number of graduating seniors, a strong push from community colleges, and years of parents' tightened belts after the Great Recession. And while larger universities — public or private — can often rely on billion-dollar endowments to fill enrollment gaps, smaller colleges are highly dependent on tuition for revenue, which makes any enrollment drop potentially perilous.
Stiffer competition for students also means colleges have had to spend more to attract them, both in increased marketing costs and larger aid packages — another trend that favors big-name universities.
The direction has been devastating. While the disposition has inspired a kind of existential reckoning — forcing institutions to re-evaluate individual programs and focus on what they're really good at — many schools simply haven't made it.
In May 2016, two days after commencement, Vermont's Burlington College announced it was abruptly closing. In April 2017, St. Joseph's, in Indiana told its 900 students it was closing. In October, it was Grace University in Omaha that closed.
The trend, by all accounts, will continue. "There's only so long you can cut before you really need to generate more revenue," Hunter says. "The next five to 10 years … it's going to be interesting."
Burns knew Marygrove was in trouble when she assumed the presidency in January 2016 after retiring as a dean at Western Michigan University's medical school. She practically has Marygrove green and gold in her blood. Her grandmother was on the college's first lay board. Her mother is an alumna. Burns attended Marygrove's kindergarten before returning to join the class of 1972 — along with current communications director Renée Ahee — and eventually joining the board. She was dedicated to righting the ship.
"I didn't know how tough it was going to be, but I knew it was going to be tough," Burns says. "And I didn't know how it was going to end, either."
In a bid to boost applications, Burns implemented a new focus on developing early relationships with high school students. She also prioritized an overhaul of what had been a chaotic admissions management system. Initially, the push seemed to be paying off. In early 2017, with a new system for comparing data, undergraduate enrollment numbers for the coming fall were actually looking good, she says. But by the end of July, just a few weeks before the start of the fall semester, they had flatlined: the school would once again be off target by at least 100 students.
"It was very clear," Burns says, "that we needed to take a hard look at the college."
Marygrove's Alumni Reunion weekend was scheduled to begin Friday, Sept. 15. On Saturday afternoon, with alumni scuttering around to events on campus, a few dozen students, faculty, and alumni gathered in front of Marygrove's storied front gate on West McNichols Road. They waved protest signs: "Don't Abandon the Community." "Honk For Students & Staff & Faculty." "Social Justice."
For many in Marygrove's community, the sense of betrayal still hung heavy. The previous month, after the disappointing enrollment figures came in, Marygrove's board called a special meeting, where members were told they had a week or so to mull over various options — whether to close the school altogether or to just cut undergraduate programs, and when. On August 8, members voted unanimously to phase out undergraduate programs after the following semester. Early the next morning, faculty were notified in another meeting, and around 10:30 a.m. the college released an announcement to the general public.
The decision to continue for one more semester — and really the entire planning process — was based on what was best for students, Burns says. But many felt blindsided, especially with a new semester just weeks away. "It was very confusing," says Martinez. "It was scary because we didn't know what was going to happen."
More than 50 employees, including teaching faculty and staff, were laid off. Klug, who had spent more than 30 years at the college, took the news relatively well, partly because he was already in the tail-end of his career; other faculty, especially younger professors who had more urgent financial needs, felt a sense of betrayal. Anne White, an assistant history professor who was laid off in August, told a reporter the abrupt announcement was a "kick in the stomach" and "unconscionable at a school that talks about social justice."
Jackson, the proud alumna, was also dejected. After the announcement, along with other alumni, she began organizing a last-ditch fundraising rally to try and save the programs. She requested a meeting with Burns, who granted the meeting but was blunt about the future. The group scrapped the fundraising rally. "It was a done deal," Jackson says. "There was nothing really that could be done."
In the following months, Marygrove would focus much administrative energy on helping transition students. Individual academic counseling sessions would be set up, and all schedules would be vetted to make sure the courses could effectively transfer. Some 40 colleges came to Marygrove to recruit.
Four area schools — Wayne State University, University of Michigan-Dearborn, University of Detroit Mercy, and Madonna University — also agreed to a teach-out, where qualifying Marygrove students could transfer all of their credits and continue their degree programs. Madonna University absorbed the popular dance program. Almost all of Marygrove's 100 or so athletes found new teams; men's basketball coach Craig Covington would later travel around the country to watch his former players.
Marygrove was flush with preparations, but with fewer students and everyone preparing to leave — the impending closure seemed to be all anyone was talking about — campus felt different, Martinez says. One Saturday in October, Martinez returned to her dorm from an off-campus job. In previous semesters, the building seemed to be always buzzing with students; now, as she walked the same halls, Martinez realized it was totally silent. "This is actually happening," she thought.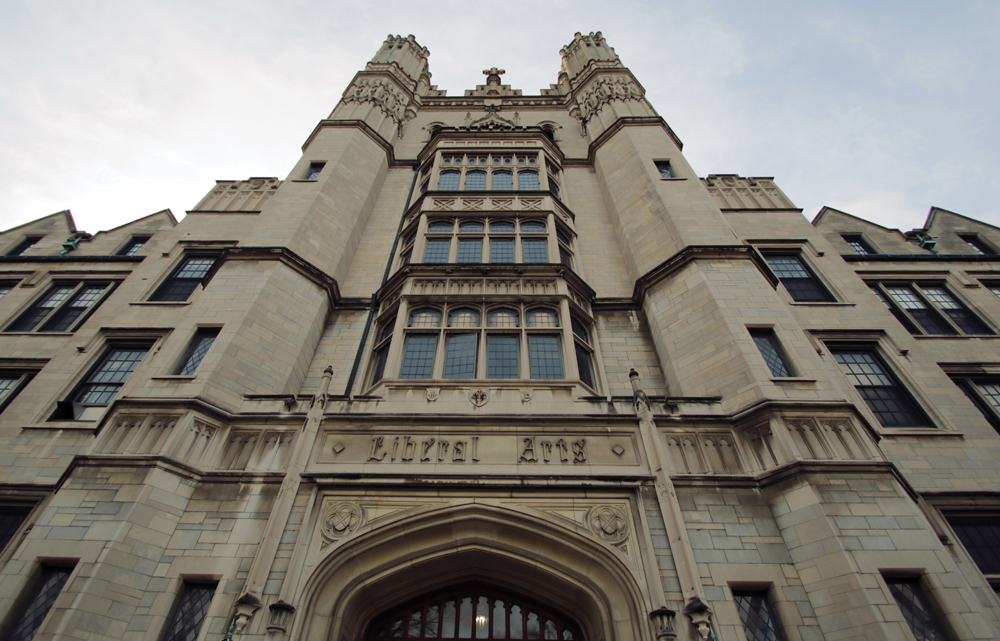 In November, Martinez decided to enroll at Wayne State, who had offered an attractive financial aid package, although she'll still have to pay perhaps $7,000 in tuition to finish her degree next winter, a semester delayed. "It's really scary," she says of transferring, "but I think I'll be fine."
In December, the college held a special commencement for the students who had managed to complete their degrees; on Jan. 4, four days before the start of the new winter semester, Marygrove held a ribbon-cutting ceremony, attended by various faculty, alumni, and media. It was a celebration of the school's "transition into a higher education institution focused exclusively on graduate education." Ahee says the event had a palpable buzz. "There was an energy in the lobby," she says. "We're here all committed to that [new] direction."
Over 400 master's students are currently enrolled in the college's five postgraduate programs, although the majority are online students and won't actually visit campus, which means there's no need for most classrooms or other buildings; the college is looking at options for leasing. The transition means that Marygrove will no longer have sports teams, or student activities, or residence halls, but it will have five strong postgraduate programs in education, reading, and social justice and maintain events like the author series. Burns insists Marygrove remains committed to its role as an anchor institution in Detroit. "If you look at our old mission statement and the new proposed mission statement, it's not all that different," she says. "We want a diverse educational population. … We want values-based leadership. We want Catholic social teaching."
And any organization, she emphasizes, can really only make an impact if it's sustainable.
"Last semester was sad. Last semester we had to work through that. But now, I'm not dwelling on the sadness as much as the anticipation of how we can do things differently."