Classics Reimagined
Working out of Standby and Flowers of Vietnam in Detroit, Brent Foster exhibits a key sense of detail in everything from flavor pairings to presentation — a product of many years working in various restaurant industry positions before venturing into bartending.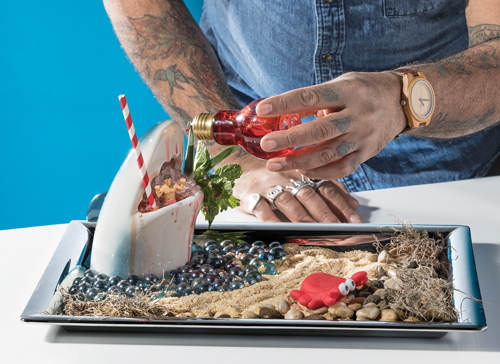 The cocktails concocted by Foster take classic favorites to the next, next level. While tiki drinks are known for their over-the-top presentations, "The Baywatch Downs," literally sets a scene (right). Like a game of I-spy, intricate details like Peychaud's bitters imitating blood, an eco-friendly paper straw, and literal toys create a cocktail that is purely fun.
While the tiki cocktail features multiple layers of details, Foster's take on a Bloody Mary served in a can almost acts like a piece of modern art. Simple, colorful, and imaginative, it features garnishes like a spiraled habanero pepper, a cucumber "snake," and a variety of olives.
But what's in the glass (or can) holds as much weight as the garnishes, if not more. When it comes to Bloody Mary's, Foster, who has rarely disclosed a trick up his sleeve, reveals his secret ingredient: Swat! Sauce from Ferndale's The Fly Trap. "It's my favorite hot sauce to put in a Bloody Mary because it beefs up the texture of the mix and it just coincides nicely flavor-wise," he says.
---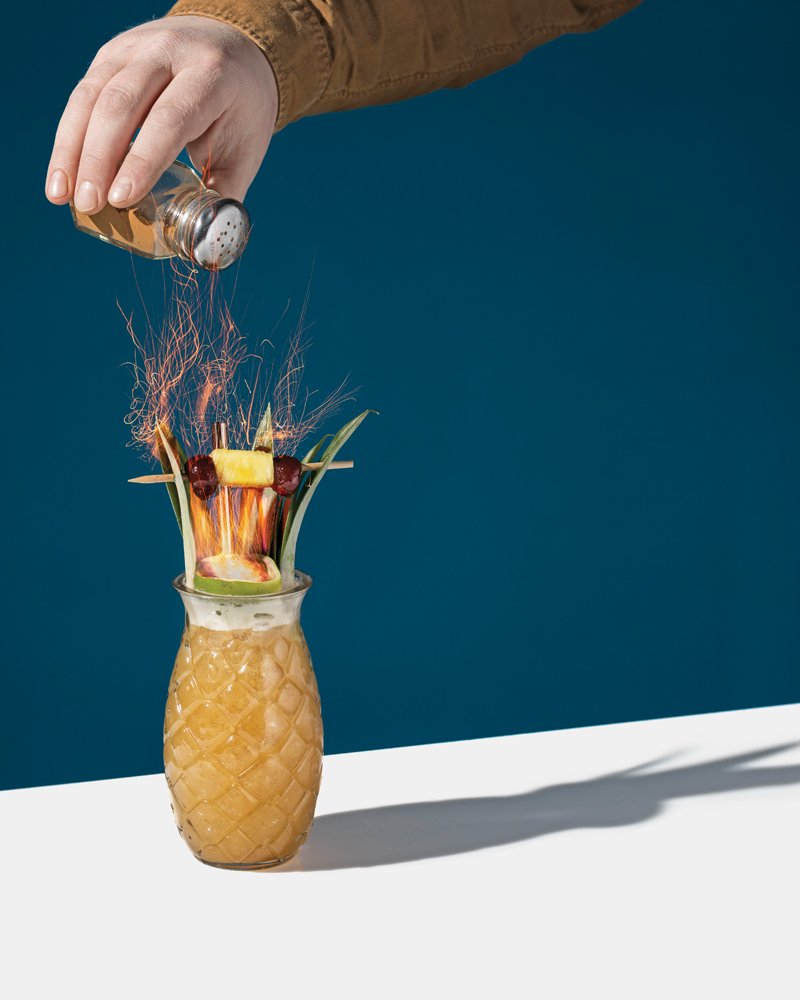 More Than Meets the Eye
While easily one of the most visually appealing cocktails featured, Desmond Oliver's flaming tiki drink is much more than just a flashy display. Inside the pineapple-shaped glass, Oliver combines milk-washed and coffee-infused Jamaican rum, smoked pineapple turbinado sugar, pineapple juice, coconut milk, cinnamon simple syrup, and fresh lime. The result is a complex melody of sweet and smokey that challenges traditional tiki trends.
Beyond being delicious, the drink is also ecologically responsible. "Everything that I used as a garnish is also sustainable," says Oliver, who bartends at The Oakland Art Novelty Company in Ferndale. After juicing the pineapple, the "guts" were used to make a turbinado sugar and the leaves were used in the display. The rind of the lime was used to make the bowl containing the high-proof, flaming liquor.
To call the combination impressive would be an understatement. But Oliver doesn't lose sight of what's important when it comes to bartending. "You can know all the things and have technique and be great," he says. "But at the end of the day, just being a warm, welcoming, comforting space to people is also very important in what we do."
---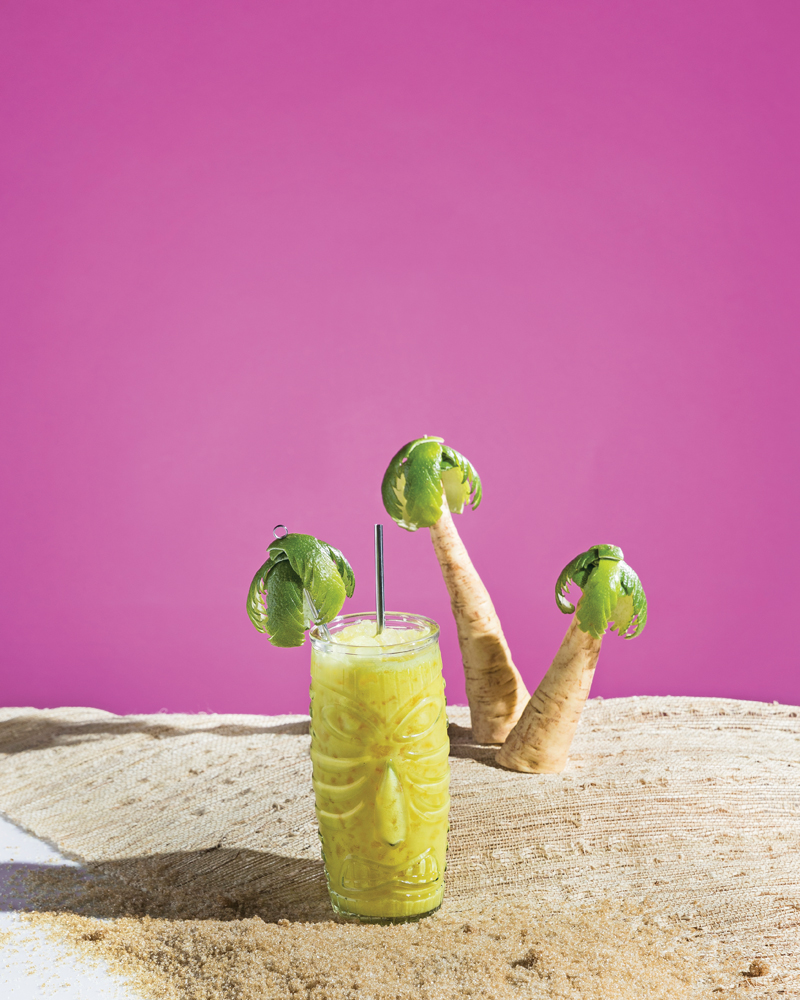 Tiki on the French Riviera
Metro Detroit's craft cocktail scene is relatively tight-knit. When someone is turning heads nationally, they will surely be known back home. Giancarlo Aversa, principal bartender at The Last Word in Ann Arbor, is certainly no exception. During the day of our photoshoot, multiple bartenders asked, "What did Giancarlo bring?"
While he's been bartending for about 17 years, Aversa only ventured into the craft cocktail world about six years ago. With multiple appearances and some wins under his belt at national and international cocktail competitions, it's easy to see he found his niche.
This particular cocktail, Tiki on the French Riviera, won Aversa first place at the Midwest Mixology Cointreau competition in Chicago two years ago. Made with Cointreau, Mount Gay rum, turmeric, coconut milk, and a bit of lime juice, the cocktail is perfectly balanced: sweet, but not-too-sweet; a touch bitter and earthy.
The inspiration for the lavish cocktail came from Cointreau's French origin. "I had never been, but I had envisioned myself on the French Riviera. You know, Cannes, Nice, Marseilles," he says. "I would be envisioning people in their finest linens, on the beach at sunset with this cocktail."
---
Modified Manhattan
Hailing from two starkly different, well-known bars, the Buhl Bar and Bad Luck Bar, there were some high expectations surrounding Mike Eisenberg's creation. He delivered, tenfold.
Eisenberg found inspiration for his modified Manhattan at the Buhl. "I went [there] for my inspiration because it really is that after-work, executive, lawyer bar," Eisenberg says. "I was thinking about all those old, Mad Men … '50s and '60s movies, where the guy's having a rough day at work and he reaches down and opens up the bottom drawer and he pulls out a bottle of whatever booze."
Served in a wooden drawer alongside cold-shocked mint (to preserve its bright green color), blackened orange peel roses, and a small bowl of Amaro bitter jellies, every component of a classic Manhattan is represented in a unique and artistic way.
Classic as it may be, the display is also reflective of Eisenberg's over-the-top style when working out of Bad Luck, known for their eccentric cocktails. "I'm lucky I get to stand in both worlds," he explains. "I get to play around at Bad Luck, and I get to serve exceptionally well-crafted drinks at Buhl, and stick to the classics there. It's a fun scene right now."
---
April Showers
They say that beauty is in the eye of the beholder. For Kamalani Ingersoll of Bad Luck Bar in Detroit, that beholder isn't necessarily the one who ordered the drink. It could be anyone in the bar.
"I call it the 360-degree garnish," she says. "I want my guest to be looking at his or her cocktail and say: 'Oh, that looks great.' But also a guest behind them to look at the cocktail and say: 'What is that? I can see that garnish over here.' "
It doesn't matter what angle you view Ingersoll's cocktail, appropriately named April Showers. It's simply beautiful. A variation of a White Negroni, the cocktail is served in a teapot mimicking a terrarium. While whiskey stones and dry ice keep the cocktail cold, edible moss tints the liquid green, highlighting the bright edible flowers. The accompanying cup is rimmed with candied honey, edible glitter, ginger, lemon, and a cookie. And that's just scratching the surface of the complex cocktail.
But even with her attention to detail and impressive skill set, like all the bartender's we spoke with, hospitality is still Ingersol's main concern. In fact, this consistent commitment to creating the best possible environment for customers is what drew the Hawaiian native to Detroit in the first place.
"That sense of care for not just your craft, but for your guest as well, that's what drove me to want to work here and live in the city of Detroit," she says.