Claressa Shields is in the second round of her fight against Tori Nelson, defending two titles as a super middleweight. She is known as T-Rex, a nickname she earned as a kid for her shorter arms, but a more accurate title now might be one of the big cats: panther or tiger. When she swings, it's with a coiled, explosive ferocity, coming from a place of fearsome patience.
Before the fight began, while her opponent stared blankly, Shields paced, intense eyes looking across the ring the way a lion watches naïve zoo visitors thinking: Let me out. See what happens.
Less than a minute into the second round, her otherwise tight, coiled posture is gone. Her lead hand has dropped a few times throughout the fight already, but now they both dangle, loose, while Nelson's hands swing at her uncovered head, hitting nothing but air while Shields bobs, weaves, floats, before she stands straight up and holds both gloved hands spread wide. Come here. See what happens. It only lasts a moment, and soon she will bring her hands back up and put Nelson through another punishing eight rounds, winning by unanimous decision. But for that moment, Shields was a different fighter.
It looks familiar.
*     *     *
About a month later, I'm with Shields in the basement of Flint's Berston Field House. The multi-story complex is a place for local youth to play basketball, dance, make art, or box. The gym is a single room, largely dominated by a boxing ring in its center, which is surrounded by a few treadmills sitting on pallets and punching bags, some beaten to the point of needing duct tape to keep their guts from spilling out. Jump ropes hang haphazardly from the turnbuckles and a few are under the edge of a ring, like a stray sock beneath a couch. It's a home as much as it is a gym.
It's where she became Claressa Shields, where she learned to fight, sparring countless men. In fact, she only spars with men when preparing for a fight, going through three of them in 10 rounds so she's always fighting someone fresh. Her boyfriend says for a long time he didn't want to watch her spar while other guys hit her. One day, he decided fine, he would watch. He doesn't mind watching now.
Shields and I have just finished a brief boxing lesson, my attempt at making a more interesting story. I was looking for some wisdom and insight from the mind of one of the world's best fighters — at only 23 years old, she's already become the first American boxer to win consecutive gold medals at the Olympics, as well as the first female boxer from the U.S. to win gold. The lesson was practical. "Draw that shoulder back." "Push off that back leg." But the deepest insight may have come just before we started, when her boyfriend jokingly said "show him the secret."
"Ain't no secrets," Shields said. "Just listen and get your a** kicked."
I ask her about that moment in the second round against Nelson. Her fighting style may not have stood out to me if I hadn't heard her bring up Muhammad Ali in the brief time I've been following her story. I want to know: Is that where it came from? She smiles. She knows the moment I'm talking about. And yes — there's some Sugar Ray Robinson influence in there as well as Ali.
But if she wants to mimic Ali, it's not necessarily in the way she boxes. Shields has, she says, about 20 fighting styles she hasn't shown the world yet, or needed to.
Like Ali, she wants to be more than a champ. Where she really wants to follow in his footsteps is outside the ring.
"He's the GOAT," she says, referring to Ali being known as the 'Greatest of All Time.' "And I'm the GWOAT." The Greatest Woman of All Time. It's a title she's given herself; something the late Ali might have admired. She believes the younger generation of women should grow up in a world where they can see the GWOAT share her story of struggle and triumph, to see that they, too can succeed.
She still plans on winning — in fact, she must keep winning to attain her goals — but boxing is the vehicle. She wants to be like him, she says, "in how I can touch people. … What [Ali] did for the world and for people, and how he stood up for himself and what he believed in. That's bigger than boxing."
*     *     *
Days before we met, Shields visited a Flint church to talk to teenagers about her life. They listened as she shared how she grew up with a mother who was addicted to alcohol, how she was sexually abused, how she stuttered, how she was just plain hungry at times. She told them about how she would make her little brother and sister the last pack of noodles in the house, tell her siblings to split it, and leave for the gym, her own stomach empty.
She told them she'd been angry. In elementary school, she was teased for having a big nose and "poofy hair," and got in fights. Her father, largely an absent figure in her life, had been a boxer, too. She wanted to follow in his footsteps, but he told her no — possibly the most motivating thing he could have said to a girl who would start going to the gym anyway in the sixth grade. She told them about being the only girl in the gym at that time, and how she was once told girls didn't belong there. She told them about the time she lost to a boy in a sparring session who had taunted her, talking trash and dropping his hands, and how she was so mad afterward she tried to throw a chair at him. Her coach told her to get out of the gym, and she told the group at the church how she went out and sat on the stairs, cried, breathed, and came back to the gym. Since then, except for in the ring, she's never been in a fight.
During her time with the teenagers, she taught them how to block out the negativity of others, and the importance of wearing blinders and focusing on what's important to them.
"I'm going to tell y'all right now, I am the best boxer in this room," she said to them. "But, there's somebody in this room who is the best basketball player. … There's somebody in this room that can sing, and I mean sing better than everybody in this room. There's someone who can braid hair. … Everybody in here, you are the best at something, and that thing is whatever you think about every time you get up, that's what it is, and that's what it's meant for you to do."
So maybe it will work, this idea of becoming — or remaining — the greatest, and sharing her story. It had worked for her, after all. While she spoke, she told them about discovering Ali at a time when she was being teased in school for how she looked.
"I'm not pretty," she remembered thinking. "My nose is big, it's too big for my face. My face is skinny. I'm skinny. I'm like, my lips is kinda big. … I watched Muhammad Ali, he said 'I am black, and I'm pretty.' When he said that, I repeated it."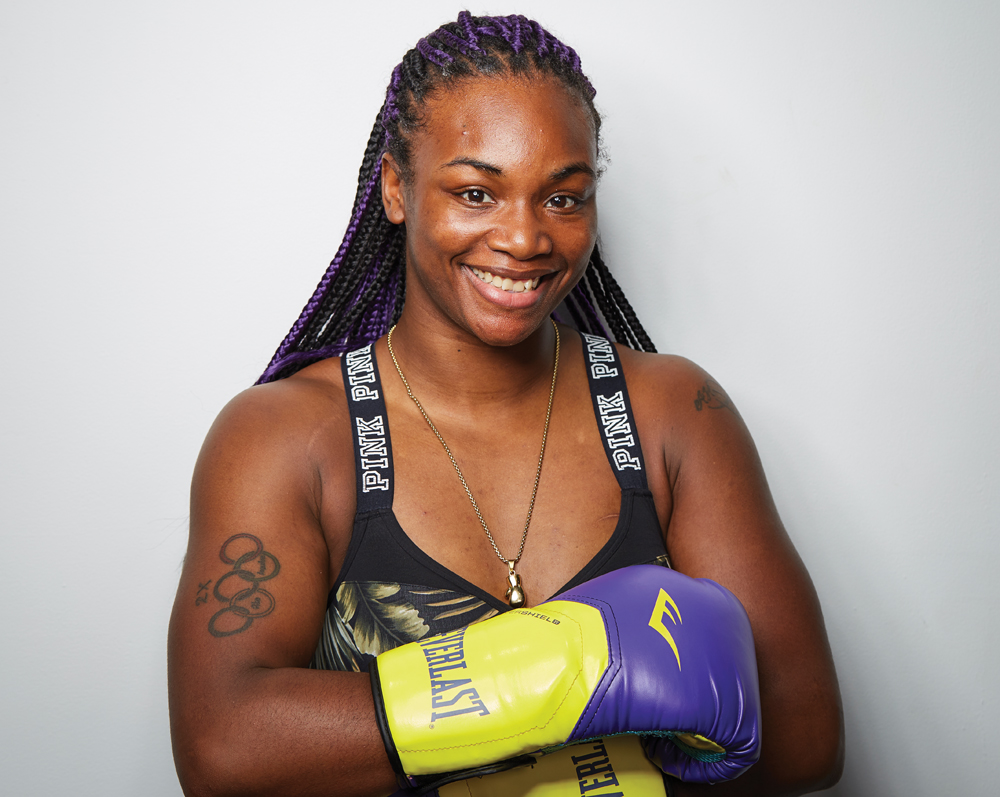 Even with two titles and two gold medals behind her, she wants more. "No one has paid me a million dollars yet," she says.
Does she want the money? Sure. But, more than that, she wants what it represents. Men make millions. Therefore, that's what Shields believes all little girls should see female fighters make. It's tough enough out there for women already, even the greatest. During the 2012 Olympics, Kellogg's put the American athletes on their cereal box, but Shields, somehow, was missing, and she has not forgiven the food manufacturing company. She says she will not touch so much as a spoonful of Frosted Flakes for as long as she lives.
To make it fair for women, Shields will keep beating the toughest of them up, one by one, as long as they keep stepping in front of her. It's by knocking down woman after woman, ironically, that she will fight the men and earn the respect she wants.
As far as she's concerned, she cannot stop. After a loss, gold medals and belts no longer matter. She knows what people say when a fighter loses — that it was inevitable, only a matter of time, that they weren't as great as everyone said. So, for people to hear her story, she must keep winning.
"The next couple of years, I want to work my way up to fighting…pay-per-view Showtime, fighting for millions of dollars, being on the level Muhammad Ali was on where he was a household name," Shields says.
"You don't think you're a household name right now?" I ask.
She thinks about it. "Some places I am, but there's still some work that's got to be done. I'm not there yet. I'm working on it."
*     *     *
There was a time when Shields' sole motivation was to take care of her family. "Give me some money and give me a house," she'd told herself. She has money now. She has an apartment in Palm Beach, Fla. The goals Shields has set have been accomplished, but she still considers herself, as she has since she was 13, the head of her family. Her older brother just got out of prison after being away for eight years. She's keeping an eye on him, and is still making sure her mom and younger siblings are taken care of.
But there is more to do now, more kids to take care of, more little girls who need her as a role model. So, she's not done fighting. With two belts in her current weight class at 168, her next goal is to drop to 160 and challenge the titleholder at middleweight.
And then, more fights. I remind Shields that, on all fronts, she has won. She has two gold medals. She has titles. She can take care of her family. How long, I ask, does she need to keep on winning?
She looks at me as though I'm out of my mind.
"Forever," she says.
As we're about to leave, a little girl in a puffy winter jacket, no older than 2, toddles into the room, and heads straight for Shields, her entire face wrinkled into a smile. Shields turns toward her, her own face beaming. Anyone who didn't know any better might assume Shields is this girl's favorite aunt, but she has no idea who the little girl is. This just happens.
"She probably knows me from Berston [Field House] and TV," Shields says. "… If they want to hug or speak to me, I return the love."
Shields bends down next to the little girl and gives her a hug before she scurries back to whatever adult she momentarily escaped from, perhaps knowing, to the extent a toddler is capable, of who exactly, she has just met.
Facebook Comments