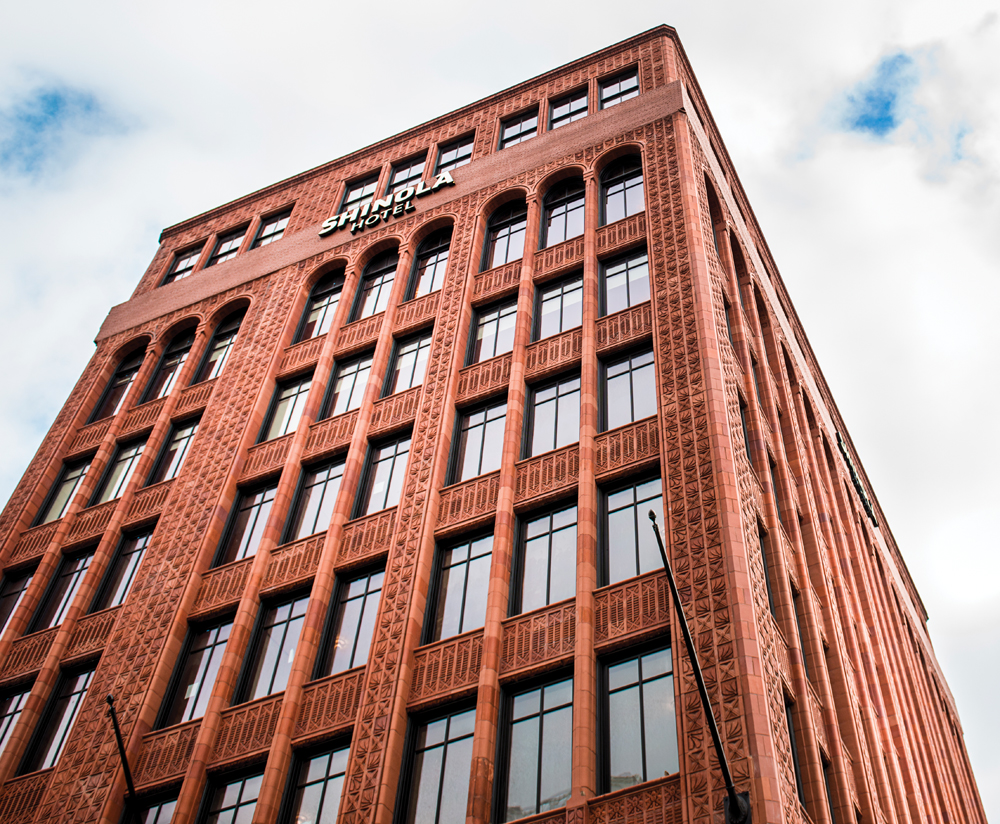 It's early fall and the Shinola Hotel is quickly approaching its highly anticipated mid-December opening. And while the four buildings that make up the watch and leather goods brand's 130-room, eight-floor hospitality venture in downtown Detroit are still relatively bare, elements of their personalities are becoming evident. Bright sunlight shines through a dramatic, slanted window in what will soon be a suite, a staircase hints at the grand entrance that will eventually welcome visitors into a large community space, and a long strip of marble wallpaper can be seen through a doorway as workers tend to the massive project.
Like clockwork, each element of the design tells a story. "There are things that we found, whether in the buildings or in the city, that inspired the hotel," says Daniel Caudill, creative director of Shinola, reminiscing on how he and the hotel project team worked with Dunn Edwards Paint to custom-create a shade of blue for the property's entire trim after discovering a paint chip in one of its four buildings. "It's about guests' overall experience so that when they're there, they feel like they are home."
Passersby have watched as the team's vision has taken shape since breaking ground nearly two years ago. The conception of the project, however, goes back even further. Conversations began just a few years after Shinola founder, Tom Kartsotis, the Texas businessman behind watch company Fossil Group Inc., and brand development firm Bedrock Manufacturing Co. — not to be confused with Detroit-based, Dan Gilbert-led commercial real estate firm firm and Shinola Hotel partner, Bedrock Detroit — launched a renewed version of the brand in 2011. "When that idea started, Detroit didn't have things like the Foundation Hotel. The two hotels were the Marriot and the Westin Book Cadillac," says Shinola CEO Tom Lewand. Prior to his appointment in 2016, Lewand says Kartsotis and Gilbert discussed how their companies, which share common values like creating jobs and building community, could work together. "They were talking about a real need in the area for a different kind of hospitality product."
The brand's hotel concept follows the trend of lifestyle brands venturing into the hospitality industry — West Elm, Restoration Hardware, and Equinox (expected to open in New York by 2019) all reportedly have hotel projects in the works — but once complete, the Shinola Hotel will be unlike any other lodging option in Detroit. Guests will be able to wake up to the sound of a Shinola alarm clock. They can plug their phone charger into a Shinola power strip, and make their way down to the lobby to rent a Shinola bike. If they'd like, they can even listen to music from a Shionla turntable. Guests can then purchase all of these items from the brand's newly constructed Shinola Hotel store.
Yet, Lewand insists that the sole mission of the new property is not to sell products. Instead, he says, Shinola aims for the hotel to be a place where Detroiters and out-of-town visitors can bond with each other, the city, and the brand in an organic way. "We here at Shinola talk about values like community, tenacity, humility, and humor. All of the things that we try to apply to our culture and our people, whether those folks are building watches, creating leather goods, or defining an outstanding hospitality experience, those values don't change. The product might, but the values stay the same."
To create the brick-and-mortar embodiment of Shinola's ethos, Caudill began by connecting with like-minded partners. Along with collaborating with Bedrock Detroit, Shinola teamed up with Kraemer Design Group, architect of record for the project, and Gachot Studios, a New York-based interior design firm involved in Shinola stores in Brooklyn as well as Los Angeles. "We made sure we were working with someone who truly understood the brand so when you're walking through the hotel you get a larger sense of who we are," says Caudill, who went back and forth with the team at Gachot for months, sending inspiration images that pertained to elements like wallpaper, paint colors, and the overall experience in the hotel before honing in on the property's aesthetic. "We were thinking about what this brand looks like from a fine arts standpoint, or what does this brand look like as a mini bar?"
An extension of Shinola's modern American approach to design, the hotel hopes to operate as a "living room for Detroit." Occupying 16,000 square feet along Woodward Avenue, its inviting interior will be accentuated by high-quality leather, wood, and custom-designed furniture. "We tested different levels of stuffing in the cushions," Caudill says. "There was so much thought behind every single thing." This attention to detail extended to retail partners, which were intentionally curated to offer national and local brands like Madewell, Le Labo, Drought, and Good Neighbor; and food and beverage options operated by NoHo Hospitality. Honoring the integrity of the historic buildings that make up the hotel was also emphasized.
The main building at 1400 Woodward Ave. was once occupied by the retailer T.B. Rayl & Company store in the early 1900s and then by Meyer Jewelry from the 1950s to the '80s. But since its prime, the building had been stripped of its character, and its windows were replaced with cinderblocks. "The building had been remodeled so many times that there was no original detail. We restored the building to what it would have been like when built," says Caudill, noting that staying authentic to the surrounding area was the prime goal from the beginning of the project. (Notably, the brand's authenticity was questioned in 2015 after the Federal Trade Comission required Shinola to change its "Made-in-America" slogan to more accurately represent its use of imported parts.) "We wanted to be respectful to the neighborhood. The architecture team and Bedrock were heavily involved in making sure that we built something that would not only respect the city but be an addition to what's already here."
As genuine as the Shinola team aims for its project to be and as much as it believes the city needs a property such as this at this moment, the hotel may still seem like a leap for a brand that's established itself in the fashion and consumer goods space. However, Lewand believes that a step into the hospitality industry is a natural progression for Shinola, which he says has always prided itself on its customer service and connection with Detroit — even through its expansion to more than 700 employees, a diversified product portfolio, and 28 stores. Essentially, the hotel does what experiential retail spaces or unexpected product launches can't do. "When you have someone that's coming to stay with you for a night, or even a few hours while they dine, you have an opportunity to engage with the customer on a more in-depth basis than you usually can in a store," Lewand says. "That's what brand experience is about. It's a lot more than a watch on your wrist or a leather bag over your shoulder. It's about experience and emotional connection."