Abdul El-Sayed is turning 33 tomorrow, is a few weeks shy of becoming a father, and perhaps because of these milestones is feeling a little introspective tonight.
"I recently wrote a 5,000-word letter to my daughter," he tells me, winding down the late-October afternoon with a four-shot espresso, one of several he typically has to get him through his mostly break-less 15-hour days. When he's done editing the letter, he'll print four copies. He'll keep one for himself, leave two more with his mother and stepmother, and give the fourth to his wife, Sarah. The duplication is intended to ensure at least one reaches their soon-to-arrive first child, though they'll all be stored for safekeeping until she turns 18.
"I try to tell her what I think about the world, what my feelings are going into this, and in case I don't get to meet her — who I am," he says. The implied reference to his mortality is unexpected coming from the sturdy, muscular man who is by all indications in perfect health. In fact, in the course of a 45-minute conversation, the subject of death — not an abstract death, but his own — actually comes up twice. He tells me he's always thought he was going to die young, and when asked to explain more, just says "it's always been a feeling." The weird gut instinct, however, has been consequential in his life: It is, he figures, part of what pushes him to move quickly and with a purpose toward what he wants — an explanation perhaps for why he's chasing the governorship in his very first run for office. "Even if I live to 83, it's still not really all that much time."
Given the context, the statement rings out as more than just an existential observation. His run — the first serious gubernatorial candidacy by a Muslim in any state — has already inspired death threats serious enough to report to the FBI. His campaign manager, a veteran of several memorable Democratic primaries, admits he finds it surprising that the alt-right websites are busy with misinformation this early in the campaign. It's the reason that, for now, they're keeping all but two of their staff's names out of the media and the location of the campaign office private. They recently got El-Sayed a bodyguard.
They take security seriously, but it doesn't color the day-to-day. In fact, the mood around El-Sayed and his team is rarely serious. El-Sayed himself is often responsible for that. His sense of humor is snarky, irrepressible even when talking policy, and often politically incorrect. A favorite schtick: His Arabic accent, which is not his, since he, as a native English speaker and someone who was born and raised in metro Detroit, has none; it's an imitation of one, most likely patterned after his Egyptian father and relatives, and which he understandably claims license to mimic because of his heritage. When it inevitably comes out, it's often in the context of threats to his team of plans to do a speech or interview as his immigrant alter ego. The threats are empty, of course, but El-Sayed has enough of an independent streak that after his staff gets done laughing, someone in the room usually still verbalizes the plea: "But really, don't do that."
In fact, El-Sayed frequently uses humor to undercut the oft-made argument that his background is a disqualifier. "I'm relatively young, relatively brown, and relatively Muslim" has become an irreverent, immovable part of an introductory speech he's already given to crowds in nearly 100 cities, 50 counties across Michigan. He owns his faith, and by doing so, aims to make other people comfortable with it. "When we talk about him being Muslim, and how that could be received by certain elements of Michigan, we say 'the only way out is through,'" his campaign manager Max Glass explains. "So we're not afraid to talk about it. We're not going to hide it or avoid it. Obviously, we can't."
---
One effect of this so-what nonchalance is that El-Sayed's faith, for all that others make of it, isn't something he often talks about — other than being a matter-of-fact detail in his biography. It is, in many ways, a quintessential American story, dotted with themes common to the American ethos and mythos: immigrant success, the melting pot, a happy childhood in the suburbs, divorce. His father, an Egyptian engineer, immigrated to Detroit in 1978, and after a summer romance, asked El-Sayed's mother, an Egyptian doctor, to marry him. "She decided she would take this American adventure with my dad," El-Sayed says. "But by the time they got home, they realized they only had two things in common: First, they were two of the only Egyptian people they knew; and second, they had just conceived a child. The band broke up and became a one-hit wonder."
Both his parents remarried, and El-Sayed grew up primarily with his father and new stepmother in Bloomfield Hills. In some ways, Mohamed and Jackie's marriage was a union of opposites. Though also an engineer, she was a white woman from Gratiot County and came from a blue-collar, Christian family that traces its American story back to the nation's second first lady, Abigail Adams. But El-Sayed remembers his unconventional family feeling rather unremarkable, at least with regard to the expected rifts over politics and religion. The case-in-point he offers on the stump is usually a scene from his family Thanksgiving — how his father, a part-time imam; his Grandma Judy, a deacon in her Presbyterian church; and his Polish, atheist Uncle Piotr all managed to share their various points of view without rancor. Another story arguably tells more with less: the one about his Great Uncle Rick, a salt-of-the-earth truck driver, who used to take El-Sayed hunting up north when he was a kid — a man who voted for Trump in 2016, but back in the day, learned to prepare the venison halal so his favorite Muslim step-great-nephew could partake.
---
When he shares them with voters, the stories in this vein are partly meant as personal introduction. But the anecdotes also double as testimony — a personal case study offered up to prove to an increasingly polarized, cynical electorate that civil discourse is, despite current evidence to the contrary, still possible. It's a central tenet of both his personal beliefs and his political strategy. But I ask El-Sayed if he thinks that message — one which conjures memories of another underdog Democratic candidate with a hard-to-pronounce name — can resonate given the further devolution of American politics since the hope-and-change season of 2008. He admits the difficulty; but he argues the desperation of today's moment, in which government is viewed both as more powerful and too corrupt or dysfunctional to improve people's daily lives, is already leading citizens to rekindle their instincts for turning to one another for solutions.
"You talk to people, and they'll listen and they'll be there with you, and they're like 'yeah, this is possible,' " he says. "So you'll see the light flicker, and then it goes off again. And it's so clear they're overriding with their mind what they feel in their heart. It's like, stop thinking about it. Ask yourself, what do you want out of your politics? I need you to be rooted in why this matters in the first place. So the pilot light is still on. It's my job to get that going."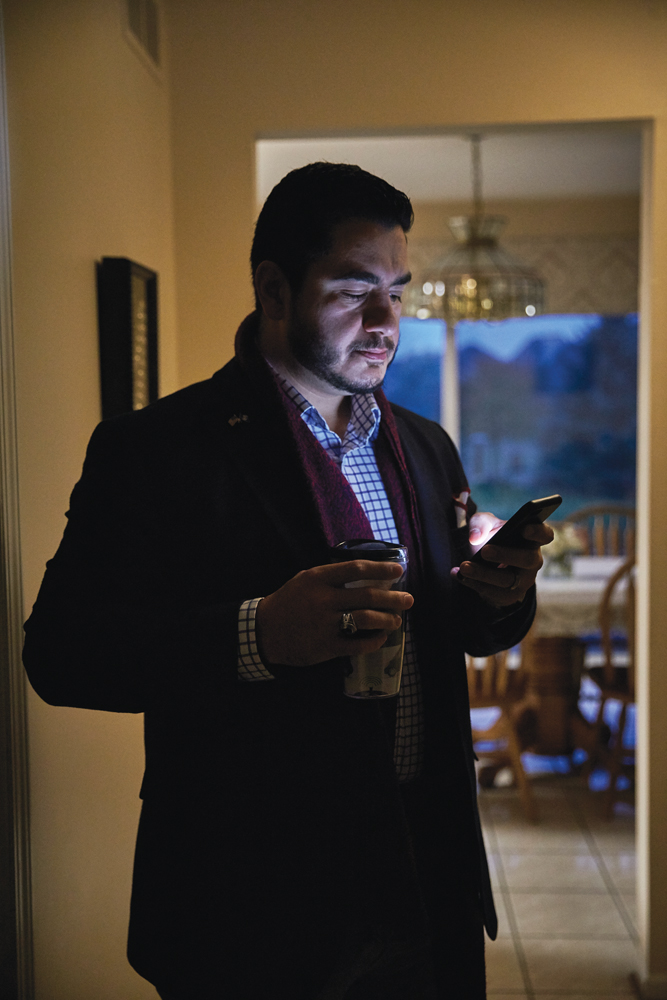 The Obama comparison is made often enough that it's become sort of a thing. El-Sayed is optimistic, different, inspiring. But other than being a good headline, the analogy may not be all that useful. El-Sayed himself isn't particularly fond of it, and politically, he's far more progressive. His heroes are Muhammad Ali and Superman.
"The problem I have with Batman is he's a really rich man who's able to leverage his wealth to address a personal grudge," he says. "Granted, he generally gets it right. But he's almost exactly the opposite of Superman. He's an interplanetary immigrant, finds himself in another land, discovers he has all the power in the world and could rule the world if he wanted to, but instead decides to subjugate himself to the social norms of society, only to protect them in moments where he's deeply unappreciated."
There is a perhaps more relevant political comparison than Obama — namely, whether the Michigan gubernatorial primary is shaping up to be a sequel to the 2016 race between Hillary Clinton and Bernie Sanders. It was a dramatic contest that tore Democrats in two and opened up an ongoing debate about the future strategic and ideological direction of the party. In this scenario, Gretchen Whitmer makes a decent enough Hillary. The early front-runner is a former Senate minority leader who's not particularly charismatic and has a more centrist platform, but she's already racking up endorsements from the party establishment. El-Sayed easily passes for a progressive outsider who's not supposed to win. His support for single-payer health care, reliably left positions on social issues, and ability to relate almost anything to the growing divide between rich and poor have meant the dying embers of the Bernie Sanders campaign didn't take long to find a new planet to orbit around in El-Sayed. The stickers on his staffers' laptops at least suggest as much.
Glass resists certain parts of the Bernie-Hillary comparison (he says El-Sayed's run reminds him more of Howard Dean's 1991 gubernatorial campaign), but concedes there are some important takeaways. Bernie, of course, shocked Hillary by winning the Michigan primary, a race which foreshadowed Clinton's trouble with independent Democrats — a confounding bunch Glass' team calls "Obama-Bernie-Trump voters." He thinks El-Sayed's authenticity will help him with that demographic, particularly in a general election. But in the primary, he'll have to win over more mainstream Democrats as well.
"We have to deal with people in our own party who just don't think it's possible and are willing to play it safe at a time when everything we're seeing says it's time to do something daring," Glass says. It's still to be determined whether Democrats losing dramatically with a candidate deemed more electable in the presidential election has made them any less risk-averse. Glass is obviously betting that it has.
At 39, the freckled, unassuming, Danville, Va.-native is the lone veteran on a staff that's full of millennials with tons of energy and intellectual firepower (El-Sayed is not the only Rhodes Scholar on the team) but not much real political experience. The most important thing to know about Glass — and one of the chief reasons El-Sayed's candidacy should be taken seriously — is that Glass wins. He's laid-back, but ultra-competitive. For instance, when I ask him about the Whitmer campaign's hiring of Keenan Pontoni, who nearly helped Georgia Democrat Jon Ossoff win a district that's been Republican since 1979, he quickly corrects my framing of Pontoni's resume: "You mean, the guy who's never won anything?"
Glass, on the other hand, has a reputation for dramatic victories, often won with underdog candidates in Democratic primaries. First, there was Tulsi Gabbard, the now 36-year-old, progressive, National Guard-enlisted, practicing Hindu congresswoman from Hawaii who went from polling in the single digits to a dramatic landslide victory in just a couple of months. After that, there was Iraq War vet Seth Moulton's defeat of a nine-term, Nancy Pelosi-backed House Democrat — a race in which Glass employed a coy rope-a-dope strategy and threw all their money into a three-week, "giant, wildly thrown haymaker" TV campaign leading up to election day. Most recently, it was Lisa Blunt Rochester, another first-time candidate who racked up two milestones simultaneously: In 2016, her victory in a House race made her both the first woman and first person of color elected to represent the state of Delaware.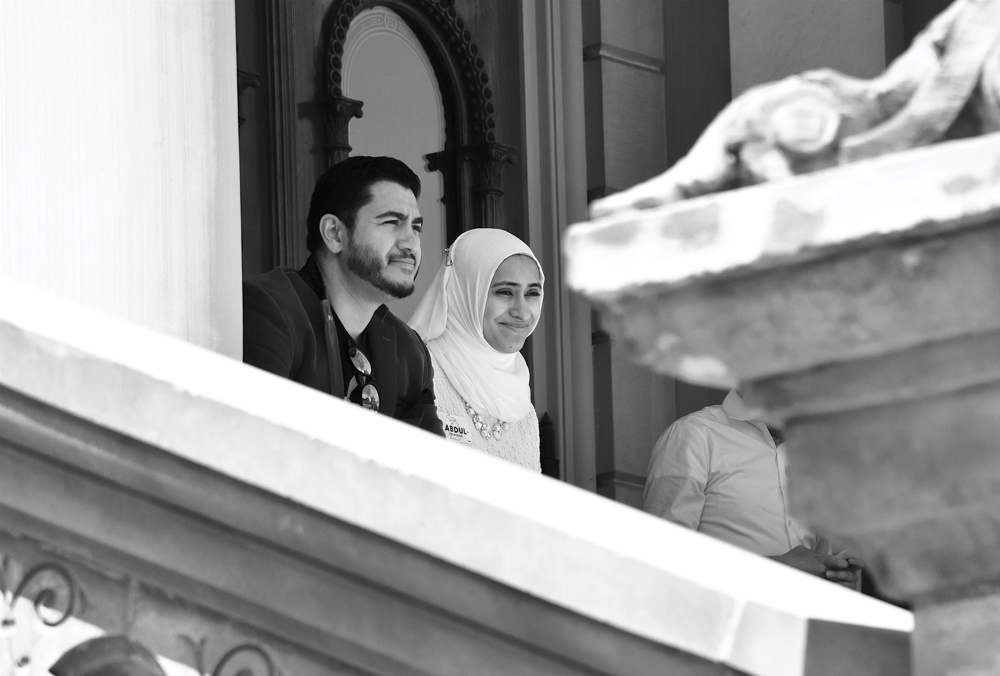 Glass sees similar promise in his current rookie; in the taxonomy of American politics, he calls El-Sayed a classic "transformational" candidate — someone who articulates a change agenda and connects emotionally with voters. "When I first heard about this 32-year-old Muslim doctor who was audacious enough to stand up and run for governor, I was intrigued," Glass says. "But when I saw him speak and met with him, I just thought, 'Wow, this guy can do it.' I mean, by now, we've all heard the stump speech a hundred times, but he still gets us every time. We've been signing up half the people who see him speak to volunteer. It's unreal. I've never seen that before."
---
El-Sayed has a presence, for sure, though not necessarily a rock star quality. Here, perhaps he is more like Obama than Bernie. The passion is obvious, but he doesn't rile people up with fire-and-brimstone anger. Instead, he's focused, cool, intellectual, and draws you in, Glass says, with a clear sense that he's "somebody who gives a sh*t." If he's in a room of college students, he'll sometimes swear — an effective code that signals he's not afraid to break the rules. But unlike Obama, he clearly has a killer instinct. When he's asked about how he plans to govern given the likelihood of a Republican legislature, you see the machismo of the former wrestler/linebacker/lacrosse player come out. If they can't be inspired or persuaded, he explains, he'll spend a lot of time in their districts, making his argument, challenging them to town hall meetings. "You won't wear me out," he says. "We need to have some guts in our politics again."
He also looks the part of young and different: He's handsome, wears shoes that you notice, and loves suits so tailored that his staff sometimes question whether he's leaving enough to the imagination. It's still early, but it's getting difficult for him to go out in public without getting noticed. When we meet at a cafe in November, he's recognized immediately, and squeezes in a short conversation with the supporter-stranger: a suburban teacher who shares her concerns about the state's disinvestment in the school system. As someone who sees his life as the result of opportunity as much as talent, El-Sayed has no trouble relating to the topic: "Every summer, I had the chance to see exactly how my life could have been different," he says. "I'd go back to Alexandria and visit my aunts and uncles and cousins. A lot of them, they're just like me, but they drive cabs. And that's not my life. And that's not my life because of the investments this state and this country have made in me."
Indeed, one of the things El-Sayed brings to the table is a concise, highly personal explanation for why he's running. It's a story that comes across as genuine in part because he has plenty of other things he could be doing. By age 28, he'd already earned an M.D. from Columbia, a Ph.D. from Oxford, and a tenure-track position in the former's school of public health. His specialty was epidemiology, and if he'd stayed, he'd probably be one of the leading academics in the field (in his short career, he'd already been published more than 100 times).
"I was a professor, and I thought that was going to be my life trajectory," he says. "But I was writing more and more papers about less and less stuff. I did not believe that the work I was doing mattered that much. So, one day, I was sitting down with Sandro [Galea], my mentor, and told him I thought I was done with academia. He asked me what I wanted to do instead. I said, 'I think I want to be health commissioner of Detroit.' He said, 'Well, that's great. But there's only one of those. And you're not it.' "
El-Sayed pursued the idea anyway. When he was back in Detroit, he called up a friend who'd graduated from Yale law but recently quit his job at a New York hedge fund to work for Mayor Mike Duggan. The two had lunch, and El-Sayed left behind a few CVs — one of which obviously made it to Duggan's desk, because El-Sayed soon after got a call from the mayor himself. They had a productive initial conversation about public health policy, though there was no mention of a particular position being available, let alone a job offer. A few weeks later, during a follow-up lunch meeting, there was. "I said, 'Fantastic, but you still haven't told me which job,' " El-Sayed says. "'The health director job,' he said. 'It's yours if you want it.' "
El-Sayed's brief but impactful stint heading the city's public health department provides perhaps the clearest indication of what his approach might be if he becomes governor. When he took over, he was walking into a city agency that had been privatized, had only five full-time employees, was spending just $1.50 per capita (New York City, in contrast, spends 100 times as much), and was such an afterthought it was tucked in the back of a rundown building where Detroiters paid their parking tickets.
He started with tangible things. One of his biggest early victories was starting a program where students could get vision screenings and free glasses on-site at their public schools. The story of Flint broke and he tested every school in the district for lead. Later, he aimed bigger: When Marathon, whose refinery in southwest Detroit is one of the biggest polluters in the city, applied for a permit to increase its sulfur dioxide emissions, he got the mayor to publicly threaten to sue the state over the issue. El-Sayed personally negotiated a compromise in which the company agreed to cut emissions and invest $10 million in new pollution controls.
He wasn't always so successful persuading Duggan: He notably butted heads with the mayor over the city's refusal to end water shutoffs for residents who couldn't afford to pay their bills. El-Sayed even started feeding information to the activists working on the issue, using his expertise as an epidemiologist to help them make the public health case. The mayor didn't appreciate it. El-Sayed says he was told to cool it or they'd freeze the rest of the work he was doing. It's still a sore spot, which seems to have been the genesis of the rivalry the two are nurturing today.
"We need to have some guts in our politics again."
El-Sayed ended up staying 18 months in a position he initially thought could be a decade-long tenure. When Flint happened, it rang out as confirmation he was in the wrong job. "After that, I realized that, 'My God, the elected leadership in this state is so backward and so broken,' " he says. "At the end of the day, if you don't get to set the agenda, you're really powerless to make the biggest impact. You're just the manager of one portfolio. I think we need elected leadership that sets the agenda about what we need to accomplish as a state. Right now, the political will just isn't there."
On Jan. 3, 2017, around 6 o'clock in the morning, while pouring his morning coffee, the idea — that one in which he, a 33-year-old Muslim becomes the next governor of a state recently carried by Donald Trump — first came into El-Sayed's head. He was surprised when his brain wouldn't let him dismiss it. Then, when he shared the thought with trusted friends; his mentor; his wife, Sarah; even Mike Duggan, and they didn't try to talk him out of it, it morphed into everything his life has become today. The ride has been pretty nonstop since, though he reserves one day a week for a normal life: spending time with Sarah, paying bills, watching a few episodes of This is Us, getting to know his new daughter. The other six days, he's campaigning in some form or other. Half the time, he's giving that inspirational, biography-heavy stump speech; the rest of the time, he's raising money, largely over the phone, a Bluetooth in each ear.
That's another reason no one should count El-Sayed out: They're raising a lot of money — enough to essentially keep pace with the front-runner. Glass says that will enable them to fund the kind of massive field operation needed to introduce a guy most people have never heard of to a state of nearly 10 million.
If they can pull it off, Glass says it will be the biggest thing he's ever done. He's putting in longer hours than he typically does at this stage in a campaign, and admits to sometimes feeling a little old alongside the energetic 20- and 30-somethings he's managing. Indeed, the pile of rumpled clothes in the corner of his office suggests he's doing more living here than at home. During one of our conversations, I ask him when he'll know — if there will be a moment when he can tell things are breaking their way. He likes the question, which sends him time-traveling through some of the best moments of his career. "When the surprises start stacking up quickly," he says.
---
With Tulsi Gabbard — the race that made Max Glass — it was when no scientific poll ever had them within single digits, and then suddenly one came out showing them tied, and a week later, another one showed them up. With Seth Moulton, it was just a week before, when they noticed they couldn't go out in public without people walking up to them, offering pats on the back and warm reassurances that "we're with you." With El-Sayed, he'll be looking for cracks in the establishment: when people start kicking themselves for endorsing too early, then maybe when they win a few that they weren't supposed to get. Or maybe it'll be subtler, like when El-Sayed becomes familiar enough that the "we're-with-yous" start coming without supporters first feeling like they have to resolve an internal dialogue over his "electability."
Or, he says, maybe it'll be the opposite. Maybe it'll be when he notices the competition can't stop talking about the Muslim thing. "I welcome that," Glass says. "If that's happening, it means that's all they've got."