After several years of working on a mixed-use development on the site of the former Hudson's department store in downtown Detroit, Bedrock is giving a peek at its intention for the new building's interior. Renderings shared by the real estate firm today show plans for offices, retail, and event spaces as well as a public plaza and rooftop.
Ground floor retail and experience spaces will be located along Woodward and Grand River Avenues, while the building's second and third floors will include a total of more than 126,000 square feet for meeting venues and event space. The building will be topped off with a rooftop space with food and beverage offerings.
Additionally, the development will house a total of more than 400,000 square feet of office space with floor-to-ceiling windows. Pophouse, a Detroit commercial interior design studio, is designing the common areas for the office space with tech-forward companies in mind. Leasing is underway.
"The future of industry is one of ingenuity and creativity," says Anna Okerhjelm, studio director at Pophouse, in a press release. "We set out to create a design narrative for the development on the site of the former Hudson's department store that embraces the soul of opportunity in Detroit and complements the rich fabric of the city to inspire and propel growth…"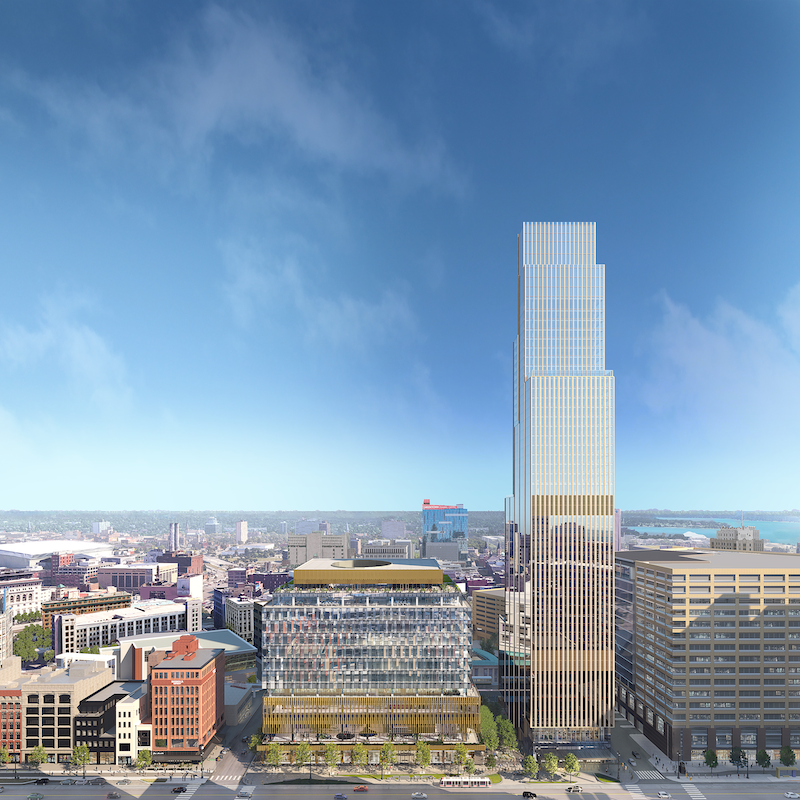 The site will also feature public spaces designed collaboratively between Bedrock and the architecture firms Shop Architects and Hamilton Anderson, which are based in New York and Detroit, respectively. A plaza, to be located between the office building and the development's Tower, will feature additional retail options, public art, and year-round programing.
Bedrock broke ground on the Hudson's site development in 2017. Structural work on the building's Tower will reach its final height of 685 feet in 2023, making it the second tallest building in Detroit — and Michigan — once complete. The entire development is expected to be finished in 2024.
"The significance of this development goes beyond its unique and distinctive physical presence," says Kofi Bonner, CEO of Bedrock, in a press release. "Once complete, along with impressive views, the project will bring premier office, residential, hotel and event spaces with carefully curated dining and entertainment experiences. But more importantly, the project will anchor the transformation of the historic Woodward corridor and exemplifies the resurgence of Detroit. The reinvigoration of Detroit's most centrally located site will become a must-see location and will generate fond memories for Detroiters and visitors for generations to come."
For more information, visit hudsonssitedetroit.com.
Facebook Comments