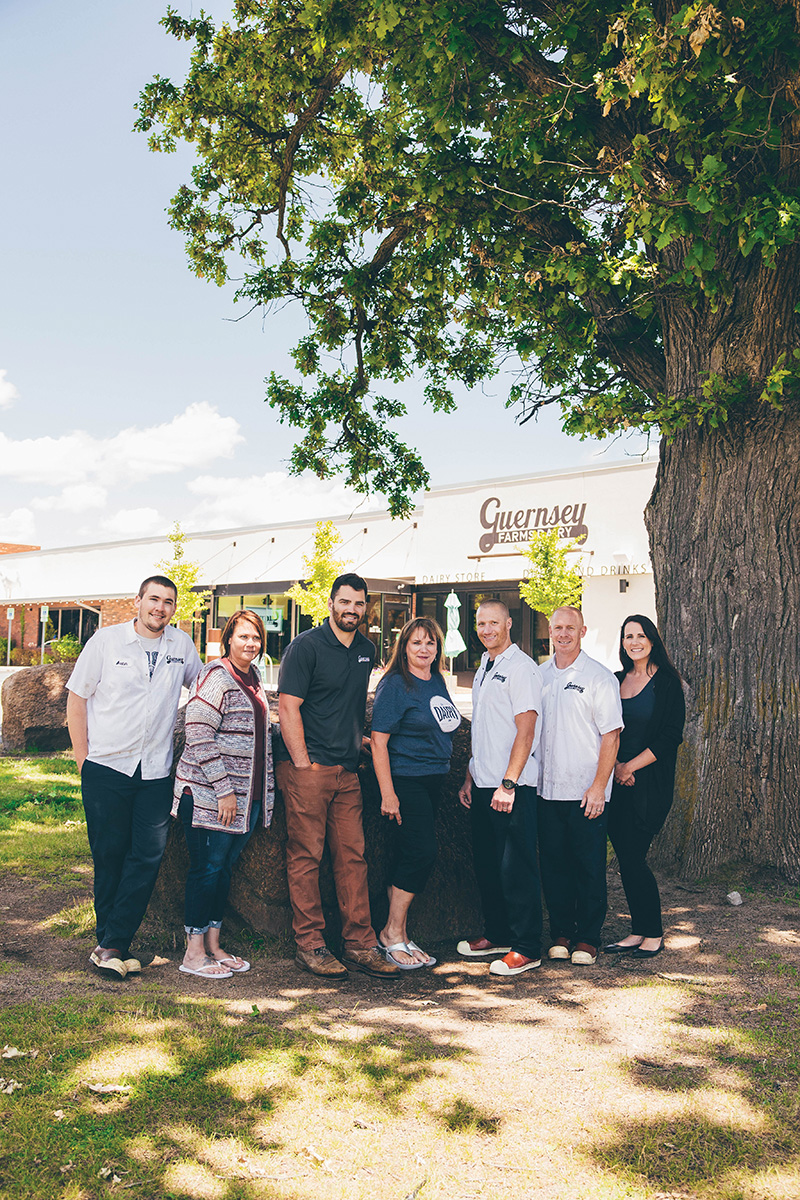 Co-owner Joe Kinville wants to make one thing perfectly clear about Guernsey Farms Dairy. His whole family — not just him — deserves credit for the success of everything, from the buttermilk and hot fudge sauce to the ice cream and newly renovated restaurant at the dairy.
A dozen family members spanning three generations, including the direct owners, work in the business. "This morning, all five co-owners helped unload the truck," he says, referring to himself, his mother, and three first cousins. Though none of them have official titles, Kinville generally handles sales, marketing, and publicity, and acts as the official spokesman. In that role, his first job is to clear up a common misconception about the dairy's name.  
"Everyone thinks our family name must be Guernsey, but it is the breed of cows my grandfather first used because their milk had high butterfat," Kinville says of his mother's father, John McGuire, who started the dairy in 1940 in Northville. Originally called the Red Rose Dairy and located a few miles from Guernsey's current location, it was bought by McGuire, who promptly changed the name to honor his revenue source. Decades later, the name remains, but the Guernseys are gone. It turns out,
they didn't produce much milk. 
In fact, the dairy no longer has any cows. Instead, all of the dairy's milk (2 million gallons a year) comes from Walnutdale Farms in Wayland, Michigan, a fourth-generation family-owned and -operated business. "They are awesome and totally focused on quality," Kinville says. "Walnutdale is truly aligned with our brand. … Our brand is all about quality and connection."
What began as a simple dairy — delivering milk locally to people's doorsteps in glass bottles for two decades — is now a national operation. Guernsey's milk, ice cream, and specialty products (toppings, lemonade, and a honey vanilla chai) are now sold in 750 to 800 restaurants, grocery stores, and various retail outlets across the country. "Six or seven years ago, you could not find our products outside of a 60-mile radius, and we had only five delivery vehicles," Kinville says. "Now, we have 11 vehicles and are in 20 states." The confectionery company Sanders now uses only Guernsey's half-and-half (processed with no preservatives or stabilizers) to make its caramels, he says.
 As of last year, the dairy also now has a full-service restaurant with a bar that resembles the original soda fountain shop where Kinville's grandfather once served milkshakes and ice cream scoops to Northville residents. In the 1970s, when the dairy stopped its home delivery service and moved to its current location in Novi, it added retail space for consumers. In 1985, it added a restaurant to accommodate the many construction workers building homes in the area requesting a hamburger to go with that milkshake. Now, in the newly renovated, 100-seat space, patrons can indulge in fried chicken made with Guernsey buttermilk batter, along with ice cream cocktails.
Renovating the restaurant in 2020 was intended to be a celebration of Guernsey turning 80 years old. But then the COVID-19 pandemic hit, delaying the reopening to May 2020 and making a launch party impossible. Little else, however, affected the dairy during the pandemic. "Our regulations are all about stopping the spread of contamination, so we were in good shape to handle the pandemic," Kinville says, adding that the family did not need to furlough or let any staff go. "People always want milk and ice cream." 
Perhaps Guernsey's resilience can best be traced to a tree and slate of rocks in front of its building. The oak tree is 200 years old, and the large rocks that customers lean against while licking ice cream were found during the building's construction.

Kinville's grandfather, who died in 2011 at age 103, asked the workers to save the boulders. To this day, Kinville says, "the tree represents our strong roots, and the rocks our strong foundation."
---
This story is featured in the August 2021 issue of Hour Detroit magazine. Read more stories in our digital edition. And learn more about this year's Taste Makers here.