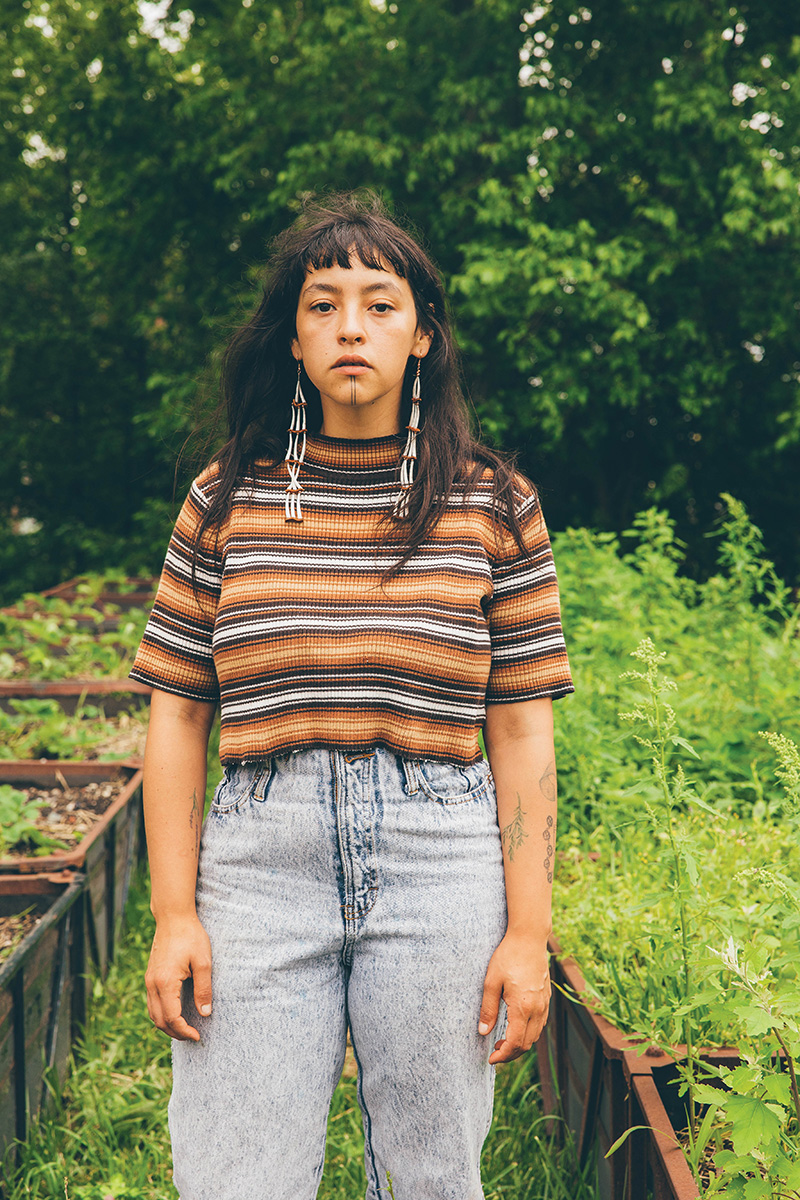 There's no way to explore local foods and ingredients without including Michigan's Indigenous history. As the original inhabitants of this land, the Anishinaabe and Wyandot people were the first cultivators of crops in Michigan, and had mastered the art of foraging and hunting over centuries. For a time, the Ojibwe, Ottawa, Potawatomi, and Wyandot tribes had the most intimate understanding of — and relationship with — Michigan-native foods. Colonization and the Indian Removal Act in the 1800s eventually segregated American Indian tribes, separating them from the land and foodways that are central to aboriginal culture. 
Today, local Indigenous food sovereignty activists Kirsten Kirby-Shoote and Shiloh Maples are reclaiming ancestral food knowledge for future generations.
"Moving us off of our lands onto reservations was hugely impactful for our food," says Kirby-Shoote, an Alaska Native with roots in a small town just outside Portland, Oregon. "The government knew that the best way to eradicate a people and a culture was to forcibly relocate them to lands that were barren and low in natural resources." Once separated from the lush Michigan forests from which they typically sourced nutrient-rich grains, berries, herbs, and wild game, Natives were instead provided commodities. Foodstuffs such as flour, lard, canned goods, and processed cheese were introduced into Native communities by federal authorities. 
As culinary innovators, Natives spun these ingredients into gold. Dishes such as frybread — the chewy, greasy fried dough made with shortening, flour, salt, and sugar — became staples in the Indigenous diet. However pleasing the dishes may be to the taste, they've become detrimental to Natives' health. "People survive off of these rations for generations and that causes so much trauma to our bodies," Kirby-Shoote says. "We've become susceptible to diabetes, heart disease, and a whole host of other things like allergies. That's deeply traumatic for every tribe and that's why food sovereignty is so important to us now." 
According to the Centers for Disease Control and Prevention, American Indians and Alaska Natives have higher rates of chronic diseases than other ethnic groups in the country. They're also twice as likely to be diagnosed with diabetes and have a greater prevalence of obesity. In Michigan, nearly 44 percent of the Native American population is obese. That's just around 12 percentage points above the state average. 
For Kirby-Shoote, the statistics hit home when their father died of heart disease. In part, they say their relocation to Detroit almost six years ago was an effort to escape their feelings of grief. But it also presented an opportunity for them to work toward fixing a system that was leading to the demise of Native American people like their father. They packed up for a volunteer opportunity to work on an organic farm in Brightmoor, and eventually landed a job as a coordinator at Brightmoor Youth Garden. During their time at the garden, they began to uncover a vast Indigenous population in metro Detroit and thought the best way to engage fellow Natives would be to grow and cook healthy, traditional foods that would be beneficial for the community. In 2020, they moved to Highland Park where they grow a host of ancestral crops on nearly one full block of land. They provide fresh foods grown on the land to the Indigenous community and people of color at no cost.
"Growing indigenous foods for me is healing," Kirby-Shoote says. "My ancestral memory, on a cellular level, recognizes that and accepts it as medicine — and that's a gift."
Maples' trajectory into the ancestral food space was similarly influenced by both a desire to improve the health of southeast Michigan's Native community, and to learn more about her Ojibwe and Odawa heritage. "The Relocation really created a lot of social and health disparities and I wanted to, one, prevent that from continuing, and two, learn my own history — because we know most schools don't give Indigenous peoples' history," Maples says. 
As an undergrad in social work at Eastern Michigan University, Maples accepted an internship at a nonprofit in England where she managed volunteers in the garden. "That was the first time that I saw the healing potential that growing and sharing food has both for individuals and communities. I wanted to think about that deeper." She went on to earn her master's degree in social work at the University of Michigan with a concentration in food justice and food systems. "I could see that talking about issues around land access and the Native community's ability to continue their land-based life was a large part of our story. It made complete sense to me that food justice and food systems would be a prime place for all sorts of change — not just in Native communities, but all communities," she says.
For just under a decade, Maples worked at American Indian Health and Family Services in Detroit, where she developed Sacred Roots, a program that works to help Native people practice, preserve, and revitalize their foodways. Maples led food-processing workshops, cooking lessons on traditional dishes made with seasonal metro Detroit-grown ingredients, and language courses that taught community members the names of Indigenous foods. "The purpose was to improve nutritional health, but we noticed that the program was doing a lot more for community members," she says. "It was reconnecting people to their culture in really profound ways." Today, Maples is a program manager at Native American Food Sovereignty Alliance, where she serves the greater southeast Michigan region with similar programming.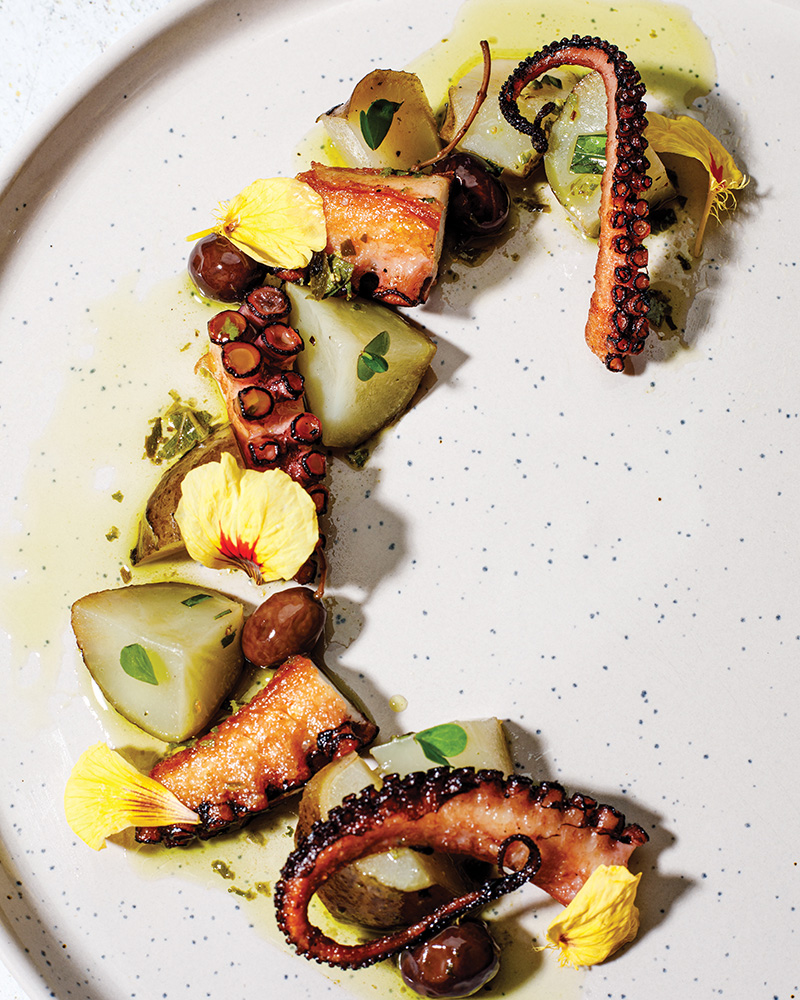 Kirby-Shoote was successful in drawing the Indigenous community near through their Highland Park homestead. There, they grow the three sisters — corn, beans, and squash — along with raspberries and strawberries, ground cherries, and sunchokes, among many others, including medicinal plants, such as tobacco, sage, and cedar. They also cultivate okra, collard greens, and other crops to share with other people of color in the community. "Being a part of the BIPOC community, we're able to recognize each other's struggles — even if that struggle is different from yours," they say. "It's still something that is trauma-causing at the end of the day, and having a small fraction of knowing how to heal that is something I'm invested in." 
The healing power of the foods Kirby-Shoote grows is free of charge to their community. "People ask why I don't do this for money, but the price of healing is nonexistent. It so outweighs any monetary price you can put on something."
Locals looking to support Kirby-Shoote's work financially can book a seat at one of their pop-up dinners, where they serve ancestral dishes to a wider audience for a fixed price. These dinners provide a platform to educate guests about Indigenous foods and Native food sovereignty. "I put a lot of trust into the food and hope that the information and the blessings that the food carries make their way into people's consciousness so that they have a greater appreciation for where their food comes from." —Lyndsay Green
This story is featured in the August 2021 issue of Hour Detroit magazine. Read more stories in our digital edition. And learn more about this year's Taste Makers here. 
---
Web Exclusive!: Indigenous Chef Alexis Chingman-Tijerina Talks Food, Family, and Community
The local culinarian works with Make Food Not Waste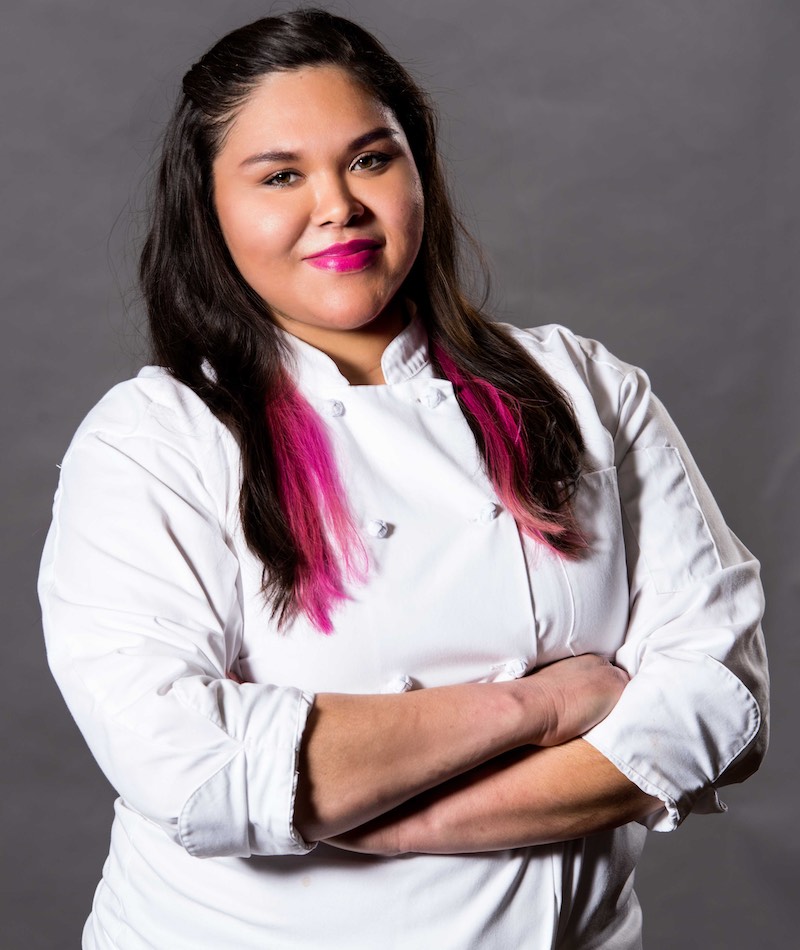 Food, community, and the planet are all connected — that's the message that Alexis Chingman-Tijerina, a Detroit-based Indigenous chef, caterer, and mother, wants to spread. Her heritage inspires not only her love of fresh, home-grown ingredients, but also her dedication to sustainability and uplifting her community. We spoke with her to learn more.
Hour Detroit: You spent a decade working in restaurants before joining Detroit Food Academy in 2018. What inspired the career change?
Alexis Chingman-Tijerina: In 2018, I had my son, so I had to take a step back from the restaurant life. At Detroit Food Academy, I could take my son to work with me, and I got to share my knowledge and experience with a lot of different young people around the city. It kind of took me into a direction that I never expected my career to go in.
You now work as a chef with the Detroit-based upcycling kitchen project Make Food Not Waste. Can you tell us about what you do there?
[We] rescue food that would otherwise be thrown away but is perfectly good to eat. Based on what comes in, we create a menu for the week, and most of the meals get distributed to the community for free on Fridays from [Jefferson Avenue Presbyterian Church]. Our food system really creates a lot of waste, and thousands of pounds of food just ends up in the landfill. It's something that's been on my mind [after] working in kitchens and seeing pans and pans of food getting thrown out.
How does your Indigenous heritage impact your perspective?
Our culture teaches us to connect with the land, and that we are all related. When [Indigenous people] show our wealth, we do it in ways that [are] completely opposite to modern culture. [Rather than] hoard wealth, Indigenous folks want to give it away. We want to share it with those we care about, and that really drives everything for me now that I have my son. That's why I have to do this work [with Make Food Not Waste].
What's growing in your home garden now?
I have collard greens, kale, cabbages, eggplant, corn, beans…I also want to do a medicinal garden in the front [yard], so different herbs, perennials that are going to be useful for healing. I've been really interested in native plants and how they can work to help you, like dandelions, [which] are really excellent for pain management and inflammation.
What's next for you?
I'm going back to school for architecture and civil engineering, so that I can buy land, re-build, and share that space with my community. I live across the street from Vernor Elementary and have been talking to people about starting a community garden. —Lauren Wethington
Facebook Comments