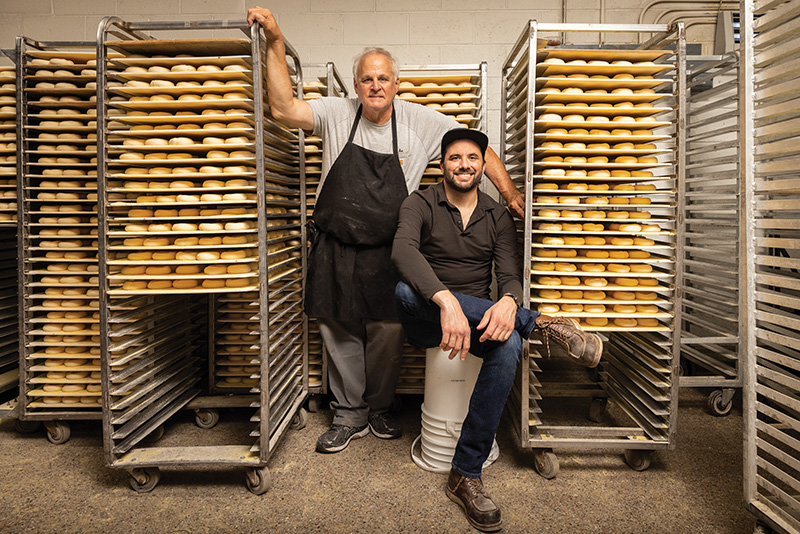 When New York Bagel opened in Detroit 100 years ago, bagels were still a decidedly Jewish bread and the bagel man came around on foot, delivering hand-formed rings that dangled from ropes like holiday garland.
"And if nobody was at the store to receive them, they'd hang them on the doorknob in the alleys," says Howard Goldsmith, who represents the third generation of Goldsmiths behind the veritable bagel institution. "Can you imagine doing that now?"
The century-long story of Detroit's New York Bagel tracks the assimilation of "Jewish doughnuts" — as the Detroit Free Press called them in a 1977 article about their growing popularity — into the wider American culture, where their popularity was firmly cemented in part by a 1990s bagel boom driven by the likes of Bruegger's, Einstein's, and Lender's.
When Goldsmith was a kid, the greatest demand for bagels came late on Saturday nights. After Shabbat, a crowd of mostly Jewish patrons would stretch out the door waiting to pick up a spread of bagels and lox for Sunday morning. Today, at the register of New York Bagel's Ferndale location, a small retail counter hiding a nearly 4,500-square-foot production facility that doubles as the main bakery for its three stores, you can buy a $1 pin that celebrates the diversity of the contemporary bagel crowd. "America is an everything bagel," it reads.
---
To Toast or Not to Toast?
How to store and reheat a New York Bagel, according to Phil Goldsmith
"I wouldn't ever toast a bagel straight out of the oven. That's sort of sacrilegious. But if you bought it in the morning and want to have it as an afternoon snack or for dinner, our bagels are great toasted. If you want to put it in the refrigerator overnight to keep it fresher, you can also toast it. If you want to freeze them — and our bagels freeze very well — you should slice them before you freeze them and again, you can toast them or stick them in a 300-degree oven. It won't be as good as straight out of our oven, but it's good in a pinch."
---
And it certainly looks that way during the weekend morning rush, now the busiest time of week. The line spills out the door, revealing a mix of people ranging from hung-over line cooks on their way to banging pans at brunch, to city workers in their neon vests, to families in church clothes stopping in for a dozen on their way to a relative's house. Warnings of "hot salt!" or "hot sesame!" ring out every 15 minutes or so, punctuating the sweet, bready air.
"New York Bagel is pure nostalgia for me," says Brad Lutz, an up-and-coming Detroit-based baker who grew up eating New York Bagel bagels. "I remember hot bagels getting dumped and steaming up the plexiglass. You knew which ones to get because that's where the plexiglass was fogged up the most." Lutz, who recently launched his own bagel sandwich pop-up, says the shadow of the bagel leader looms large in Detroit, even as it turns 100 years old. "Anybody who I talk to right now and tell them about Doughtown Bagels and what I'm doing, the first question out of their mouth is: 'How does it compare to New York Bagel?' " Lutz says. "It's been that standard bearer for my entire life and presumably for generations before me."
As Goldsmith tells it, in 1921 a bagel baker from New York City came to Detroit to open a bakery. Situated in what was then the heart of Detroit's Jewish community on Hastings Street, New York Bagel thrived as an ethnic bakery delivering its goods to back alleys and shops in the area then known as "Little Jerusalem."
According to news reports at the time, Howard's grandfather Morris Goldsmith, a Jewish immigrant from Russia who arrived in Detroit the year the bakery opened, joined the business in 1923, eventually becoming a partner in the successful wholesale operation. "We essentially followed the Jewish community," Howard explains. "After Hastings Street, the bakery moved to Linwood and Clairmont. And then in the '50s, they moved the store up to Seven Mile and Schaefer, once again with the Jewish migration."
By the time Morris Goldsmith died in 1979, New York Bagel boasted five retail locations — in Detroit, Southfield, Oak Park, Ferndale, and Troy. (Today, Ferndale and Southfield remain, along with a third outpost in West Bloomfield.)But it was Morris' son, Howard's father, Harvey, who revolutionized the business and turned New York Bagel into the institution it remains today. Harvey joined what was by then the family business in the late '40s, fresh off a stint in the Navy.
It was Harvey who introduced bagel automation technology in the '60s that allowed for the company's massive mid-century growth. Dough boxes allowed the team to efficiently store uncooked bagels; revolving ovens allowed for greater production; a drying oven ensured a crisp crust in the final product; and a bagel-shaping machine increased output. The machinery is still used at the Ferndale location. When something breaks, replacement parts must be custom-made.
The automation era ushered in pre-packaged frozen bagels from rapidly growing brands like Lender's and, suddenly, the country's first mass-market bagel boom was underway. Detroit was no exception. "Half my customers are gentile, and the biggest rush for hot bagels is after Sunday church services," Harvey Goldsmith told the Detroit Free Press in 1967.
By 1971, Detroit Magazine, in a story headlined, "The Goldsmith Bagel Gang Move In on the English Muffin Monopoly," proclaimed that half of all bagel sales in the area were now being made to non-Jews. "The persons responsible for the upsurge of bagels in Detroit are known as the Goldsmith Gang," the magazine declared in the irreverent tone of the era. "They are 25 members strong and are led by Harvey Goldsmith, whose motto is, 'Our bagels are baked with love.' "
---
What Makes a
New York Bagel?
The bagel-making process — and much of the original automation machinery from the 1960s — remains unchanged at New York Bagel's Ferndale production facility. Flour, water, yeast, and malt is mixed into a 500-pound dough ball that's then divided into 4-ounce chunks. These are sent through a bagel-shaping machine then stored on trays, where the uncooked bagels proof for 20 minutes or so. After proofing, the bagels are boiled for 1-2 minutes in a kettle, sprinkled with the appropriate toppings, then run through a drying oven before being plopped face down directly onto a hot oven shelf. The process imparts the trademark shiny exterior shell while maintaining a doughy, soft interior.
---
The article details Harvey's 70-hour work weeks spent driving between locations and his in-the-trenches approach to business, which helped make New York Bagel the second-largest bagel company in the country at the time, serving accounts as far afield as New York City — the irony of which was not lost on Harvey.
"Shipping bagels into New York is a little like shipping crude into Saudi Arabia," he sheepishly told the magazine.
Harvey Goldsmith died in March at the age of 93, having seen his family business reach the fourth generation and a full 100 years in operation. "He couldn't have been happier," says Harvey's grandson, Phil Goldsmith, of his grandfather seeing him join New York Bagel.
Howard had been unsure of reaching a fourth generation. In 2014, he told a local publication that he'd be surprised if one of his children took the reins. But just a year later, Phil joined the family business, giving up a career as a certified public accountant to accept the bagel throne. "Howard and myself are here every day," Phil, 39, says. "You don't get to a fourth generation if the ownership isn't present and working side-by-side with people."
"It's wonderful," Howard, 70, says of his son's involvement as co-owner. "What a privilege to have your son work with you."
Like his son, Howard also explored other interests before settling into the bagel business. In 1969, he left for college and stayed gone for nearly two decades. (He earned a Ph.D. in speech and hearing sciences and was an assistant professor at the University of Wisconsin at Milwaukee.) But the pull of the family business was difficult to resist.
So, in his mid-thirties, Howard came back to New York Bagel in 1987, partnering with his father at a time of intense growth. According to a 1995 Detroit Free Press report, the number of American households that ate bagels roughly doubled from 1988 to 1994.
Things have cooled off a bit since those heady days of the '90s, the Goldsmiths say, partially because of increased competition and partially because customer preferences have shifted as the customers themselves have evolved from the previous generation. Fewer people are buying bags by the dozen in favor of bagel sandwiches and other prepared foods. That trend has only magnified since the onset of the COVID-19 pandemic.
---
New York Bagel By The Numbers…
100 years in business
4 generations of Goldsmith family ownership
3 locations:
23316 Woodward Ave., Ferndale
19731 W. 12 Mile Road, Southfield
6927 Orchard Lake Road, West Bloomfield
60K bagels made weekly
24 varieties of bagels, including "dogels" for furry friends
3 delivery trucks on the road servicing wholesale accounts
45 employees across the company
---
"We've seen a lot of bagel shops come and go," Phil says. "I guess it says something about us and those guys who could stick around the entire time. We've got staying power because we do things the traditional way and we've been doing it for a long time."
Like his father before him, Phil isn't so sure he'll ever hand off the bagel baton to yet another generation of Goldsmiths. At this point, it seems unlikely. His daughter is an only child and just 6 years old. It's really too early to say.
"But," he says, "it would be something to get to five generations."
---
This story is featured in the November 2021 issue of Hour Detroit magazine. Read more stories in our digital edition.
Facebook Comments