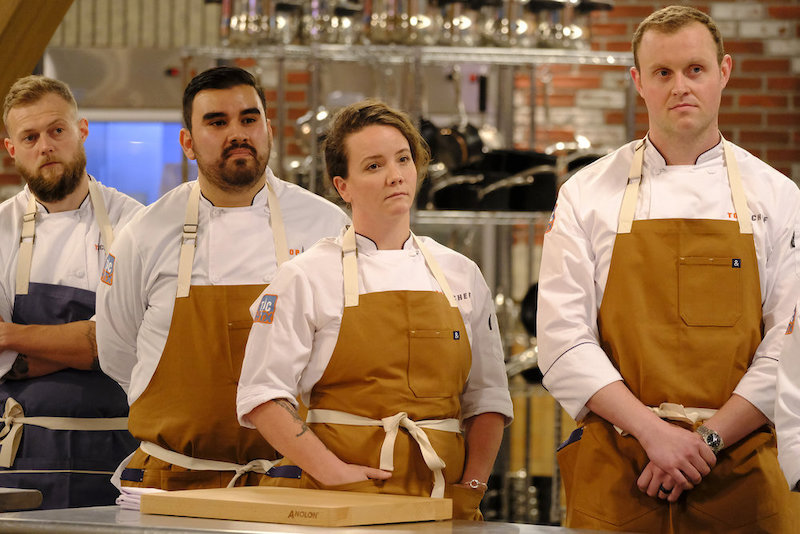 Top Chef, Bravo's popular cooking competition, returns at 8 p.m. on Thursday, March 3. Among the crop of cheftestants vying for the title of Top Chef for season 19, which takes place in Houston, Texas, is Marrow co-owner and chef Sarah Welch.
Over the years there have been a handful of chefs from Michigan — those who live in the state now and those with ties to the area — to battle it out in the Top Chef kitchen, but unfortunately for most of them, only a couple have emerged victorious. Here's where they are now. (Warning: Spoilers ahead for past seasons of Top Chef.)
Eve Aronoff
Season 6, Las Vegas, 2009
Eve Aronoff was the first chef from Michigan to step into the Top Chef fray. At the time, she was the chef and owner of a restaurant named Eve in Ann Arbor, a beloved restaurant in the Kerrytown district known for its innovative, globally inspired fare. Unfortunately, her tenure was short lived as she got the axe in the second episode for her Shrimp & Avocado Ceviche with Smokey Tomato Salsa & Popcorn, which was panned by the judges for bland seafood and overpowering salsa. After a brief revival, the restaurant Eve has since been shuttered, but Eve the chef now owns and operates the extremely popular Frita Batidos, a Cuban-inspired eatery with locations in Detroit and Ann Arbor that serves the namesake fritas (similar to burgers) and batidos (shakes). There's no shrimp on the menu but everything is extremely flavorful, including the salsa.
John Somerville
Season 7, Washington, D.C., 2010
Along with cooking risotto in a short period of time, desserts for non-pastry chefs on Top Chef is the kiss of death, and unfortunately for John Somerville, he did not buck the trend. In the first episode, the chefs were tasked with making a dish representing their region, and Somerville chose maple syrup. The judges weren't too fond of his Maple Mousse Napoleon with Crisp Macadamia Nuts & Vanilla Sauce and sent him packing then. Prior to the show, he was a two-time James Beard nominee for Best Chef: Great Lakes (2008 and 2009). At the time of the show, he was the chef de cuisine at The Lark in West Bloomfield, which closed its doors in 2015 after 35 years in business. Today, Somerville is the chef at the Inn at St. John's, a boutique hotel in Plymouth, and offers home catering experiences featuring his career classics, like the beloved Genghis Khan from The Lark.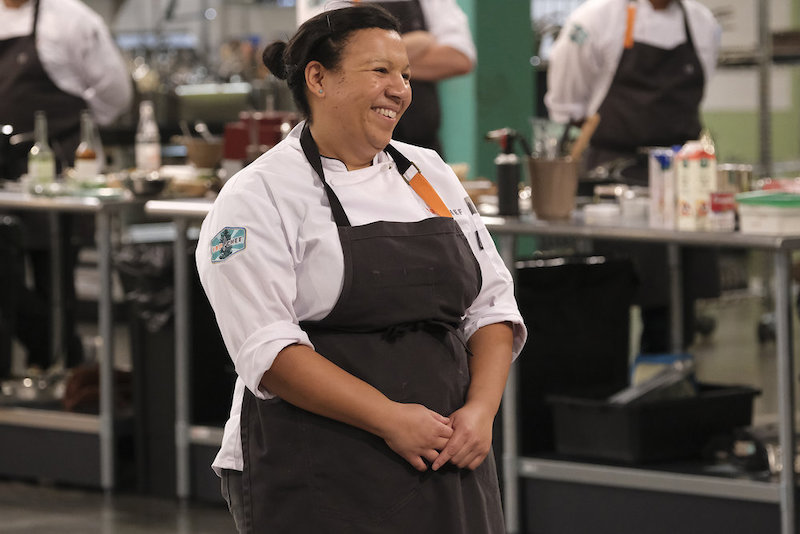 Aaron Cuschieri
Season 11, New Orleans, 2014
Originally from Livonia, Aaron Cuschieri attended culinary school at the Art Institute of Michigan and began cooking at Assaggi Bistro in Ferndale where he rose through the ranks to become executive chef within a year. He then moved to Chicago, where he worked at renowned restaurants like Alinea and Takashi Restaurant. That restaurant was owned by Takashi Yagihashi, who was the chef at the gone but not forgotten Tribute Restaurant in Farmington Hills. Cuschieri was chef at Slurping Turtle when he was cast on Top Chef. He was eliminated in the third episode during the Quickfire Challenge for his Fried Kale Dredged in Soy, Mirin, Rice Vinegar, and Yuzu Sauce. It wasn't Cuschieri's last reality TV appearance. In 2019, he was on Beat Bobby Flay — and he did just that. He's now the executive chef at The Dearborn in Chicago.
James Rigato
Season 12, Boston, 2015
Mabel Gray chef and owner James Rigato made it further than Aronoff, Somerville, and Cuschieri, but he was eliminated in the fourth episode during a team challenge. In his exit interview, Rigato said, "I'm not sitting still. I'm 29. I'm young. I've got a lot to learn. I'm going to go back to Michigan and I'm going to give you the best food I can and keep pushing forward." True to his word, Rigato went on to open the award-winning Mabel Gray restaurant in Hazel Park and has garnered several James Beard semifinalist nods, including recognition among the latest crop of nominations. The winner of his season was Mei Lin (see below), who hails from Dearborn and was working in Los Angeles at the time.
Kiki Louya
Season 18, Portland, 2021
Kiki Louya started the season off strong, contributing to the winning team of the Quickfire Challenge for their Harissa Seared Halibut with Meyer Lemon & Anchovy Salsa Verde, Roasted Hot Pepper Relish, and Herb Salad. In the fourth episode, she heard the dreaded words to pack her knives and go after she served undercooked fried chicken during the Elimination Challenge where the chefs had to cook a savory dish incorporating locally grown fruit at Mt. View Orchards in the Hood River Valley. The former co-founder and owner of Folk Detroit, she's now a food activist, writer, and entrepreneur in the city, working to build a healthier, more equitable food system. She's also the executive director of Restaurant Workers' Community Foundation, an action and advocacy nonprofit working to make the restaurant industry more hospitable for all.
---
Top Chef Winners from Michigan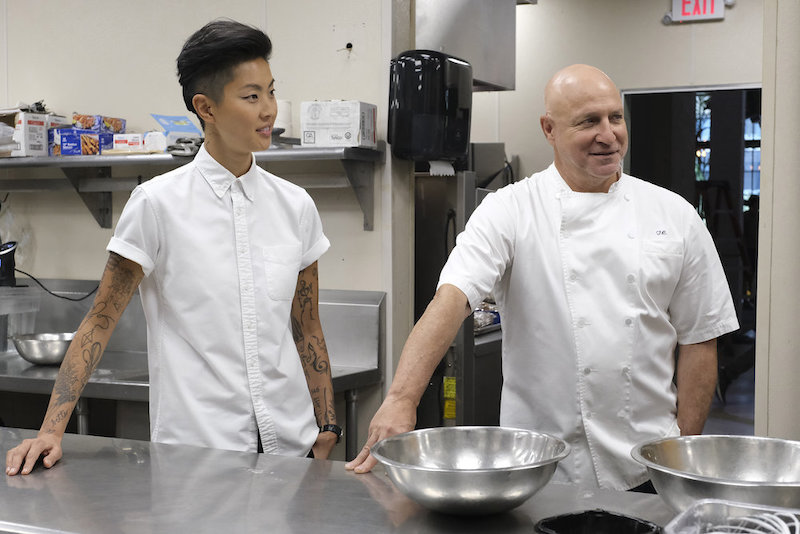 Kristen Kish
Season 10, Seattle, 2013
Born in Seoul and adopted as a baby by a family from the Grand Rapids area, Kristen Kish established herself as a frontrunner, racking up four Elimination Challenge wins before her shocking elimination during the infamous Restaurant Wars challenge. She battled her way back from Last Chance Kitchen, where the booted chefs try to cook their way back into the competition, and ended up winning it all. She now operates Arlo Grey, a French and Italian-inspired restaurant based in the Line hotel in Austin. Kish is among the Top Chef winners who will make an appearance in season 19.
Mei Lin
Season 12, Boston, 2015
Mei Lin grew up working alongside her father at the family's Chinese restaurant in Dearborn. She graduated from Schoolcraft College and was on the opening staff at Michael Symon's Roast restaurant at the Westin Book-Cadillac in Detroit before she headed west. After working at Marcus Samuelson's former C-House in Chicago and Wolfgang Puck's Spago in Las Vegas, she joined the opening team of Ink, the restaurant of Top Chef season 6 winner Michael Voltaggio, where she worked until she competed on Top Chef. Last year, she opened the Szechuan hot fried chicken restaurant Daybird in Los Angeles to critical acclaim.