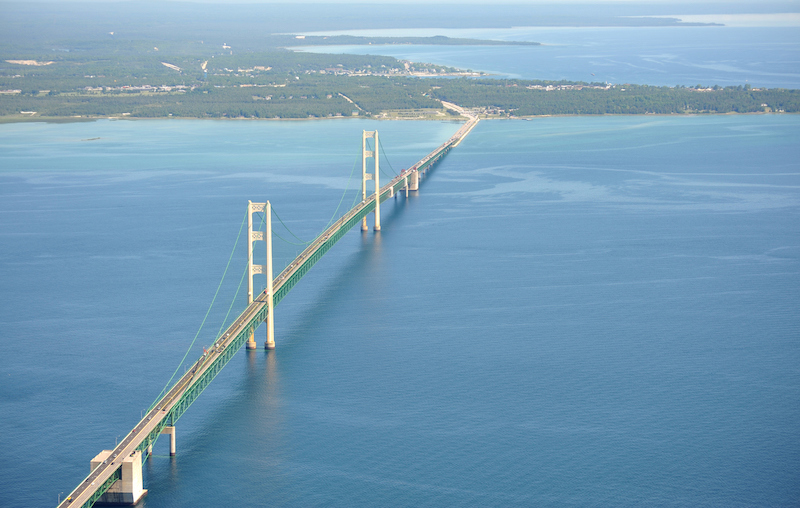 For almost 70 years, a pair of 20-inch oil and liquified natural gas conduits known as Line 5 that cross the Straits of Mackinac have moved billions of gallons of petroleum for the Canadian energy conglomerate Enbridge with little fanfare. In the past decade, though, concerns about its age and stability have made it one of Michigan's most celebrated environmental causes. As of early August, one pipe remained shut by court fiat after sustaining damage. Neither Enbridge nor Gov. Gretchen Whitmer, who wants it shuttered for good, will give up any time soon. Here's a primer on how we got here.
1953 
Enbridge completes the 645-mile pipeline known as Line 5 to ferry crude oil and natural gas liquids from Superior, Wisconsin, to Sarnia, Ontario, in a route that includes crossing the Straits of Mackinac about 270 feet below the water. A pumping station at Rapid River in the Upper Peninsula provides natural gas liquids used for propane for residents there, and another station near Detroit allows for crude oil to go to refineries in Detroit and northern Ohio. Currently, though, 70 percent of the petroleum is destined for Ontario, with Michigan used primarily as a shortcut.
2010 
Line 6B, another Enbridge conduit, breaks open near Marshall, Michigan, releasing 1.1 million gallons of crude oil into the Kalamazoo River in one of the nation's largest inland oil spills. The clean-up takes five years and costs Enbridge $1.21 billion. A federal probe later determines the rupture occurred because of unchecked corrosion on Line 6B.
2012 
Following the Marshall spill, environmentalists take notice of the existence of Line 5 and its location at the seam of lakes Michigan and Huron. Notably, the National Wildlife Federation publishes "Sunken Hazard: Aging oil pipelines beneath the Straits of Mackinac an ever-present threat to the Great Lakes," which was the first time many activists, Michigan locals, and lawmakers learned of Line 5, its advanced age, and its potential to despoil one of the world's most important sources of fresh water.
2013 
Enbridge increases Line 5's capacity by 50,000 barrels a day following a $100 million project that upgraded pumping stations but not the pipes themselves. That news prompts a new group, Oil & Water Don't Mix, to hold its first rally against Line 5 near the Mackinac Bridge.
2015 
Michigan Attorney General Bill Schuette, a Republican, releases a damning report showing the potential for problems on Line 5 and says, "You wouldn't site, and you wouldn't build and construct pipelines underneath the straits today." Still, he refuses to commit to decommissioning it and later opposes such efforts.
2016
A University of Michigan study using computers to model the potential path of spilled oil from Line 5 in the turbulent Straits shows 700 miles of coastline, plus 15 percent of Lake Michigan and 60 percent of Lake Huron are vulnerable in the worst-case scenario.
2017
A study commissioned by Gov. Rick Snyder's office on the impact of shutting down Line 5 finds it would increase the cost of gas in metro Detroit by 2 cents per gallon and for propane in the Upper Peninsula by as much as 25 cents per gallon.
2018
Anticipating the likely elections of Line 5 foes Gretchen Whitmer as governor and Dana Nessel as attorney general and attempting to starve the Democrats of  authority to shut Line 5 down, the Snyder administration makes a deal with Enbridge to install new pipes and build a tunnel to encase them by 2028 at a cost of up to $500 million. Enbridge also agrees to stop pumping through the Straits if waves hit 6.5 feet for more than an hour.  In December, Snyder signs a bill creating an independent authority to oversee Line 5 and its tunnel, an effort to enshrine the arrangement and legally tie Whitmer and Nessel's hands.
2019
After six months of fruitless talks with the Whitmer administration, which insisted the tunnel deal between Enbridge and the state was invalid, Enbridge sues to establish its validity and enforceability. Shortly thereafter, Nessel files a lawsuit seeking to shut down and permanently decommission Line 5. In October, the Michigan Court of Claims rules in favor of Enbridge that the tunnel agreement is enforceable, and in the spring of 2020 an appeal by Nessel fails. Nessel's legal fight continues.
2020
Days after oral arguments in Nessel's effort to decommission Line 5 on grounds of various safety and procedural violations, Enbridge reports damage to an anchor support holding up the eastern pipeline. No oil is spilled. Nessel persuades the judge overseeing her case to shut down both parts of Line 5 in late June. In early July, the court allows Enbridge to reopen the non-damaged line, leaving the damaged line closed. In mid-July, the state demands Enbridge sign an agreement to assume all financial responsibility for a potential oil spill. The company declines, saying existing agreements already make it liable. In July, Enbridge says it has narrowed the cause of the damage to "small to moderately-sized" ships dragging a cable. Four of the five ships Enbridge says might be the culprits were under contract with Enbridge as part of the Line 5 tunnel construction.