Tommey Walker — the founder of clothing brand Detroit Vs Everybody — has teamed up once more with luxury fashion brand Gucci on a limited-edition capsule collection.
Launching today, the DVE 2.0 collection features a baseball bat, large bag, belt bag, backpack, and custom Detroit Vs Everybody patches. The patches support Gucci's ongoing Off The Grid line, which features items made with recycled, organic, bio-based, and sustainably sourced materials. DVE 2.0 celebrates Gucci's store opening in Detroit last month and Detroit Month of Design, which is currently taking place throughout the month of September.
"As we celebrate the opening of our new permanent home in downtown Detroit, we are thrilled to collaborate for a second time with Detroit native, Tommey Walker, on an exclusive capsule collection," says Susan Chokachi, president and CEO of Gucci Americas. "From the moment we met in 2019, there was a natural alignment with Tommey's entrepreneurial spirit and the same shared drive to use fashion to fuel creativity and positive social change. The next chapter of our collaboration with Detroit Vs Everybody honors the fiercely independent and creative spirit of Detroit."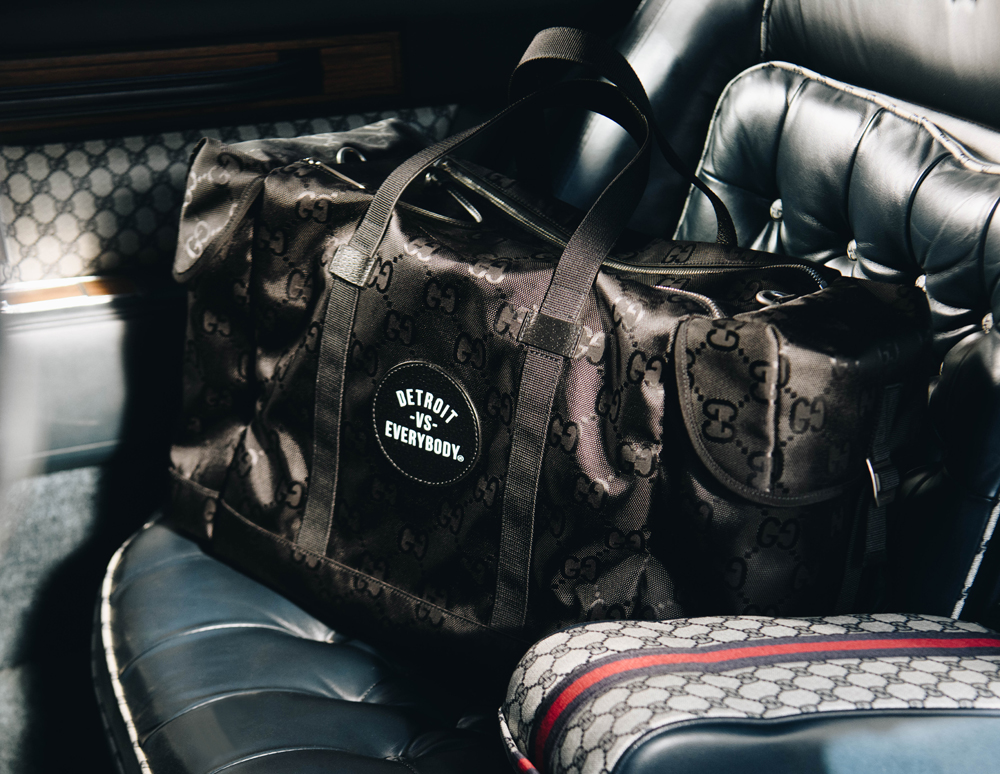 Detroit Vs Everybody and Gucci first collaborated in 2021 on a T-shirt line that celebrated Detroit and the 10 other cities part of the Gucci North America Changemakers social impact initiative. Launched in 2019, the program aims to increase inclusion and diversity within the fashion industry. The capsule collection between Gucci and Detroit Vs Everybody was the initiative's first product collaboration.
"My design process is inspired by seemingly unconnected elements, which when combined, produce powerful results. The naturally inclusive concept of 'Everybody vs' combines and aligns polar opposite extremes and everything in between," Walker says. "It is a powerful concept; proof of this power is Gucci's continuing collaboration with me for the greater good. Together, we combine what seems [like] polar opposites: Alessandro Michele's internationally acclaimed, high-fashion design with my locally conceived streetwear collections, which are driven by my mission to awaken the spirit of Detroit that lives in everybody throughout time and around the world — to persist, rather than quit; to contribute, rather than complain; to unify rather than divide; and to innovate rather than duplicate."
Items from the DVE 2.0 collection retail between $450 and $2,100 and are available exclusively at Gucci's downtown Detroit boutique.
Visit gucci.com for more information.