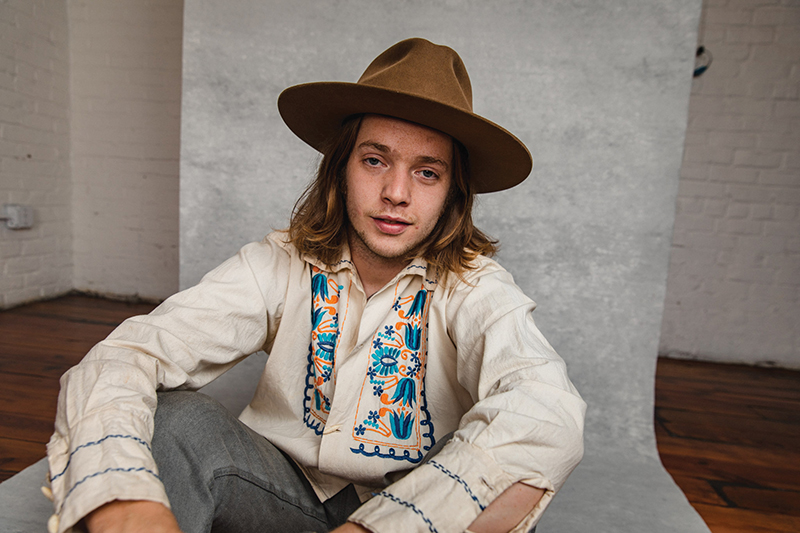 Home means many things to rising bluegrass star Billy Strings. Home is Ionia, where he grew up and learned guitar. Home is Traverse City, where he began pursuing music. Lately, it's been the road, where Strings and his band have spent the year crisscrossing the nation. 
"Sometimes when I think of home, I think of Ionia," says Strings, who now lives in Nashville when he's not on tour. "I think of all of the good times growing up there: hanging out at the skate park and hanging out with my friends. I also think about all the dark s*** — the substance abuse and the friends that I've lost along the way. That's where I draw a lot of inspiration."
Home is also the name of the 27-year-old's breakthrough second album, released last September, which finds Strings balancing the warmth and twang of bluegrass with his frenetic picking and the psychedelic nature of his live shows. Lyrically, he explores home through various lenses. Album-opener "Taking Water" is about decaying towns (Flint and Detroit were inspirations). On the title track, a dark, seven-minute epic, he wonders if "Maybe I should leave my home/ Maybe I could slip away." "Enough to Leave" is about two old friends who overdosed on fentanyl-laced heroin and died within a week of each other last year. 
"I can't write a song about something that I don't know about or that I haven't lived," Strings says. "A lot of that comes from growing up in a small town in Michigan."
Born William Apostol, Strings started playing guitar at a young age. His stepfather, Terry Barber, was a local bluegrass musician. As a kid, Strings would often sit on a cooler around a fire playing rhythm guitar with Barber's friends. One night, Barber was teaching him the "Beaumont Rag." "I kept messing up this one part," Strings says. "In the middle of the song I said, 'Stop, Dad. Play it by yourself and let me listen.' I really listened to the melody and I understood the music differently in that moment. Then I tried — and I nailed it. He busted out laughing, reached over and squeezed my little hand with the pick in it. He was so proud. I'll never forget that. Honestly, that's the moment that still drives me to this day."
As a teenager, Strings played in metal bands, partied hard, and dropped out of high school. He finally graduated after he paid a kid to help him pass algebra, then he left for Traverse City. "It was like Technicolor compared to Ionia," Strings says. He washed windows at the Grand Traverse Resort and got back in touch with bluegrass, especially the flatpicking style of bluegrass legend Doc Watson. He started doing open mics and, as a bluegrass player in a city full of singer-songwriters, he stood out. "I think [music] saved my life," Strings says. "It gave me a sense of purpose and a sense that I could be somebody, and that's what I started chasing."
"I think [music] saved my life" – Billy Strings
Strings befriended Kalamazoo-bred Greensky Bluegrass and opened for the band on tour. Soon, he was getting invites to play with David Grisman and Del McCoury, legends Barber had raised him on. Strings found a wide audience on the festival circuit by appealing to bluegrass traditionalists and jam band fans. His headlining shows are two-set affairs with rotating setlists, lengthy improvisational segments, and the occasional Grateful Dead or Phish cover.  
Ironically, for a guy who named his album Home, Strings hasn't spent much time there lately. But he ended 2019 with a sold-out homecoming in Michigan: two nights at the Majestic Theatre in Detroit and a New Year's Eve show at the Intersection in Grand Rapids, less than an hour from Ionia. "Every time I play in Grand Rapids, it's like my whole high school's there," he says. "It's a huge reunion."
It reminds Strings of parties his parents threw when he was growing up, where his dad was the center of attention, picking and singing songs. "Everybody would gather around and smoke a joint and have a beer and sing along," Strings says. "That played a big role in what I'm doing to this day. Music brings people joy. It brings people together. I don't think I fully understood what exactly that meant. I just knew that my dad was making people happy and I was like, 'I want to be the life of the party someday.' "