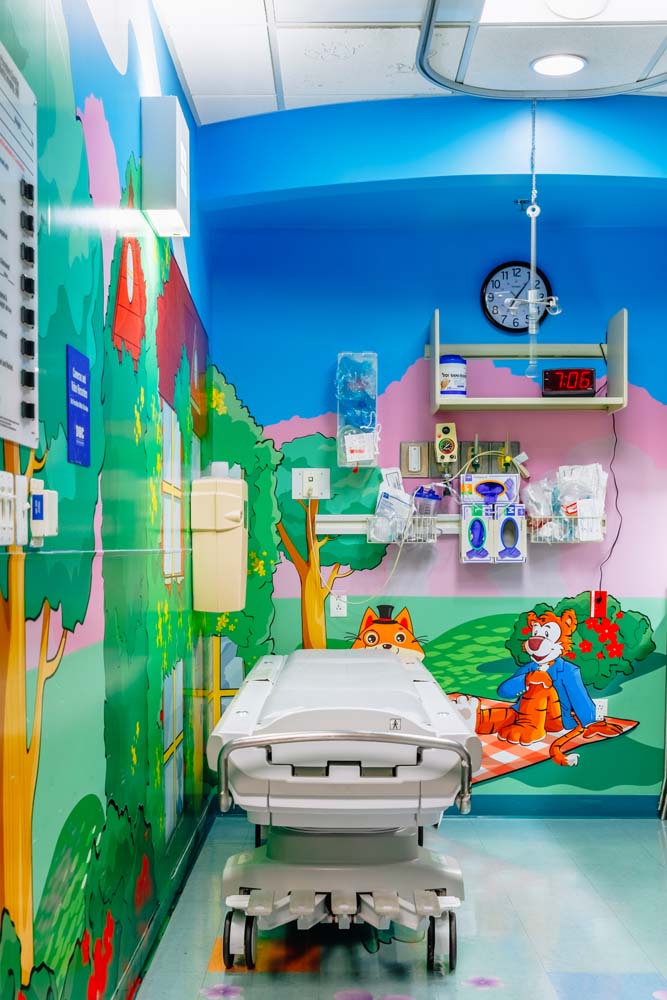 They're loud, intimidating, and require lying still for long periods of time. Patients of all ages can struggle with magnetic resonance imaging tests, or MRIs. They can be especially difficult for young kids, who often fear unknown, noisy environments. At Children's Hospital of Michigan in Detroit, an initiative called Imagination Destinations transforms MRI rooms into tranquil scenes to help relax kids and ease their families' worries.
"The concept of these wraps is to create an environment that is less scary to young people so they don't need to be sedated as often as they have been," says Larry Burns, president and CEO of the Children's Foundation, a Detroit nonprofit that partners with area organizations dedicated to advancing health and wellness for local children.
Securing Funding
Since launching Imagination Destinations in 2019, the hospital has seen early anecdotal evidence of reduced sedation rates for patients undergoing MRIs. Common across children's hospitals, MRI wraps — stickers, décor, and more that add colorful themes to MRI rooms and machines — help distract patients during testing.
"When Children's Hospital approached the Foundation, we thought, this is a great thing to do for the kids," Burns says. "It's a great thing to do for parents because they have to deal with children who are upset."
In partnership with the Children's Hospital, the Children's Foundation contacted prospective donors to raise $195,000 for the project.
Soothing Themes
Featured in all four MRI prep rooms, as well as in two MRI scanner rooms, the Imagination Destination spaces each have their own theme at the hospital.
"There's a room that looks like a shipwreck; there's a room that looks like it's under the sea," says Bria Bonner, certified child life specialist. Other themes include animals having picnics, animals flying kites, outer space (complete with an MRI machine-turned-spaceship), and campgrounds. "Room wraps help desensitize the environment," Bonner says. "We understand coming to the hospital can be overwhelming, so we try to find ways to normalize it."
It wasn't an easy project to implement. Bonner says the installation process spanned many weeks, with all the work taking place late at night so that patient care and daily hospital activities wouldn't be interrupted. The six rooms were painted one at a time, and the paint had to cure for 21 days. Once the rooms were dry, artwork was installed one room at a time over the course of four weeks to finish the project.
Less Sedation
Bonner says the wraps are an incentive for children to complete their MRIs without sedation. Not only are they fun rooms, but they have physical benefits. "We know that there are risks to sedation in general," she says. "We have patients who come in for things that are routine who are constantly receiving sedation, and that can affect them long term in their health."
She says long-term potential negative side effects of prolonged or repeated sedation can include faster cognitive decline, an increase in anxiety and depression, development of post-traumatic stress disorder, respiratory issues such as aspiration, and delirium. "That's why it's important to minimize the amount of medicine given," Bonner says.
The benefits of MRI wraps even reach beyond patients. "Having an environment that feels like a safe space gives parents a sense of relief," Bonner says. "I have talked to some parents who have been coming to the hospital before the room wraps, and they feel it made a difference in their child's care now that they're coming into a room that is more child-friendly. It takes away from it being just a hospital room."
Facebook Comments