---
Port Huron resident John Pegg, founder of St. Clair-based perfumery House of Kerosene, was spray-painting headlights and logging inventory before he started his fragrance brand in 2011. Growing up in St. Clair, Pegg, 42, was surrounded by friends and family members that worked in the automotive industry; a high-paying profession in the area. Unsatisfied with what he considered to be monotonous and unfulfilling factory work, he bounced between factories doing odd jobs until he began dabbling with scent creation. His fragrances caught the attention of a retailer in New York City in 2012 and today, House of Kerosene products can be found in retailers around the world. We sat down with Pegg to learn more about his story.
Hour Detroit: You grew up in St. Clair, where many of your friends and family worked in the automotive industry. Did you follow suit before starting House of Kerosene?
John Pegg: Well, if you weren't working in the industry in one form or another, you were most likely looking to get a job in it. Shortly after graduating high school, I raced four wheelers and was constantly breaking my Yamaha Banshee quad on a race track near my home. I didn't have the cash to hire a mechanic, so I quickly learned how to tear my bike apart and build it again. That led me to getting my first motorcycle, a 1975 Kawasaki 400 twin. It was old and needed work, and from there an addiction to wrenching and fixing bikes from the '70s began.
My mother worked at a plastics coating plant close to home, and through her reference, I got my first factory job. Fresh out of high school at 18 years old, I started off in a paint booth, hand-spraying the insides of plastic headlight shells with a clear paint. I hated that job. Once I reached college, I had no motivation for books and learning, but I also had no idea what I wanted to do with my life at that point. So I turned to what my family knew for work: factory-labor. It didn't take long, exercising the repetitive nature of the beast, for me to realize that kind of job wasn't suited for me either.
---
---
Did you have an idea of what your next move was?
Up until Kerosene was founded, I bounced around from factory to factory, sometimes staying at the job for a few months or years — but the repetition of the work made me lose my mind. About five years before Kerosene, I began experimenting with scent creation as a personal hobby with absolutely no thoughts of it one day becoming an actual brand. A shop in New York was curious about my "brand" and wanted to pick it up to sell in their boutique in Soho. In 2011, we agreed to sell exclusively in their shop in the United States. Two years later, the brand had already grown to a size that required me to pursue House of Kerosene, full time. After an argument with my boss at the factory I was working at in 2012, I walked out without the standard two-week notice I would normally have given. That disagreement with my boss was a blessing in disguise and made my choice for me.
Where did the name for Kerosene originate from?
The brand name actually comes from a music project that I started about 18 years ago; it was called Kerosene Trawthe. My scents don't necessarily reflect smells like oil and steel as the name suggests, but I'm definitely influenced by them. They are raw but elegant, and I prioritize that my customers are the wearer of my scents, rather than vice versa. Taking inspiration from my past, each bottle is sprayed with automotive-grade urethane in a paint booth I built. For packaging, I went the Henry Ford route with the color choice. "It comes in any color you want, as long as it's black," is his mantra.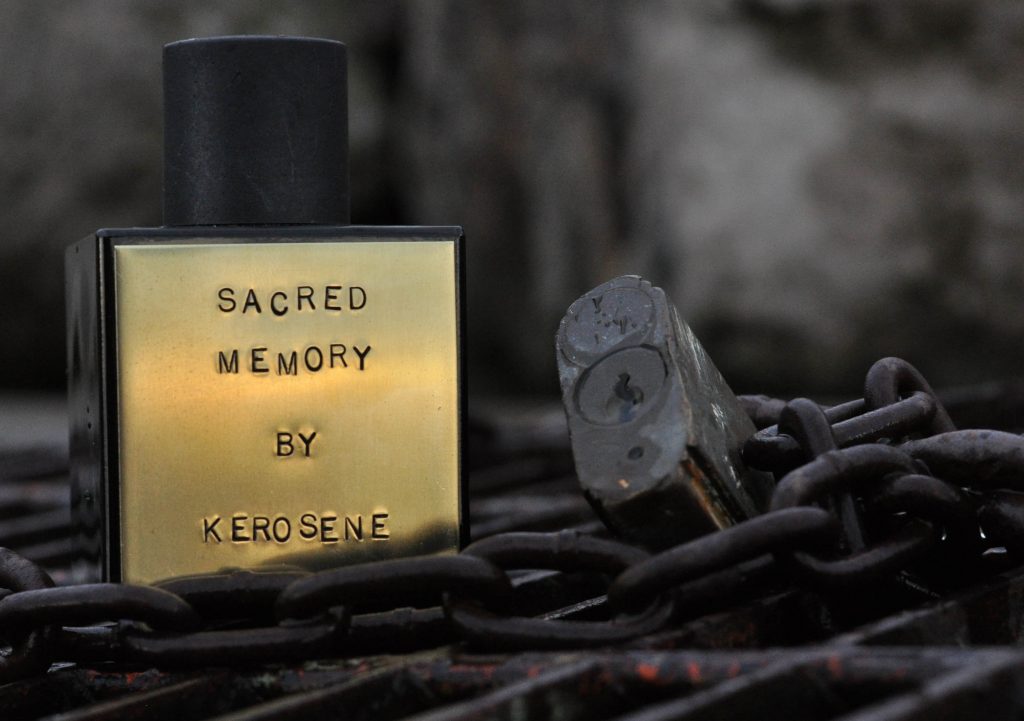 How has Kerosene grown since its inception?
When I first began in 2011, I had three scents on the market. R'oud Elements (my first release and probably still my favorite creation), Copper Skies, and Creature. By the end of 2012, I added two more fragrances to the catalog, each completely unique and built from the ground up. Over the past three years, the brand has exploded. We currently have over 14 scent creations for people to discover and more on the way! Kerosene can be found all over the world, from Poland to the United Kingdom and is well stocked in many places in the United States.
What are your favorited Michigan-based businesses? Let us know in the comments below.
---
Related: These Oprah-Approved Vegan Handbags Are Designed in Auburn Hills