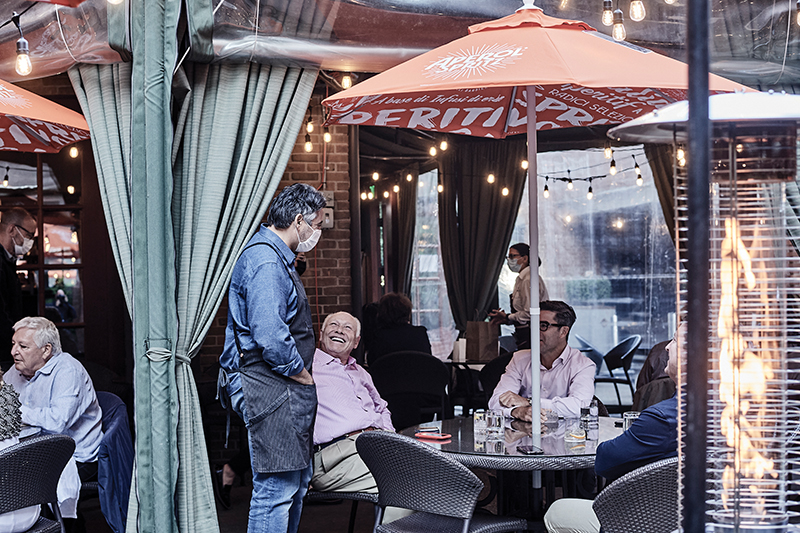 Date night has become increasingly predictable in the Green household. Fifteen minutes before we're due for our dinner reservations — date night always starts with dinner — I'm typically putting the finishing touches on my makeup when my husband inevitably attempts to slide into his jacket without my noticing that he's wearing a pair of sneakers. "You really think they'll turn me away because I'm in gym shoes?" he'll ask. To which I'll almost always reply, "Probably not," reminding him that my sartorial approval is what really matters.
True to form, this was the scenario earlier this year as we prepped for a night at Pernoi, the swanky Birmingham restaurant that made a big splash in metro Detroit's dining scene with its star chef duo, Luciano DelSignore and James Beard Award-winning chef Takashi Yagihashi, at the helm. This time, when my sweet husband asked if restaurant staff would turn him away for wearing gym shoes, I replied with a firm "Yes."
At launch, Pernoi was intended to meet an untapped need for fine dining in the Detroit area. The white-tablecloth establishment enforced a strict jacket-required dress code in its main dining room and boasted a rotating menu where delicacies such as foie gras, white truffle supplement, and Osetra caviar made appearances. "Original Pernoi was supposed to be two chefs creating food from our own independent styles but serving it at a level that is relative of a Michelin restaurant," co-founding Executive Chef DelSignore tells me. "Not that we thought the Michelin Guide would ever show up in Michigan — you just have to benchmark against something, and all I know to rate super fine dining restaurants is Michelin restaurants around the world." The Pernoi team sourced the finest China and crystal for table settings, offered a tasting menu — "three courses at minimum, eight courses if you wanted an extravaganza," DelSignore says — and established its own dress code for the waitstaff: three-piece suits.
I experienced this lavish caliber of dining during each subsequent visit to Pernoi. It was the kind of place where the room practically whispers reminders to sit up straight and dab the corners of your mouth after finishing each dish. A place where I wouldn't dare wear flats instead of heels, let alone a pair of sneakers.
Pernoi's stint in this format made an impression in the restaurant industry both locally and nationally. It made cameos on best new restaurant lists across southeast Michigan, and last summer, Food and Wine named it one of the biggest summer restaurant openings of 2019. But three months after its grand opening, the upscale eatery announced Yagihashi's departure, and what once was a multi-hyphenate concept, blending French, Asian, and Italian cuisine reflective of the chefs' culinary backgrounds, soon defaulted to a cuisine most familiar to DelSignore as Pernoi's remaining chef: Italian.
Nearly two decades ago, DelSignore brought a nod to the cuisine native to his Italian roots to Southfield with Bacco Ristorante. As DelSignore's flagship, Bacco is a fine dining restaurant with a cult following for its range of traditional housemade pastas and fresh seafood. Here, whole fish is presented tableside and wagyu bone-in steaks are fanned out and shared among the table. DelSignore went on to launch Bigalora Wood Fired Cucina, now a chain of traditional Neapolitan pizza joints across the Detroit area. After Yagihashi's exit, Pernoi's Italian metamorphosis was a natural progression.
"We started introducing a bistro type of menu with a little Italian influence because that's my strong background as a chef," DelSignore says, "but we were also making food from all around the world and utilizing ingredients from all around the world to keep it exciting and innovative. And then,
COVID hit."
Soon after DelSignore found his stride under the new iteration, the pandemic struck, and Pernoi continued to evolve. Michigan lockdowns forced Pernoi, like other restaurants in metro Detroit, to close its dining room and, in turn, challenged DelSignore and his team to navigate a new environment of carryout service as an upscale eatery.
"It was devastating what we went through, but what we found was that we needed to do something more comfort food-related to survive the carryout market," he says. "So, I did a trattoria pop-up during the shutdown."
Italian comfort showed up in the form of fresh breads and housemade pastas rolled by hand, such as a hearty Bolognese with tagliatelle and a rigatoni dish topped with spicy palomino sauce. Chicken Parmesan and a meaty branzino typified the menu. DelSignore says the pop-up was so well received that it made way for a new, permanent concept. "The Italian food that I brought for carryout was flying out the door, so it only made sense to carry that concept forward and elevate it for when we got the chance to reopen."
This past summer, the restaurant rebranded and reopened under a new name. Pernoi shed its coat of opulence to reveal Casa Pernoi, a freer-spirited version of itself. "We wanted our audience to know that we weren't the Pernoi that they knew and not to expect super fine dining when they arrive," DelSignore says.
Today, red-and-white-checkered cloths are draped across dinner tables in place of the white linens I so meticulously aimed to keep clean during an earlier visit. Diners, both indoors and seated on the heated outdoor patio, talk and laugh with ease, dressed in their jeans and, yes, some even in sneakers.
Still, Casa Pernoi maintains a level of elegance true to its DNA. In addition to the comforting dishes from the trattoria from which the restaurant was born, the menu presents a fair number of higher-end plates and culinary techniques that show DelSignore's skill. Creamy ricotta and chunks of sweet, buttery Parmigiano-Reggiano — not unlike that which is served as a starter at Bacco — are offered among a range of accompaniments to an assortment of breads baked in-house.
A plate of octopus is seasoned and charred to perfection and served with an exquisite ceci bean tonnato, almost as smooth as pudding, and a sweet and sour agrodolce filled with crisp fennel. Crunch on thyme-roasted heirloom carrots with a fermented garlic-chili honey glaze and crème fraîche, and sop hunks of bread in a bowl of Zuppa di Pesce, a blend of meaty shrimp, bay scallops, clams, calamari, and branzino in a bright marinara sauce seasoned with verdant herbs. Unlike most Zuppa di Pesce dishes, which team the tomato-based broth with linguine or no pasta at all, DelSignore's is filled with chewy fregola for a welcome change.
During my most recent visit to Casa Pernoi, I opted for two desserts. A silky honey zabaione was decadent, topped with glazed nectarines, which offered acid to the sweet, rich custard, and buttery crumbles of amaretti cookies, or what tasted like the best parts of a cobbler. A cannoli cake layered fresh sweet ricotta atop a spongy cake and a base of dark chocolate reminiscent of a Nestle Crunch Bar. Topped with candied orange zest and pistachio butter, the sweet treat hit all the right notes of texture and flavor — a medley of tang, cream, sugar, and crunch — in one bite.
As a perk of Casa Pernoi's carryout offering, I enjoyed my dessert duo in the comfort of my own home, where the dress code allowed for a robe and a detoxifying clay face mask — and no waitstaff present to stop me from eating barefoot.
Casa Pernoi, 310 E. Maple Road, Birmingham; 248-940-0000; opentable.com/pernoi-birmingham
Facebook Comments