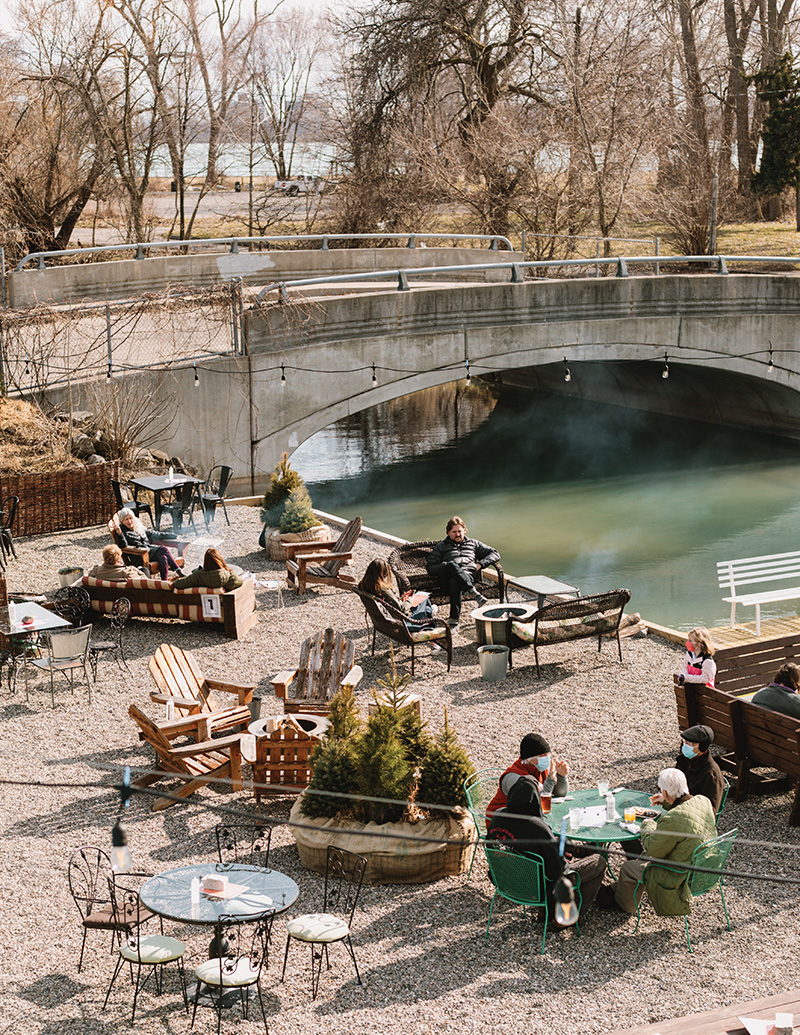 "We dragged our feet about opening a restaurant," says Gwen Meyer, a farmer and co-owner of Coriander Kitchen and Farm. Since 2014, Meyer and her business partner, Chef Allison Heeres, had run a catering business that served imaginative dishes using fresh ingredients sourced from their Eastern Market-adjacent farmland. Their produce landed on the menus of some of Detroit's most popular restaurants — bright green tomatoes reincarnated as crispy slivers coated in tempura breading and served with a pistachio-dilly bean chutney at Marrow; fuchsia radish rounds atop bowls of warm Le Puy green lentil soup at Warda Pâtisserie. But the idea of opening their own eatery was daunting. 
"It's so much work and there are so many risks involved," Meyer says. 
"I did the numbers on restaurants and it seemed like a terrible idea," Heeres laughs in agreement. Still, the duo's interest in filling a void in the market for "good food grown locally" at an affordable price point in Detroit soon outweighed their concerns. And as it turns out, Meyer and Heeres never shy away from hard work. 
This winter, Coriander Kitchen and Farm opened its doors — well, its patio. For the health and safety of their employees during the ongoing pandemic, Meyer and Heeres have opted to limit service to outdoor dining. The restaurant shares a building with Detroit River Sports, a business owned by Meyer's husband, Alex Howbert, at Fisherman's Marina in Jefferson-Chalmers. "My husband had a vision of food being at the marina, and upon really getting to know Allison's food, I knew Coriander would be so good there," Meyer says. Since 2016, she and Heeres have collaborated with Detroit River Sports with Paddle to Table, a ticketed event series that guides participants through the canals of Detroit's east side by kayak and paddleboard, and ends with a waterside meal prepared by Heeres. Now, walk-ins are welcome to experience the full-service restaurant on weekends. 
On cool evenings, guests can rent personal fire pits and roast housemade marshmallows to make s'mores, or sip mugs of Hot Buttered Rum made with a blend of dark rum, brown sugar, and cinnamon and topped with a dollop of unsalted butter. By day, grab a picnic table where you can dip hunks of grilled flatbread or gluten-free crackers into a creamy fish dip made with smoked white fish and lake trout and seasoned with herbs and pickles yanked from the farm. On balmy days, the Goose Snow Cone is a nostalgic take on an of-age treat, combining rye whiskey and vermouth with a pickled gooseberry puree.  
The vision of the dining experience at Coriander Kitchen and Farm is nothing short of magical. Beside still waters and lush parks, farm-fresh ingredients filling your belly, it's easy to forget you're in a bustling neighborhood in the city. "It's impossible not to fall in love with the space," Heeres says. "Before we opened, we were constantly torn between wanting people to experience it and also loving that it was our own quiet place for a number of years." But under the surface, the challenges of creating the urban oasis abounded. 
The duo's instinct that opening a restaurant would be an arduous task proved prescient. Coriander has been among Detroit's most anticipated restaurant openings since Meyer and Heeres announced the expansion of the farm and catering business in 2016, and yet consistent setbacks — not limited to a global pandemic —delayed the opening they'd envisioned. The duo has navigated staffing challenges and the rigorous nature of running a 1-acre farm, while also hosting pop-ups with limited resources (an incident with malfunctioning propane tanks nearly broke Heeres). "Everyone says that it's going to take way longer than you expect when you're doing these projects and also that there will be these little pieces that you have to tie up at the end that take forever — you just don't even know what those little pieces are going to be," Meyer says.
Last March, when COVID-19 decimated the restaurant industry, the trials continued. Amid the pandemic, Meyer and Heeres lost their only private investor in the business as well as an original contractor, grinding their progress to a halt. As a multihyphenate business — part farm, part catering company, part new restaurant — Coriander experienced the toll of the crisis threefold. "We had to replace the money we lost, and we'd also predicted to have a certain number coming in from our Paddle to Table events and weddings that were booked, which disappeared overnight," Heeres says. "At the beginning of COVID, everyone else was talking about being bored at home and trying out new hobbies and we were reinventing this thing we had spent three years planning,"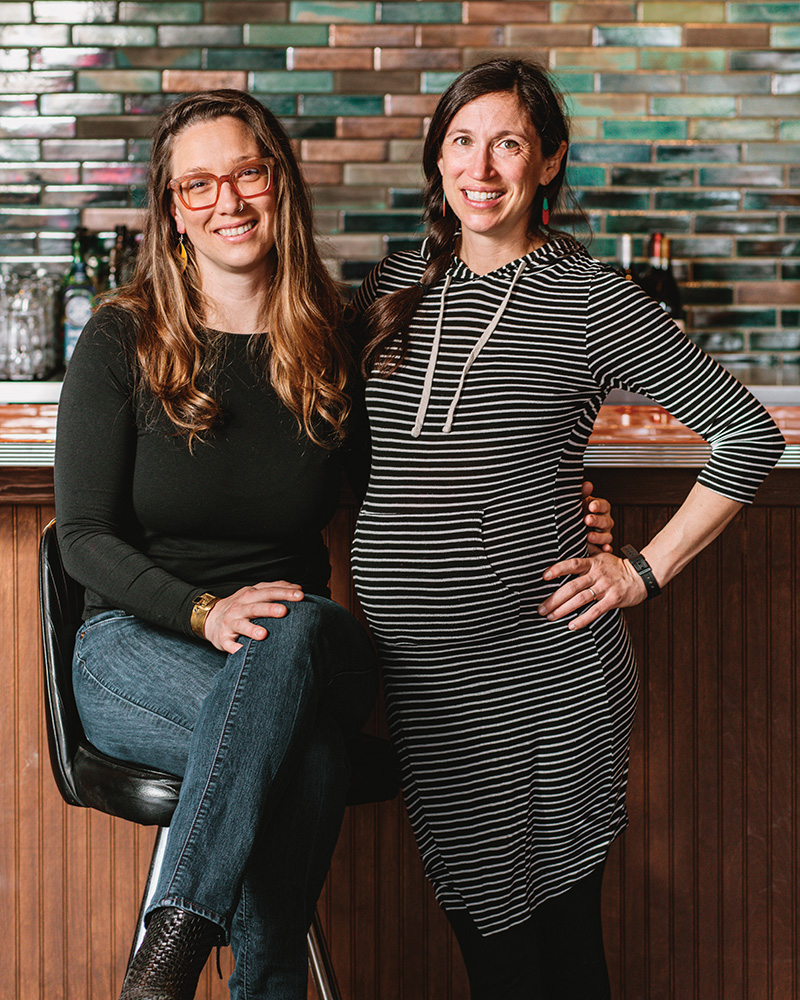 Reinvention meant accommodating deliveries to metro Detroiters interested in meals, produce, or even floral bouquets from the farm. "We weren't making real money compared to what we'd typically make, but people sent us emails saying, 'This is the bright spot in my week,' so it was nice to be able to drop something on people's doorstep that was delicious and came from someone they trusted," Heeres says. 
Through their partnership, they prevailed. As the perfect pair, Heeres and Meyer leaned on each other to weather the storms and celebrate small victories along the way. "I think we're a magical combination," Heeres says. "We have a certain amount of synergy and magic to us. You have to have somebody you trust to the end of the earth, which is how I feel about Gwen."
Meyer adds that the community stepped in to support their success as well. "We're so lucky that the small business community in Detroit really supports each other," she says. "The privilege we have in knowing people and nontraditional lenders, we're so grateful to them." From grants to loans, the helpful resources locals were able to provide were integral, she says.
"We said, if something wasn't actually lifting off the ground in five years, we were going to reevaluate, but we did it," Heeres says. "Even with COVID, we did it."
---
Coriander Kitchen and Farm, 14601 Riverside Blvd, Detroit; 313-822-4434; corianderkitchenandfarm.com