There were about two spoonfuls of Chili Butter Cabbage left when my husband and I picked up our forks like two duelers crossing swords to fight over who would get to polish it off. The fact that we were battling each other for the last bites in the bowl, which already offered a bold amount of the cruciferous vegetable, resembling more an entree-sized portion than a side dish, is all you need to know about how flavorful the food is at Metropolitan Bar & Kitchen.
The humble cabbage is elevated to new heights here, sliced into strips and cooked like al dente pasta, then molded into a mountain laced with fennel, miso, and chili. The finishing touch is a snowcap of Parmesan cheese. It's just one of the many delightful surprises we experienced at the new West Village restaurant/market hybrid. 
Chef Brendon Edwards is a veteran of Detroit's restaurant scene, and a revelation like a show-stopping bowl of cabbage is the type of audacious and delicious food I have come to expect from him over the years. When he was at Standby in 2016, he had a dish of sturgeon wrapped in chicken skin that I still dream about to this day — and that still makes me wonder why everything isn't wrapped up in chicken skin.
Edwards; Ashley Price (former alcohol buyer at Holiday Market); and Detroit Rising Development and its leads, Jonathan Hartzell and Rick Stanza, partnered up to form Metropolitan Variety Store as well as Metropolitan Bar & Kitchen. Price told me in November that the genesis of Metropolitan came out of a conversation he had with Hartzell in 2019 about opening a high-end spirits store in the city. The brainstorming evolved to include the concept of a restaurant/cocktail bar/specialty store. When the former Craft Work space on the ground floor of the Parkstone Apartments became available, the idea found its home.
Metropolitan is carved up into three distinct spaces. When you walk in, there is a bar where guest bartenders and pop-up chefs will set up shop. On one of the nights we visited, it was industry night (Mondays are typically when chefs and restaurant workers have the day off) and we were greeted with a dangerously easy-to-sip mezcal punch. To the left is the bodega, and to the right is the dining room.
The dining room has preserved a lot of the charming wooden features from the space's former lives, such as the shelves and bar, with the addition of royal blue banquettes and matching studded chairs. The modern-meets-vintage look is inviting, like stepping into the living room of your well-traveled auntie, with the closeness of the tables fostering a convivial dinner party atmosphere. 
The California Mexican menu — organized into Snacks, Vegetable, Meat and Fish, and Dessert — is thoughtfully constructed, driven by the seasons, what's available from Michigan producers, and the creative whims of Edwards. Edwards builds on Latin flavors with chili peppers, cilantro, lime, and other familiar ingredients and executes them in refreshing ways. Every bite reveals something new, a nuance that you didn't notice before. 
We arrived on a Saturday during happy hour, another pleasant surprise since happy hours are typically during the week. For starters, we tried the maduros tostadas with Oaxaca cheese and the Detroit Double Cheeseburger. The tostadas were another example of how a humble ingredient like a plantain can be the star of the show. Chunks of plantain had a crispy shell covering a creamy and sweet interior, complemented by pops of pickled Fresno pepper and fresh watermelon radish. In a burger-loving town like Detroit, it's not hard to find a burger, but Metropolitan's version, with beef from West Village neighbor Marrow, ranks right up there with the city's best. 
The vegetables section of the menu goes from smallest to largest. In addition to the revelatory cabbage, we also tried the roasted cauliflower, served with a smoky, rich cumin-forward salsa negra-plantain relish. 
On the entree side, we tried the carne asada and the hibachi grilled pork collar, both dishes using cuts that are not often used but are seriously underrated. The carne asada is a triangular 10-ounce picanha steak, known as the rump cap or sirloin cap. The flavorful cut, so tender it was like cutting into butter, was paired with a tangy tomatillo escabeche of pickled vegetables and a silky soubise (a creamy sauce usually made with onions) bursting with corn flavor. The pork collar was painted with a not-too-sour-and-not-too-sweet tamarind glaze and topped with an apple slaw. There were also bits of tamarind in the rice to complement the pork, a thoughtful touch that tied everything together.
The cocktails, both alcoholic and nonalcoholic, are created with the same care as the food. The Por Favor Y De Nada is a happy confluence of flavors. Reminiscent of a margarita but more savory, the Por Favor Y De Nada is smoky, spicy, and refreshing, with notes of green pepper. It sounds like it shouldn't work, like it would taste like a dreaded green juice, but it does. The Until Summer Returns is light and refreshing, with butterfly tea-infused vodka and sake, indeed the type of drink to sip when you're dreaming of long summer nights on a patio.
The zero-proof cocktails provide excellent alternatives for those who enjoy drinks without the booze. The Flowers for Agnes — with rooibos tea, cranberry, orgeat, lime, and herbal tea — is balanced and complex. Boozy drinks oftentimes are such a focal point of the dining experience, and Metropolitan takes care to serve those who imbibe and those who abstain.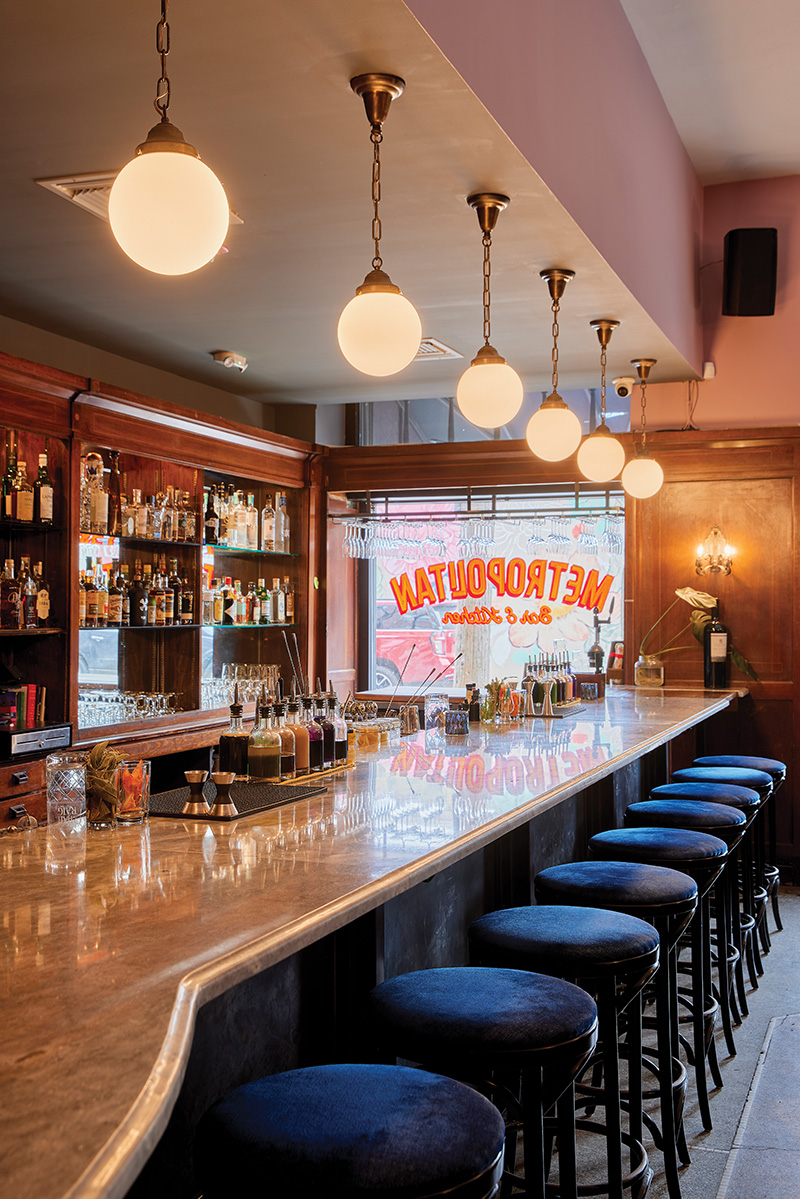 The space itself has a storied and rich past. The Parkstone Apartments, which was built in the 1920s, was once home to an apothecary. In 1983, brothers Mindy and Balbir Ahluwalia opened the beloved bistro Harlequin Café, which was a neighborhood fixture for 20 years. The space became home to Craft Work, another neighborhood-oriented restaurant in 2013 (it closed in 2020). The 4,000-square-foot restaurant was renovated, and many of the charming features were restored, such as the original terrazzo floors and the 1950s apothecary bar and cabinetry.
In 2022, West Village is home to a lot of established spots like The Red Hook and Sister Pie, with new restaurants like YumVillage and Gabriel Hall coming in. Just like how the Harlequin was part of a wave of restaurants making the neighborhood a destination, Metropolitan is finding its place in West Village and filling a need for another place to gather.
On one of the nights we went to Metropolitan, we saw a couple of friends we hadn't seen in a while and had the chance to chat. We then got to talking to a pair of diners seated next to us, enjoying each other's company on a Monday night out in Detroit. As my husband and I left and bade goodbye to our new friends, we reflected on how much we missed those types of connections in these turbulent times. 
The Harlequin Café and Craft Work were neighborhood staples, and Metropolitan Variety Store and Bar & Kitchen is soon to follow in those restaurants' footsteps.
---
This story is from the April 2022 issue of Hour Detroit. Read more in our digital edition. 
Facebook Comments