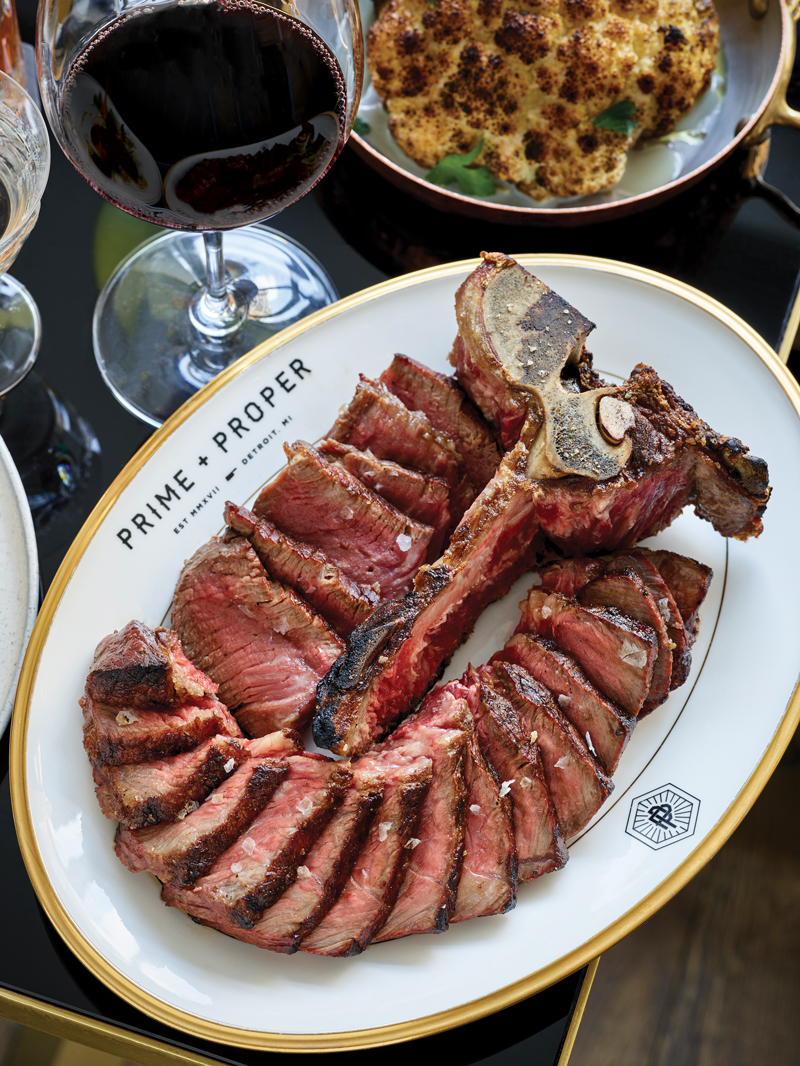 Prime + Proper is one of the most beautiful new restaurants that has opened in downtown Detroit in years. There's just no other way of saying it. It's simply gorgeous.
The care and attention that has gone into making the place is nothing short of uplifting.
Prime + Proper launched last November on the street level of the 1912-era Capitol Park Loft building, which is also now home to some 60-plus high-end living spaces.
The restaurant is located near the tiny park where Michigan's original state Capitol sat in the 1800s, long before it moved to Lansing. The original building was
first converted into a high school, but was torn down and replaced with a triangular park following a fire in the 1890s.
The restaurant boasts intricate tile work and lush and lovely materials chosen for banquettes and chairs. There are flickering candles on each table and rich, bright, lacquer-level paints were used throughout. There's a graceful ebb and flow in the dining room, and the boldly marked, gold-rimmed plateware bears the restaurant's name.
There's more — from the original marble staircase illuminating the patina brass, to the astounding steak knives that you can purchase and take home.
All of it adds up to make this a lovely restaurant. Not to be missed either is the lower floor, a series of a wine room, conference room, private dining room, and bathrooms built around the biggest glass see-through meat locker imaginable.
Walk around the outside, much as you would a museum diorama full of neatly arranged shelves housing the legs, shoulders, and back parts of two dozen or more former bovines, and a flock of whole de-feathered ducks are hung with butcher twine.
In addition to the dry-aging facility, there is a retail counter where you have steaks wrapped up to take home. Call me prim, but I found it to be a little much. I also like to eat sausage but don't find it all that appetizing to watch it being made. However, I understand the pride and even the effort at transparency about everything the restaurant does.
Prime + Proper's stated mission is to bring back the classic American Steakhouse in a fresh version with modern elements. Its owner is Jeremy Sasson, who also has the Townhouse restaurant in Birmingham and downtown's swanky Townhouse Detroit.
In ambience, feel, and all the physical trappings, Prime + Proper succeeds nicely. I wish I could say as much for the food and service, which, after being open going on six months, should be more disciplined and exciting. Hopefully, they will be in time.
Oddly, one issue troubling the place may be this: Can it be that they have too much staff? We noticed a huge number of people, all dressed in the handsome de rigeur butcher white uniforms, milling around. Our food order was taken by one waiter, who seemed to be in charge of our table. Then we had three different people delivering plates at various intervals, seemingly unaware of the status of other dishes slated for our table, and followed each time by a backup server. (Really? An assistant plate deliverer?) After which, the order-taker waiter checked back in to ask how we liked the food. He was followed by a woman we assumed to be a dining room manger, then came another manager. Any more and the food would have gotten cold.
Speaking of staffing, Prime + Proper has the usual set of executive-, sous-, and pastry chefs. But how many places have an executive butcher? They do here in the person of Walter Apfelbaum.
The food itself was somewhat hit and miss. Beef dishes were commendable: the cooking on the ribeye and the filet mignon were as requested, and the quality of the meat was clearly exceptional. An accompanying béarnaise sauce was a little tired, as if it had been sitting in a hot water basin a little too long.
I have admittedly always been a little ambivalent about reviewing steak houses, but for a reason. To me, a steak is a steak is a steak. And I will never be convinced there is any great skill in cooking one.
What makes the difference with steak is the equipment used. In this case, Prime + Proper has a Grillworks Inc. system, now favored by hundreds, perhaps thousands, of restaurants and invented right here in Ann Arbor by retired University of Michigan journalism professor and Knight-Wallace Fellowship director Charles Eisendrath.
The best dish of the evening was the tuna poke, a dish often messed up by too much soy sauce. But this was about the best I've had in a long time. That mysterious balance point between raw tuna and soy was right on the money.
The fried chicken had a tasty buttermilk crust, and the meat was moist — but devoid of much flavor. A side of carrots didn't have much perk, and a plate of batter fried eggplant and zucchini was perfectly cooked, but lacked a lot of flavor. My torchon of foie gras was passable, but nothing special.
The raw bar here is also noteable, and offers a selection of oysters, shrimp, Alaskan king crab, shrimp cocktail, and lobster. There are also four different varieties of caviar.
Prime + Proper also has a very carefully selected wine list by Sommelier Liz Martinez that leans strongly into Bordeaux and Napa red wines, traditionally a strong partner with beef dishes of all kinds.
One problem that's not of Prime + Proper's making is its location across from the pretty little grassy park. All evening long from my seat, I watched neighbor after neighbor in this vibrantly repopulated area of the city, bring their darling dogs out for evening constitutionals smack in front of Prime + Proper's window.
I'm sorry, but there is something disarming about preparing to dive into a luscious, perfectly grilled filet mignon only to look up to see a dog doing its business. Am I making too much of this? Unfortunately, no. It becomes a consideration when, by my estimate, at least a third of the restaurant's customers have the same view. This is a problem that the city could easily help to fix — with a discreet little row of boxwoods, for instance.
Overall, there's little not to like about Prime + Proper. It's still a work in progress, but is showing every indication that it has the "chops" to eventually be one of our great, true destination dining spots — a place to take a son or daughter for a special birthday, or to celebrate an anniversary or retirement.
Keep going, Prime + Proper. We truly want this to work.
---
1145 Griswold St., Detroit; 313-636-3100. D. Daily
Facebook Comments