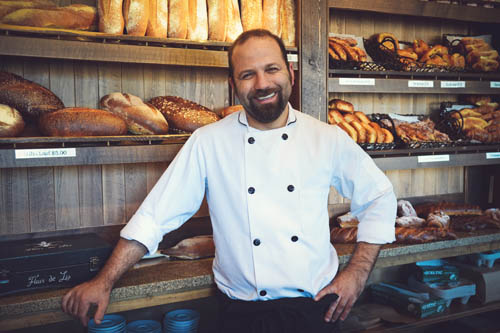 Even if you've never stopped by Cannelle Patisserie in Birmingham's rail district to pick up a chocolate éclair or cream puff, chances are good that somewhere along the line, you have sampled Matt Knio's work.
Since opening his first little shop in Southfield's Applegate Square in 2003 — he called it Cannella (with an "A") Patisserie, moved it two years later to Hamilton Row in downtown Birmingham, where it closed in 2008, and reopened it earlier this year on North Eton Road — Knio has expanded far beyond just sweets.
His croissants, baguettes, and hamburger and hot dog buns are served in a number of restaurants: Great Lakes Coffee locations; Social Kitchen, Townhouse Bistro, Streetside Seafood, and Luxe Bar & Grill in Birmingham; Town Tavern in Royal Oak; and Roadside B&G in Bloomfield Township among others. The baked goods are also found at Hiller's markets. Some of his cakes are sold frozen at Whole Foods.
It was Luxe Bar & Grill in Birmingham that started it all, Knio says. When it was getting ready to open, proprietor Joe Bongiovanni asked him if he could make brioche buns for the burgers. "No problem," was the answer from the chef who studied pastry and chocolate at the Academie de Versailles in France. And he has been making the glossy buns ever since for Luxe and its satellite location in Grosse Pointe Farms. After sampling the potato buns at Social Kitchen, Knio went to proprietor Zack Sklar and told him: "Give me a chance. I can do it better." It took him a few weeks, but he tweaked the recipe for a better result.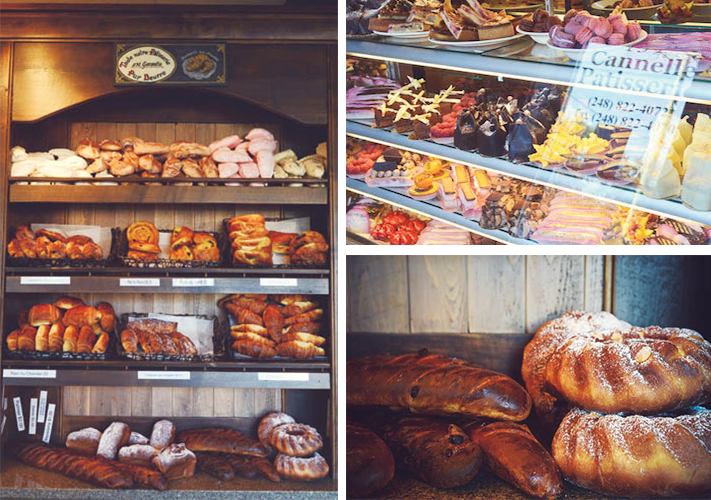 All of the above are produced in the three-room kitchen at Golden Wheat on Trowbridge Street in Hamtramck, a company Knio started to increase production and expand into the wholesale business. He rents half the building from the Polish Market, which occupies the other half. Knio says he needs the extra rooms for working with chocolate in an area not filled with gluten from the flour in the pastry section. "Gluten in the air is not good when I do chocolate," he says.
Knio works with a small staff at Golden Wheat headed by bakers Malak Harajli and Roro Itani. At Cannelle in Birmingham, where the phone is answered with a cheery "bonjour!," another partner, Garen Damiryan, runs the shop. Cannelle, by the way, is French for cinnamon.
Knio's pastries are made with much less sugar than typical American baked goods. Although he was born in Beirut and raised on the Ivory Coast, where he worked at a cacao plantation, his style is French through and through.
For December, Knio and his bakers will be busy creating buche de Noel — Yule logs — the traditional French Christmas cakes shaped and decorated to resemble logs. The most popular pastries in their repertoire remains, however, chocolate éclairs and croissants. Just as good as the ones in Paris, customers say.
Cannelle Patisserie, 159 N. Eton Rd., Birmingham; 248-822-4072. Hours: 6:30 a.m.-7:30 p.m. Tue.-Sat., and 8 a.m.-4 p.m. Sun.
Facebook Comments