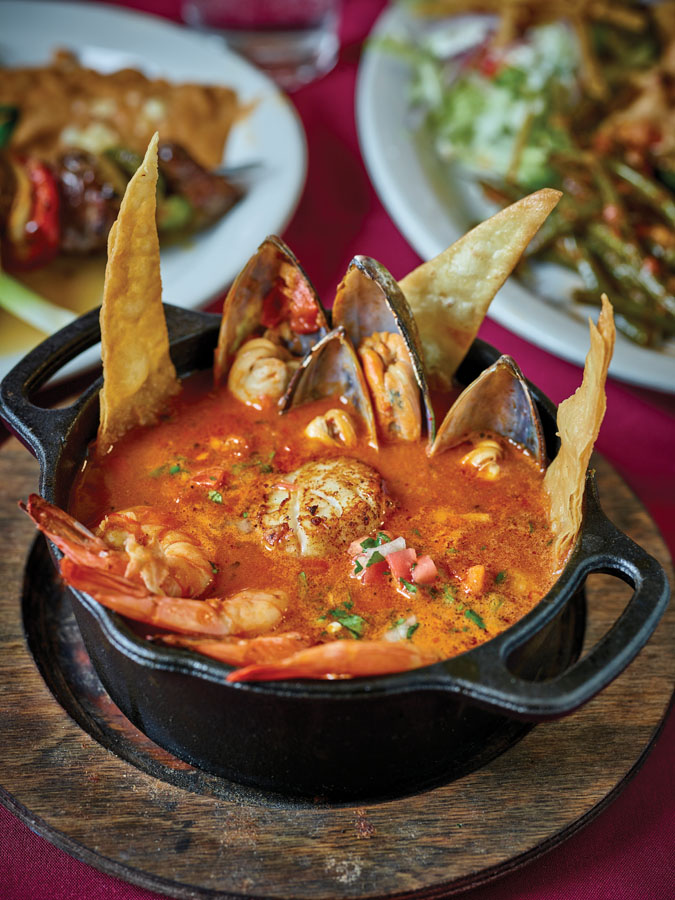 O
rder the guacamole at El Asador Steakhouse and watch as the avocados are mashed tableside in a mortar and pestle, then spoon-mixed with the other ingredients.
That's as fresh as it can get. And the chips seved with it comes to the table warm and freshly made throughout the evening.
And there is much more.
Our restaurant choice for this month, El Asador in Mexicantown, serves bright, fresh, well-done food prepared with the kind of pride you see in restaurant owners who revere their ethnic traditions — and have the skill and the discipline for doing it correctly.
El Asador sits just off the Springwells exit off of I-75, under the railroad bridge and catty corner from the famous Vince's Italian restaurant in a small commercial building.
The place is fairly small and unassuming. The décor at El Asador is your basic Restaurant 101 design: Pleasant Mexican trimmings. A Frida Kahlo-like tableaux of lilies and sunflowers are on one wall while an oil painting of a woman working a field is on another. There are soft yellow upper walls and wood paneling on the lower half, plus utilitarian table settings and a friendly and efficient waitstaff.
El Asador is a Detroit story, often repeated, of people who came here and worked hard to earn their foothold in this country: The Poles in Hamtramck, the Hungarians in Southwest, the Greeks in Greektown, and African-Americans in Black Bottom.
Detroit, never a particularly homogenous place, has always been more like a beaded necklace, a collection of villages and self-identified hamlets strung together by geography, then carved through by highways, war, and, of course, the auto industry, with its fabulous wealth.
One of those beads in the necklace is Mexicantown. The Mexican population began to arrive early in the century to work in steel, auto, and agriculture. But after the turbulent 1930s, the community resettled here in the 1940s. By 1969, it had grown enough that the local Holy Redeemer Catholic Church began holding a weekly Mass in Spanish. Restaurants began opening along Vernor Highway and Bagley Avenue — still today the main area for dining. The most famous were Xochimilco and El Zocalo, which closed recently after 33 years under the guiding hands of Hugo and Yvonne Cordoba. He died three years ago. She is now 80.
That's the kind of durability that has been a signature in Mexicantown.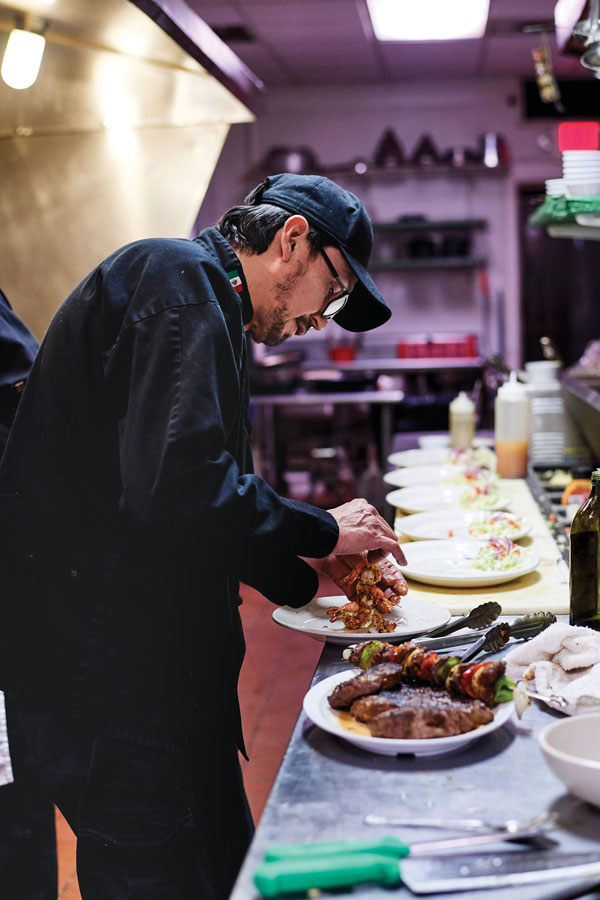 In the 1960s, the necklace of the city unraveled, and crushing abandonment followed the decade's urban unrest. Many of the beads scattered, but not in Mexicantown, where a slow growth continued. By the 1980s, it was vibrant and had solidified its own identity.
Today, as the necklace is rapidly restrung, Mexicantown stands firmly where it began. The arrival of a new kid on the block like El Asador, some three years ago, creates a continuum.
The menu at El Asador, which means the grill, emphasizes a range of high-quality steaks dressed and prepared in common spices of Mexico. But it also has traditional listings such as chili relleno, chicken mole, tacos, enchiladas, and others. The food is exquisitely good, totally and recognizably Mexican, but flying on a level several notches up from most other menus.
Chef Luis Garza has been around town for sometime. He came to this country in 1985 and worked first at Ristorante di Modesta on Northwestern Highway, where the famed Bacco Ristorante now resides.
Among his stops were the kitchens at several Andiamo locations, and then Rojo Mexican Bistro, both part of the Andiamo Restaurant Group headed by Joe Vicari.
Garza says that El Asador is a family project, and several relatives — including his mother — contribute ideas and knowledge of the regional aspect of their family's style of cooking (the area northeast of Mexico City).
The distinction in Garza's food, he suggests, is the freshness of ingredients. For that, he shops for vegetables and other foodstuffs at Eastern Market in Detroit.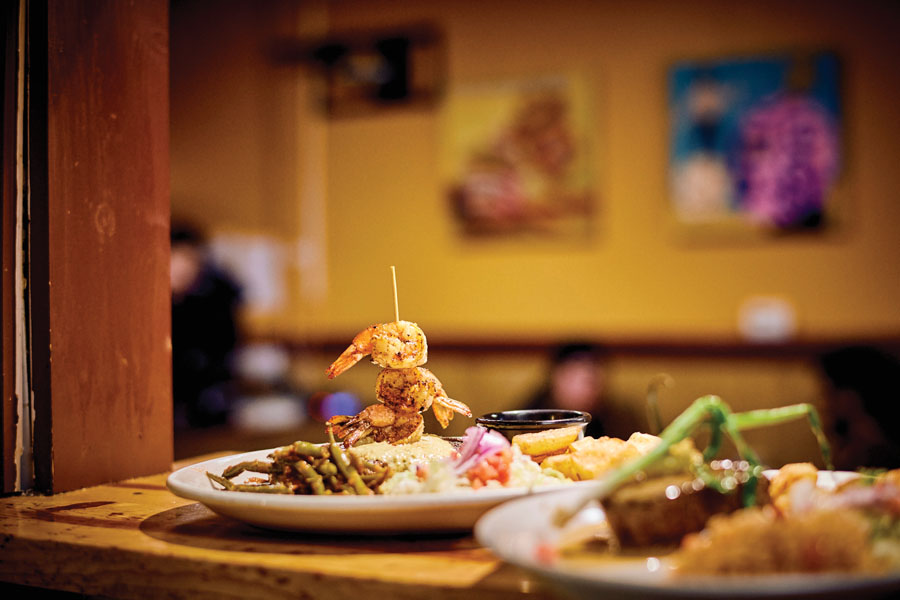 "We don't have a walk-in cooler here, so everything needs to be done every day or two," he says. "These sauces that we make, they don't last too long, and we have to keep that fresh taste."
Garza says he wanted a restaurant on a higher plane, essentially "gourmet-ing" up what most people know as Mexican, and offering a few new things of his own along the way.
"I wanted to do what a good restaurant in Mexico does. You will often get traditional dishes, but the chefs will also be free to add his ideas and change it to a higher level of cooking," Garza says. And that is precisely what you get at El Asador. The key, Garza suggests, is knowing what to change and how much you can alter it to create an improved version.
"Chef Luis Garza's food is exquisitely good – recognizably Mexican cuisine, but flying on a level several notches up."
What Garza does at El Asador is unique — a concentrated cuisine with some modern flair, while staying faithful to traditional Mexican cooking.
Take for example, Garza's delightful and delicious Camarones en Salsa de Langosta: breaded shrimp stuffed with cheese, fried to a golden dark brown, and topped with a lobster cream sauce and poblano peppers. The dish married the heat of peppers, but they're mollified in a white cream sauce in which sit the shrimp cocooned in melted cheese and covered with dark breadcrumbs. The combination of hot, soft, fresh, and creamy works wonderfully.
Same goes for the mole, the complex Mexican sauce that is traditionally composed of Mexican chocolate and a load of peppers — such as ancho, guajillo, and chipotle — plus a head of garlic, peanuts, tomatillos, and cinnamon sticks. That's only part of it, so needless to say, it's very complex. But mole is very much a base sauce used throughout Mexican cooking.
In this case, it was served side by side with wood fire-grilled pieces of chicken breast, still moist when cut. A superior dish.
I was particularly taken with the traditional beans accompanying each dish: speed-milled out to a smooth and light purée of the usual brown beans, but zestier and more flavorful than the usual flat taste.
Among the choices of steaks: rib-eye con rajas is a chargrilled steak topped with a creamy poblano pepper green sauce. A ranchero-style New York steak is marinated and topped with homemade ranchero sauce, the famous tomato-based sauce of chilies and spices. The filet mignon is chargrilled and topped with a guajillo-ancho-chipotle butter sauce.
One drawback, soon to be overcome, is that El Asador does not yet have a liquor license, but Garza has applied. Meanwhile, under the state's eased back regulations, you may bring your own wine. The restaurant will supply the glassware.
By the time summer rolls around again, there should be an added outdoor patio and wood-burning grill for cooking a lot of steaks and more. The concrete has already been poured. Only the décor and plantings need to go in. The addition will almost double the current capacity from 55 seats to about 90.
All in all, El Asador is a great addition to any restaurant list, and very much worth the visit.
---
1312 Springwells St., Detroit; 313-297-2360. L & D Tues.-Sun.
Christopher Cook is Hour Detroit's chief restaurant critic. Email: editorial@hour-media.com
Facebook Comments