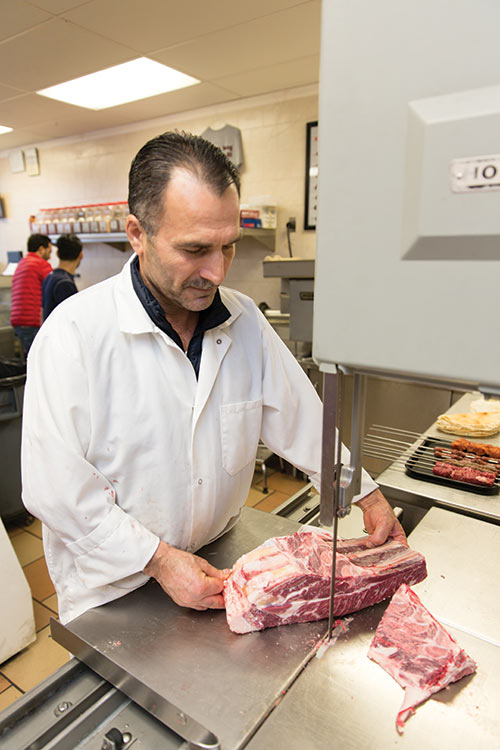 For most Arabic people, the best place to go for authentic food is Grandma's house. But the second best place is a self-professed hole in the wall that despite only having four tables squeezed into the back normally sees 150 people on an average day and 250 on a busy day.
Abe Saad and his family opened the Dearborn Meat Market in 2007; their current clients may remember his father from when he owned the Saad Bros. Supermarket from 1974-2000. Today, the Saad family's restaurant allows them to share their passion for high-quality meat with people in their hometown, CEOs and VPs from local companies coming in for meetings, and visitors from across the country.
They've enjoyed so much success that they can even afford to turn people away if they don't order correctly, as in the case of Seth Kugel of The New York Times. Known as the Frugal Traveler, the writer recalled his experience at the Dearborn Meat Market in October when he tried to order one kafta kabob and was told to order five. After he said he wasn't hungry, and then attempted to order the suggested five, he was told to come back later.
"We're tiny and in the middle of nowhere, but people keep coming back because they love our food," Saad says. "Everything is more natural here. We start with the best and we don't really do anything to it. We don't even add salt or pepper unless you tell us to."
The grillers crank out shish kabobs, kafta, tawook, and more every seven minutes, but Dearborn Meat Market is anything but fast food. The paper plates are flying, but what you notice is the fresh taste — a testament to the Saads' commitment to quality.
"This is what we love, so we do everything ourselves and we don't cut any corners," Saad says. "We slaughter all our own beef on-site in Port Huron, so it's never in bags or slabs. All of our beef is halal and choice or prime."
Dearborn Meat Market has always been a family affair, with Saad's father at the helm and in charge of all the recipes, his brother Ali taking care of accounting, a cousin taking orders, a family friend manning the grill, and Saad himself as the social media manager.
After the restaurant took off in 2012, Saad left his corporate job and took photography classes. His work paid off and Dearborn Meat Market has amassed thousands of followers on Instagram where their mouth-watering photos lure people in. He attributes 60 percent of their business to the traffic from the foodie-loving social network, and 40 percent to word of mouth.
While there's no shortage of Arabic cuisine in Dearborn, Saad says from-scratch recipes and budget-friendly prices make their market stand out. He's tried food from all their competition and notes that most places marinate their meats, which the Saads' recipes don't call for.
Despite their success, Saad says there aren't any plans to expand the space, mostly because they don't want the restaurant to lose its busy, homey charm, which he likens to being "at a barbecue or in your own living room."
"We hit the lottery when we found a way to make the food we love in a way that makes other people love it too," Saad says. "We work from our hearts and people can tell."
---
7721 Schaefer Rd., Dearborn; 313-581-8820. dearbornmeatmarket.com
Facebook Comments