On a sunny day in May, the garage door of an old Detroit car dealership stood open to the warm breeze. The dealership is now an art gallery. And the gallery was doing temporary duty as a food stand serving sweet-potato waffles and coffee to Midtown pedestrians.
Inside, Anthology Coffee, a local roaster opening a retail space in Corktown soon, served Honduran espresso and artisan-quality lattes. Tawnya Clark turned out sweet-potato waffles with two waffle irons. It was Clark's second time showcasing her upstart sweet-potato business, Batata, as a pop-up inside the Museum of Contemporary Art Detroit (MOCAD), where she'd been invited by Anthology owner Josh Longsdorf. Both say they shun the concept of competition.
"You kind of find your tribe, the people who do the same things you do," says Clark, who prepares her sweet potatoes in the kitchen of the Traffic Jam & Snug restaurant nearby. "When you make those connections, you find that really wonderful things can happen." Clark says she had always envisioned a more traditional operation. A bricks-and-mortar shop is still her goal, but "re-imagining" the way she can distribute her waffles in this pop-up style has led to the relationships she'll continue to rely on to support her burgeoning business.
Also at the MOCAD stand was Ben Newman, who talked about why he's opening a bagel business in Corktown. A clue: It's not just to fill the city's bagel void. Newman and his brother Dan plan to open the Detroit Institute of Bagels later this year about a mile east of Slows Bar BQ. They want to inspire people, he says, to begin walking along Michigan Avenue again. That goal is one with potentially far-reaching benefits. A just-released Brookings Institution study shows that real-estate values increase as neighborhoods become more pedestrian-oriented.
"It's about so much more than bagels," says Newman, who has a master's degree in urban planning. "I was always interested in how we could use food to build a community."
It's said that the quickest way to a man's heart is through his stomach. The same could be said for a city. Introductions to previously unexplored locales often begin in the cafés, greasy spoons, delis, and dinner destinations that line city streets.
Beyond that first date, food also has the power to build lasting relationships. For Motor City expats eating at the Detroit-style coney in West Hollywood, Calif., biting into a chili-and onion-topped dog momentarily takes them back to Michigan Avenue. Food often defines place.
In Detroit, food is helping redefine. As fledgling food entrepreneurs multiply and seasoned veterans hold their own, their success has buoyed entire neighborhoods. The founders of Avalon International Breads inspired a block of businesses in a formerly devastated section of Midtown. Corktown has grown into a dining and drinking destination, becoming the new darling of national media — from Food & Wine and Bon Appétit to the The New York Times, among others.
"Food is an overlooked and under-appreciated component of our local economy," says Olga Stella, vice president of business development at the Detroit Economic Growth Corp. A recent MSU study found that food and agriculture's contribution to Michigan's economy increased nearly 50 percent between 2004 and 2010, hitting $91 billion. The sector also accounts for 22 percent of all jobs in Michigan.
"Food businesses are a really important part of our overall business climate, both from being important jobs generators to also providing an important quality of life component," Stella says. "Whether they're neighborhood grocery stores or restaurants, food is a fundamental need that people have."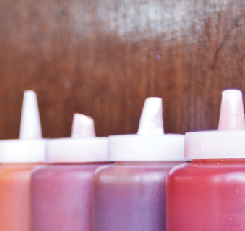 In the recent past, Detroit was derided as a "food desert" in media reports using the presence of national chains as a barometer. That label is starting to fade, thanks to recent Detroit groundbreakings by Whole Foods and Meijer. But the movement really began with entrepreneurs who opened in Detroit when the chains wouldn't, paving the way for the entry of chains.
Food entrepreneurs are generating jobs, revitalizing neighborhoods, and giving outsiders a different perspective on the Motor City. In national and international coverage, Detroit is beginning to look a little more like Portland, Ore., and Brooklyn, N.Y., than a Rust Belt has-been.
Detroit has become a bit of a trendsetter. There was evidence of that shift at a recent national conference on food and community in Asheville, N.C. The event, sponsored by the W.K. Kellogg Foundation, hosted more than 500 attendees from around the country who all seemed to want to talk about one place: Detroit.
"People wanted to know all about what's going on here. Lots of people are looking at us," says Jess Daniel, a conference panelist and co-founder of FoodLab Detroit, a community of food entrepreneurs that supports the development, growth, and cooperation of locally owned food enterprises.
Daniel and others steeped in the local food scene say there's a reason Detroit stands out. Unlike other cities that have received attention for isolated food trends, such as urban agriculture, Detroit is developing a distinct food system that's based on relationships, collaboration, and bridging the gap between socially conscious businesses and pure profit. "Detroit is on the cutting edge" of the larger picture when it comes to the food business, Daniel says, and that's not really being done in any other American city.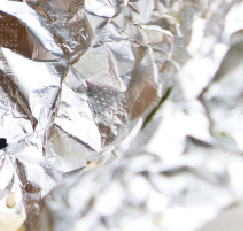 "It's a very ripe climate for small food entrepreneurs in Detroit," says Randall Fogelman, Eastern Market's vice president of business development. He notes that people had to take their destinies into their own hands here because of the dismal economy. Consumers have also realized that the only meaningful way to prop up their communities is to faithfully support local endeavors.
Historically, municipalities have chased chains and "smokestack" businesses for economic development, but academic studies have shown that entrepreneurs have become increasingly more important. "Local entrepreneurship helps explain why some cities grow faster than others," a 2007 Harvard report noted. Budding entrepreneurship is one measure of a city's health.
With cheap real estate and a low cost of living, barriers for entry in Detroit are low. Before McClure's Pickles chose to retool a former American Axle building as its new production facility, they considered expanding their Brooklyn output. In the end, Detroit made better financial sense.
The barriers are even lower for food businesses, Stella says. "Food is accessible to everyone. You don't have to have fancy college degrees or a whole lot of money to experiment in your kitchen and develop a great recipe. You just have to love food and have patience and some skill in cooking."
You also need courage. Entrepreneurs are defined as business owners who take on greater-than-usual risks to open and operate their enterprises. That's true of the Detroit businesses profiled on the following pages, all of which staked a claim in the city's growing "foodscape," capturing hearts along the way.
---
Name: Anthony Curis
Business: El Guapo
Feeding Detroit by: First officially sanctioned food truck in Detroit
One would think food on wheels would be a natural fit for a city built on the automobile.
Food trucks are wildly popular in other U.S. cities, but this month marks only one year since the first officially sanctioned food truck in Detroit, El Guapo Fresh Mexican Grill, began serving gourmet tacos and burritos downtown.
The work began much earlier, though. El Guapo co-founder Anthony Curis bristles when asked about the reported 60 trips it took to City Hall to get the business licensed. "We did have several meetings with the City, but they were all good meetings," Curis says. "It wasn't like we were constantly going down there fighting the City."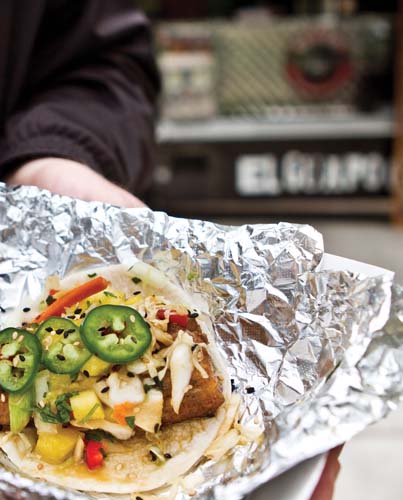 Still, convincing civic leaders that food carts can have a positive social and economic impact in a town where the ordinance on mobile food vending hadn't changed in 50 years took some maneuvering, Curis says. "A lot of municipalities are afraid of food trucks — afraid it's going to rock the boat, afraid of what it could do to brick-and-mortar — even though it's a proven thing that, if it's regulated, it can do wonders for an urban area."
That's precisely what the El Guapo food truck set out to do. "Our goal from the beginning was to really help get people on the street," Curis says, explaining his reasoning for blazing the trail rather than opting for a stationary restaurant. He credits the thriving street-food scene he encountered while visiting family in Austin, Texas, for inspiring him to take a closer look at the nationwide phenomenon, leading him to New York City, Los Angeles, and San Francisco for further research.
The sleek black truck (El Guapo means "the handsome one" in Spanish) is decked out with flat-screen TVs and now serves, among other items, pork-belly burritos and Korean short-rib tacos in a handful of locations around Detroit, including the Wayne State University campus and Eastern Market. Recently, co-founder Doug Runyon left the operation and was replaced by Dan and Lindsay Gearig, formerly of Chow Catering, another mobile-food venture. El Guapo employs about 10 people, but thanks in part to the new partnership, will be expanding its concept and doubling its workforce.
But can food trucks really have the impact Curis set out to achieve? Actually, there may be even wider economic benefits, as "The Food Truck Industrial Complex," an October 2011 article in The Atlantic Cities pointed out, saying: "Besides the truck outfitters, there are permit expediters, menu consultants, lawyers, lobbyists, website designers, marketing professionals, and phone-app developers who have managed to expand their businesses thanks to the food-truck phenomenon." In California, business has been so good for food-truck manufacturer Armenco, that the company moved to a new facility with plans to double its production.
There are currently no food-truck manufacturers in Michigan, but if current trends continue, that could change, too. Curis says that's just part of the bigger picture. "I see Detroit really taking a turn from a manufacturing-based climate, which is still a major part of it … to a city of creative small businesses, entrepreneurs, all these great little restaurants," says Curis, who is also a partner in the downtown art gallery Long-Sharp/Curis. "In my opinion, those are the things that make a city."
---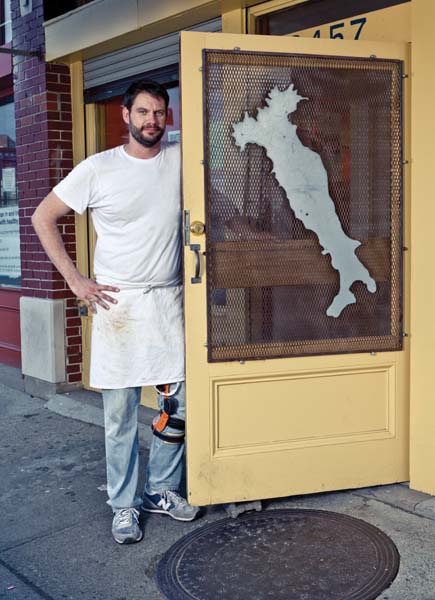 Name: Dave Mancini
Business: Supino Pizzeria
Feeding Detroit by: Helping define food's potential for reshaping the city's economy
Delayed gratification may be overrated.
At least, that's what Dave Mancini, owner of Supino Pizzeria in Detroit's Eastern Market, decided for himself after a seven-year career as a physical therapist. It was a fine way to make a living, but the long-range goals and paperwork were a bit of a drag. With food, Mancini says, instant happiness is possible.
"I'm the kind of guy that values immediate results," Mancini says. "I love it that people can come in and I can give them a pizza in 10 minutes."
Supino has basked in national attention for its role in helping define food's potential for reshaping Detroit's economy. He's been quoted in The New York Times, featured on CNN Money and The Food Network's Diners, Drive-ins, and Dives, and had mentions in Food & Wine and on the Travel Channel. However, Mancini knows good intentions alone won't carry his business or the city's larger food movement. There has to be a quality product to support the hype, and Mancini labors toward that goal daily as he tosses Supino's signature thin crust in full view of patrons.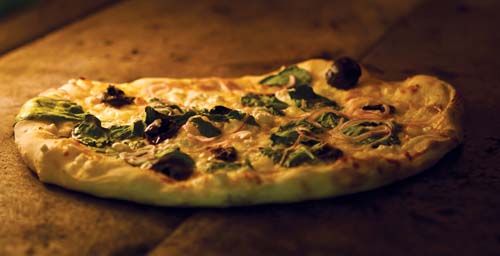 Mancini's efforts have been rewarded. The Detroit Free Press named his pizza the best in Detroit in 2009. Hour Detroit readers voted Supino the city's best single-location restaurant for pizza in 2011. Four years after Supino's debut, fans flock to Eastern Market to get a taste of the pies inspired by the recipes of Mancini's father's family in Supino, Italy.
"I think I've succeeded so far partly because of dumb naiveté," says Mancini, who spent years perfecting his crust recipe and looking for a location before opening in 2008 on Russell Street. "All I wanted to do was make [expletive] good pizza. I feel really lucky that I figured this out."
Mancini also wants suburbanites to try learning about what's really going on in Detroit. It's the main reason he says he'll never open up a Supino in, say, Royal Oak or Birmingham, something his fans keep telling him he should do. In fact, Mancini has no intention of opening a second location and has instead chosen to devote his extra time and financial resources to charitable causes that are helping to improve the city. Among them is Access Arts, an organization that hosts an annual public art exhibit at Belle Isle Park with the goal of fostering support for local artists in public spaces. Each year, Mancini donates 25 percent of his sales over a one-week period to the cause.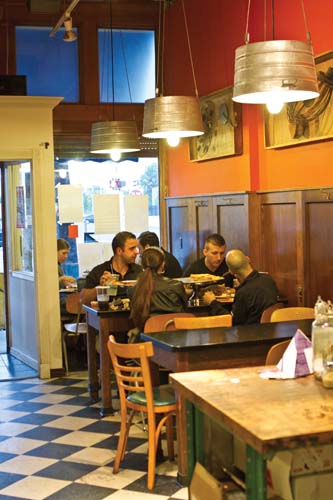 Mancini admits he never had a traditional business plan. He used to make most of the pizzas himself. Now he has 16 employees assisting. Supino buzzes every day, especially on market Saturdays when you're lucky to snag a seat in the 1,000-square-foot space.
The current business climate is "very ripe" for small-scale food entrepreneurs in Detroit who can do it well, says Randall Fogelman, vice president of business development for the Eastern Market Corp. Mancini proves this, Fogelman says, largely because of his pure dedication to making the best pizza. Detroiters are becoming more sophisticated when it comes to food and "customers aren't willing to pay for mediocrity anymore," Fogelman adds.
Mancini gives big props to those who are also striving to offer Detroiters a superior food experience. Among them, Sunday Dinner Company on Jefferson and most recently, Green Dot Stables on Lafayette, which serves gourmet sliders. Mancini's goal for Supino's future remains the same, he says, as when he opened:
"Seriously, I hope this place is always on par with the best restaurants in any other city."
Name: Ann Perrault & Jackie Victor
Business: Avalon International Breads
Feeding Detroit by: Their bakery gave rise to other neighborhood businesses
Eat well. Do good. Those two simple concepts are at the heart of Avalon International Bread's operations.
Simplicity breeds complexity, they say, and that has certainly proved true for the Midtown Detroit bakery's co-owners, Ann Perrault and Jackie Victor, whose guiding principle — "100-percent organic flour in everything, every day" — has spawned a business of 43 wholesale clients, 1,000 daily retail customers, 48 employees, and annual revenues of $2.3 million.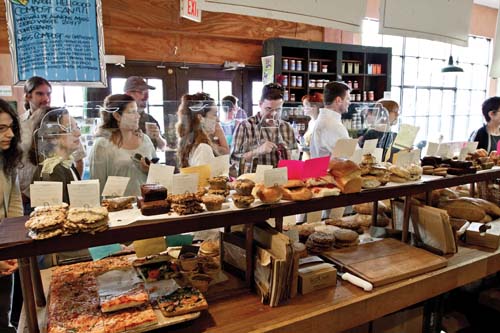 And like the yeast used in Avalon's Motown Multigrain, all those numbers are projected to rise. (At press time, the company was weeks away from closing on a new production facility near the old Packard Plant, offering quadrupled manufacturing potential, with plans to move its retail storefront into the Willys Overland Lofts building next door to its current location.) The growth has garnered the attention of Michigan's Small Business Association, which included Avalon on its "Michigan 50 Companies to Watch in 2012" list. At the acceptance ceremony, Perrault says she sat next to a woman who ran a $14-million business but employed only five people.
At Avalon, a triple bottom-line business where employees are one of the three pillars (along with earth and community), its workers have always received fair wages, full benefits, and paid vacation. "It was the intention in our business plan to help revitalize our community," Perrault says. "I think both Jackie and I have an intense passion for the city of Detroit, in terms of trying to rebuild that neighborhood that's been hit very hard."
In 1997, before Midtown was the burgeoning hotspot it is today, back when the area was still widely and infamously referred to as the Cass Corridor, Perrault and Victor converted a windowless building into the bakery and café that's credited for helping resuscitate an entire block. Five homeless shelters called the neighborhood home, Victor recalls, and a sort of tent city had popped up one block south of the bakery. "It was a place where one saw a lot of desolation," Victor says. "We were seen as adventurers because we saw the potential."
That potential included a food co-op on the corner and a number of cultural and medical institutions nearby, Perrault adds.
"People were so excited that we were going to do a bakery. Before we were even open, people wanted to buy things."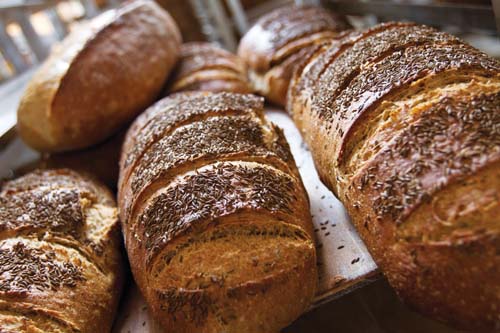 Taking advantage of the excitement, the women sold vouchers for loaves of bread before opening, raising $6,000 from friends and family. The money was used to throw a grand-opening party. The event was so successful — 750 people showed up — that they decided to throw a birthday party every year. The third year, a clothing shop used the timing and additional foot traffic (as well as a loan from Avalon) to open in the same building. Since then, the Spiral Collective, a women-owned retailer on the corner, and Goodwells Natural Food Market next door, have done the same. Avalon even let Goodwells use its credit with vendors until the organic grocer built up its own. "We definitely helped open up other business on the block," Perrault says.
The economic ripple effect extends beyond the block, too. "Green Safe was created from Avalon," Perrault says, referring to Green Safe Products, a Detroit-based company that has grown into one of the largest distributors of biodegradable food containers in the country. "There's individual businesses that can be created into long-term ventures that have a huge impact on the economy. There are some companies that have done it for a long time and have expanded that into the state. A good example of that is Better Made. Better Made buys all of its potatoes locally. It created Michigan Box Company. And we're not talking small companies here."
To create ripples, someone must dive in first. "It's really easy in a capitalist society to be followers — go where the money is," Victor says. "But for us, it's really important to be leaders, to see the potential where others don't."
---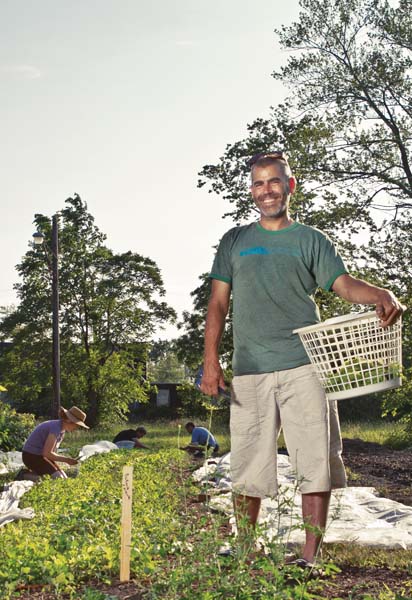 Name: Greg Willerer
Business: Brother Nature Farm
Feeding Detroit by: A new business model —making a living off vacant land in the city
A bee circles Greg Willerer's head, landing occasionally to tiptoe along his cheek. "I'm not a flower!" he yells, almost laughing, eyes shut tightly. "Get off me!"
He sits at a picnic table in the middle of a lush garden, budding fruit trees just yards away, so it's difficult to blame the wayward insect for the mix-up. Likewise, if a visitor to Brother Nature Farm pretended the distant rushing sound of I-75 were a waterfall and ignored the lights of MotorCity Casino looming a few blocks to the east, one might also mistake the setting for a pastoral plot far from any city.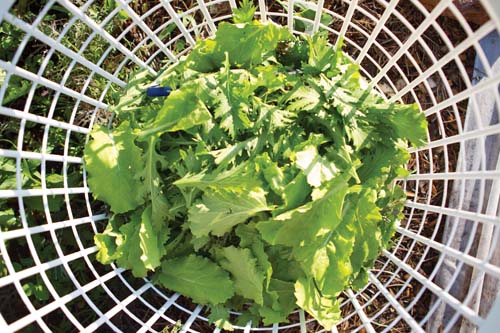 What started as a simple backyard garden, a way for Willerer to be "a little more self-sufficient," took on new life in 2008, when he quit a 15-year teaching career to dedicate himself fully to Brother Nature Produce. He and his wife, Olivia, a former horticulturalist for the Belle Isle Conservancy, have seen Brother Nature grow to encompass two acres in Corktown. Their gourmet salad greens — arugula, mizuna, sorrel, and New Zealand spinach — sell out quickly at Eastern Market. And their produce lasts longer than store-bought salad mixes. "What's available at most stores sucks," Willerer says. "It's food out of a box that's been processed. The salad goes bad so quickly, and it's rinsed with huge amounts of chlorine and devoid of any kind of nutritional value." That's why at Brother Nature, rows of greens are covered with cloth tarp and sprayed with a non-toxic soap to keep the bugs off. No pesticides, ever. The longer shelf life is also why Roast, Mudgie's Deli, and Woodbridge Pub, among others, pay a little more for their produce, Willerer says.
One of Brother Nature's goals is to make fresh produce more accessible, not more expensive. "Whole Foods has given organic food this label that it's only for rich people," Willerer says.
"I think what we're doing is really contrary to that. Our bags have remained the same price for the last four years: $4 for half a pound."
The couple's endeavors have had an impact that goes beyond good greens. Like the bees buzzing around their gardens, their activities are helping pollinate a neighborhood. They clear brush on adjacent city-owned lots, keeping lines of sight open. "All of us feel a little safer because of [the farm]," Willerer says. "This isn't just a wild area. It's an intentionally planned area, so people can't just come back here and start doing crazy [expletive]. We're vigilant here."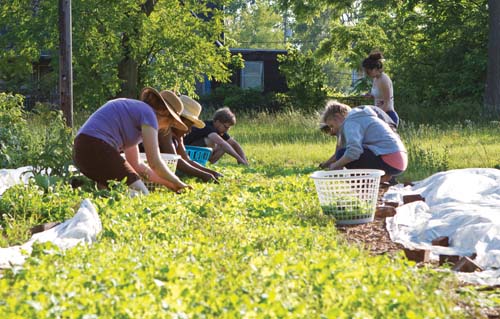 More broadly, Brother Nature is an example of a new kind of Detroit-based business model. "I tested out this theory that you could make a living off of an acre of land in Detroit," Willerer says. "We found a huge hole in the market, and we're seizing that opportunity. You can't grow something this good and ship it across the country.
"We send our money out of Southeast Michigan and out of Detroit. It's especially perplexing in Detroit because we're in such a terrible financial state. So why wouldn't we start producing a lot of the food and products here?"
---
Name: Lydia Gutierrez
Business: Hacienda Mexican Foods
Feeding Detroit by: Creating local jobs and expanding her community
In a conference room overlooking Hacienda Mexican Foods' 66,000-square-foot manufacturing facility in Southwest Detroit, Lydia Gutierrez marvels at lunch.
"Isn't this just too cool?" she asks, washing her hands. Displayed before her and several others is a midday spread of lentil soup, fresh ceviche, and salad, all homemade by a woman Gutierrez employs to cook regularly for her office staff.
"We eat together every day. We're a family here," says, Gutierrez, the president of Hacienda.
The family-owned business employs about 100 people who make tortillas, chips, and tostadas for shipping wholesale all over Michigan. Business is good — the company pulls in close to $10 million in annual revenue — but the intimate lunchtime gatherings more accurately underscore Gutierrez's priority, which is putting people first.
"My job isn't to come to work every day and be 'all that,' " Gutierrez says. "My job is to be a great administrator."
For this well-known businesswoman, that's a high calling that doesn't require an office or a desk. Even in a pair of stilettos, Gutierrez would rather pound the pavement, doing everything she can to know the community and its issues and keep Hacienda successful so her employees, most of whom live within a four-mile radius, will always have a place to call home.
She says the vibrant food-manufacturing scene in Mexicantown is what will keep Southwest Detroit growing. Her plans for the next year include expanding the business enough to be able to support at least 400 more employees.
"If people aren't working," Gutierrez says, "they're not out shopping, either."
She still wonders, however, if most people are aware of how much food manufacturing has always played a role in Southwest Detroit. She and her late husband, whose family has deep entrepreneurial roots in the food business, started Hacienda in 1995. Others have been there much longer, Gutierrez notes, citing Brown's Bun Baking Co., a wholesale bread company since 1929, and Aunt Mid's, a retail and wholesale vegetable supplier founded in 1948 that Gutierrez says sells "vegetables by the truckload."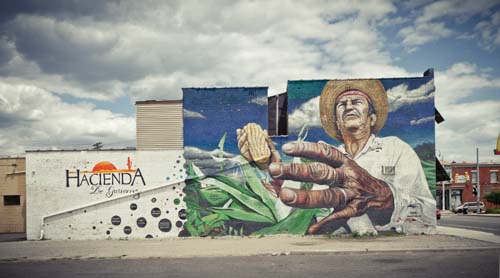 Gutierrez's ability to see beyond Hacienda's immediate business goals has earned her a statewide reputation as someone who understands the part that food business, in particular, can play in sustaining and expanding a community. On the day we visited, Gutierrez received a call from Gov. Rick Snyder's office regarding one of many economic initiatives she has consulted on throughout the years. In addition to her plans to hire many more employees, Gutierrez sponsors a Hispanic Cultural Center (it opened in June on Livernois in Mexicantown), where young people can take classes in music and the arts and learn about higher education.
"I truly believe that business owners have a responsibility to help grow the community," Gutierrez says. "Food is big in Detroit, and it's only going to get bigger. For us, it's totally about the employees and the community where they live, and staying true to what we make."
---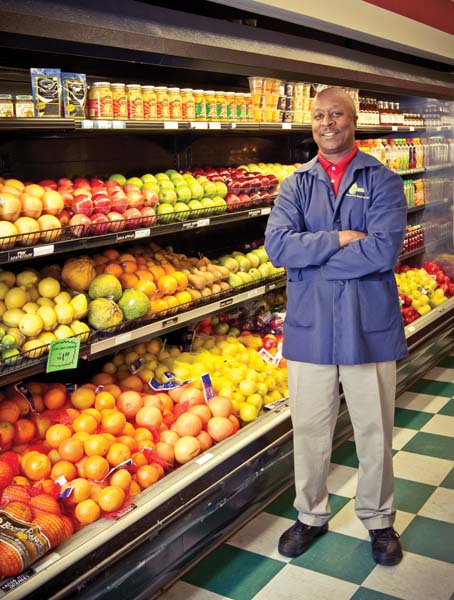 Name: James Hooks
Business: Metro Foodland
Feeding detroit by: An innovative approach to running an independently owned grocery store
James Hooks began his career as a bagger at Kroger, when the supermarket chain operated several stores in Detroit. He eventually became manager of the store at Warren and Conner. He was also the go-to-guy for police when there were break-in attempts.
Those late-night calls didn't annoy Hooks as much as they made him wonder why he wasn't the top boss.
"I just thought, if I'm doing this on the salary I'm making, I can go into business for myself."
At the time, Hooks was young, single, and "had nothing to lose." In 1984, he bought the Kroger on Grand River when the chain pulled out of the city. He changed the name to Metro Foodland and is now known as the only African-American owner of a full-service grocery store in the city, employing 43 people in Detroit's Rosedale and North Rosedale Park neighborhoods. He's got faithful customers who come in five days a week. He knows them by name. And when they ask Hooks to donate to a local cause or to advertise in a church bulletin, he doesn't think twice. That attitude reflects the benefits of local ownership. As he says, "How can you say no to the people that you see every day?"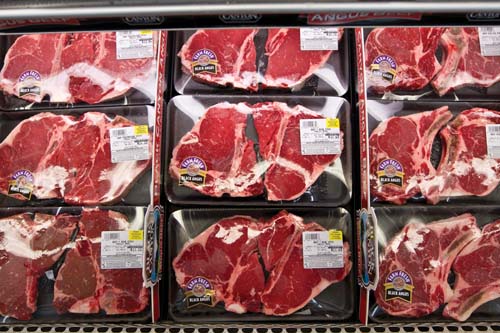 Olga Stella, vice president of business development for the Detroit Economic Growth Corp. (DEGC), says Metro Foodland is a "good example of the kind of work we want to be doing with neighborhood stores throughout the city."
But this isn't an easy business, cautions Hooks, who has seen too many mom-and-pop as well as chain grocery stores come and go over the last 28 years. It will always be about money, he says, and if you're not making it, you're gone. Hooks declined to reveal his annual revenue, but with about 85 independent grocers still operating in the city, he continues to fight the perception made famous in rampant national media reports that Detroit is a so-called "food desert" because of a lack of major grocery chains.
"So what have I been operating all these years? A desert?" asks Hooks, as he sits in his office just feet away from the grocery checkout lines.
Grocery chains are making a comeback in Detroit, thanks to economic-development inducements. Whole Foods recently broke ground in Midtown. Meijer did the same at Eight Mile and Woodward, where it will be part of a sprawling retail development that will include other brand-name stores, including Marshalls. Whole Foods and Meijer plan to be open by next summer.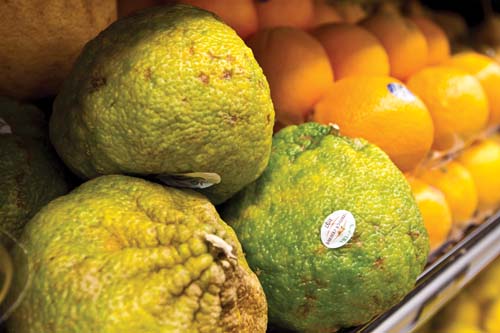 Hooks has anticipated the renewed food landscape in Detroit and is stepping up his game with new customer-service initiatives, such as online shopping, home delivery, and in-store shopping assistants. Through the DEGC's Green Grocer Project, grant money is helping fund a healthy-rewards program that promotes healthful eating and cooking. Metro Foodland will also feature a farm stand this summer with locally grown produce, thanks to a grant from the U.S. Department of Agriculture. In addition to the economic benefits of such efforts, there's the health aspect — one made more notable when viewed in the context of rising rates of obesity and diabetes nationally and in Detroit.
Grocers need to be innovative in order to cater to the demand for more and more diverse products, Stella says, and Hooks is making that happen for Metro Foodland.
The biggest challenge, however, might always be how to persuade customers that "independent" doesn't necessarily mean a higher price. People will still drive to the suburbs — and Hooks points out — probably to the new Detroit Meijer that will be just as far a drive for many neighborhood residents — to supposedly save money at the chain retailers. It's a mindset that Hooks takes on every week with Metro Foodland ads that urge:
"Fill your cart. Not your tank."
---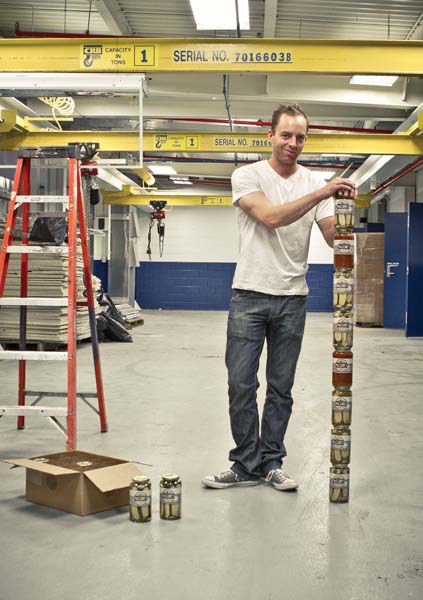 Name: Joe McClure
Business: Mcclure's pickles
Feeding Detroit by: Helping revitalize the city's economy and image
Years before Chrysler began touting its "Imported from Detroit" ad campaign, a small family-owned business was finding luck by including the Detroit stamp on its product.
"Detroit is certainly part of our brand," says Joe McClure, who founded McClure's Pickles with his Brooklyn-based brother, Bob. Every McClure's label bears a generic city skyline and both city names. "When we cooked that up, the idea was [to feature] two fantastic cities that we stand behind, that we both live in, work in, and both love."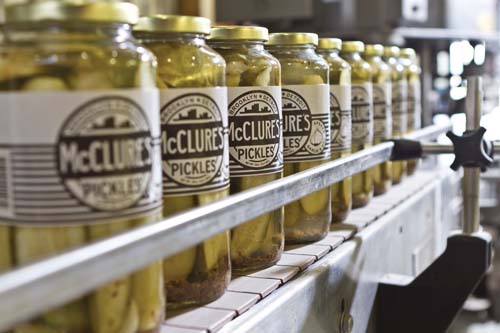 The Southfield natives had been making spicy pickles every summer as part of a longstanding family tradition, passed down from great-grandmother Lala's recipe. Six years ago, with help from their parents, the brothers turned the family pastime into an official business, selling jars of chili-pepper and garlic-packed pickles at boutique grocers and farmers markets in Brooklyn and Detroit. "People at the time were becoming more conscientious about what they eat," McClure says. "The farmers markets were getting a real stronghold. It was coincidentally a good time for us to start a pickle company."
The spicy spears caught on, thanks in part to coverage in national publications such as Bon Appétit and The New York Times, the latter of which called them "pickup-truck, not designer-S.U.V. pickles" that were "extremely good."
Since then, McClure's has diversified its product line to include relish, pickle-flavored potato chips, and a popular spicy bloody Mary mix. The hobby turned legitimate business allowed Joe to quit a burgeoning career in academia (he received a Ph.D. in physiology from Wayne State University) to oversee McClure's Midwest production and distribution. This month, the company plans to complete a move from a 3,000-square-foot production facility in Troy to a 20,000-square-foot space in a former American Axle building in Detroit, expanding its production to meet the demand of the now-international company. The Detroit name now travels along with McClure's products destined for Ontario and Australia.
"I think there's a lot of opportunity here," McClure says. "We looked at expanding more in Brooklyn, but it's cost-prohibitive compared to Detroit."
And there's a certain sense of community here that you won't find elsewhere, he says.
"You've got so many food entrepreneurs trying to hustle and bustle. People feed off each other. Everybody helps each other here, from branding, to marketing and distribution."
Beyond the financial good sense of producing in Detroit, McClure understands the symbolic impact his company has with every product sold bearing the city's name.
"We love to be part of the revitalization of Detroit," he says. "It's a great city to be involved in."
---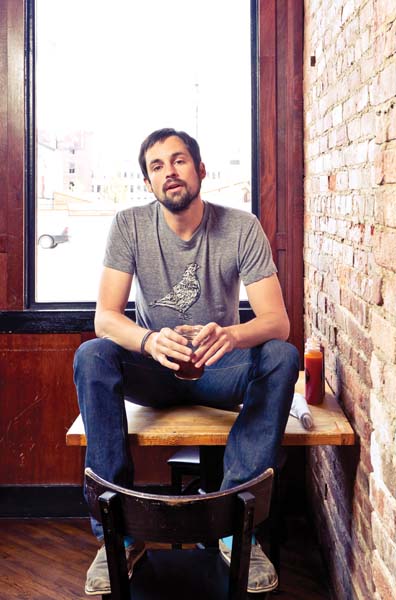 Name: Phil Cooley
Business: Slows Bar BQ
Feeding Detroit by: Sparking the revival of a once-forlorn stretch of Michigan Avenue
What's the mark of a bona fide business success? Maybe when you'd rather be labeled as a full-time volunteer or when you no longer have to worry about paying yourself. In the case of Slows Bar BQ, owner Phil Cooley has been able to hire assistants outside of Slows to support his mission of helping other socially conscious entrepreneurs change Detroit, leaving the daily restaurant grind to his trusted staff.
Slows opened in 2005, and there's no question that it's the food mecca of Corktown and beyond, serving about 245,000 patrons a year along a once-forlorn stretch of Michigan Avenue. Other businesses — Astro Coffee, The Sugar House, and Mercury Burger Bar, to name a few among several — have followed Cooley's lead with a similar hunger for working on the fringe in order to reap big rewards for themselves and the city. Those at the center of Detroit's food scene say Cooley's contributions to the revitalization of an entire neighborhood cannot be overstated. Indeed, the food-oriented strip near downtown caught the attention of Food & Wine magazine, telegraphing to a national readership one of Detroit's prevailing recipes for revitalization.
"I know [Cooley is] not fully responsible for what's going on there, but [Slows was] that catalyst to show people that if you put out a good product and do good for the community, people can rally around that," says fellow food entrepreneur Anthony Curis.
That dynamic is exactly why it's so appealing to live and work in Detroit, Cooley says, and why real food success here isn't just pie-in-the-sky, unlike in cities such as New York or Chicago, where it's all been done and the tolerance for failure low. Cooley recalls opening night at Slows, when more than 200 people showed up — many more than they expected — and the staff was still trying to work out service kinks.
"You can make mistakes and correct them in Detroit," Cooley says. "It's a great city to grow in. You can't afford to make a mistake in Manhattan."
Cooley believes there's still far more demand than supply for quality food experiences in Detroit. He has plans to expand Slows (he opened Slows to Go on Cass in Midtown last year) and will soon transform a pawnshop on Michigan Avenue into a seasonal-menu restaurant with all locally sourced food. Cooley will retain the pawnshop's name: Gold Cash Gold.
Food isn't the only topic that will attract Cooley's attention. With Slows firmly established, he's making sure others have the same opportunity to make "mistakes" and be successful in their socially responsible pursuits. How about paying and training homeless women to make coats that turn into sleeping bags for others who live on the streets? Veronika Scott is doing that with the support of Cooley's Ponyride, an "experiment," as the non-profit organization describes itself, in what can happen when people pool their resources in order to effect positive change for a community.
Through Ponyride, creative entrepreneurs such as Scott (she sits on the organization's board of directors) can rent space for 10 to 20 cents a square foot, considerably less than commercial lease rates, at a warehouse on Vermont in Corktown that the organization bought for $100,000. The goal is to foster collaboration and share knowledge and ideas that capitalize on both the strengths and crises of Detroit. Cooley suggests that all of these diverse pursuits will end up changing Detroit for the better.
But food will still always be integral to this higher goal, Cooley says. He envisions a Detroit in the near future that's similar to New Orleans in terms of food — short on brands and long on high-quality local restaurants that are "very authentic," affordable, and accessible to everyone.
"I love the way food brings people together, and there's plenty of room for more."
---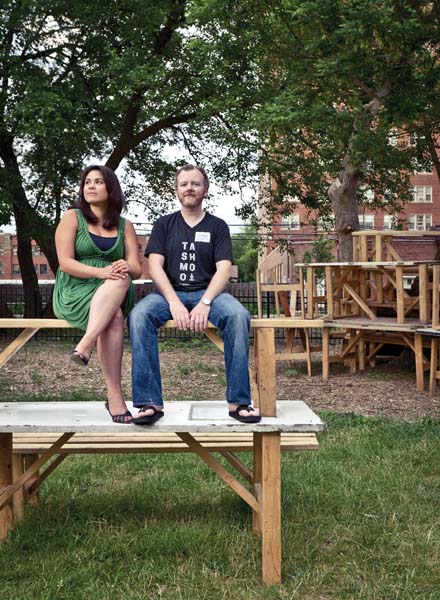 Names: Aaron Wagner & Suzanne Vier
Business: Tashmoo Biergarten
Feeding Detroit by: Bringing a new type of bar to the city and promoting Michigan products
Just west of Detroit's stately Indian Village lies a lesser-known community, a designated historic district with mixed housing that gets its name from its adjacency to its more famous neighbor. But the West Village has been garnering a share of the spotlight lately, thanks to a European-style beer garden in the form of a pop-up business on Van Dyke near Kercheval.
Tashmoo Biergarten, which shares its name with a former Harsens Island amusement park and a Great Lakes steamboat, is the brainchild of longtime West Village resident Aaron Wagner and his fiancée, Suzanne Vier. "We were Up North in Gaylord sitting outside on a beautiful day, having a beer," Vier recalls. "I looked at [Aaron] and said, 'Why don't we do a biergarten in Detroit?' He said, 'I've always wanted to do a bar in West Village.' " At the time, pop-ups were coming into vogue, and Vier had just returned from New York City, where Top Chef judge Tom Colicchio had held a pop-up biergarten last summer.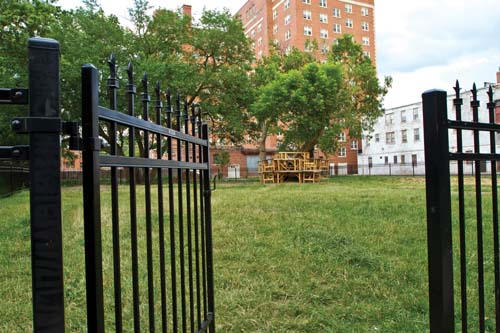 For five consecutive Sundays beginning last September, Tashmoo hosted thousands of patrons who happily drank Michigan craft beers, enjoyed fare from local food vendors such as Porktown Sausage and People's Pierogi Collective, and enjoyed the company of strangers and friends at communal picnic tables made from reclaimed materials from the city's demolished buildings. Tashmoo's second round, a "spring fling," was held over a picturesque weekend last May. "When we started, we thought of two phases: The first phase would be a temporary pop-up, and the second phase would be a semi-permanent structure in the West Village," Vier says. "That's definitely a goal. But we're also looking at some other options, too, because it takes a very long time to make that a reality. At the same time, there's been such a demand. People have been asking, 'When's Tashmoo? When's Tashmoo?' "
As Tashmoo progressed, Vier gave up more responsibility to Wagner. At the same time, her other venture, Simply Suzanne granola, has been expanding at an overwhelming clip. Founded in 2009 as Randy's Granola, Vier says the business has seen 500-percent growth since rebranding as Simply Suzanne in 2010, after the departure of founding partner Randy TenBrink. She credits the people at Garden Fresh Salsa for persuading her to undertake the rebranding effort, offering their mentorship along the way.
Vier, a Detroit native who returned in 2009 after a 15-year stint in New York City, says she realized she had something to say about granola because it had been a staple in her diet during her "corporate hamster-race" days in New York, where she was a talent recruiter for a software company. Simply Suzanne's sweet-and-savory granola blends were inspired by the food she encountered during her travels abroad, which included a training session with a Catalan chef in Barcelona. "One thing I've always loved to do from a personal standpoint is experience cultures through food," Vier says. "All my travel wrapped around learning about food and what people were eating."
The company, headquartered at Ponyride in Corktown, has seen its products picked up by Whole Foods and Kroger in the last year, and has been expanding into the Chicago area. In June 2011, 43 Meijer stores picked up Vier's organic, locally sourced granola. Six months later, Simply Suzanne was in every Meijer location.
"Essentially, what that told us was, we could compete with the national players," Vier says. "We could compete with the Bear Nakeds of the world."
But it's not just Vier's ventures that are picking up steam. "Three years ago, I really felt like I knew or heard of all the various food things that were happening in Detroit," she says. "Now, I just got an email from a woman who wants to carry our granola in a diner she's opening in Corktown. I had no idea there was a diner opening in Corktown!"
---
If you enjoy the monthly content in Hour Detroit, "Like" us on Facebook and/or follow us on Twitter for more frequent updates.

Facebook Comments