When you think of holiday dishes, what comes to mind? Definitely turkey. Pies for sure. Maybe stuffing or dressing, depending on what your family calls it. But metro Detroit is diverse and so are the dinner tables. To explore how locals eat, drink, and be merry through food, we traveled to the homes of a few cooks who opened up their doors (and their recipe boxes) to share with us the secrets to their moms' (and their moms' moms') most beloved meals to mark special occasions and celebrations.
---
Pie in the Sky
Before there was Olga's Kitchen, the matriarch made spinach and cheese pies for her church and special occasions, paving the way for an iconic, beloved local brand // By Dorothy Hernandez
As a young girl, Olga Loizon would help her mother make spinach and cheese pie. She would watch her, and then she would play her own role.
"She'd tell me, 'you sauté the onions and I'll keep telling you what to do,' " she says.
As an adult, Loizon would make the Greek staple for special events at the church and her version became popular in her community.
"I thought maybe I do have something here," Loizon recalls. Spinach and cheese pie was for special occasions because it can be time consuming to make, she says, "but once a few people got a taste of it and they proved to me that I had something, there was no way I was going to stop."
She would parlay that experience into opening her first store in 1970 in downtown Birmingham. "She used to do all the stuff at her house back then … and bring it in a little red wagon," recalls her daughter, Emily Kontos. That first store was in the Continental Market, an old A&P store that was converted into little markets for meats, cheese, and a health food shop. It was that 10-by-10-foot area where she started her adventure, Kontos says.
That adventure would lead to the beloved restaurant brand that became Olga's Kitchen. She sold it in the mid-'70s.
Despite nostalgia for the local chain, Olga's Kitchen fell on hard times before going into Chapter 11 bankruptcy. Team Schostak Family Restaurants bought Olga's Kitchen last year and has been going back to Olga's Kitchen's roots by using Loizon's original recipes. Now 90, Loizon is happy to be involved with her eponymous restaurants again.
One of those recipes used today at the eateries is the spinach and cheese pie, which Loizon learned from her mother, then passed it onto to Kontos, and so on to the next generation. Spinach and cheese pie is a staple, Kontos says, and can be served in triangles as an appetizer or cut into squares and served on a platter for the holiday buffet. The process of making spinach and cheese pie is a party in itself.
"You have the batch in the center and everyone has their strips and then they start making the pies and freezing them — that's how you would have them for the party," Kontos says. They'd make 10 trays, or 40 on a tray for the holidays.
Loizon, whose parents emigrated from Turkey to Detroit, is pleased that the restaurant chain that carries her name has returned to form and marvels at what it means to locals — and those who have moved away.
"I never dreamed I was going to accomplish this … (when she was starting up) everyone was like, 'You're gonna do what, Olga?' I thought, 'What the heck is the matter with opening up a little place, you know?'
"I got a little independent, (I thought) I'm going to do it whether they like it or not. That was the best thing I could've done for my family. … When it's done right, man, that (sandwich) they brought me yesterday (during lunch at the Olga's Kitchen in Livonia) was wonderful. I thought I was eating my first Olga's at home."
---
Olga's Family Recipe: Spinach and Cheese Pie
Ingredients
4 tablespoons extra-virgin olive oil
2 pounds fresh spinach, washed and drained
2 ½ cups scallions, sliced thin
4 garlic cloves, minced
½ cup fresh dill, chopped
1 teaspoon salt
½ teaspoon ground pepper
1 pound crumbled Greek feta
1 pound ricotta cheese
3 whole eggs
1 16-ounce package phyllo dough sheets
1 pound unsalted butter, melted
Directions
1. Preheat oven to 350 F.
2. Heat 1 tablespoon olive oil in a large sauté pan; add half of the spinach and sauté until spinach wilts, tossing with tongs, about 2 minutes.  Remove spinach and squeeze out excess liquid. Repeat the process again with remaining half of the spinach, using 1 more tablespoon of extra-virgin olive oil.
Chop spinach roughly and set aside to cool.
3. Heat remaining 2 tablespoons of extra-virgin olive oil in sauté pan, add scallions and garlic, and sauté for 3-4 minutes. Set aside to cool.
4. Once the scallions and garlic mixture is cooled, add it to the spinach.  Season with dill, salt, and pepper. Mix well.
In a separate bowl combine the feta, ricotta, and eggs and mix well.
5. Combine spinach and cheese mixtures together until well blended.
6. Brush one sheet of phyllo dough with the melted butter.
7. Top with a second phyllo sheet and brush with melted butter again. Fold the phyllo in half lengthwise. At the bottom of the sheet, place ½ cup of the spinach and cheese mixture. Fold the corner of the phyllo over to enclose filling and form a triangle continue folding (like a flag), maintaining triangle shape.
8. Put triangle, seam side down, on a baking sheet and brush the top with butter. Make more triangles in same manner, using the phyllo.
9. Bake triangles in the oven until golden brown about 35-45 minutes.  Transfer triangles to a rack to cool slightly.
Important tip: While working with phyllo you should cover the phyllo stack with 2 overlapping sheets of plastic wrap and then a dampened kitchen towel. Keep phyllo you are not working with covered so it will not dry out.
---
Combining Traditions
Entrepreneurial cook loves to experiment with flavors in the kitchen, but cooking old school — like her parents taught her — is best  // By Dorothy Hernandez
When Summer Homayed's family gathers for the holidays this season, their table will feature American favorites such as turkey and all the trimmings along with traditional Lebanese dishes like fattoush salad, baba ghannouj, and kibbeh nyeh.
"Traditions have become combined," says the Dearborn Heights mother of three who has seven siblings, making for large family celebrations. One of those Lebanese traditions is serving lamb with rice, called kharouf.
Lebanese lamb with rice is a two-day process. It starts at the butcher to find the freshest and tastiest lamb. Then you make the marinade, a yogurt-based mixture with allspice and hints of cinnamon. There's also at least a whole head of garlic, because "garlic and lamb are meant for each other," as Homayed puts it. Then you wait until the next day to cook it because the flavors have to meld for several hours in the fridge. Then you wait several hours more while it roasts, as your house is consumed by the tantalizing and taunting smells of lamb cooking to falling-off-the-bone perfection.
This is the process that Homayed learned while watching her dad, who owned the Arabian Village Bakery in Dearborn's south end with her mom. Her father was born and raised in Lebanon and came here when he was 27 years old and worked for Ford Motor Company. Her mother was born here, and her parents came here from Lebanon.
"We (she and her siblings) were literally raised in the bakery," recalls Homayed, adding they would each get their own dough to work with.
After helping her parents at the bakery, she took a break from food. She worked in education and earned an associate's in childhood education. After she quit her job, she was drawn to food again. "Cooking has been a blessing for me," she says.
These days Homayed runs a from-scratch, home-cooked meal business on Instagram (her profile is @summers_homemade_meals) catering to friends and neighbors. She writes up a new menu weekly, selling different dishes every Monday, Wednesday, and Friday, and what she comes up with is much like those family holidays wherein cultures collide.
But at the essence of the meal, whether it's chicken fettuccine alfredo or kusa (stuffed squash) is that it's homemade and made from scratch.
The lamb dish is no different. These days she likes to prepare it using new techniques or experimenting with flavors and infusing them into the meat, but to her "old school is best" because it brings back memories of family and food.
And what are the holidays about if not those two things?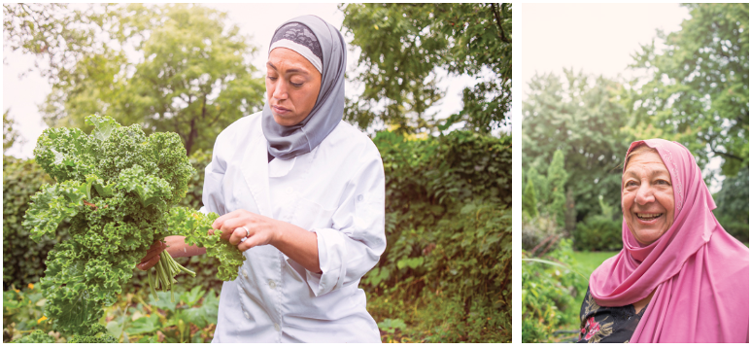 Lamb with Rice
Ingredients
For the lamb:
1 cup plain nonfat yogurt
1 tablespoon allspice, plus two pinches
1/8 teaspoon cinnamon
2 teaspoons salt, plus more to taste
1 teaspoon pepper, plus more to taste
1 head of garlic, cloves removed, peeled, and minced
1 6-pound leg of lamb, bone-in (ask the butcher to trim the fat)
2 bay leaves
3 carrots
2 onions
1 cup of beef broth*
For the rice:
3 cups parboiled rice, soaked for about 15-30 minutes and strained before cooking
1 pound coarsely ground meat, either beef or lamb
2 tablespoons butter
2 teaspoons allspice
Dash of cinnamon
½ teaspoon white pepper
½ cup of drippings from roast
1 teaspoon of salt
4 cups beef broth, heated to boiling*
For the Garnish (Optional):
Raw pine nuts, slivered almonds, or cashews
Directions
1. In a small bowl, mix the yogurt with the spices and garlic (alternatively you can stud the meat with whole cloves). Place the lamb in a large enough container or dish and rub the yogurt mixture on the meat. Wrap tightly and place in the fridge for at least six hours or overnight. (Don't leave it in the fridge longer than two days or the lamb will get tough because of the salt, which can dry out the meat.)
2. Remove the lamb from the refrigerator and let the meat come to room temperature, about 1-2 hours. Sprinkle more salt, pepper and allspice over the top of the lamb and add bay leaves, carrots, and onions.
3. Preheat the oven to 320° F. Transfer the meat and vegetables to a roasting pan lined with foil. Add 1 cup of beef broth and cover the lamb tightly with foil. Add a cup of water to the roasting pan (this will help steam the meat). Cook for 6 hours. Remove lamb from oven, and raise the heat to 500° F. Open the foil and cook for 30 minutes; this will brown the lamb. Remove lamb from oven, close the foil and allow to sit while you cook the rice.
4. After the lamb is done, cook the rice. In a large pot approximately 2-5 quart, brown the ground beef. Add the butter, allspice, cinnamon, salt, and pepper. Cook until fragrant, a couple of minutes, then add the rinsed and drained rice. Mix the rice with the meat ingredients and continue to cook for 2-3 minutes on high heat. Add 4 cups of beef broth and drippings from lamb. Cook on high until water comes to a boil; reduce to a medium low heat and cover. Cook until water is dissolved, about 15 minutes. If there is still extra water, remove the top and let cook until liquid evaporates.
5. Cook nuts in butter over low heat in skillet. Mix till light brown. Remove from heat and set aside till all else is finished. Serve lamb over the top of the rice with the carrots and onions.
6. Garnish with nuts. Serve with yogurt and cucumber salad. You can also serve with salad flavored with garlic, finely chopped mint, olive oil, and salt.
*Since beef broth isn't available halal, Homayed uses boiling water and a bouillon cube.
---
Where's the Pasta?
For Italians, it's just not a holiday meal without it  // By Kathy Gibbons
For many people who grew up in an Italian family, pasta at the Thanksgiving or Christmas table is a given.
It's not until you spend the holiday with a non-Italian college friend because it's easier than going home one year or celebrate at your Irish future-in-laws' home that you realize: Not everyone's Thanksgiving or Christmas dinner includes pasta between the soup and meat courses.
How can that be?
It's not the holiday without pasta.
"There's always some sort of pasta course during the holidays, no matter what," says Lucia Romano, a mother of two college-age daughters who lives in Northville and is the first generation of her family to be born in the U.S. Her parents, Maria Pia (Bravo) and Vincenzo DiDomenico of Northville, emigrated from Pastena, Frosinone, in Italy's Lazio region before she was born. "I thought it was normal."
In high school, though, non-Italian friends were taken aback when they learned her family had pasta on Thanksgiving. She was into young adulthood and bringing friends around for holiday meals when they, too, reacted in surprise.
"They would say, 'This is quite a bit of food. Is this how you eat all the time?' I'd say yes," laughs Romano, who works as club coordinator at the Italian American Club of Livonia. "Then my children, when they would bring their friends from school to the house, they would say the same thing. They were in awe at the amount of food."
That's because in addition to all the basics of a holiday meal — soup, salads, meats, vegetables, sides, and the requisite Italian pasta course — there's also an antipasto to start: lunchmeats, cheeses, olives, roasted peppers, maybe some fried calamari.
"By the time you get to the turkey, it's 'turkey, what?'…" she says.
It's a similar story at the Guarano household in Royal Oak. Jim Guarano's paternal grandparents were Sicilian; his mother's people were from Calabria. His wife, Catherine, has Sicilian roots. And so they have blended their traditions for a Christmas pasta course featuring a Sicilian ravioli stuffed with ricotta cheese, lemon rind, and sugar finished in a chicken broth with cinnamon.
Thanksgiving includes a more standard marinara-sauced pasta, made with some of the 80 to 100 quarts of tomatoes the Guaranos can at the end of the summer. If he's honest, Jim says, he can take or leave the pasta course on Thanksgiving. But he wouldn't skip offering it.
In Giovanna Olivieri Zablocki's family, lasagna is the star of the pasta course on Christmas. Her 80-year-old mother, Marisa Olivieri, was born in the Abruzzese town of Gagliano-Aterno. They spend the days before Dec. 25 assembling about a dozen pans in her mother's Royal Oak home, using the recipe Olivieri learned from her mother: four to six layers including a light tomato sauce, meat (ground beef, pork, and veal), cheeses (mozzarella, Monterey jack, and Parmigiano-Reggiano), and homemade noodles.
"We do layer after layer and pan after pan after pan. That's our Christmas tradition. Everybody knows they're going to have Nonna's lasagna," Zablocki says.
Lasagna is both a Christmas and Easter Olivieri family tradition."You'd have the lasagna and then the spaghetti on the side," Zablocki says. "I'm 60 years old and I don't ever remember not having lasagna for Christmas."
As for Lucia Romano's holiday pasta, the sauce and meatballs are made following the same recipe Romano's mother learned from her mother back in Italy. Like the Guaranos, her mom cans dozens of jars of tomatoes each September so she has plenty on hand for the holiday sauce and other winter meals.
"The Italians just see food and getting together as such a celebration of life that I think pasta is their main staple," Romano says. "A meal without pasta is just not a meal."
---
Bravo/DiDomenico Pasta Sauce & Meatballs
Ingredients
For the meatballs:
½ pound ground veal
½ pound  ground pork
1 pound ground sirloin
1 egg
1 ½ tablespoons freshly grated Parmesan cheese
½ cup seasoned breadcrumbs (add more if the meat needs to bind more)
Directions
Combine all ingredients in a bowl and mix together with hands. Roll into about 1½-inch meatballs.
Ingredients
For the sauce:
3-4 cloves fresh garlic, crushed
1 large yellow onion, diced
2-3 tablespoons olive oil (enough to coat the bottom of the pan)
2-3 32-ounce jars of canned tomato sauce
2 fresh whole leaf basil leaves (for flavor — remove before serving)
1 fresh stalk whole celery with leaves (remove before serving)
1 fresh whole sprig of Italian leaf parsley (remove before serving)
Salt to taste, and pepper (optional)
1-2 teaspoons sugar to taste
Directions
1. Saute garlic and onions in olive oil until translucent. Add tomato sauce, basil, celery, parsley, salt, and pepper.
2. When sauce is at boiling stage, toss raw meatballs into it. This will seal the outside but leave the inside moist. Stir with wooden spoon so as to not break the meatballs apart while they are still on the raw side. Cook in sauce for 30 to 45 minutes.
3. Once meatballs look cooked on the outside, add the sugar. This will allow you to check the flavors after they have combined together in the sauce and whether the sauce is too watery. To thicken sauce if you like, add 1 can of tomato paste, also toward the end of cooking.
4. If you prefer to add ground meat instead of doing meatballs, do it after sautéing the garlic and onions for 2-3 minutes and cook until browned, then proceed with adding the rest of the ingredients.
Ingredients
For the Pasta:
2 pounds pasta of your choice, cooked until al dente
Grated locatelli cheese mixed with ground black pepper
To serve:
Drain pasta. Put into pasta bowl. Mix in a little sauce to keep it from sticking to itself and then spoon meatballs on top to remove excess sauce from the meatballs. Transfer meatballs to serving bowl. Continue adding sauce to pasta until it's the way you like it, mixing in some grated cheese as you do; save any extra sauce for future use. Top with grated cheese. Serve the two bowls family style, with extra grated cheese in a serving bowl on the side to pass at the table.
Kathy (Buzzelli) Gibbons is managing editor for Hour Custom Publishing. Gibbons makes the pasta course for her family's Thanksgiving meal using a vodka sauce recipe she discovered in Bon Appetit a couple of decades ago. 
---
Labor of Love
Jewish family upholds tradition of cooking classic dishes from scratch with cookbook  // By Lexi Trimpe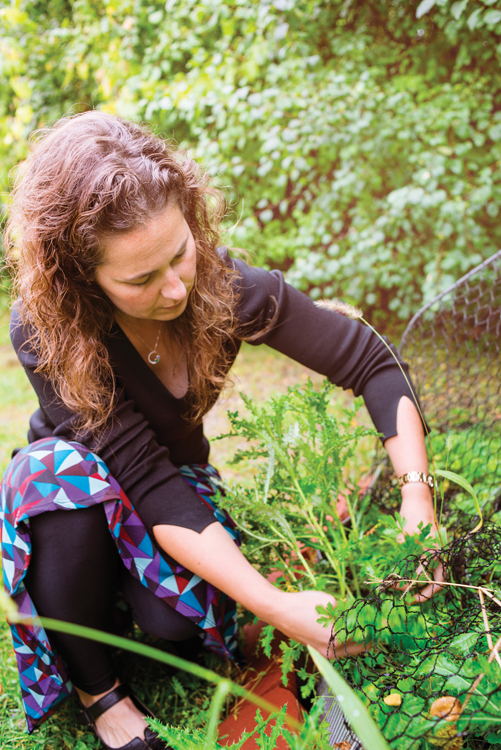 Rebecca Starr grew up on an 80-acre sheep farm in the Upper Peninsula, 40 miles from the closest grocery store, and even farther from Jewish-food essentials like matzah or kosher grape juice, which would require a trip to Detroit.
"We lived off of what we grew and what we produced," says Starr, a Southfield resident and wife of Rabbi Aaron Starr of the Congregation Shaarey Zedek. The close-knit farming community helped fill in the gaps for a trade. "Our neighbors were incredibly helpful," she says. "If someone had milk one day then we would give them something."
Still, Starr's mother was an amazing cook, according to her daughter, and would pull out all the stops on holidays no matter the difficulty. Every year she would serve up Jewish staples like wine cake on Passover, or sour cream coffee cake on Yom Kippur.
"She always did a big deal on all of the holidays and cooked her mother's recipes," says Starr.
Starr, the youngest of five children by 14 years, says she was often "roped into" helping her mother in the kitchen, whether it be preparing holiday meals or simply spending hours shucking, blanching, and bagging peas from the family garden.
"She was always making things from scratch," says Starr. She recalls one morning when she was roused from sleep at 2 a.m. to go fish for smelt. She spent the rest of the day cleaning, gutting, and prepping the fish for future dinners. "She would stand in that kitchen for hours and get them ready for the freezer," says Starr.
Starr's mother has passed away, but the legacy of her from-scratch cooking lives on through her family and her recipes. Beyond that, it's hard to give up a lifetime of traditions, especially when it's as delicious as sour cream coffee cake.
Starr's family upholds tradition not only by cooking the classic dishes but also by passing on the coveted recipes to the next generation through a family cookbook. "Everybody gets one when they start their family," says Starr.


Not all Jewish food is the same, Starr points out. As an Ashkenazi Jew, she says her family's recipes stem from flavors in Eastern Europe. One hearty favorite of Starr's is her great aunt's cabbage roll recipe, which passed onto her mother, and then to Starr. To say it's labor intensive would be an understatement. Hours of work go into separating, sautéing, rolling, and simmering. Starr's mother would only make the rolls once or twice a year — but always in the fall, conveniently when it came time to harvest the cabbage.
"The food cycle for us always revolved around what was going on in the farm cycle," says Starr, "and also the Jewish calendar fit into all of that."
Although she now lives far from the farm, Starr still makes the dish during the holidays. "Once a year is all I can tolerate," says Starr, "It's such a labor of love."
This recipe still lives in her mother's recipe box, a cherished keepsake for Starr.
---
Aunt Elaine's Cabbage Rolls 
Ingredients
6 pounds ground beef
1 cup ketchup
Salt and pepper
Handful of matzah meal
½ cup water
2 heads cabbage
1 large onion
1-2 tablespoons olive oil
14-ounce can chopped tomatoes
Lemon juice and brown sugar to taste
1 large can sauerkraut
1 cup raisins (optional)
Directions
1. Mix ground beef, ketchup, salt, pepper, matzah meal, and water together. Wash cabbage and separate leaves from the head.
2. Sauté onion in olive oil until transparent, then add tomatoes.
3. Roll each cabbage leaf with ½ –  cup hamburger mixture and place in empty large cooking pot.  Layer with onion/tomato mixture, sauerkraut, and a handful of raisins, if using. Repeat these layers until all ingredients are used.
4. Bring to a boil and then simmer for an hour or so. Add lemon juice and brown sugar to taste. Continue cooking for at least two more hours.
5. Remove and serve.
---
Sacred Sauce
The Mexican tradition of making mole transcends borders  // By Serena Maria Daniels
Even though she can't remember exactly when she first learned to make her family's generations-old mole poblano, Aida Villa Zapata's earliest memories are of sneaking into the kitchen in her hometown of Zacapala in the Mexican state of Puebla to steal a hunk of Mexican chocolate before it was broken down along the blend of spices and chili peppers. Her great aunt Leonore, a strict nun, would swat her hand away and assign her the job of sesame seed cleaner or garlic peeler.
As she grew tall enough to reach over the tabletop, her role in the mole assembly line increased. She would be promoted to clean the just-beheaded chickens, de-seed the fiery peppers, and spend hours mixing the ingredients into a thick paste.
The recipe was made only for the most sacred of celebrations, such as a wedding or the birthday of a first-born. It took days and a team to complete the process. Three kinds of chilies were laid out in the sun for a week. Each of the ingredients had to be roasted on a comal (a smooth, flat griddle) and stirred constantly in a warm cazuela (a heavy-bottomed pot) for at least three hours, with great care taken to not to let it stick to the bottom or sides of the pot or risk having to start all over.
Meanwhile, the men would slaughter 25 turkeys, give or take, the meat of which would go to only the immediate family members and padrinos (godparents). The rest of the party would get the less expensive chicken. The meat of the poultry would be boiled, its stock used to thin out the mole paste to the desired consistency.
It was a ritual that Villa Zapata would carry with her decades later when she immigrated to the United States (her father had originally come to California during a U.S./Mexico labor agreement called the Bracero Program when he was about 18 years old). She has internalized the recipe to the point that she, her mother, and aunts know it by memory and don't have to dig up the index card from a box.
Mole is perhaps one of the most complex recipes in Mexican cuisine, so much so that it's considered the national dish. Depending on the region where the mole is made, the sauce ranges from sweet and fruity or spicy and smoky to almost bitter.
The Zapatas' mole has become a local legend in metro Detroit, so much so that friends will ask for it whenever a big event calls for it. They're among a small but formidable group of local women who, despite the distance from their hometowns, have continued the tradition of mole making. They've turned the ritual into a sort of clandestine cottage industry wherein they sell that coveted paste for potlucks, weddings, and other celebrations.
As is common for immigrants who continue to straddle between the two bordering nations, Julia Zapata sources all the ingredients together when she's in Mexico, securely contains it, and takes it with her in her luggage — 6 pounds at a time. If airport security has any question about the contents of her bags, she need only let them get one whiff of the sweet and spicy stuff.
Last year the mother and daughter heard about the city's first Holy Mole! Mexican Mole Contest held at Ste. Anne de Detroit Catholic Church in Mexicantown. Several women of all ages competed for the title of best mole in Detroit. Julia Zapata was away in Mexico, so Villa Zapata competed. Of all the contestants, judges named the Zapatas' mole poblano the second best in the city (the first-place winners declined to share their recipe with Hour Detroit). The event was so successful that another one is set for Nov. 20 at Ste. Anne de Detroit Catholic Church. Local journalist and Holy Mole founder Martina Guzman says she started it as a way to bring the Mexican community together through food.
Villa Zapata steps in to help her mother with her mole-making efforts whenever the elder Zapata is away in Puebla during the cold Michigan winters. Now in business for herself as a house cleaner, Villa Zapata had spent years working as a cook in Los Angeles, Chicago, and metro Detroit. Though she no longer cooks professionally, preparing that sacred sauce is one way she can stay connected not just to her culture, but also her lifelong love of cooking.
---
Chicken Mole Poblano
Ingredients
1 kilo of equal parts ancho, pasilla, and mulato chili peppers (2 pounds)
Chicken
200 grams of cinnamon (7 ounces)
2 tablespoons of whole cloves
3 whole heads of garlic
250 grams of sesame seeds (9 ounces)
2250 grams of raisins (5 pounds)
250 grams of almonds (9 ounces)
3-4 corn tortillas
3 large plantains
Salt to taste
6 full tablets of Mexican chocolate
Directions
1. Dry chili peppers in the sun for a week (fresh chilies can also be used, though the Zapatas say dried is better). De-seed chilies.
2. Boil desired amount of chicken, taking care to save about 2 cups of the chicken stock. Toast the dry ingredients separately (except for the sesame seeds and almonds) on a skillet or comal. 3. Let cool, then blend dry ingredients in a coffee or spice grinder.
4. In a pan with lard or oil, separately fry raisins until plump, almonds until browned, and tortilla until crisp. Add plantains and sauté until golden; drain excess fat into a bowl.
5. Combine all ingredients (save for about two tablespoons of sesame seeds) in a bowl and crush roughly. Place ingredients and one cup of cooled chicken stock in the blender and blend until smooth. Repeat this process 2-3 times as there will be too much of the mixture to puree all together. Reheat the sauce over a skillet on medium heat about 8 minutes, stirring often to avoid sticking. Season with salt. Finally add the chocolate (broken down into small pieces) and another cup of broth (scraping the bottom and sides every 5 minutes) for 25 minutes.
6. Add chicken pieces to the hot mole and simmer about 10 minutes. Spoon on desired amount of mole sauce and garnish with excess sesame seeds.
Facebook Comments