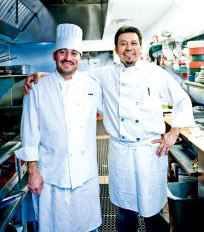 It's Saturday night on Michigan Avenue between Livernois and Grand Boulevard in southwest Detroit. Traffic is light.
On one corner stands the stark, looming façade of a church, the Iglesia de Jesucristo, dark and eerily silent, as are most of the businesses in this neighborhood after dark.
On the other corner is Junction, a long, skinny street flanked by bungalows. From their front porches, residents of the racially mixed neighborhood watch the comings and goings at a dressed-up storefront a couple of doors from Michigan.
A black Mercedes pulls to the curb and four people step out. An Audi TT is parked nearby, along with several other newer model cars that don't look as though they come from this neighborhood. They don't.
Step inside El Barzon, a small restaurant in the Mexican Village district, and the place is packed with people mostly from the northern suburbs dressed in their best get-down casual weekend chic.
One of the new arrivals looks into the kitchen pass-through behind the host stand at the entrance. "Hello, Norberto," he says, waving.
"Welcome back," Norberto Garita responds with a smile, before he turns back to his stove and his assistant chef, Margarito Lopez.
Garita, the owner-chef, is furiously trying to keep up with the orders coming from his three servers, while Garita's brother, Augusto, the host and co-owner, hurriedly resets tables for three groups waiting patiently.
"It's crazy tonight," waiter Alex Flores says, beaming as he takes our order. One reason El Barzon is so busy, he says, may be that the restaurant has finally gotten a license to sell wine and beer.
Although this is only our second visit, El Barzon has quickly become one of my great dining delights.
There's nothing fancy here; it's just utterly simple and pleasant. The service is cheery and delivered with great pride. And the food is a step above superior; it's remarkably good.
So many restaurants these days spend a lot of money to dress themselves up beautifully with slick, dramatic architecture and designer lighting, only to fizzle out by serving pedestrian food. The complete opposite is true at El Barzon, where it's pure joy for good food over all else — even if that means a few little rough edges. Like an unfiltered wine, however, sometimes those rough edges just make restaurants better.
A trip down to Junction and Michigan will get you not only El Barzon's exquisite Mexican food (Oh, the tongue tacos! The stuffed poblano peppers! The hauntingly good pozole!), but also — surprise, surprise — a veal cutlet Milanese pounded with bone in, a veal scaloppini al limone, and several pasta dishes that are just about the best around. Here's why:
Before Garita and his wife, Silvia, opened El Barzon in 2006, he spent eight years at Il Posto, the elegant, white-linen Southfield restaurant and Hour Detroit's 2006 Restaurant of the Year, where he learned Italian cooking at the side of Gianni Belsito, the founder and chef-partner. Belsito eventually left and now has a restaurant in Scottsdale, Ariz., and Il Posto was restructured with a new chef and managers.
"When we first opened," Norberto says, "we had almost all Mexican clients. And they looked at the Italian part of the menu and said, 'What is this?' But now they like it."
What is startling is how well Garita learned his Italian cooking. He makes a mushroom cavatelli pasta dish that's so sublimely delicate that I venture to say it's better than what I recall about the same dish at Il Posto. The dense, rich creaminess of the mushroom flavors and the sauce itself just make you want to slurp up every dot of it on the plate.
Another, his strozzapetti — or priest strangler, a small twisted pasta that looks like a miniature towel — comes in second only to that of Luciano del Signore, the great chef-owner of Bacco in Southfield.
And then there's the Frito Misto — fried calamari, zucchini, shrimp, and octopus. Fried calamari has been ruined by one restaurant after another that insists on making it with heavy batter and reused oils, when what makes the dish worthwhile at all is freshness and lightness. The best in my experience  — until now  — has been that of Chef Tony Polito at Giovanni's on Oakwood Boulevard, just a short distance away. Now, he has an equal in Garita, whose light dusting and quick, fresh flash-frying leaves only a light yellow crunch and almost no weight or oiliness.
When Garita's veal cutlet Milanese arrives, it's so large that it covers the entire plate. It has an orange-brown bread crumb coating that looks thick, as if this must be a huge piece of meat. But when cut into, it's actually a lovely, tender, light piece of bone-in veal carefully pounded out all the way to the edge of the bone. The crust, you discover, is also very light and thin, a piece of air-light scaloppini topped with chopped fresh tomatoes and crisp arugula, a piece of lemon on the side. So simple, so divine, so trattoria!
Everything Italian that we tried, from the porcini and veal ravioli, to the Italian sausage with bell pepper, potato, and tomato, to asparagus risotto with white truffle, had an intensity of flavor that jumps out with the first bite and never lets up.
The same level of cooking and flavor carries over to the Mexican side of the menu. First and foremost, you must try — and take home — Garita's pozole, the dense broth-based Mexican soup dominated by hominy chicken meat, chicharróns (pork crackling), lime, and tomatoes. It's just as good when reheated a day later.
Or try the steak El Barzon, an almost wafer-thin slice of beef marinated and flash-grilled, or the Pechuga de Pollo Rellena, a breaded chicken breast stuffed with ham and queso (Mexican white cheese.) And for the chicken mole lovers, Garita's unsweetened chocolate mole sauce is slightly spiced with cinnamon.
What stands out about Garita's cooking is what always makes a good chef: understanding and mastering the intensity, balance, and depth of flavor in his dishes, and sensing how to work those ingredients. He knows when to go light, when to add a little push, and when to do nothing. Sounds simple, but so many don't get it.
It's heartening to see this restaurant doing well in a city that, of late, has endured the one-two punch of a poor economy and a city-hall scandal. El Barzon is the creation of a man and a woman from Puebla, Mexico, who remind us that we are a city that's a thin generational layer away from our own immigrant ancestors. Detroit's best restaurants have always been those of immigrants, passed on to be evolved further by their sons and daughters who gave us the Baccos, Café Cortinas, and Phoenicias of our metro dining buffet.
This place is a little piece of Detroit's ethnic history repeating itself. Go now. And eat well. Celebrate.
3710 Junction, Detroit; 313-894-2070. L & D Mon.-Fri.; D only Sat. & Sun.
Facebook Comments