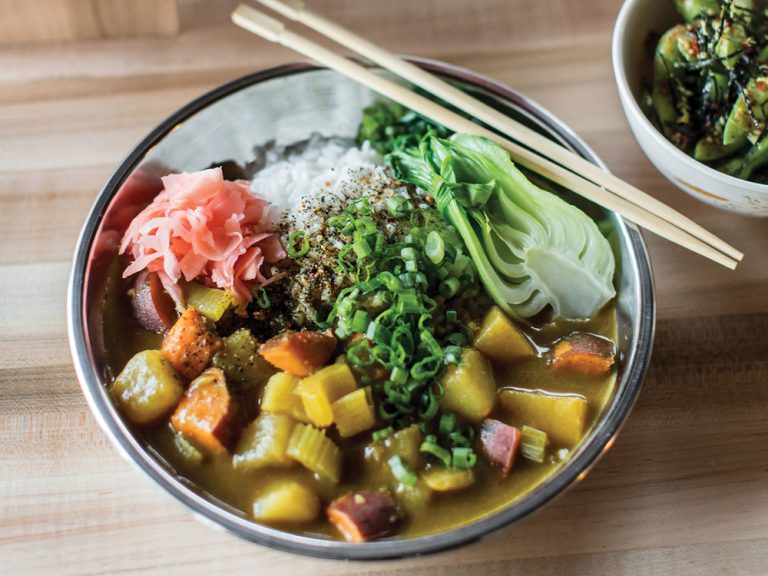 For some people, comfort food means fried chicken or mac and cheese. For Mike Ransom, it's Japanese food.
His love of the cuisine stems from growing up with "hippie" parents in the 1970s, says Ransom, who was a vegetarian until he was 15. At the time, knowledge about vegetarian eating skewed toward Japanese food, so that's what he was raised on.
When the Michigan native (Ransom was born in the Traverse City area and grew up in East Lansing) moved to Detroit, he lived with a sushi chef that helped deepen his love and knowledge of the cuisine.
He went on to culinary school in Chicago where he was classically trained, and then worked in cities such as Baltimore and San Francisco before coming home.
Ransom recently opened Ima, a casual Corktown eatery featuring Japanese-inspired fare with a Midwest emphasis. As of press time, they were open only for dinner, but Ransom plans to add lunch service as well as secure a liquor license and open up the patio where there will be music when warm weather returns.
Over the past 10 years, he's been thinking about the kind of restaurant he wanted to open, and the concept of Japanese food was a perfect fit because it's what made him most excited to create and eat.
That passion is seen in each dish. For starters there's Ima tacos, which trade the traditional shell for a slice of jicama. This fresh alternative to the usual corn or flour tortilla provides a sturdy vessel for stuffing with your choice of spicy shrimp, roasted tofu, or garlic chicken, topped with wakame slaw, green chili sauce, and micro shiso. The tacos were inspired by ceviche tacos Ransom had at a Peruvian restaurant in California.
Rice bowls make up a good portion of the brief menu; don't miss the house-smoked salmon bowl boasting a subtly smoky salmon, still rare in the middle and delicate, served with salmon roe, avocado, and radish sprout. The sesame yuzu sauce ties it all together.
To really understand Ransom's culinary point of view, look no further than the soups. They build upon a dashi base (a simple stock typically made with dried kelp, bonito fish flakes, and water). The spicy pork udon is a standout. Its miso-ginger broth has a kick, but not so much as to overpower the rest of the dish, which features smoked pork loin. Loin is a leaner cut that can be bland, but the smoke infuses a bold, savory flavor.
Forty percent of the menu is vegetarian, with some vegan. We were pleasantly surprised by the forest udon, a vegan option made with a porcini mushroom broth and served with sesame tofu, smoked trumpets, garlic oil, and rosemary. That last ingredient is a nod to Ransom's Michigan roots, making the forest udon the quintessential Ransom dish: inspired by Japan but showcasing seasonal and Michigan ingredients.
With dishes that use jicama as taco shells and fried rosemary as a flavor accent in udon, Ima is not a traditional Japanese restaurant and Ransom doesn't make any claims to be one.
"I'm claiming to be a chef who has 20 years' experience cooking and this is a culmination of that experience."
---