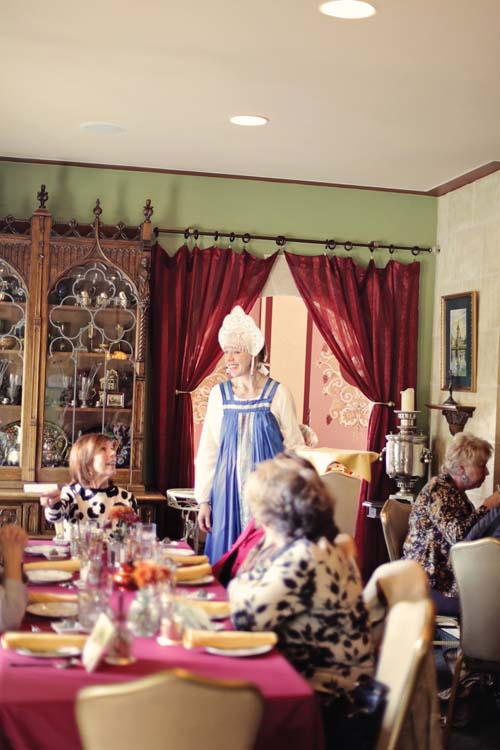 Of the many treasures contained within the ornate, tranquil grounds of Harper Woods' St. Sabbas Orthodox Monastery (see story), perhaps the most surprising is a high-end restaurant.
Helmed by chef Petr Balcarovsky, the Royal Eagle was founded as a fundraising venture in 2007. Twice a week, the restaurant serves a multi-course tea luncheon, and on Thursdays dinner is served. It's set in a lavish room decked from floor to ceiling with Russian art, complete with a waitstaff dressed in traditional garb. The result is an aristocratic atmosphere that is refined but not stuffy (though since it is on the grounds of a monastery, guests are requested to adhere to a modest dress code, i.e. no short skirts or tank tops).
For Balcarovsky, the Royal Eagle is a chance to return to his passion. After learning culinary arts in the Czech Republic, he arrived in the Grand Rapids area in the late '90s, where his career led him out of the kitchen and into the front of the house. He was looking for a change when the opportunity at St. Sabbas came up. "I was very attracted to the fact that it was for a good cause," he says. "One thing that makes it unique and motivational to me to this day is that it's something fundamental — there's a depth to it."
Rather than creating a straightforward Russian menu, Balcarovsky wanted the food to be diverse and playful. Diners will find plenty of Russian classics, like borscht soup, chicken Kiev, and beef stroganoff. But the menu also features items from around Europe, such as a Polish sampler plate and beef Wellington. Balcarovsky also offers weekly specials, such as lamb, rabbit, elk, or venison — "Something a daring mind would like to explore," he says.
Balcarovsky sources most of his ingredients locally, and makes nearly everything from scratch. During the summer months, he utilizes the monastery's lush vegetable garden for cucumbers, tomatoes, lettuce, and other herbs.
Since the Royal Eagle is a volunteer-based operation, service is slower than what many diners might be accustomed to. Sharing hors d'oeuvres is advised. On a recent visit, we started with borscht, a brothy bowl of finely chopped beets and other vegetables served with a dollop of sour cream. We also shared a small plate of Siberian pelmeni, or meat-filled dumplings served in a flavorful garlic sauce.
For drinks, a rare treat is the traditional kvass, a sweet, dark beverage made from fermented bread with notes of fruit. Alcohol is not served, but guests can bring their own wine, with no corkage fee.
For the main course we ordered salmon kulibiaka, a filet baked in a flaky pastry. It's listed as a special, but has become so popular Balcarovsky has offered it every week for the past five years. A fellow diner ordered the Polish sampler — a plate of kielbasa, pierogi, latke, and stuffed cabbage that easily rivals those served in Hamtramck.
Saving room for dessert is a must. We tried a special item, the raspberry bublanina, so named because its light dough "bubbles up" while baking (we were told it was made by Balcarovsky's mother, visiting from abroad). Our guest ordered the Napoleon cake, a sweet, cream-filled pastry that came in such an enormous portion we had to help eat it.
Guests are advised to make reservations by calling weeks or even months in advance. Despite the fact that it does not advertise, the Royal Eagle has a loyal following.
The restaurant is especially a hit with European guests nostalgic for its Old World charm, but Balcarovsky says it's gaining a younger, adventurous following, as well.
"It used to be ladies in their 60s," Balcarovsky says with a laugh. "Now I see a lot of young people, which is nice to see, because I think they actually have an interest. Their minds are open, and people have an interest in something other than just a lounge martini bar."
---
A tea luncheon is served on Tuesdays and Thursdays from 11 a.m. to 2 p.m. Dinner is served from 5 p.m. to 10 p.m. on Thursdays. 18745 Old Homestead Dr., Harper Woods; 313-521-1894; theroyaleagle.org. 
See our gallery of 43 photos from St. Sabbas Orthodox Monastery here.
Facebook Comments