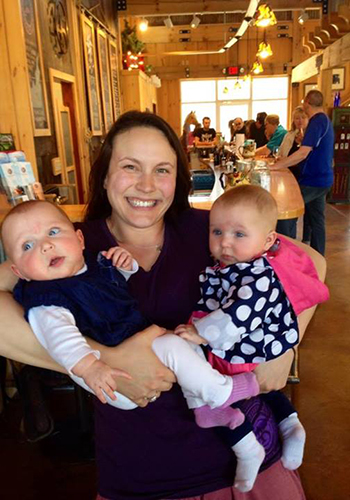 Editor's Note: Getting to know the people behind Michigan wine is a major part of the industry's allure. Periodically, we'll touch base with the faces behind the bar or barrels at Michigan's wineries. Today: Forty-Five North Vineyard & Winery Tasting Room Manager Channing Sutton.
Her technical title is tasting room manager, but Channing Sutton's position at Forty-Five North Vineyard & Winery requires her to morph seamlessly between roles as wineslinger, hostess, tour guide, organizer, entertainer, scheduler, educator, promoter, and even — at least momentarily — baby sitter.
On any given day at the Lake Leelanau-based winery, she could be behind the bar, entertaining groups on the tasting room's mezzanine, fielding questions from couples interested in booking weddings in the vineyards, or running any number of on-site and off-site events. One moment she's pouring the winery's popular Peach Cremant for guests; the next, she's bouncing a regular's child on her hip while the adults enjoy a treasured moment alone.
In her nearly five years at Forty-Five North, Sutton has pretty much seen it all, from the guest who accidentally guzzled the contents of a wine spittoon to the groomsmen who inadvertently locked the tuxes and bride's gown in the winery's bridal suite during an on-site wedding.
The spittoon drinker's wife was "mortified … and then she tells me that this wasn't the first time he's done this," Sutton says. "I about cried, laughing so hard."
As for the groomsmen's gaffe? "We had to get a ladder and climb through the outside window to unlock (the room) before the guests started arriving," she says.
Her sunny smile and seemingly unshakable disposition have made Sutton a household name among northern Michigan winery visitors. If Forty-Five North is mentioned, it's practically guaranteed that a tale about meeting a charming girl behind the bar is soon to follow.
The mere mention of Sutton in social media circles elicits a flurry of responses from Michigan wine fans, complete with snapshots of the writers posing with Sutton.
"We have always loved Forty-Five North," writes Kristin Heileman-Corcoran, "but each visit we have made, she has recognized us … so we became regulars, making trips up because we found it was like missing time seeing a best friend."
For Sutton, hearing that she's a kind of Michigan wine celebrity is surprising but gratifying.
"I just try and be as informative and kind as I would expect to be treated while I was experiencing an area again, or for the first time," she says.
Sutton's grape affinity began during a home stay in Germany when she was 16. It continued to build after she returned home to northern Michigan, where she began working at Longview Winery during its inaugural vintage in 2005.
She later worked at Seasons 52 grill and wine bar under Master Sommelier George Miliotes during a two-year stint in Atlanta. Then she jetted off to the West Coast, where she "bopped around" northern California and southern Oregon for a year and a half. She might have continued her far-flung adventures if not for Forty-Five North.
Prior to leaving Michigan, she'd been friends with the family who owned the property where Forty-Five North now stands. While wine tasting during a visit home in 2009, she couldn't resist checking out the winery that had sprung up in her absence.
"At that point, I wasn't planning on staying in Michigan," she says, "but it was August, and the weather was great, and September is my favorite month, so I decided to stay for a while longer."
She sought seasonal employment, helping out with the harvest at Shady Lane Cellars before segueing to Forty-Five North. What began as a short-term gig crystallized into something more when she started taking on tasks like building menus, ordering product, hiring, and training. By November, she was tasting room manager.
Up to 1,000 people pass through Forty-Five North's doors on a busy fall Saturday. Sutton has rubbed elbows with guests from as far away as California, Georgia, Oregon, New York, and even Germany and France.
"It's fun being able to relate to them about their wine regions and ours, and having been tasting somewhere around the same time, years ago," she says. "The best is sharing in the appreciation of the same wine from some super-quaint little mom-and-pop winery in Oregon or wherever, and reminiscing in really how amazing that wine from that vintage from that small little place was."
Sutton sees herself as a sort of ambassador for Michigan wine — and wine in general.
"My role is to show people Forty-Five North in the best light possible, and to make every person that comes through our doors believes that we appreciate them coming out to Leelanau and enjoying our bountiful land and quality product," she says. "I have always tried to promote educational fun that people can truly learn about not only our Michigan wine industry, but about how wine can be incorporated into their daily lives in a multitude of ways. I want people to feel comfortable and confident going to any winery, anywhere in the world, when they leave Forty-Five North."
Sutton hopes mounting acclaim at wine competitions and the state's "stellar" crop of winemakers — intent on researching, experimenting, and constantly improving — will help Michigan continue to gain stature for its wine-producing capabilities.
"We are still a very young wine grape-growing state, and yet you look at our standings in competitions, and we are right up there with the big dogs," she says. "Recently, the (American Viticultural Areas) in Michigan have been seeing world-class sommeliers coming through and tasting, and having very good — seemingly shocking — findings. I'm glad we are shocking people."
For more information on Forty-Five North Vineyard & Winery, visit www.fortyfivenorth.com.
---
Cortney Casey is a certified sommelier and co-founder of MichiganByTheBottle.com, a website and online community that promotes the entire Michigan wine industry. She's also co-owner of Michigan By The Bottle Tasting Room, a joint off-site tasting room in partnership with six Michigan wineries, located in Shelby Township. Contact her at cort@michiganbythebottle.com.