There are many myths about vegan food. It's bland, it's unsatisfying, or even a bit pretentious. And like all good myths, they're birthed from origins largely apocryphal and widely disseminated with scant evidence. But Brush Park newcomer Chili Mustard Onions, is looking to debunk all of that. The restaurant, which opened in August, is the city's first Coney Island with a menu that is completely plant-based — cover to cover.
It's a bold move, even blasphemous in a city with a long culinary history largely defined by the original Coney Island, a Greek-American restaurant known for its filling Coney Dogs, slathered in hearty chilli and topped with a drizzle of mustard and a toss of diced onions. "This guy asked me to kill myself because I'm changing the Detroit Coney Dog," says owner Pete LaCombe, who became vegan six years ago. "I obviously don't think that's OK … but it keeps the conversation around veganism alive."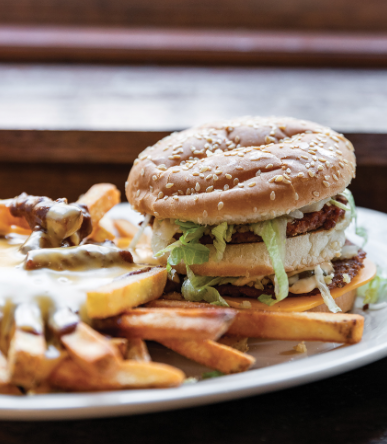 In the interest of better understanding this controversy — read: eating the food — my mother and I decided to give Chili Mustard Onions a try. On a Saturday afternoon, the small space was bustling, with a line that curved past the threshold all the way into the parking lot. After a 45-minute wait, we sat down at a small table. We ordered the Southwest Nachos to start. They were built upon a base of waffle fries and topped with LaCombe's secret recipe vegan "cheeze" sauce, cilantro lime vegan sour cream, pico de gallo, chives, and blackened Chickun Strips made of mycoprotein. Though inventive, the dish hovered in a limbo between traditional nachos and loaded fries. It left us slightly confused. Next, I tried the Coney Dog — made from a combination of pea and soy protein. If you have ever tasted the Vegan Coney Dogs at Russell Street Deli, these are comparable. It's worth noting, however, that almost no one around us was ordering it.
Ultimately, it was the sandwiches that ended up being the real hit of our meal. Chili Mustard Onions offers several plays on meat-heavy classics like a Chickun Parmesan Sub, Gyro, and Big Mock. I had the Brush Park: fluffy pita filled with a deep-fried Quorn Chicken Cutlet, "cheeze," lettuce, tomato, and vegan ranch. My mother ordered the Beetball Sub: a sesame-seed bun filled with three beet-based meatballs, slathered in marinara sauce, non-dairy mozzarella, and cashew Parmesan. Both sandwiches struck the ideal mix of salty, tangy, fried, and fresh. We will definitely be making a return trip for them.
As lifelong vegetarians, American classics are often out of reach for me and my mother. But a place like Chili Mustard Onions makes such dishes accessible, and, in the process, is redefining what it means to eat vegan. Their Beetball Sub, for example, is as close a version to the original as LaCombe is able to make. "I wanted to get non-vegans in here," he says. It's because veganism, for him, isn't as much about health as it is about animal rights. And he still wants to eat his favorite foods. "Ultimately, everything on my menu is something that I love … and I just wanted to go with food that everybody would love."
Perhaps vegan fare is now on its way to becoming everyone's fare.
---
3411 Brush St., Detroit; 313-462-4949; L Mon-Sat.