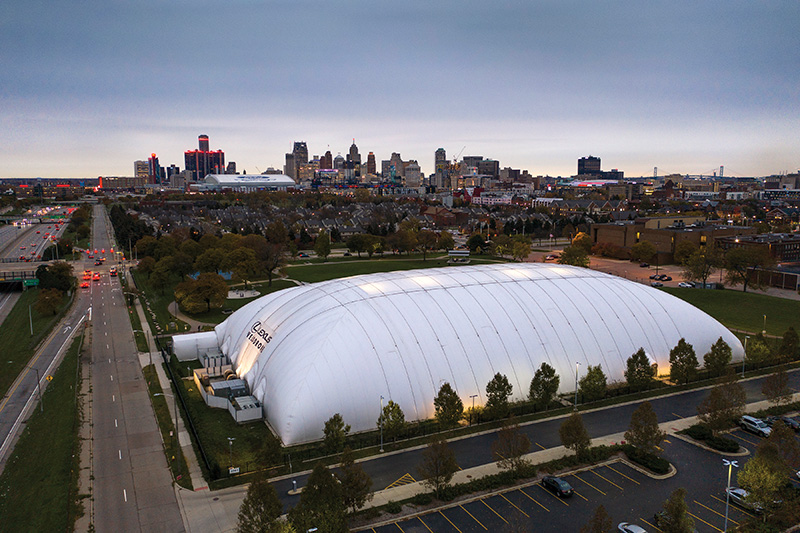 What am I looking at?

 
This is the Lexus Velodrome along I-75 on Mack Avenue in Midtown Detroit, a 64,000-square-foot indoor track cycling arena that opened in January 2018 on the former site of Tolan Playfield. Beyond the cycling track itself, it also has an infield space for spectators and an outer ring where people can jog, walk, or in-line skate, as well as areas for fitness classes and a weight room. The running track is named for Eddie Tolan, a groundbreaking Black two-time 1932 Olympic gold medalist from Detroit, in homage to the playfield it is built upon.
Why are you showing this to me?
Back in December, a generator failure during an intense, dayslong windstorm led to the Velodrome's collapse. Or, perhaps more accurately, it deflated because the blowers that maintain the necessary air pressure to keep it up stopped working. That caused the PVC-coated polyester fabric that constitutes the walls and dome to sag and be pierced by indoor light poles, according to Dale Hughes, executive director of the nonprofit Detroit Fitness Foundation, which owns and operates it. It was fixed and reopened by February.
So is it safe now? Because it looks like the stadium equivalent of the Hindenburg.

 
Oh, come on now. There have been some similar collapses of blow-up arenas — or, in the proper architectural parlance, "air-supported structures" — but they typically take hours or days to deflate, which means everyone has fair warning to get out if there's any danger. Contrast that to how violent, sudden, and deadly the collapse of a traditional steel-and-concrete building can be, as seen in that condo in Surfside, Florida, last year. Plus, Hughes says they now do twice-weekly checks on their generators and regular visual inspections, too.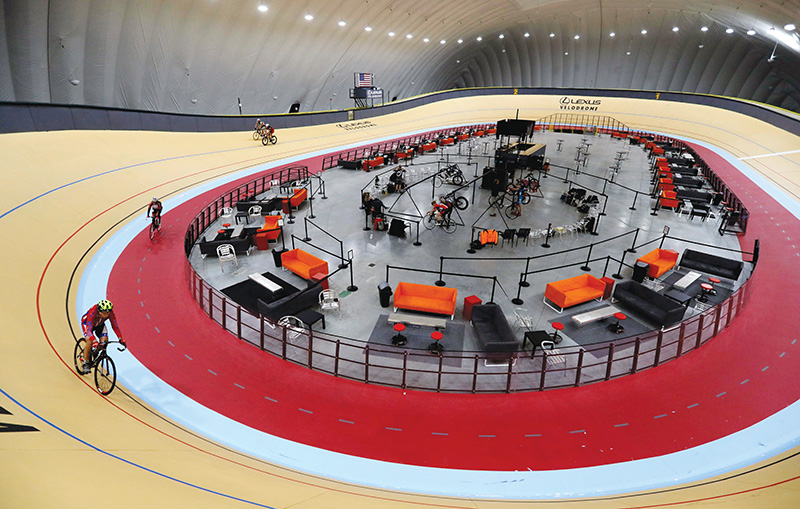 When did "air-supported structures" even become a thing?
They've actually existed since the 1960s as temporary structures and went through a renaissance over the past two decades as so-called bubbletecture technology improved. One of the first permanent "inflatable enclosures," as they're also called, came to metro Detroit in 2010 with the $3.9 million one at Eastern Michigan University in Ypsilanti. In 2015, Oakland University put up the $4.9 million, 108,000-square-foot Total Sports Grizz Dome in Rochester. There's also the $6 million, 110,500-square-foot St. Joe's Sports Dome on the campus of Schoolcraft College in Livonia that was completed in November 2016. A few other less prominent or public facilities exist, too, including the air-supported structure at High Velocity Sports in Canton. All include various sports facilities, and some are rented out for events.
But why not just build a normal indoor arena?
They're substantially cheaper and faster to construct and maintain than traditional steel-and-concrete structures. The Velodrome, for instance, cost about $5.5 million to build but probably would've cost as much as $8 million otherwise, Hughes says.
So you're saying I ought to check this place out?

 
Up to you, but it's pretty cool inside the Lexus Velodrome. Hughes, a lifelong Detroiter who has built some 20 velodromes — which are specifically facilities with tracks for bicycle racing — around the world, runs an impressive program that includes free bike lessons for kids 3-17 and inexpensive classes on bike racing for people of all ages. There are also racing competitions to watch (see the schedule at lexusvelodrome.com), and Hughes is cultivating a racing team that competes around the country. The place is open seven days a week, but call ahead because sometimes it gets rented out for parties, conventions, and trade shows.
---
This story is from the July 2022 issue of Hour Detroit magazine. Read more stories in our digital edition.