A trip to Sandusky, Ohio, and a stop at Cedar Point is on the summer bucket lists of many people in metro Detroit, but a lot goes into planning a trip to America's Rockin' Roller Coast, and getting all the answers before you make the trek down can make or break your experience.
If you find yourself wondering how much tickets will set you back this year, when the park is open on the date you're wanting to go, what the newest rides are, or anything else about 153-year-old amusement park, look no further.
As a roller coaster enthusiast — not to mention a former ride host at the park — I know a lot about making the most of your trip. Plus, I did a little digging to find out the specifics on what to expect this year.
Check it all out in this handy Cedar Point guide.
Getting to Cedar Point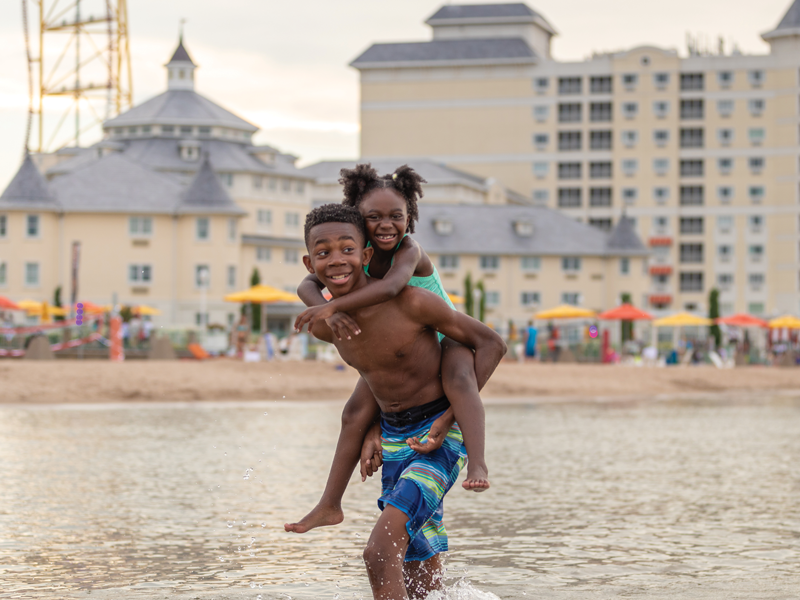 The easiest ways to get to Cedar Point are either the Ohio Turnpike or Route 2.
If you choose to take the Turnpike, get on at Maumee-Toledo and use the Sandusky Norwalk exit. Fare without an E-ZPass will cost you around $5.25. Route 2 will take slightly longer than the turnpike but is free to use.
Where to Stay
Metro Detroiters can easily do Cedar Point in a day, but if you're looking to have a weekend getaway at the park, or if you're planning a longer vacation, the park offers five resorts to choose from:
Hotel Breakers is located on the beach on the peninsula and features 669 rooms and suites.
Lighthouse Point is a campground also on the peninsula and offers cottages and RV sites.
Cedar Point's Express Hotel is the more budget-friendly option on the Causeway leading to the park.
Castaway Bay offers a 38,000-square-foot indoor waterpark at the entrance of the Causeway leading to the park.
Sawmill Creek is around 10 miles away from the park and has a golf course, among other amenities.
Park guests who stay at the resorts receive exclusive perks such as early entry and free parking.
Cedar Point Ticket Costs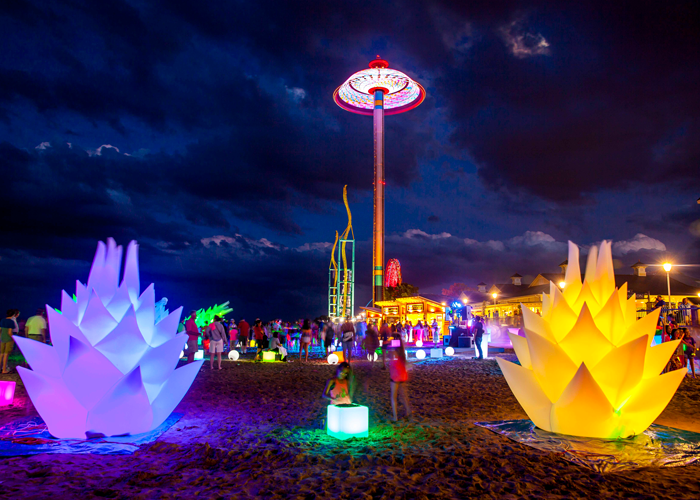 For the first time in nearly 20 years, the park is lowering the cost of ticket prices at the gate from $85 to $80 for regular admission to the amusement park.
You can save some money on your tickets if you purchase them through Cedar Point's website. Here, you'll find adult tickets for $49.99, and junior and senior tickets for $39.99.
They offer even more savings for Michiganders with the $49.99 Michigan Bundle, which will be offered until June 30 and includes single-day admission through Sept. 10, free parking, and all-day drinks, or the two-day Michigan Bundle, which offers all of the above and one extra day for $79.99.
If you're planning on visiting multiple days during the summer, the 2023 Summer Pass for $105 or a season pass, which ranges in price from $140-$450, may be better options for you.
Upgrades including Fast Lane, which allows you to skip the line, for $95-$950; all-day drink and dining packages for $15.99-$105; or FunPix photos for $30-$34.99 are also available.
Regular parking is $25 for a regular-sized vehicle or $35 for preferred.
Cedar Point Hours
Cedar Point's opening day in 2023 is Saturday, May 6. The park will be open from 10 a.m.-8 p.m. The park's hours through the end of the season are as follows:
10 a.m.-8 p.m. May 7-8, May 11-15, and May 18-25
10 a.m.-10 p.m. Fridays, Saturdays, and Sundays May 26-June 15
10 a.m.-8 p.m. Mondays-Thursdays May 22-June 15
10 a.m.-10 p.m. June 16-July 3
10 a.m.-11 p.m. July 4
10 a.m.-10 p.m. Sundays-Thursdays July 5-Aug. 20
10 a.m.-11 p.m. Fridays, Saturdays, July 7-Sept. 2
10 a.m.-8 p.m. Sundays-Thursdays Aug. 21-31
10 a.m.-10 p.m. Sept. 3
10 a.m.-8 p.m. Sept. 4
11 a.m.-10 p.m. Sept. 9
6 p.m.-midnight Thursdays Sept. 14-Oct. 26
11 a.m.-midnight Fridays and Saturdays Sept. 15-Oct. 28
11 a.m.-8 p.m. Sept. 8-Oct. 29.
Cedar Point Shores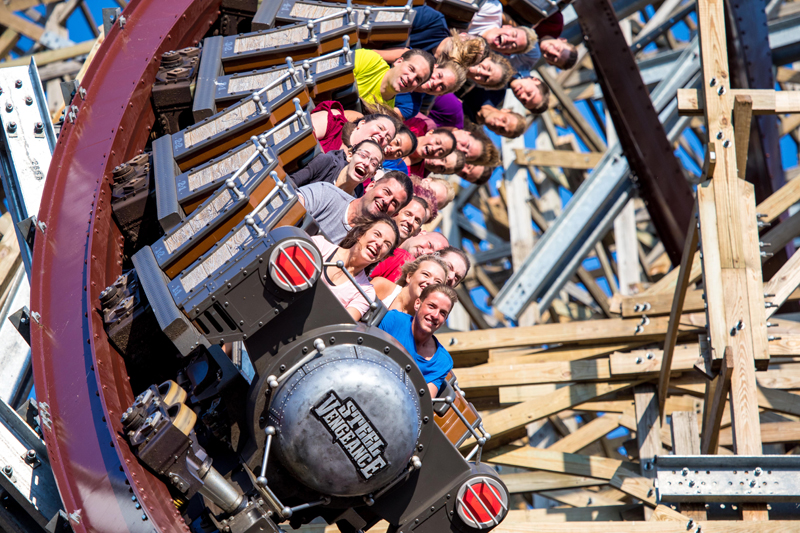 This 18-acre park features 17 different water attractions to beat the summer heat, along with Mufflehead's Beach Bar and The Sandlot beach area.
Younger kids will enjoy dipping their feet into Lemmy's Lagoon kid pool, which features a splash bad, waterfalls, fountains, and geysers, or taking a ride on one of the 12 "pint-sized" slides at Lakeslide Landing.
There are also two pools, Great Lakes Cove and Breakwater Bay wave pool, and the Cedar Creek Lazy River, to chill in.
For thrill-seekers, tackle one of the larger slides. Two standouts are Point Plummet and Crosscurrent. The latter offers three different slides that deliver two different rides through enclosed tunnels and over dips, while the former drops riders in a near-free-fall from an enclosed capsule into the tunnels below.
Single-day tickets to Cedar Point Shores are $49.99 when purchased online or $59.99 at the gate. You can also rent a private cabana for up to 16 people for $129-$299. Waterpark hours are as follows:
11 a.m.-6 p.m. daily May 26-June 9
11 a.m.-7 p.m. daily June 10-Aug. 12
11 a.m.-6 p.m. daily Aug. 13-Sept. 4
Rides and Roller Coasters  
Cedar point is home to more than 71 rides including three kids' areas and 18 of the most gut-wrenching roller coasters around.
All the rides at the park are marked with a "thrill level" at the entrance to let potential riders know what they're getting into. Level one thrill rides are the tamest options, while level fives are more aggressive.
All of the roller coasters in the park, except for the kiddie coaster Wilderness Run, are level four or five thrill rides, but those seeking to ease into the coaster scene can try Cedar Creek Mine Ride, a level four ride that stands just 48-feet-tall and reaches speeds of 40 mph, or Iron Dragon, a level four suspended roller coaster that is 76-feet-tall and reaches speeds of 40mph.
Watch Cedar Creek Mine Ride in Action
Watch Iron Dragon in Action
Other good starter-coasters with a little bit of a kick include Blue Streak, a classic coaster built in in 1964 that takes riders up 78-feet and reaches speeds of 40mph; or Corkscrew, which is 85-feet-tall, reaches speeds of 48 mph, and has three inversions.
Watch Blue Streak in Action
Watch Corkscrew in Action
If those rides don't deliver enough terror for you, don't worry. There are plenty of record-breaking coasters that will take you up high, drop you down low, through loops, and over hills at mind-blowing speeds.
Steel Vengeance is one of these rides. Built on the bones of what used to be Mean Streak, Steel Vengeance holds the title of the world's longest hybrid coaster (a coaster made of wood and steel). It takes riders up 205 feet before dropping them 200 feet at a 90-degree angle, and through four inversions at speeds of 74 mph.
Watch Steel Vengeance in Action
Cedar Point is also home to the world's first giga coaster (a coaster that is taller than 300 feet), Millennium Force. Riders on this behemoth, which has been voted one of the world's best roller coasters since its opening in 2000, will rise 300 feet and fly over hills and through tunnels at 93 mph.
Watch Millennium Force in Action
If you're looking for speed without the height, Maverick might be more your vibe. It's only 105 feet tall but is pretty fast at 70mph. It features two launches, a 95-degree drop (the steepest in the park) and three inversions, including the first-ever Twisted Horsehoe Roll.
Watch Maverick in Action
If you want a roller coaster that will make you nervous, the dive machine, Valravn, is a must. Riders will slowly ascend 223 feet up, round a corner, and hang over the edge of the first drop before being released into a sudden 90-degree fall to the earth.
Watch Valravn in Action
Of course, roller coasters aren't the only rides at Cedar Point. Guests will also find thrilling flat rides like Atomic Scrambler and MaXair, along with classic rides such as the Midway Carousel and Giant Wheel. Plus, skycoaster Professor Delbert's Frontier Fling and reverse bungee ride SlingShot, for an additional charge.
You'll also find plenty of pint-sized thrills for kids, two water rides, Snake River Expedition riverboat ride, and of course, the Cedar Point and Lake Erie Railroad.
New for 2023
Cedar Point is paying homage to the past this year with the unveiling of The Boardwalk.
Located along the beach between Gatekeeper and WindSeeker, The Boardwalk offers a little something for everyone with five flat rides ranging in intensity from Dodgem bumper cars to the spinning Calypso, and the brand new roller coaster, Wild Mouse.
This coaster only stands 52 feet but packs quite a punch as six mouse-themed cars and one cheese car ride over hills, through twists and dives, and around hairpin turns at speeds of 35mph. Each car spins freely, which changes the ride experience every time you ride.
"The new Wild Mouse spinning family coaster will be a ride experience different from all others in the park. Each Wild Mouse car will spin independently as it travels along 1,312 feet of track, providing not only a great traditional roller coaster ride, but another dimension of thrills with its random movements – no two rides will be the same," says Tony Clark, the Director of Communications at Cedar Point.
"We're also pleased that younger coaster fans can enjoy Wild Mouse with their families, as the minimum height required to ride is just 42" tall, as long as they're accompanied by a supervising companion who's at least 48" tall."
The Boardwalk also sees the return of the Grand Pavilion. The original was built in 1888 and was an entertainment area for summer guests. The new Grand Pavilion will feature some of the characteristics of the original, but with the addition of a new restaurant, a waterfront bar, a deck that offers views of the park, and more.
Shows and Experiences
While rides are one of the park's major draws, another is the spectacular shows and live performances.
The park has not announced the full line-up of the 2023 shows just yet, but they have released details about several events including the Frontier Festival, which features live bands and characters, activities, food, drinks, and more on May 25-June 18, along with the Light Up the Point fireworks display on July 4, and CoasterMania! on June 2.
You can find full details about these events on the park's website or in the park's mobile app.
But the shows still aren't all the park has to offer. Guests can also enjoy special experiences such as boat charters and wine tours, the Fort Sandusky Mining Company, glassblowing, jet skiing, kayaking and paddleboarding, meet-and-greets with Peanuts characters, pony rides, and The Barnyard Petting Zoo.
Dining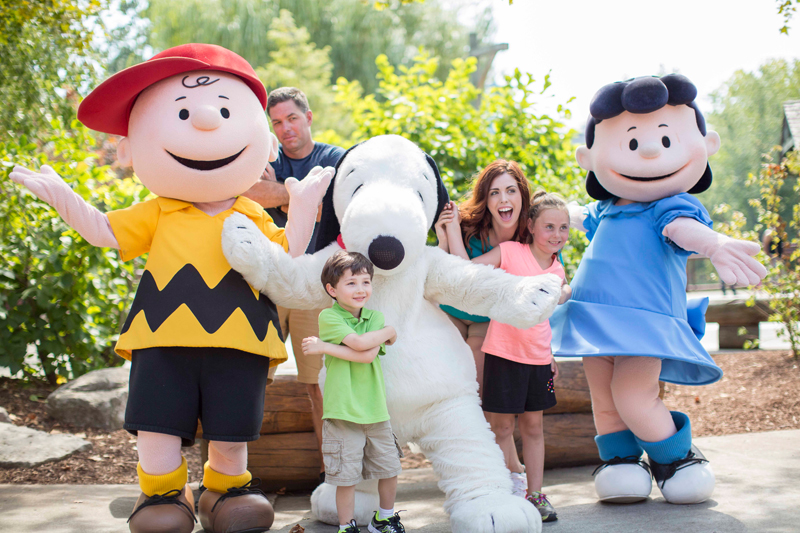 From grab-and-go options like pretzels and funnel cake, to burgers and hot dogs, walking tacos, ice cream, and even a sit-down waterfront dining experience, Cedar Point has a little nosh for every taste.
Meat-lovers will enjoy a visit to BackBeatQue, located near Magnum XL 200, where everything from smoked brisket to rotisserie chicken is on the menu, or Famous Dave's on the Marina.
Burgers are abound at Dockside Grill and Coasters Diner, or if you're just wanting a basket of fires, get them fresh-cut with chili, cheese, or your choice of sauce at Hot Potato.
Kick back and have a drink at several locations throughout the park including Last Chance Saloon, Summer Brews, and Red Garter Saloon — or grab a walking taco from Lemmy's and some Dippin' Dots for the entire family.
There's plenty of options for those with allergies and dietary restrictions as well. Find vegetarian-friendly food at Chickie & Pete's, Coasters Diner, or French Quarter Confections, and vegan-friendly eats at Melt Bar & Grilled, or Coasters Diner, among others.
Gluten-free, nut-free, egg-free, dairy-free, soy-free, and fish-free options are also available at various food locations throughout the park. Check out the full list of special dietary options throughout the park at CedarPoint.com or on the park's mobile app — Pro-tip: Use the park's mobile app to place your food order ahead of time, too.
More Cedar Point Tips and Tricks  
One of the most important things to know about Cedar Point is that the park is completely cashless. Credit and debit cards, Apple Pay or Google Pay are all accepted. There are also Cash-to-Card Kiosks that can convert cash into a prepaid debit card that you can use anywhere without a charge.
Families visiting the park with young children should know about the family care centers in Planet Snoopy and Frontier Town that are equipped for diaper changes and nursing, along with the Parent Swap and KidTrack programs.
You can obtain a Parent Swap pass from Guest Services, Town Hall Museum, or the Resort Entrance Gate. When using this program, one parent stands in line for a height-restricted ride while the other parent takes the child to do something else. When the first parent exits the ride, they hand the pass off to a ride host at the exit, and then the second parent will come up the exit to ride without waiting again.
The KidTrack program is a quick way to reunite kids and parents who have been separated from one another. Sign up for that in the same locations you'd get a Parent Swap pass.
The park also has the Boarding Pass Program for guests with disabilities or sensory processing disorders. All guests at Cedar Point are required to meet the ride requirements posted at the entrance at each ride. This program easily outlines which rides are suitable based on each person's individual needs. It also allows for guests who can't wait in the queue to get an assigned boarding time for each ride instead. It is available at Guest Services.
In addition, the park offers stroller, wheelchair, and locker rentals at the Rental Center near Guest Services as well as a pet check near Bay Harbor Restaurant. Plus, a free phone app that features all kinds of information including an interactive map, ride wait times, food order, a car finder, and much more.
The park has a dress code that prohibits clothing "generally considered offensive," along with costumes and disguises, and requires shirts and shoes at all times. Smoking or vaping is not allowed anywhere in the park except for designated smoking areas. 
Cedar Point's Halloweekends
Every year in the fall, Cedar Point hosts a merry-not-scary Halloween celebration in the daytime, and terrifying attractions featuring roaming monsters and ghouls in the evening.
Cedar Point Halloweekends will kick off this year on Sept. 14 and will run through the end of the operating season on Oct. 29.
Check hourdetroit.com in mid-August for our new Cedar Point Halloweekends Guide.
For more information about what's new at Cedar Point in 2023 and more things to do at the park, visit cedarpoint.com.