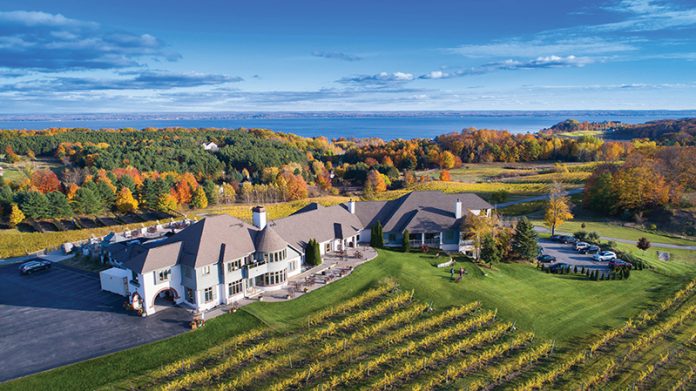 When the San Francisco Chronicle Wine Competition 2022 Best of Class award winners were announced, the list was unsurprisingly heavy with vintners in California. 
But there were also four Michigan wineries among them — Ciccone Vineyard & Winery for its Gewürztraminer, St. Julian Winery for its Braganini Reserve Traminette, Chateau Chantal for its Amour rosé, and Aurora Cellars for its Grüner Veltliner. Dozens more from the Great Lakes State took top awards in individual categories that year as well.
While no Michigan wineries made that list in 2023, it seems that Michigan's wineries winning national and international recognition is not so shocking.
"Michigan wines are showing up with rave reviews, gold medals, and 'Best of' lists more often than ever before," Dave Miller, past president of the Michigan Wine Collaborative and owner and winemaker at White Pine Winery in southwest Michigan, said at the time of interview.
For example, while very few wineries in the state offer on-site accommodations, three Michigan destinations made the 2022 USA Today 10 Best Readers' Choice Awards for best winery hotel in the U.S. Those hotels were Hotel Walloon in Walloon Lake in fourth place, the Inn at Black Star Farms in Suttons Bay in second place, and Chateau Chantal in Traverse City came in first — and the same hotels swept the top three spots in the same contest the year before.

We set out to discover what it is that sets the three Michigan winners apart. Hint: Besides location, location, and location, all present a quiet refuge with impeccable service, personal touches, and access to some of the best wines Michigan has to offer.
---
Chateau Chantal
It's all in the family on Old Mission Peninsula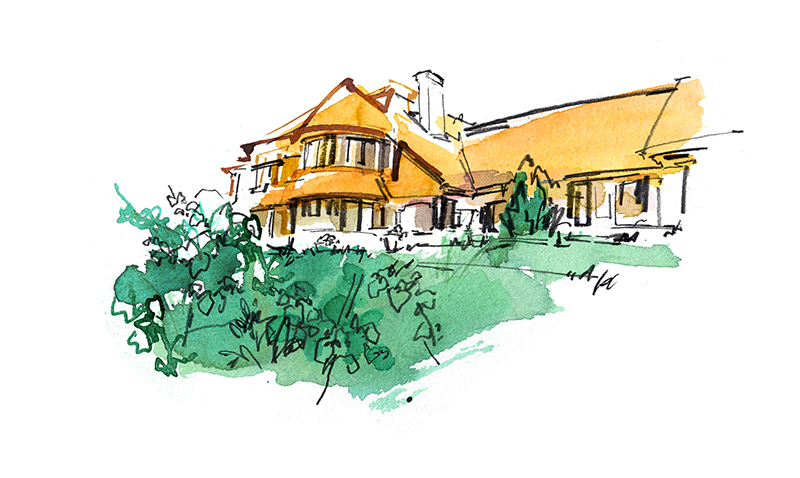 What makes a house a home? When it comes to Chateau Chantal on Traverse City's Old Mission Peninsula, it's founder Bob Begin and his daughter, CEO Marie-Chantal Dalese.
A stay here feels as if you are in their home. When we arrived at this 12-room bed-and-breakfast late on a Sunday afternoon, Begin was unloading bags from his car parked at the tasting room entrance and insisted on showing us to the bed-and-breakfast entrance himself after he stashed away his purchases.
In our suite — two rooms of sumptuous yet understated comfort in a soothing green-driven palette with a couch and sitting area, a king-size bed, big-screen TVs in both rooms, and a bathroom with a jetted tub, not to mention sweeping views of the surrounding vineyards and lake — there was a laminated card that included Begin's and Dalese's cell numbers in case of an urgent need.
After check-in, we still had time to get to the tasting room before it closed. We could have enjoyed a tasting flight but instead decided to uncork a bottle of Chateau Chantal's Naughty white; B&B guests are offered a complimentary bottle of wine with their stay. We sat by the windows and took in the view as we decompressed, realizing how nice it felt to just be there and not have to drive home after.
After the winery closes, B&B guests have the run of the place. In the Hospitality Room, you can sit by the fire and read or play chess. Some guests take chairs outdoors — there's a patio and a terrace — to enjoy wine and the sunset over the water and vineyards.
If you want to buy a bottle of wine or snack after hours, you can. It's done by honor system — you just note it on a sheet provided at check-in and settle up at the end.
Begin and his wife, Nadine — she passed away in 2018 — purchased the 60-acre estate in 1983. Today, the estate is 65 acres with 45 acres of grapes on the property. Grapes produced include Chardonnay, Riesling, Pinot Grigio, Pinot Noir, Merlot, Cabernet Franc, and specialty blends.
When the Begins planted their first vines in 1986, they set out to create a European-style winery chateau. "If you go to the Burgundy region [of France], you may have visited a chateau where the family lives there, you spend the night, drink some wine from grapes right outside the window," Dalese says. "It's that complete hospitality experience."
In the morning, we went to the dining room for the chef's artfully plated breakfast of souffle, roasted potato hash, bacon, oatmeal with raisins, fresh fruit, and toast. After breakfast, as he often does, Begin offered guests a cellar tour through massive production rooms with huge steel drums and wooden barrels. He also showed off a new bottling system from Italy that's going to make it possible to increase production and produce sparkling wines on-site.
Chateau Chantal has 12 guest rooms — mostly suites and including one top-floor executive apartment with a full kitchen, multiple bedrooms, and spectacular views. Room rates in-season range from $250 to $677 with most around $400. 
Chateau Chantal, 15900 Rue De Vin, Traverse City; 231-223-4110; chateauchantal.com
More Photos of Chateau Chantal
---
Black Star Farms
This Suttons Bay retreat is picture perfect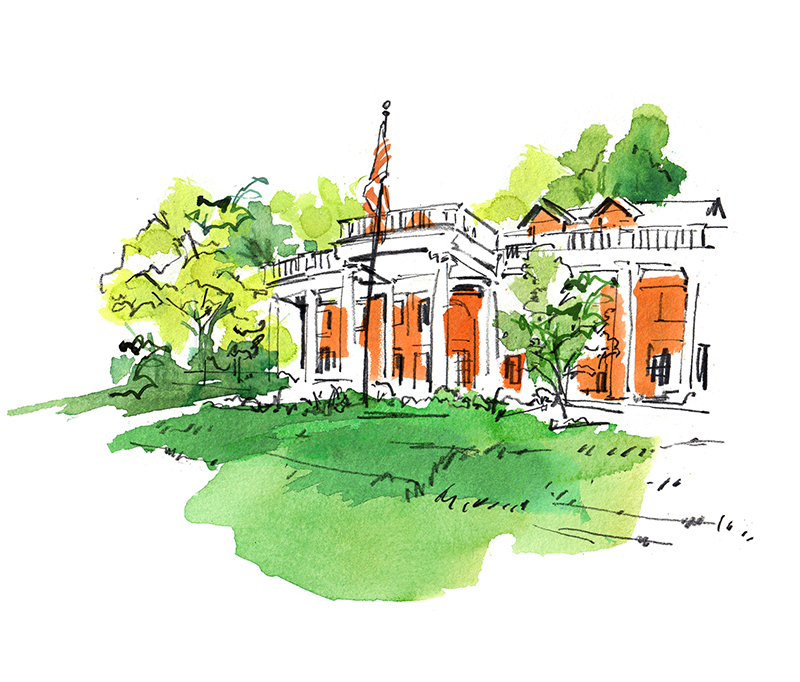 An artist asked to paint a setting for an idyllic winery stay might not be able to imagine all of the details that make Black Star Farms a one-of-a-kind destination.
There's the country lane-like driveway leading down, around, and through the hillside vineyards. A country complex that includes a mansion-turned-inn, equestrian facility, wine cave, production building, and tasting room. A restaurant featuring locally sourced ingredients that operates seasonally and for special events. And stunning sunsets.
The property near Suttons Bay where Black Star Farms sits was purchased in 1998 by Kerm and Sallie Campbell; 18 years later, their daughter, Sherri Campbell Fenton, joined the business. Today, she oversees operations and all hospitality programs at the winery, which includes 160 acres. 
All stays at the property include a complimentary wine tasting in the tasting room. Besides sampling wines — we learned a handy hint for remembering once and for all how to pronounce Gewürztraminer from Retail Manager Chris Lopez. He said to just think of "girls are meaner." We'll never forget.
The inn itself was originally a family home — all 10,000 square feet of it. Our room, overlooking the grand entry hall, belonged to the original owner's daughter. Outside the window was a view of a pergola and pinewood forest. Eight of 10 rooms have king-size beds; the inn also has three suites, including one that's especially suited to families or a friends' getaway that has an attached room with two twin beds. 
During Hospitality hour, also included in every stay, one of the innkeepers served us a small plate with prosciutto-wrapped asparagus and homemade samosas, along with a glass of Chardonnay. It's a cozy space, with a fireplace and overstuffed furniture where guests can gather casually and mingle. There are also places to sit at the bar, where two of the seats are actual saddles.
After a completely silent night of sleep — this is very quiet country — a fresh breakfast is served in the dining room. This one happened to be a yogurt parfait with granola that's created on-site with Black Star hard cider, followed by a sumptuous banana-and-rum pancake bread pudding topped with a creme anglaise made with the winery's own Sirius cherry dessert wine. 
Guests who book overnight reservations at Black Star Farms can also arrange add-ons like bike touring, fat-tire biking, private yoga instruction, picnics, private dinners with wine pairing opportunities, and more. Room rates vary by room and season. Expect prices to start around $375 per night. 
Black Star Farms, 10844 E. Revold Road, Suttons Bay; 231-944-1270; blackstarfarms.com
More Photos of Black Star Farms
---
Hotel Walloon
Personal care and service in Petoskey's Wine Country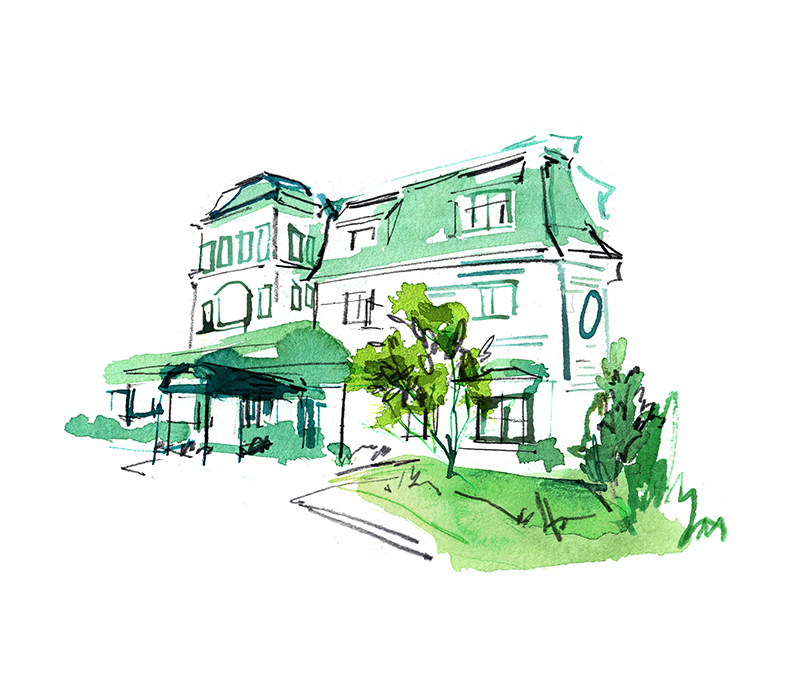 It's phenomenal — their customer service is beyond compare. It gets rave reviews from the minute guests walk in to the minute they leave."
That's Mary Ann Lippe, co-owner of Boyne Valley Vineyards near Petoskey, talking about Hotel Walloon in Walloon Lake. The winery and the hotel work closely to coordinate visits for hotel guests who want to experience the Petoskey Wine Region with its 14 wineries during their stay. 
Lippe's comments hint at why. From the personal greeting, sit-down check-in, and tour to a welcome glass of wine and eventual personal introduction to your room, it's clear that this is no ordinary hotel. Every unit has a balcony or a patio that sits directly on the hotel's private beach. There are also boat slips. 
The marble bathroom floors are heated; there's an electronic "do not disturb" function in lieu of the traditional sign hung over a doorknob. Soft robes and slippers beg to be slipped into, as does the plush king-size bed. An outdoor spa functions year-round. 
"We are the only privately owned hotel in northern Michigan that does have AAA diamonds, so with that we have a level of standards and service that are unmatched," says Emily Jensen, sales and marketing manager. "It's kind of a hidden gem oasis."
Be sure to allow time to visit local wineries, such as Petoskey Farms Vineyard & Winery, Mackinaw Trail Winery & Brewery, Walloon Lake Winery, and Resort Pike Cidery & Winery. For dining, there's the Hotel Walloon-owned Barrel Back Restaurant for excellent brewpub-style fare and, for fine dining, the Walloon Lake Inn. Village Green Park, The Talcott event venue, and several shops are also within walking distance.
In fact, Jensen notes that the hotel, built brand new in 2015 by Grand Rapids-based developer Jonathan Borisch, was a catalyst for development in Walloon Lake. It's been a passion project for Borisch. Before he came on the scene, there was just a general store in the community. Now there are multiple businesses, some of them seasonal.
For breakfast, you'll find granolas and baked goods as well as specialty coffees, including lattes and cappuccinos. The hotel also offers snacks through the day and hors d'oeuvres and dessert presentations toward evening.
Hotel Walloon features 32 guest rooms — there are eight different types in all, including suites with kitchenettes. Summer rates start at $400 per night and can run over $1,000 for a suite. Winter rates start at $200. 
Hotel Walloon, 4127 N. M-75, Walloon Lake; 231-535-5000; hotelwalloon.com
More Photos of Hotel Walloon
---
Plus, Vacation Rentals
An internet search of "places to stay in Michigan wine country" yields quite a long list of links for everything from hotels to vacation rentals to bed-and-breakfasts.
Rebecca Harrison, who at the time of interview owns several vacation homes in close proximity to southwest Michigan wineries, says she's made a point of advertising the rentals as wine-touring properties.
"We started [promoting wine tours in the listing headlines] probably within the last four to five years," Harrison says, explaining that many of her renters come specifically to visit wineries. That's particularly true in the off-season, starting after Labor Day.
"We get quite a few people that come in either for girls' getaways or a bachelorette party, bachelor parties," she says. "We also partner with Grape and Grain Tours — they have tours to the wineries, you can set up your own tours, and they also have private tours. 
"They give our guests a discount, and they also will pick up and drop off at the house so our guests don't need to drive."
Also in southwest Michigan, Michigan Wine Trail Cabins offers six tiny homes that can collectively accommodate up to 18 people. Multiple other listings highlight proximity to the region's wineries.
In northwestern lower Michigan, Joni and John Sztykiel purchased The Vineyard House near Suttons Bay, which has been available for short-term rentals. The $3.9 million, 9,000-square-foot home that sleeps 14 is in walking distance to several wineries, is close to a 17-mile trail, and sits on 77 acres — three of them a vineyard — with its own in-ground heated pool. 
"It is gorgeous, within a short drive from Detroit or Chicago," Joni says, adding, "The land, the house, the vineyards, the water — the whole area is just amazing."
Find more listings at vrbo.com and airbnb.com. To search for a B&B on or near a Michigan wine trail, visit laketolake.com. 
---
This story is from the May 2022 issue of Hour Detroit. Read more stories in our digital edition. It has been updated for 2023.