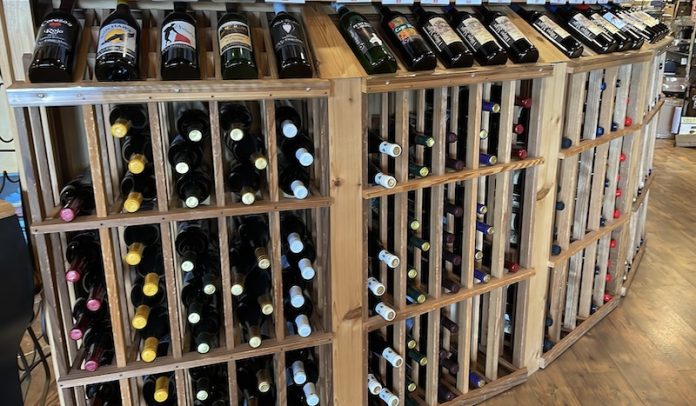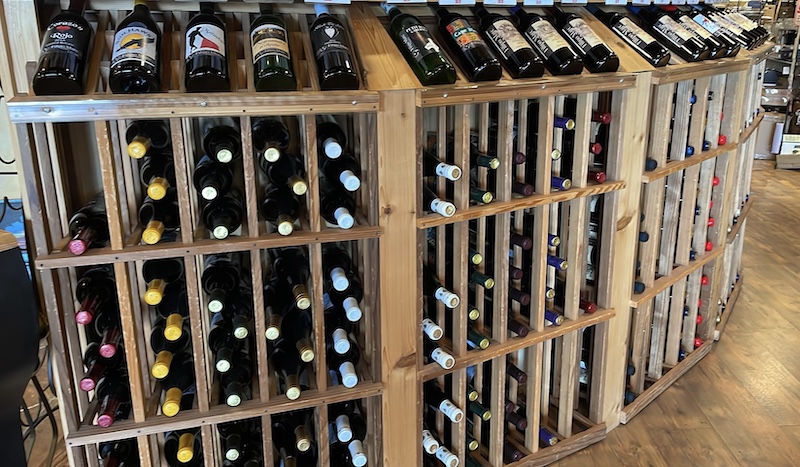 Whether if you're cozying up on the couch to watch the newest episode of The Bachelorette or putting together a hostess gift, finding the perfect bottle of wine is important. These nine metro Detroit wine shops rise to the occasion.
Cellar 104
This local winery produces 20 wines with juice from around the world including Italy, Chile, and California. All wines are produced the "old world" way and aged in special tanks for 18 to 30 months. Choose from reds, whites, dessert, and varietal wines, or just order a flight and try them all. Cellar 104, 104 Macomb Place, Mount Clemens; cellar104.com. 
Filipo Marc Winery
Home to over 80 wine varieties, Filipo Marc Winery has been open for more than two decades. Samples are provided at the winery's shop to ensure customers are buying wine they love, and the facility even has an option to make your own wine for personal use or large events. The winery's website features an extensive menu that includes dry to semi dry white options, dry to semi dry reds, specialty fruited wines, and dessert wines. Filipo Marc Winery, 39085 Garfield Road, Clinton Township; 586-226-3990; filipomarcwinery.com.
Motor City Wine
This lively wine spot combines a shop with a wine bar, so you can enjoy a glass of wine while listening to live music and digging into small plates before purchasing a bottle to enjoy later. The wine shop features carefully selected bottles from all over the world, with a large — but not overwhelming — selection. It's a great spot for novice wine drinkers and connoisseurs alike. Motor City Wine, 1949 Michigan Ave. Detroit; 313-483-7283; motorcitywine.com.
The Royce Detroit
The Royce Detroit is a minority and female-led business that has a genuine passion for its offerings. Similar to its sister establishment Marrow, The Royce is part shop, part restaurant. Drinkers looking to expand their collection can join the Wine Club, which provides members with carefully selected bottles each month. The Royce Detroit, 76 W. Adams Ave. Suite A. Detroit; 313-481-2160; theroycedetroit.com.
Youngblood Vineyard
With decades of wine experience, Dave and Jess Youngblood opened Youngblood Vineyard in Ray in 2015. While it hosts private events, tours, and weddings, the vineyard is best known for its wine tastings and shop. The 25-acre space and the outdoor tasting room provides a scenic backdrop for a day of sipping on a single glass or opting for a sample — six 1 oz pours — of each wine on the menu. Youngblood Vineyard, 61829 Ray Center Road, Ray; 586-770-5220; youngbloodvineyard.com.
Cooper's Hawk Winery & Restaurant
This upscale national chain has one several awards for their wine, including a whopping 30 awards for the Lux Pinot Noir. Visit their tasting room to get a feel for the different flavors and find a wine that you truly love, or join their wine club to get their wine of the month and other special offers. Cooper's Hawk, locations in Clinton Township and Troy; chwinery.com.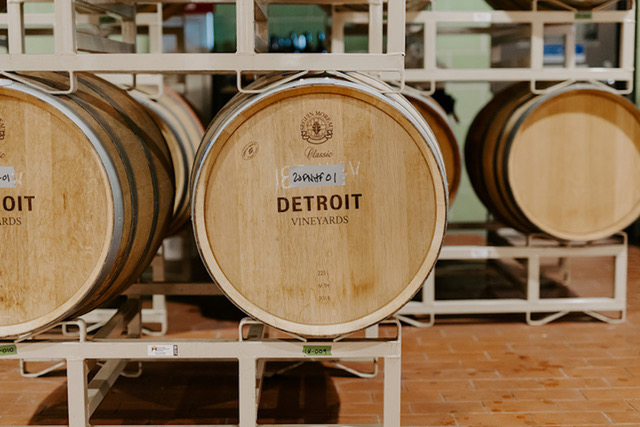 Detroit Vineyards
Providing quality wines made from Michigan grapes and produced in Detroit, Detroit Vineyards provides a unique experience with a hometown feel. With new releases each year, there's always something at Detroit Vineyards. The selection at the vineyard's shop includes white, and red wines as well as mead. Detroit Vineyards, 1000 Gratiot Ave., Detroit; 313-265-3938; detroitvineyards.com.
Old Woodward Cellar
Old Woodward Cellar is staffed with wine enthusiasts who are constantly on the hunt for the best wines in the world. The shop hosts dozens of tastings a year, as well as private events, and features popular selections. Old Woodward Cellar is also leading the way when it comes to technology — it says it's the first wine store in the country to utilize ultraviolet-free LED lights in its shop as well as protective coatings on the windows. This prevents any UV damage to the wines. Old Woodward Cellar, 912 S. Old Woodward Ave., Birmingham; 248-792-5452; oldwoodwardcellar.com.
Michigan By The Bottle
This tasting room and wine shop aims to make Michigan-made wines accessible. The tasting flight allows customers to sample multiple wines and comes with a $5 credit to go toward purchasing your favorite bottle. From sparkling rosé to merlot and pinot noir, Michigan By The Bottle's extensive list includes wines that are made from Michigan-grown grapes and produced in the Mitten State. Michigan By The Bottle; mbtbtasting.com for locations.
Simply Wine
The mission statement at Simply Wine in Northville is "we try bad wines so that you don't have to." The shop offers a diverse selection of boutique-style wines from across the world, and will also special order wine for customers, so long as its distributed in Michigan. Simply Wine, 109 N. Center St. Northville; 248-380-9463; simplywinenorthville.com.
House of Pure Vin
This store specializes in finding the perfect wine pairing for any event. With a retail location and online shop, House of Pure Vin is an accessible shopping experience. Its website operates as an in-store assistant, allowing you to choose wines based on the location of production, style, and features like organic ingredients, vegan options, and sustainability. House of Pure Vin, 1433 Woodward Ave., Detroit; 313-638-2501; houseofpurevin.com.
Looking for even more places to grab a drink in Metro Detroit? Check out our list of cocktail bars. 
This post was originally published in 2021 and is updated regularly. 
Facebook Comments